The Future of Skiing Depends on Affordable Lessons for Kids
Winter sports are out of reach for most kids across the country. These nonprofits are trying to change that.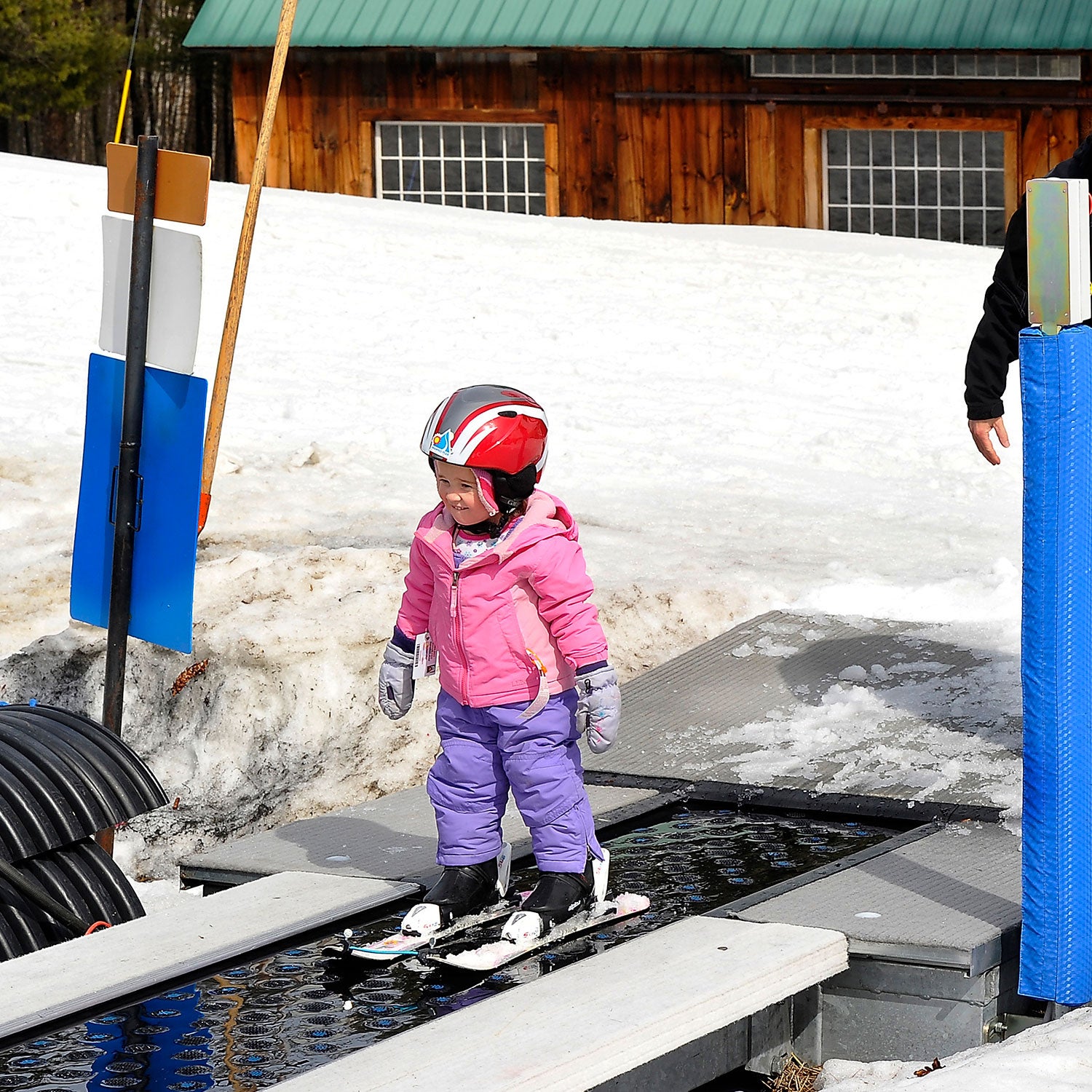 Heading out the door? Read this article on the new Outside+ app available now on iOS devices for members! Download the app.
It's a Saturday afternoon in early December and the Treehouse Kids Adventure Center at Colorado's Aspen Snowmass resort is filled with nearly 250 bobble-headed kids, clunking around in colorful helmets, snowsuits, and ski boots that nearly reach their knees. Like sorcerers, the outnumbered adult instructors herd the children into ability-appropriate groups before whisking them away for their first day of lessons in the Aspen Valley Ski & Snowboard Club's (AVSC) seasonal youth ski programming.
According to the National Ski Areas Association, which represents more than 300 alpine resorts in the U.S., skier participation has seen a gradual decline for the past two decades as baby boomers hang up their planks. The problem: younger populations aren't backfilling the losses. Some blame the sport's all-time high cost for the drop off, while others point to additional hurdles to participation. With climate change-related drought conditions making it doubly hard for resorts to operate at capacity, we're looking at a precipitous moment for winter's favorite pastime.
That's where organizations like AVSC slide in. Ski nonprofits are gaining momentum nationwide in an attempt to steer kids back onto the slopes by making skiing more affordable and accessible to families. These groups work hard to reach the communities surrounding resorts, where blue-collar workers often live. On the surface, kids are just learning to slide on snow, but there is a lot more going on.
"When you help a kid do something that is so inherently part of that culture, you're able to help them feel like they belong," says Jennifer Wolfrom-Holladay, the executive director at youth skiing nonprofit Coombs Outdoors in Jackson, Wyoming.
Skiing also instills an awareness of climate change in kids. I'm pretty sure I was still eating crayons when I was 12, but teens like Aspen-based Bodhi Yang are already considering the potentially grim future of their sport. Yang began skiing with AVSC when he was 3 years old. Now 16 and a junior in high school, he made a documentary called "Make Skiing Great Again," highlighting the plight Gen Z will face as climate change continues.
"I made that connection between what I'm experiencing on the snow and what I'm learning about in school," Yang says. "It makes me feel less than hopeful about how much good skiing I have left."
It's a somber realization, especially coming from a teenager. But it's also laced with optimism that today's youth will be invaluable contributors to climate action. The retiring boomers couldn't be the change we needed, but these kids have grown up chatting about melting glaciers with their friends in the cafeteria. It's this level of awareness and acceptance from those most impacted that will lead to sustainable change.
Of course, sorcery isn't real. Few kids live in ski towns, and there's limited funding available to drive kids to the slopes. This means winter sports are still out of reach for most kids across the country, regardless of snowpack levels. Even with these programs, many families still can't afford the cost.
But for every kid who gets hooked on their first powder day, it's a start. Here are five nonprofits introducing winter sports to kids across the country.
Aspen Valley Ski Club
Aspen, CO
Founded in 1937, AVSC is the largest youth nonprofit in Colorado's Roaring Fork Valley. Its recreational skiing division, called Aspen Supports Kids (ASK), offers lessons to kids as young as three and a half and as old as 18. Most lesson packages include 7 or 8 days on snow spread over two months, taught by Aspen Snowmass ski instructors at Buttermilk, Snowmass, or Highlands.
It's by no means the most affordable youth program out there—lesson packages cost between $500 and $1,000—but scholarships are available, largely funded by the wealth from glitzy Aspen (private donations contribute most of the funding, while some comes from local events like the Audi Ajax Cup). About one-third of participants receive scholarships to cover tuition costs, and many lesson packages include lunch and transportation.
Some kids in the program live as far away as Silt, a small community 60 miles from Aspen. Last season, AVSC offered nine buses with volunteer chaperones to shuttle kids back and forth. This also helps increase diversity in the sport: 22 percent of AVSC participants last season identified as skiers of color.
"Neutralizing valley boundaries is so cool," says Meredith Elwell, director of ASK. 
Sky Tavern Junior Ski Program
Reno, NV
If you live near Reno, Sky Tavern likes to say that your neighbor learned to ski here. The Sky Tavern Junior Ski Program claims to be the oldest and largest volunteer-run ski school in the United States. Everyone, from the ski instructors to the cooks, chips in their work for free—and they pay to do it. Each person or family contributes a varying fee in exchange for eight weekends onsite. For kids, this averages out to roughly $311 per season, while parents and other volunteers contribute $40-291 in addition to their duties as support members, bus supervisors, and instructors. It's an unorthodox design, but it seems to work: Sky Tavern has funneled over 100,000 kids through the program since its inception in 1948.
Coombs Outdoors
Jackson, Wyoming
Coombs Outdoors was founded in 2012 by Emily Coombs, the wife of late American skier Doug Coombs. While watching her son recreate in Jackson, Coombs noticed the economic disparity among kids in the Teton Valley, most especially those from Latinx families.
"We see a lack of generational knowledge," says Wolfrom-Holladay. "Their parents don't ski or they're first generation here and don't see a lot of people who look or speak like them on the slopes. There aren't a lot of Spanish resources at ski resorts."
Today, Coombs Outdoors has almost 400 kids spread throughout their three ski divisions. The beginner program at Snow King Mountain Resort, dubbed Learn to Ski, is where most participants get their ski legs through weekly, season-long lessons. Tuition is $150 per year, including season rentals and season passes to the ski hill. But the pricing is flexible: families pay what they can.
Nathan Espejel, 16, started with Coombs when he was in the fifth grade. He says he has noticed the ski season getting shorter every year, which makes him consider alternatives. "I've seen those malls that have ski resorts inside of them, and I wonder if that's what it will be like when I'm older," he says. "It's cool now but it bums me out. It's the same run over and over again."
Mt. Abram Ski Club Youth Pass Program
Greenwood, ME
It takes a village to make skiing affordable, and the collaboration between Maine's Mt. Abram Ski Club (MASC), Friends of Mt. Abram (FOMA), and Mt. Abram Ski Area is a quintessential trifecta. In its second season, the collaboration provides free season passes to Mt. Abram Ski and Bike Resort for local children ages 6-15 who attend one of a handful of area schools. Beginning this winter, kids 16 and older can earn a pass by opting into a workforce development program where they work 10 hours per week as lifties, ski patrollers, ticket agents, and more.
According to Zach McCarthy, director of marketing for the ski area, the median annual income for Oxford County (home of Mt. Abram) is $25,421, while a weekend of skiing costs $1.000 for a family of four. Local families have been priced out, and this program aims to change that. "Skiing is about more than going downhill on skis," McCarthy says. "It's an avenue to the outdoors and friendships.
Whaleback Mountain After-School Program
Enfield, NH
It's a season of under-the-lights ski lessons. That's what participants in Whaleback Mountain's after-school program get when they sign up to spend their evenings on the ski hill.
Each year, just under 500 kids from roughly ten schools take advantage of Whaleback's evening lights for a six-week program. Once school dismisses, participants hop on buses that bring them from school to Whaleback. The program costs $85 for weekly 90-minute sessions, or $150 if the student needs a season pass (required for participation). Financial aid is also available, and executive director Jon Hunt notes that any family who has requested assistance over the last three years has received it.
Austin, Addie, and Harper Irwin grew up in the Whaleback program and they don't want those powder days to disappear. "We don't get the snow days at school anymore," 13-year-old Austin says. "It has made me realize that if there is no change, I could lose something I love." His 12-year-old sister Addie nods alongside him.
But it's Harper, age 7, who has the plan. "I think we should show other kids how much fun it is to ski so when they grow up, they will show their own kids," she says. "That makes everyone love it like me."
Lead Photo: Portland Press Herald