Alberto: A Life
How can one possibly put into words the majestic talent, the gracious modesty, the unrivaled discipline of the world's greatest skier? Like this.
John Springs
Heading out the door? Read this article on the new Outside+ app available now on iOS devices for members! Download the app.
For the first time in more than a decade, a world cup ski season has begun without Alberto Tomba in the gates, an absence that pains not just slalom aficionados and fawning reporters, but all. True, Tomba's freshly declared retirement at age 32 lowers the curtain on an astonishing run. No alpine skier has outdone his winning of medals at three successive Olympic Games; his 50 career World Cup victories are bested only by Ingemar Stenmark. Perhaps Alberto's greatest legacy, however, is an intellectual one: his uncanny grasp of the human predicament, his knack for always having just the right bon mot at hand, his refusal to leave any conundrum of life or any female under 30 unexamined. And who better to sum up this thoughtful heritage, this aggregate of accumulated wisdom, than the Oracle of Bologna himself and those who have basked in his glow?
Alberto and the Importance of Humility
"Sono una bestia!" ("I am a beast!")
Tomba, crossing the finish line for his first World Cup victory, Sestriere, Italy, 1987
"I am the new messiah of skiing!"
Tomba, after winning his fourth consecutive World Cup race, 1987
"When I start to really try to win, then perhaps I will have to give my opponents a three-second head start instead of the one second I give them now."
Tomba, 1987
"Right before the second run of the Olympic slalom at Calgary, everyone was very tense. All the racers were nervous. Alberto went up to an opponent and said, 'Don't worry. There's no reason to be tense. I'm going to beat everyone. There's no reason to worry, because I'm the only one who needs to worry, since I'm going to win. There's no way you can win.'"
Paolo De Chiesa, former Italian World Cup skier
"A lot of people don't like him because he is so full of himself."
Marco Fontanesi, sports agent and friend of Tomba
"[My girlfriend] is very jealous when she sees me on the television surrounded by so many girls. They are all devouring me with their eyes. I think this upsets her."
Tomba, 1988
"When you're Alberto, you're everything."
Posters along the Olympic giant slalom course at Val d'Isˆre, France, 1992
"Alberto, thank you for existing."
Banner at the finish line
"Congratulations, Alberto. Thank you very much, me."
Tomba, after winning the gold medal in the giant slalom at Val d'Isˆre
Alberto Tomba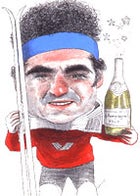 Alberto and the Chivalrous Gesture
"I was walking back to the ski rooms, and he scared me. He was saying things like, 'Come back to my room, we'll have fun, it's no problem.' He was just joking and flirting, but it really kind of scared me."
Eva Twardokens, former U.S. World Cup skier, recalling a 1989 encounter in Japan
"Down deep I'm a sentimental guy who believes in feelings."
Tomba
"We were at an awards ceremony, and there was this TV-show girl known for being laid-back. Tomba grabs the mike and says, 'So, who will you sleep with tonight? Maybe I will get lucky, no?'"
Marco Tonazzi, former teammate
"I dream of finding a woman like my mother."
Tomba
"I'm getting out of my shower and, you know, it's like summer camp: You're walking around with nothing on after you shower. Well, I look up and there's Alberto and all these Italians looking right at me through the sliding door."
Eva Twardokens, recalling the 1989 World Championships in Vail
"Please, he spent the whole time throwing balls of crumbs at an American model!"
Elena Maniero, daughter of a Bolognese mafioso, when asked if she was an admirer of Tomba, a fellow guest at a party she attended
"All three, together."
Tomba in 1994 at the Lillehammer Olympics, when asked whether he preferred Katarina Witt, Nancy Kerrigan, or Tonya Harding
Alberto and the Value of Self-Denial
"He said, 'I like steak, and I like more than one.' He ate five."
Marco Tonazzi, recalling Tomba's first training camp with the Italian team in 1986
"We were always waiting for him, everyone loaded in the van, 15 minutes, 20, a half-hour. I said 'Go! No bus for him!' but always we waited. I think he has never suffered for anything. If he wanted milk, the bottle was there, in the air. He had only to drink."
A former teammate
"He's always been a bit of a papa's boy. He's spoiled, and can be a little baby. If he has a black nail, he can't ski for two weeks."
Erwin Stricker, former star Italian racer
"A skier works only with fast-twitch fibers. If aerobics were important, Tomba would never have won anything last year. He didn't run once."
Giorgio d'Urbano, Tomba's personal trainer, 1990
"It started when he first came to camp … at 19. He would have five ice creams after dinner, one after the other, just to see how far he could take it, and no one ever said stop. Now it's too late."
A former teammate, 1990
Alberto and the Simple Life
"To be a good racer today you must be brainless or be able to turn off the brain. For that reason, Tomba will win a lot of races."
Erwin Stricker, 1987
"I sat next to Tommy Moe and his girlfriend. Tommy had just won the gold medal [in the downhill at Lillehammer]. Halfway through the meal, in walks Tomba and his entourage. They had this very mafioso look about them. Tomba grabs a bottle of champagne, sprays it all over Tommy, and toasts him: 'Congratulations! You're the man!' Then he and his entourage disappear through this other door, the inner sanctum. I mean, we're already in this special upstairs room, away from the main restaurant, but you got this feeling that even though Tommy was on top of the world, nobody went through that last and final door but Tomba."
Peter Oliver, ski journalist
Alberto Tomba

"At first he was just another part of the Italian team. He flew in the regular part of the plane with them. Then Gustavo [Thoeni] became his personal coach. He got a personal trainer, a personal service technician, a masseuse. On a normal team, you've got one of each of these people for five or six team members. Tomba had all these people for himself."
Felix McGrath, former U.S. slalom and giant slalom champion
"They have this training ground in November in Colorado, before the public comes. And you look at the schedule, and he's listed along with the other national teams. You'd see the Slovenian team here, and the German team there, and Tomba over there. It was like the nation of Tomba was training on its own."
Peter Oliver
Alberto and Hair
"Even then he had this aura. He had big hair. Tall hair. I don't know what was in it. He wasn't particularly a standout, but his hair stood out."
Steve Porino, former U.S. World Cup skier, about Tomba's debut
"You wouldn't really see him, but you could see this rush of people. He was surrounded by women and bodyguards. You could maybe see his hair."
Edith Thys, former U.S. Ski Team member, describing Tomba's visit to a nightclub in Spain in 1996
"This way, even if I lose my hat I'm still aerodynamic."
Tomba, 1995, when questioned about his new shorter coiffure
Alberto and the Power of Positive Thinking
"My goal [for retirement] is 1992. I want to stop at the top like Phil and Steve Mahre, not like Stenmark, who is now a shadow of his greatness."
Tomba, 1988
"It's not enough just to race. Alberto must win every day. If I come in second, they say Alberto lost. In Italy they want to know about me every minute. They put Alberto in the newspapers like Princess Diana. If I kiss a friend on the cheek, the papers say, 'Alberto's new girlfriend.' Then she has to hide. And her family, too. In Italy, they love me too much. They want to kill me. Now Alberto is tired. More than tired. Tomba is dead."
Tomba, 1996
"I always do well in Olympic years, and this year will be no exception."
Tomba, 1998
Alberto and La Dolce Vita
"We thought about a Vespa ride through Rome: Alberto would give us a tour of the city and we could tape it. I reserve a Vespa and tell Alberto we have it from three to five, so that's when we have to shoot. He says, 'No, no, no! That's too complicated! We can just borrow one.' So he flags down this guy on the street and asks to borrow his Vespa. He's Alberto, so the guy says sure."
Draggan Mihailovich, former producer, CBS Sports
"He is incredibly cheap. He never has money on him."
Erwin Stricker
"When he cooks you something, he'll watch you take a bite, then he'll eat the same bite off your plate so he'll know exactly what you're tasting, exactly what you're experiencing. He's a sensual person. He might have three girls around that we'll be eating with, and who knows, he probably ends up upstairs with them later, but so what?"
Picabo Street, U.S. Olympic gold medalist
"We were speechless, but then, what can we do?"
Restaurant manager in Niigata, Japan, 1998, after Tomba burst into the kitchen uninvited, picked up a skillet and ingredients, and prepared himself some pasta
"He carries his own block of Parmesan cheese. He won't accept anyone else's. He just pulls out his block of cheese and starts grating it."
Eva Twardokens
"I had my razor, but no shaving cream, and I don't accept shaving cream that I don't know."
Tomba, asked at Val d'Isˆre in 1992 why he had not groomed himself between slalom runs
 
Trending on Outside Online