The Best Backcountry Ski Lodges in British Columbia
North of the U.S. border lies a paradise filled with powder, untracked steeps, wild vistas—and remote lodges with access to the massive winter playground.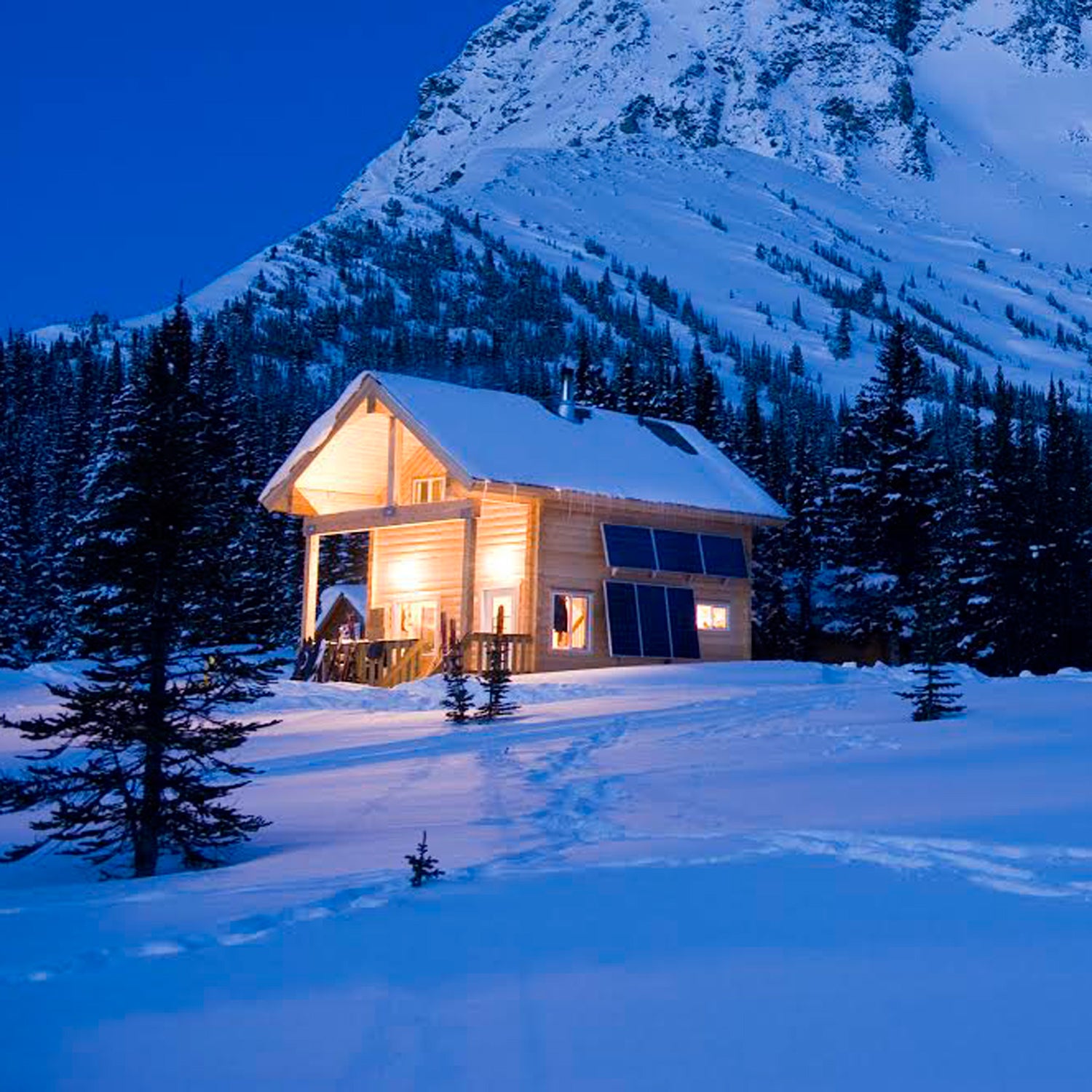 Darryl Leniuk(Photo)
Heading out the door? Read this article on the new Outside+ app available now on iOS devices for members! Download the app.
Our group stands in a cluster, staring up at the seven sets of serpentine tracks we've just inscribed in the otherwise pristine 2,000-foot-high slope.
"Has that ever been skied before?" I ask Derek McManus.
"Not that one," he says.
"What should we name it?" I ask.
"How about Bad Penny?" says Ross Berg, our guide. We all laugh and turn to look at Penny LaFrance, the willowy, funny 20-something in our group. She blushes, and protests vehemently, so of course the name sticks.
Bad Penny is one of a handful of runs that we are the first to descend and name during our four-day trip. It's one of the perks guests at the new Mallard Mountain Lodge enjoy. The backcountry ski base camp—tucked deep into the British Columbia backcountry near Jasper National Park—is accessible only by helicopter in the winter. Other perks include eye-popping mountain views, gourmet dining, and acres of untracked Canadian powder all to ourselves.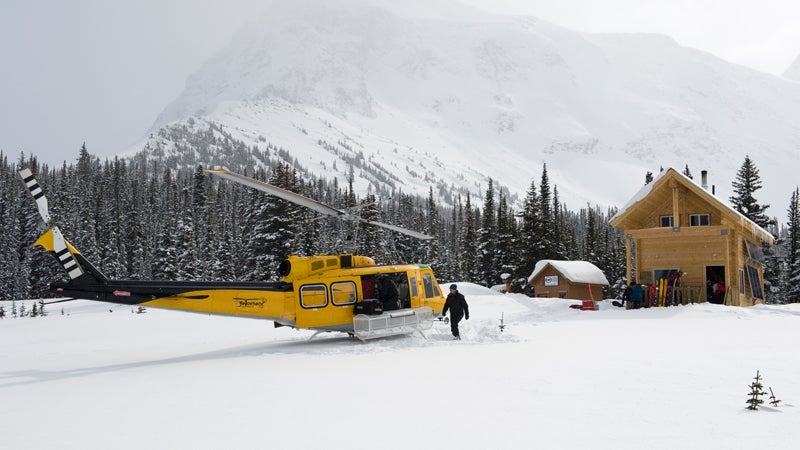 McManus and his son, Paul, opened Mallard last season to capitalize on the growing backcountry ski lodge trend in British Columbia. There are more than 40 similar operations spread throughout the province, accessible only by helicopter, that host skiers and snowboarders who want to earn their turns deep in the snowy mountains. Our trip, which included a guide and cook, runs about $2,000, close to what some of the all-inclusive, high-end heli-ski operations charge per day.
On the first day, we loaded our skis into the basket on the chopper's right side, topping it off with food, beer, and a propane tank. Then we piled in, buckled up, and rose into the mountains. Some 25 minutes later, we arced a wide turn at the head of a valley and spotted the cluster of log cabins in a meadow below, miniature among the vast, empty mountains.
The lodge, a simple two-story affair, features a kitchen and common space downstairs, with bunks and shower upstairs. The heated privy is in a separate building just around the corner. (There are plans to build a sauna, too.) There's no television (thank God). We're out the door and skiing within an hour of our arrival.
The routine is the same every day: rise early, feast on fresh-baked muffins, eggs and bacon, and then assemble sandwiches for lunch. Then we click into our skis and head out, following the trail Ross broke into the flanks of an untracked slope. We burn thousands of calories each day climbing to ridgetops, soaking in the epic views, then floating back down in clouds of billowing, ethereal snow. In the late afternoon, we ski back to the lodge to crack a beer, take a hot shower, and feast on spreads of lasagna, beef tenderloin, or cedar plank-grilled salmon while Penny cracks jokes about her sitcom-like life as a British expat living in Whistler married to a French Canadian.
It's a skier's heaven, and if you're serious about earning your turns in the backcountry, Mallard Mountain Lodge or a base camp of a similar ilk belongs on your must-visit bucket list. Here are three more of our favorite helicopter-accessed backcountry ski lodges in British Columbia:
Sol Mountain Touring
Sol Mountain is like a comfy 7,000-square-foot, three-story McMansion plunked down in the middle of the backcountry. A 15-minute helicopter flight from Revelstoke, it sleeps 20 people in 10 separate bedrooms and features a dedicated yoga room, indoor plumbing, cozy décor complete with board games and coloring books for families planning to mix kids' playtime with blower powder skiing. For the adults, Sol offers 47 square miles of terrain ranging from mellow open bowls to huckable cliff bands. 
Icefall Lodge
Icefall's two lodge buildings are rustic (read: unheated, with outdoor privys), but the advanced terrain is so spectacular you'll barely notice the primitive digs. Accessed via a 20-minute helicopter flight from Golden, B.C., on the border on Banff National Park, the mountains are big, steep, and glaciated. The lodge is wisely located atop a steep stand of big trees so there's safe skiing even on days with high avalanche danger. Those comfortable with their avy skills can rent the whole lodge for self-guided trips that cost $20,000 a week (occupancy of 20). Icefall also owns a pair of satellite huts located along a 10-mile track across a pair of glaciers for a true haute route experience. 
Whitecap Alpine
A 20-minute flight from Pemberton, B.C., in the South Chilcotin range north of Whistler, Whitecap is known for its stable snowpack. You can ski the steeps spread out around the valley with relatively low avalanche risk. With four out-cabins clustered around the main lodge, the operation affords a higher degree of privacy than most heli-in backcountry ski ops. It also boasts hot showers, a sauna, and kegs on tap. Whitecap's permitted area is one of the largest in B.C., and guests have the option of ordering up the occasional "heli-bump" from the helicopter ski operation next door—an extra ride to the top of a remote, or particularly tall, peak.
Lead Photo: Darryl Leniuk
Trending on Outside Online