Blowing Up
An avalanche in Washington State killed three skiers but spared a fourth who was wearing an avalanche air bag. For years, experts have warned skiers never to travel in the backcountry without beacons, rescue shovels, and probes. Is it time to add one more piece of gear to the list?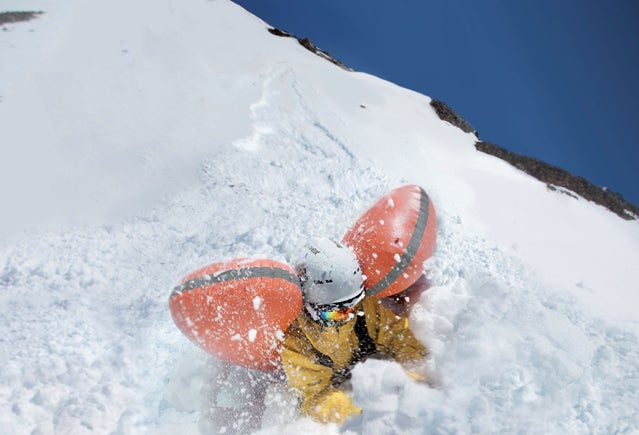 Heading out the door? Read this article on the new Outside+ app available now on iOS devices for members! Download the app.
AROUND MIDDAY on Sunday, February 19, a group of 13 skiers headed into a backcountry area just outside Washington's Stevens Pass ski resort. The skiers were on a trip organized by Stevens Pass marketing director Chris Rudolph, and the group included professional freeskier Elyse Saugstad, former Outside staffer and current ESPN Freeskiing editor Megan Michaelson, Powder magazine editor John Stifter, and World Freeskiing Tour official Jim Jack. In Washington that weekend, and perhaps anywhere in the country, it would have been difficult to find a more experienced group in the mountains, and all were equipped with what has become standard gear among backcountry skiers: an avalanche beacon, a rescue shovel, and a probe.
Mammut Rides Airbag
Mammut Rides Airbag
The day before, Stevens Pass had received 19 inches of new snow, and the group, aware that the avalanche danger on Sunday was not insignificant, skied one at a time to minimize the risk that more than one person would be caught if an avalanche broke loose. Four skiers navigated the first 300 vertical feet toward Tunnel Creek Canyon, then stopped in what they believed was a safe zone near the treeline. The fifth skier triggered an avalanche.
The slide started small but grew to 200-yards wide and swept into the stand of old-growth trees where Saugstad was standing. As she felt the slide hit, Saugstad pulled a toggle on the left shoulder strap of her backpack, ABS Avalanche Airbag Systems' pink Vario 18 model, and inflated twin 85-liter balloons. The avalanche carried Saugstad, Jack, Rudolph, and a third man, John Brenan, 2,000 feet downhill. When it stopped, Saugstad was mostly buried, with only her head and hands exposed, and unable to move. Of the four skiers caught in the heart of the slide, Saugstad was the only one wearing an avalanche air bag, and the only one to survive. 
Avalanche air bags have been widely available in Europe since 1985 and in the United States since 2007, when relaxed federal regulations made the high-pressure canisters that inflate the balloons easier to transport. Today, air bags are surging in popularity among backcountry skiers, snowboarders, and snowmobilers, in part because of the packs' reputation for keeping avalanche victims alive—a famous 2008 study found that skiers and riders with properly deployed air bags survived avalanches 97 percent of the time—and because of several dramatic videos showing skiers riding out major slides wearing them.
The professional snow-safety industry has taken notice, and in the past three years, several ski resorts, including Wyoming's Jackson Hole, have started issuing bags to ski patrollers. This year, Work Safe BC, British Columbia's occupational-safety organization, is investigating whether heli-skiing guides should be required by law to wear air bags on the job.
THE AVALANCHE AIR BAG was developed by Josef Hohenester and Peter Aschauer in Germany in the early 1980s. After witnessing a deadly avalanche while skiing with friends, Aschauer, a German businessman, began testing air bag prototypes, eventually starting ABS and selling the world's first commercial pack in 1985. Over the next 15 years, Aschauer's design was bolstered by studies from the Swiss Federal Institute for Snow and Avalanche Research, in Davos, that explained why air bags seemed to work so well.
Rather than floating through snow like life preservers, air bags keep avalanche victims near the surface of a slide through a process known as inverse segregation. In high-velocity slides, the bags act like rocks shaken together in a bucket full of sand and gravel: larger particles rise to the top, smaller ones settle to the bottom. Air bags, according to American Avalanche Association president Dale Atkins, turn us into larger particles.
The available evidence suggests that staying on top in a slide is incredibly important. One study by FISAR found that victims who remain on the surface survive 96 percent of the time, and another study found that air bags kept victims from being buried 92 percent of the time. In the most comprehensive look at avalanche air bag incidents—the oft-cited 2008 study—of 262 skiers who were caught in slides with properly deployed bags, only seven, or 3 percent, were killed. By contrast, avalanche victims who are buried with no gear survive less than 30 percent of the time, and victims buried with only a beacon survive less than 50 percent of the time.
Still, exactly how effective air bags are remains unclear. On February 13, a 38-year-old snowboarder named Nate Soules was caught and killed while riding in sidecountry terrain near Colorado's Telluride Resort. Soules was wearing both an AvaLung, which allows victims to breathe for as long as 45 minutes while buried, and an air bag from ABS. But the slide dragged him more than 900 feet through a steep, heavily treed area in the Bear Creek drainage and destroyed his bag, tearing one half of the two-part bladder into pieces and puncturing the second. "It doesn't matter what you have on your back if an avalanche pulls you into the trees at 40 miles per hour," Atkins says. Neither are bags likely to help in slow-moving slides, where the segregation effect is less pronounced, nor in slides that begin above their victims, like the relatively small slide that buried 43-year-old Keith Ames in a gully near Snowmass on January 20.
What's more, the high survival rate associated with air bags may reflect another statistic, one that's consistently overlooked in discussions of avalanche mortality: more than 90 percent of avalanches that catch people aren't deadly in the first place, and most aren't even reported. The 262 slides measured in the 2008 Swiss study almost certainly included nonserious avalanches that probably wouldn't have killed their victims in the first place.
Some avalanche forecasters worry that air bags could give skiers and riders a false sense of security, leading them to ski high-risk lines and head out on days when they wouldn't otherwise. That phenomenon, known as risk homeostasis, may help explain why in-bounds skiing deaths haven't fallen since the widespread adoption of ski helmets in the 1990s. "The weak link in the system is human behavior," says Ed Crothers, a veteran avalanche educator and member of the American Mountain Guide Association Risk Management Committee.
The upshot is that the 50 percent survival figure for people with beacons may not be an apt point of comparison to the 97 percent survival rate for air bags. Atkins thinks the packs help save lives, but only modestly: in a hundred deadly avalanches, he believes, air bags probably keep an additional three people alive.  
NEVERTHELESS, MOST OF THE AVALANCHE EXPERTS we contacted wear air bags when they ski. Operating in avalanche terrain involves a certain amount of unpredictable risk, particularly in seasons—like this one—when the snowpack is fragile and liable to slide in situations otherwise considered safe. So should air bags become standard gear? "For people who spend most of their time in avalanche terrain, I would say yes," says Ethan Green, director of the Colorado Avalanche Information Center. "But if you're talking about someone who goes into avalanche terrain once in a while, it becomes less clear. All of a sudden, your safety gear costs as much as your skis and bindings."
Even if bags never become inexpensive, prices are likely to continue to drop. The newest models retail for less than $700, and over the next year ten companies, including North Face, Arc'teryx, and Black Diamond, plan to bring air bags to market.
"Air bags help put us in a place to be lucky," Atkins says. "We just do not want to rely on luck."