The Daily Rally
Connor Ryan Embraces the Mystery
A powerful experience in the mountains showed the Native athlete that some things will never be understood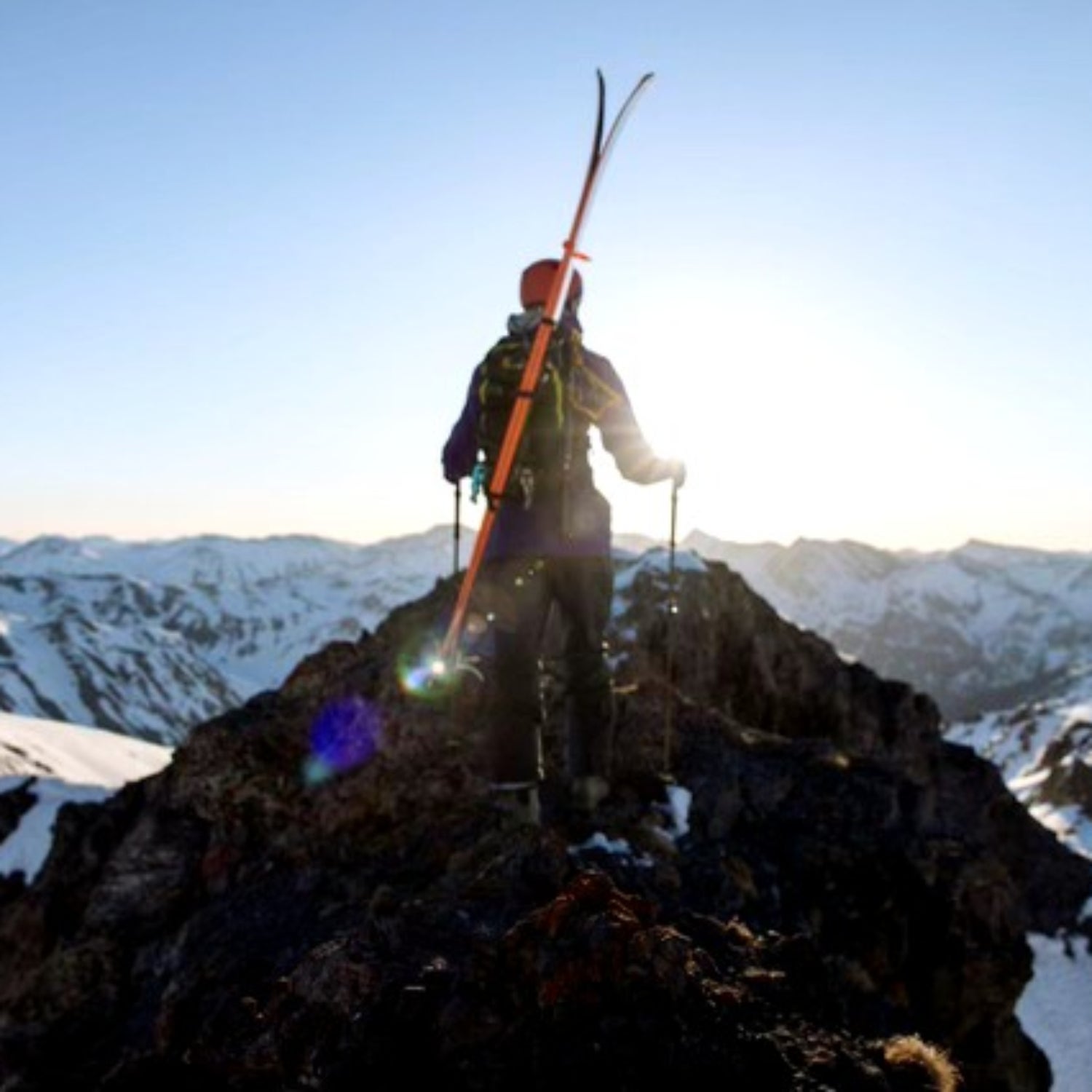 Isaiah Branch-Boyle
Heading out the door? Read this article on the new Outside+ app available now on iOS devices for members! Download the app.
Connor Ryan told his story to producer Paddy O'Connell for an episode of The Daily Rally podcast. It has been edited for length and clarity.
In Lakota ways, the highest power we believe in is Wakan Tanka, which is the great mystery.
It's two in the morning and theoretically, no one should have been awake. We'd maybe been walking for 50 or 100 yards before we were all like, "Do you guys see these footprints in the snow too? Why do you think that these are here?"
They definitely stuck to the route that we were taking. It's just enough of a shock to penetrate our drowsiness and start to raise the hairs on the back of our necks just a little bit. It was this moment when we all realized this is an undertaking that's larger than all of us.
My name is Connor Ryan. Some people know me as Sacred Stoke. I think that's my only nickname. I don't know the things that people might have nicknamed me when I'm out of the room, but for the most part, I'm called by my name. I'm from Boulder, Colorado, that's where I was born and raised, and currently I live in Winter Park. I spend most of my time skiing, chasing after snow, and helping native communities to build programs to get kids from our communities out onto the land to ski. Those are my highest priorities. Professionally, I'm a skier, filmmaker, and activist.
My passion is really relationships, and the tools that they are for better understanding our relationship to ourselves. For me, the relationship to mountains, communities, and our environment is really what fascinates me.
It was mid-April 2021 in Colorado. We were in the process of making the film Spirit of the Peaks. April's usually one of our snowiest months, if not our snowiest month. That year, I don't know if it had snowed once that month.
I rounded up my guys, Matt and Isaiah, my great friends, storytellers, filmmakers. We were pretty defeated after two weeks of making a ski movie without any fresh snow. We decided to chase this possible storm that was going to hit Monarch Pass. We drove over from Silverton and rented a room. We went to bed at about 9:00 p.m. and we set our alarms for a 1:30 a.m. alpine start.
We show up to the trailhead, and within a few steps, it becomes a tunnel through the forest. Things are pretty melted out and damp, and a fresh about six inches of snow had fallen overnight on top of this melty scene. We're all groggy, we're in headlamps, and we start skinning for maybe 50 yards before we all start to notice that there's these footprints on the skin track.
The thing that is really weird about them is they are like the silhouette of a foot or a shoe, but there's no tread on the bottom of them. It seems like anybody who should be headed up this way would have snowshoes or skis and skins on their feet. As I look at them, I think that the only thing that I've ever seen that look quite like this footprint are the footprints of moccasins.
I started making this joke that, "Oh, we don't have to worry guys. These are just grandfather's moccasins." That there's some spirit out here leading us through the woods all along the way.
By the time we'd been going for two miles, and the snow was getting deeper and we were deeper in the woods, the footprints still hadn't stopped. I started to think, Okay, now this is actually pretty strange. As we started to reach the end of the trail, we noticed that the footprints are still kind of leading in the direction we are going. They're almost equally guiding as they are confusing. And we were like, this is downright weird and we need to just look at these and think about this for a minute, and make sure we're not getting ourselves into some sort of situation that we don't understand.
At this point, we're going to have to break up as a group. Matt is going to have to walk away from us, and he's going to be across the mountain on a long lens. Isaiah and I are going to have to start booting up the mountain now, and we're going to use the drone and cinema camera there. For me, this is looking like it's about to be the longest boot pack of my life. I can't feel my feet or my fingers, the wind's howling, and the footprints had faded away almost entirely.
I can see the first twinges of twilight out on the horizon. The intention this morning was that we were going to ski a 3000-foot descent and six inches of powder at sunrise, and it's going to be this perfect shot that we need to turn this film around and get things going. My head is really filled with questions like, Should we even be here? Maybe we're done, maybe we're not going to get any good skiing in this movie at all, and maybe I'm not even that good of a skier.
So I'm squinting through my goggles through the blowing snow, and I see this figure. And I think, There's some guy on top of the mountain already who started at 1:30 instead of 2:00 like us, and he left these damn footprints the whole way, and we thought it was funny. And now he's going to get first tracks before us out here on this backcountry line, and the shot's going to be ruined. This is all just completely pointless. I feel like giving up, but as I look up to the summit of the mountain it just feels like there's something pulling me to the top.
As I'm chugging up the mountain, and the sun's coming up, my thoughts are just racing and my feet are going faster and faster. I come over the crest of the ridge of this blind rollover and the entrance to the line, and the figure that I thought was a tall man is actually just a rock that's maybe three or four feet tall, and very vaguely at best man-shaped. At that moment I just fell to my knees. I don't really remember if I was crying or I was laughing, but I was pretty hysterical either way. As I stood nearly atop of a 13,000-foot peak, with a sea of peaks below me basking in the alpine glow, I was really grateful. I realized whatever those footprints were, there was a way that grandfather was leading me to the top of this mountain.
We dropped into ski that day and it was crusty. It was nothing special, but when we went back and reviewed the footage, it was the first good shot that we'd gotten while making this film in at least two weeks. It's my favorite shot in the film; it's one of the most poignant points in the movie. It's this key turning point moment, but it was actually that in my real life.
For me, it really helped me anchor in this understanding of these concepts that exist both in Lakota culture and Ute culture. In Lakota we have this phrase, Taku Wakan Skanskan. Essentially, it's the reason why miracles happen. It means that something sacred flows through everything. They have a similar concept in Ute, which is called Nana-ma. There's a way for any of us, I think, to be led to a higher purpose than we can imagine for ourselves through a means and mechanism, which we don't even need to understand in order for it to work out.
I think this experience was one of the things that really brought me to this feeling of having a sense that I did have a strong relationship, quite literally, with the spirits of the peaks. You don't need to know why, or how something happens in order for it happening to be consequential and important and life changing.
Connor Ryan is a Lakota skier activist and filmmaker. You can watch his award-winning film, the Spirit of the Peaks on YouTube, and you can follow along with Connor's adventures and activism by checking him out on Instagram @sacredstoke.
You can follow The Daily Rally on Spotify, Apple Podcasts, Stitcher, or wherever you like to listen, and nominate someone to be featured on the show here.
Lead Photo: Isaiah Branch-Boyle