The Daily Rally
Vasu Sojitra Is All About Sharing the Fun
The professional skier found his life's work in the joy of others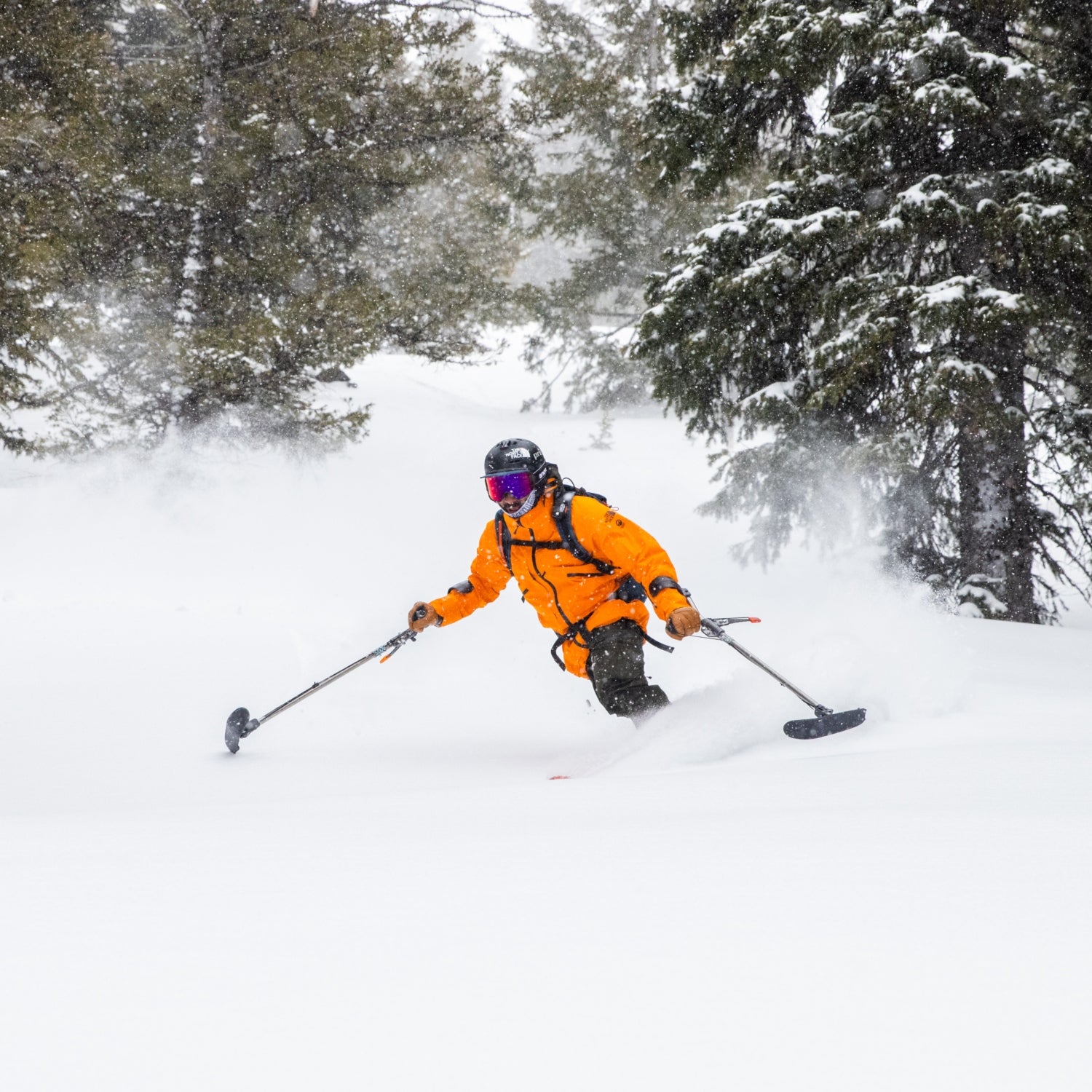 Sofia Jaramillo
Heading out the door? Read this article on the new Outside+ app available now on iOS devices for members! Download the app.
Vasu Sojitra told his story to producer Paddy O'Connell for an episode of The Daily Rally podcast. It has been edited for length and clarity.
Telling my parents that I'm gonna be a professional skier was fairly far-fetched. I come from a South Asian background, Indian-American. There's not many professional skiers that come from India. It's definitely breaking the mold of what folks that look like me typically do. It was a massive shift in my trajectory as a human in society.
My name is Vasu Sojitra. Some people call me Voss for short — don't wanna say the "su" part, I don't know. I identify as a disabled person. I have one leg, and I also am South Asian, so I have multiple identities. I grew up in Connecticut and also partly in India.
I fell in love with skiing when I was around ten, so I started going up to Vermont a lot, a little later in my teens. I went to school there at the University of Vermont.
I feel like one of the bigger challenges is trying to figure out what we want to do with our lives, and that was definitely something I was trying to figure out in my late teens, early twenties. I was in engineering for my college career. I needed to get out of that school as quickly as possible. Because I realized I do not like structure as much as I thought I did. But I did pretty well as an engineer. So I was like, OK, cool. I'm good at something, but do I like it? Maybe, maybe not.
What I did enjoy was experiencing the outdoors with my friends. I was kind of an arrogant teenager, just like, Oh, I'm a good enough skier. I don't need to do anything here. This is fine. And then I was introduced to Vermont Adaptive. I was 21 years old at the time, and it was a pretty sunny day and we were on a ski lesson on a green circle, a typical trail that many people take to just go back to the lodge. I was on this lesson with another volunteer who was physically tethering this other individual, just so the participant would stay in control.
I was skiing next to him next to the edge of the ski run. So the trees were on the other side. I was trying to make sure he looked up and was trying to initiate some sort of turning. But at the end of the day, we were just mostly trying to have fun. The skier had a cognitive disability, and from what I can remember, I believe he was non-verbal, but he was just screaming and hooting and hollering and just having a day. And I think mostly it was based on the speed at which he was going and the wind in his face. We were all happy and joyous and making each other laugh and whatnot. And he was just having the time of his life jumping up and down and just hooting and hollering.
That's when I stopped talking and just started observing. And I was just like, This is what it's about. This is really cool. It really doesn't matter what you look like, where you come from, who you are, or what your background is. This is what true joy is.
That was the moment I was like, Hell yeah. This is where I want to go, and these are the experiences that I want to help cultivate and create.
During the summer of 2014, a few of us decided we wanted to move out west and Montana was our choice. I decided that I wanted to work in the adaptive sports industry, and got my way into working at the local one here in Bozeman.
I was pretty persistent in building relationships with the program directors there and connecting with them and asking about job opportunities, internships, you name it. Just putting myself out there as much as possible, which might have come off as very, very persistent or annoying to some, who knows. I moved from the assistant program coordinator to the assistant director, to the director of the adaptive sports program.
That just filled my bucket and fueled everything that I was trying to do. I moved out of that program during COVID-19. I started realizing on-the-ground work like the stuff I was doing was really amazing and really impactful, but it wasn't going to create the systemic change that I'm hoping for, providing better access to the outdoors to folks with disabilities or better educational standards, or just providing that representation and cultural relevancy to an industry that seems like it definitely needs it. I started really pushing into the behind the scenes work, whether it's advisory committees, or DEI committees at the North Face or REI, or at other companies to help them shift their cultures.
As an athlete, I'm in front of the lens a lot, utilizing that representation to share the stories that aren't being told, especially around disability and race. To showcase that we are human and we also like to have fun.
Adaptive sports are so much more than just the activity itself, but just a way to feel empowered, feel emboldened, and be able to express ourselves how we want to, regardless of how society might treat us.
Vasu Sojitra is a professional athlete and disability access strategist. He is a founding member of the Outdoor F.U.T.U.R.E. Initiative, a co-founder of the Inclusive Outdoors Project, and a member of The North Face athletes team. Find out more at vasusojitra.com, and follow him on Instagram @vasu_sojitra.
You can follow The Daily Rally on Spotify, Apple Podcasts, Stitcher, or wherever you like to listen. Subscribe to our newsletter and nominate someone to be featured on the show.
Lead Photo: Sofia Jaramillo
Trending on Outside Online