Sponsor Content
Elevate Your Après-Ski Game with These Whiskey Cocktails
Ski season is right around the corner, which means après season is, too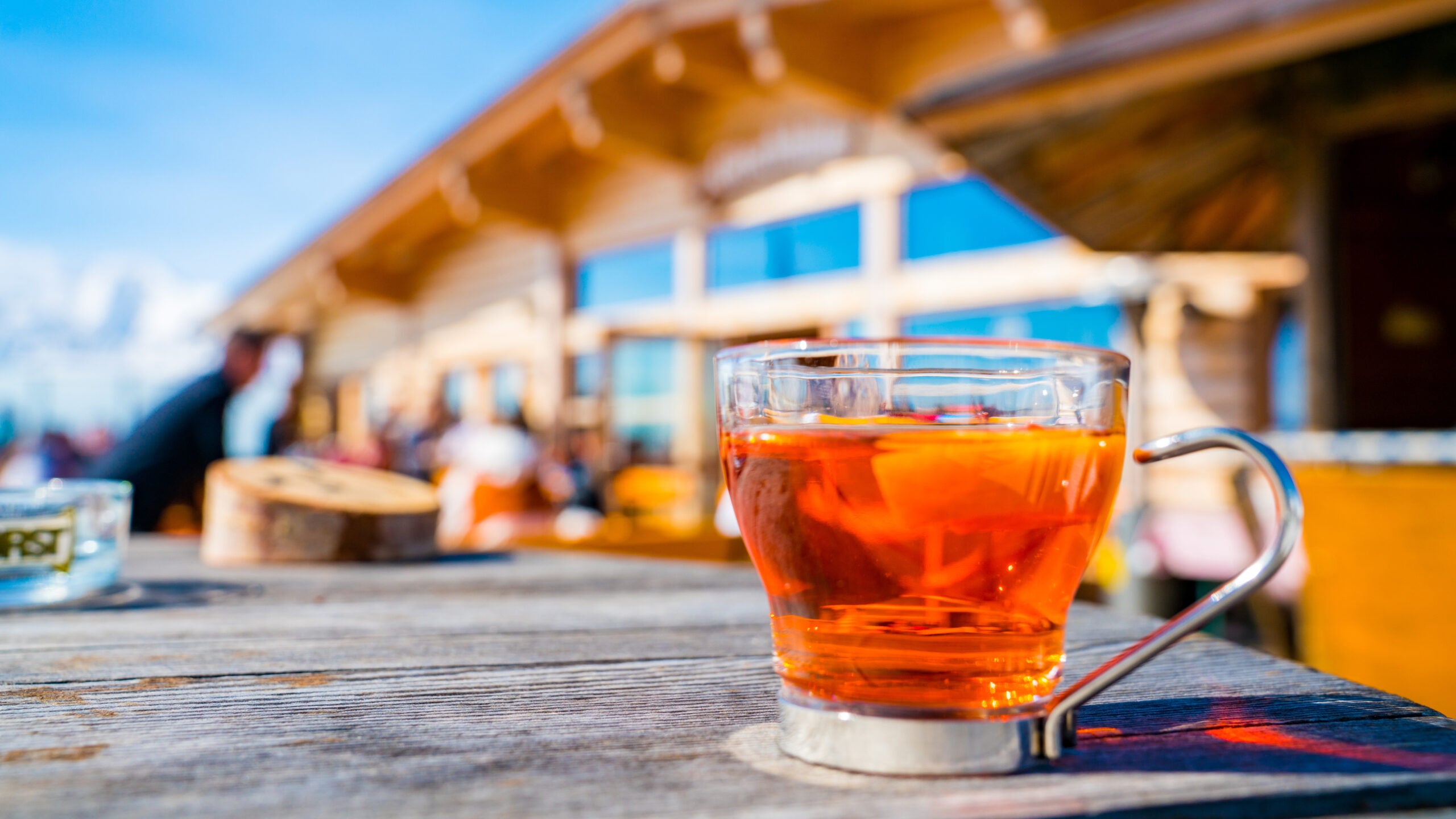 ingusk - stock.adobe.com(Photo)
The perfect day on the slopes comprises two equally important activities: the actual skiing or riding, and the après celebration. (For the uninitiated, après-ski is French for drinking cocktails by a fire while exaggerating about how deep the snow was in your "secret" zone.) Both ventures take practice to master, but the latter is far easier to improve. Ready to take your après game from the bunny slopes to the back bowls? Try these cocktails made with TINCUP—a whiskey made for the snowy Rocky Mountains.
Hot Apple Ginger Toddy
The hot toddy is a classic tipple to help battle the cold. This version adds ginger and apple for a more well-rounded flavor.
Ingredients
2 ounces TINCUP Mountain Whiskey
6 ounces apple cider, heated
1 teaspoon honey
sliced fresh ginger, divided
1 slice lemon
Instructions: First infuse the cider by adding several slices of fresh ginger to your favorite hot apple cider (reserving one slice for later). Steep for 30 minutes, then puree in a blender and strain through cheesecloth. Add honey and TINCUP Original to the bottom of a mug. Reheat the infused cider and pour into the mug, stirring and adding a lemon slice and ginger slice for garnish.
Smoked Sazerac
Bring a little of the campfire into your glass with this smoked cocktail, which also shows off the caramel finish of the TINCUP 10.
Ingredients
½ cup sugar
4 cinnamon sticks, divided
2 ounces TINCUP 10 bourbon
2 dashes Angostura bitters
6 dashes Peychaud's Bitters
ice
orange peel for garnish
Instructions: First make a cinnamon syrup: Simmer the sugar with ½ cup water in a small saucepan until the sugar dissolves, crush and add 3 cinnamon sticks, and simmer again for 10 minutes. Then strain with a cheesecloth and set aside to cool. Add whiskey, ¾ ounce of your cinnamon syrup, and both bitters to a cocktail shaker with ice. Stir. Break the fourth cinnamon stick into small pieces and stack in a pile on a fireproof surface. Using a blowtorch (or lighter) light the cinnamon and place a glass upside down on it, trapping the smoke until the fire goes out. Turn the glass upright and strain the cocktail into the smoky glass. Garnish with orange peel.
Après Steazy
Developed in Aspen with skiers in mind, this spirit-forward cocktail offers a kickstart after a hard day of powder skiing.
Ingredients
1½ ounces Amaro Lucano
¾ ounce TINCUP Rye
¾ ounce Campari
½ ounce St-Germain
¾ ounce lemon juice
ice
lemon twist for garnish
Instructions: Add all ingredients (except the lemon twist) to a cocktail shaker and shake. Strain into a rocks glass with a large ice cube and garnish with the lemon twist.
Highball
This classic, two-ingredient cocktail is the perfect refreshment after a long day on the slopes. TINCUP Original, which blends a high-rye bourbon with Colorado single malt, gives the cocktail a smoky flavor.
Ingredients
2 ounces TINCUP Mountain Whiskey
6 ounces club soda
Instructions: Combine ingredients in a tall glass over ice and stir.
Lumberjack Julep
Take the mint julep, a summer staple, and transform it into a winter cocktail with the help of maple syrup.
Ingredients
2 ounces TINCUP Rye
4 or 5 mint leaves, plus extra for garnish
¼ ounce maple syrup
crushed ice
Instructions: Muddle the leaves at bottom of julep cup; add rye and syrup. Top with crushed ice and garnish with more mint.
Cinnamon Maple Whiskey Sour
The classic whiskey sour pairs lemon with sugar and whiskey. This version adds winter flavors (cinnamon and maple syrup) for holidays in a glass. Use TINCUP's well-aged 10 to give the cocktail added depth. 
Ingredients
ice
1½ ounces TINCUP 10 bourbon
1 ounce lemon juice
2 teaspoons maple syrup
pinch of ground cinnamon, plus extra for garnish
 Instructions: Fill a cocktail shaker with ice, TINCUP 10, lemon juice, syrup, and cinnamon. Shake well. Strain into a rocks glass with fresh ice. Garnish with more cinnamon.
---
TINCUP® is a classic American Whiskey – cut to proof with Rocky Mountain water and bottled at elevation 5,251'. TINCUP® is a nod to Tin Cup, CO, an old mining town nestled in the Rockies and named for the tin whiskey cups from which the miners drank. Try the three expressions: American Whiskey, Straight Rye, and 10-Year Aged. Learn more @tincupwhiskey and tincupwhiskey.com
©2021 TINCUP Whiskey. Denver, Colorado. Please drink TINCUP© Whiskey responsibly.
Lead Photo: ingusk - stock.adobe.com
Trending on Outside Online