Euro Stash
From Italy's classic Sella Ronda to a new peak in the French Pyrenees, here's a primo selection of the best skiing on the continent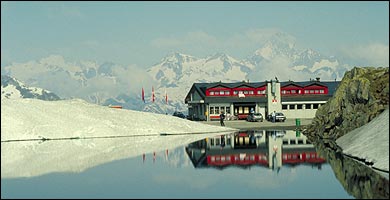 Heading out the door? Read this article on the new Outside+ app available now on iOS devices for members! Download the app.
SELLA RONDA :: ITALY
Access and Resources
Sella Ronda maps and info are available through Dolomiti Superski (011-39-0471-79-53-97,
www.dolomitisuperski.com
). Six-day Superski passes start at 5. For local travel info, try
www.altabadia.org
. Stay at Hotel La Majun (011-39-0471-847-030,
www.lamajun.it
), in La Villa, in the Badia Valley. A four-star hotel with a vast spa, La Majun is nonetheless affordable (from 8 per person).
"I AM SORRY," says our guide, with a wry smile, shrug, and lilting Italian accent. "We asked for more powder, but the Man on the Last Floor only gave us this . . ." The guide, Icaro de Monte, points to an inviting snowfield blessed with eight inches of creamy, boot-top snow—a reminder that sarcasm, unlike theological idiom, is an international language.

We're skiing the Sella Ronda, a loop in Italy's Dolomites, perhaps the most dramatic peaks ever created by the Man on the Last Floor. Everywhere stand cathedrals of stratified dolomite rock: spires, buttes, needles, slabs, and cones thrusting high above onion-shaped church towers in thousand-year-old towns. Of the million or so reasons to ski the Alps—from cuckoo clocks (not so important) to chocolate (very important), seamlessly skiing from village to village ranks near the top.

Unconstrained by narrow Forest Service leases, Europe fosters vast networks of lifts that connect far-flung valleys. Forget the North American practice of yo-yoing up and down the same terrain: Here, skiers cover expanses of peaks and valleys without ever repeating a run. And few of these classic village-to-village Alps tours match the Sella Ronda's standards for scenery, turns, ski culture, and dolce vita. Logistics are simple: Because the Sella Ronda forms a circle, skiers can finish it precisely where they began.

We start our ronda in the Badia Valley, known for its affordable four-star hotels and ravioli with truffle oil. A speedy gondola whisks us up from Corvara to an elevation of 6,706 feet on the hulking, jagged Sella massif, which gives the tour its name. We promptly see a Sella Ronda sign pointing south and follow it down a groomed, corkscrewing slope to the next lift. In our case, the sign is orange, designating a clockwise tour; counterclockwise skiers observe green signs. Both routes are so thoroughly marked they could be located in a howling whiteout by a shitfaced grappa drunk. (Hey, it happens.)

All told, the Sella Ronda wends about 23 miles (about nine on lifts, 14 skiing) around the massif. Though the Dolomites are rife with sheer walls that recall Yosemite's El Capitan, the pistes connecting the Sella Ronda are downright gentle. Intermediates can lap the circuit in seven hours, experienced skiers in five—and that's with the requisite pasta breaks. But rushing isn't the point. Not when you can relish mountains that provided the soaring backdrop for Cliffhanger. (They doubled for the insufficiently cinematic Colorado Rockies.)

After catching a T-bar and cruising into the Arabba Valley, we realize we've covered almost 20 percent of the tour in 45 minutes. It's time to slow down. Luckily, we're in the Italian Alps, so an espresso shack/alfresco bar beckons just off the slope. With miniature steaming coffees in our hands and the um-ticka, um-ticka, um-ticka beat of Euro trance in our ears, we pore over the Sella Ronda map. Ahead of us lie villages, huts, and passes with musical names: Passo Pordoi, Lupo Bianco, Valentini, Val Gardena. And we can visit all of them with ease: Our Dolomiti Superski tickets entitle us to an astounding 464 lifts, the most of any single ski pass in the world. As a result, there's almost unlimited potential for side trips, and in the coming days we'll detour to a wine-spattered rifugio and a canyon framed by towering peaks.

But that's for later. Today we have orange signs to follow. After lunch—a sausage-and-cheese platter, Chianti, and a couple shots of Jägermeister—we drop a procession of silky-smooth groomers, passing a smooching couple here and a wooden troll there. So it goes on the Sella Ronda: abandoning slopes after only one run, then chasing the horizon toward whatever the Dolomites offer up next.
Hahnenkamm, Austria
Access & Resources
Tickets to the Hahnenkamm races, scheduled for January 21–23, are $18–$24. Contact the Kitzbüheler Ski Club (011-43-5356-62-30-10,
www.hahnenkamm.com
) for details. To get a few turns in between races, you must also buy a lift ticket at the resort ($37–$43; 011-43-5356-6951,
www.bergbahn-kitzbuehel.at
). A giant chalet on the outside, with clean modern lines inside, Hotel Schwarzer Adler Kitzbühel (doubles, $281–$598; 011-43-53-56-69-11,
www.adlerkitz.at
) is your pick. It's steps from the slopes and has an elegant and meditative spa-and-pool complex.
HAHNENKAMM :: AUSTRIA
THE HAHNENKAMM RUN, in Kitzbül, Austria, is arguably the most technical and dangerous downhill course on the World Cup circuit. On race days, the course is rock-hard and slippery as a hockey rink, but this two-mile black-diamond run is always very steep and off-camber, with huge jumps and whiplash turns. Like some gravity-fed serpent, it dispatches the unworthy with a flick of its tail. Skiers never conquer the Hahnenkamm—they're simply allowed passage.

Kitzbül, on the other hand, is as friendly and easygoing as the course is not. The village becomes a partying base camp during Hahnenkamm race weekend, in January, with sing-along techno-pop pumping out of the speaker stacks lining the streets. When fans pour down from the mountain after the races, the town assumes the spirit of a rowdy soccer match, except that all of Europe's nations are playing at once: Austrians blow their horns, Swiss clang their cowbells, and everybody sings choruses of taunts and praise.

Horse-drawn sleighs look perfectly at home in Kitzbül, and the woodpiles are meticulously stacked. Wide eaves and brown-shingle roofs top the cream-colored buildings, chalet style. Temperatures last January were well below freezing, yet when a ferocious Lamborghini pulled up next to me on an ice-covered street, a long-legged woman stepped out in heels. Kitzbül is every bit as chic as it is tough.

The list of Austrian World Cup champions is long and includes Franz Klammer and Hermann Maier. And though native Stephan Eberharter won last year's Hahnenkamm downhill by 1.21 seconds, Americans came in second (Daron Rahlves) and won the overall title (Bode Miller). U.S. skiers have been competing here long enough to take part in the Europeans' well-oiled traditions—after the races, Rahlves and Miller had to tend bar with the other top finishers at the Londoner, a Kitzbül hot spot.

The region's dramatic elevation changes, wet climate, and northern latitude foster huge snowfields and glaciers. Skiers take a gondola that stretches about a mile and a half from town and deposits them above tree line, where several lift systems converge. No resort boundaries here—just miles of high-alpine terrain, each drainage leading to a different village.

For many vacationing Europeans, this kind of skiing is about sightseeing—not sport—and the spirit of après-ski begins with a late breakfast, continues during a two-hour lunch, and swings into full force with cocktails at three. I took a different tack, skipping lunch for "just one more" powder-supported free fall. When the time was right, I knew where to find the beautiful people: Just follow the chorus of bells, horns, and song.
Pic Du Midi, France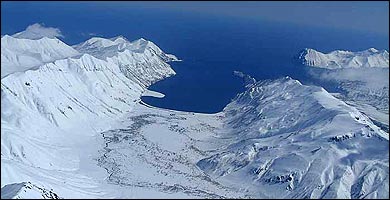 Access & Resources
Find guides and Pic du Midi details at
www.pic-du-midi-guides.com
, or hire guide Stéphane Delpech ($121 per person per day for a group of four or more;
www.surf-de-montagne.com
). The excellent new Pyrénées Sport Hôel (doubles, $212, including all meals; 011-33-5-62-95-5311) is situated in a remodeled factory en route to Col du Tourmalet, a famous Tour de France climb near Bagnères-de-Bigorre. Relax at Aquensis (
www.aquensis-bagneres.com
), in the village. The hot-springs complex has a 6,562-square-foot hot pool with a waterfall, saunas, and a tub on the roof with a glass floor.
PIC DU MIDI
IT'S 9:30 A.M. when the lift operator starts the cable car, and then we're hanging in the sky, moving up so fast that our ears pop before we have a chance to swallow. We rise above windblown snowfields, past rock outcrops, and finally into the clouds before the surreal telescope domes of Pic du Midi's observatory appear. They cover the entire mountaintop, the metal glistening in the sun.

Fog in the French Pyrenees has kept me waiting five days to ski the steeps of 9,439-foot Pic du Midi. I've begun to doubt that the mountain even exists—until its intimidating flanks come into view.

That I'm here at all is surprising, because the Pic has long been the exclusive territory of astronomers. Local guides lobbied town officials for years to open the mountain to skiers, using the astronomers' cable car for access, and finally in 2002 the Pic du Midi association of towns opened this icon of the Pyrenees to experts accompanied by an instructor or guide. The easiest—and most popular—runs are on the south face, above the Barèges and La Mongie resorts, which surround the base.

Near the summit, I look out over the impressive panorama of jagged peaks from the observatory's terrace. My guide, Stéphane Delpech, remarks that the Pyrenees "do not get the proper respect like the Alps do, but wait till you ski them!" He smiles as he points to the 45-degree Poubelle ("Trash Can") couloir, barely wide enough to fit a pair of skis sideways. We climb past the fence behind the observatory and boot up a few more feet between domes and satellite dishes to the launching platform for the south face. This observatory, built in 1873 as a meteorological station, now hosts world-renowned astronomers, and its museum is worth a visit for a quick immersion in planets, galaxies, and coronas.

Our first few turns down the 40-degree slope are in perfect powder, but too soon we hit cement. "Oo-la-la," Delpech shouts, "la croûe des Pyrenees"—a crust resulting from spring fog. We ski 4,600 vertical feet through rocks, crunchy snowfields, and tight gullies. My thighs burn as we finally traverse out at the bottom to a chairlift at Barèges.

On good days, fanatics can take four runs, skiing 18,400 vertical feet a day. But for most, it's more enjoyable to take one run and then retreat to Pyrenees culture in the valleys, which is what I do.

Back in the village of Bagnères-de-Bigorre, where medieval houses line the cobblestone streets, we finish a delicious meal of herbed lamb with a local cabernet before hitting the thermal baths of Aquensis, a remodeled 19th-century casino with a cathedral ceiling. As my quads start to relax in the warm water, I watch the clouds part once again, exposing Pic du Midi, rising dramatically away from its neighbors. I'm happy to have skied it, but equally glad to be right where I am.