Expedition Watch: Skiing Antarctica with the Pros
Heading out the door? Read this article on the new Outside+ app available now on iOS devices for members! Download the app.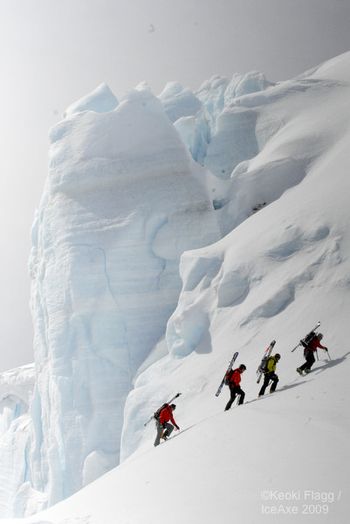 Antarctica, Courtesy of Keoki Flagg
The bad news? This expedition—in which 23 of North America's best known skiers, mountaineers, and guides invited you to cruise to Antarctica with them on a search for virgin powder—is over. The good news? The crew has plans for a similar expedition in November 2013 (120 passengers, 12 days, 11 nights) and has chartered the Australis for a smaller expedition in November and December of 2012 (8 passengers, 21 days). Check out IceAxe.TV for more info.
Who: Some of the best skiers, mountaineers, and guides in North America, including: Doug Stoup, Doug Workman, Dan Starr, Chris Davenport, Kristoffer Erickson, Andrew Mclean, Ben Mitchell, Kent McBride, Kim Havell, Noah Howell, and Kevin Quinn
What: A 13-day expedition on the Australis to explore the mountains and bays of Antarctica. After cruising to the white continent aboard the Clipper Adventurer, Doug Stoup and his friends shuttled a select crew of passengers via Zodiacs to untouched mountains and glaciers for a rare chance to climb and ski.
When: 11/8/11 – 11/20/11
Why: "I have been coming to the Peninsula skiing for over a decade and every time offers new experiences, new objectives, and new surprises. A decade ago, I dreamed of bringing 100 of my friends to experience the pristine beauty of this amazing place. In 2009, Ice Axe did its first Ski Cruise and this season was a huge success with many new first descents and amazing wildlife. But for me, its not the skiing, but the people. The friendships and the comradery have been my motivation on all my trips and this was no exception. The experience was truly amazing and can only contribute that to the special people that participated."
—Doug Stoup
Follow: www.iceaxetv.com
Main Sponsors: Ice Axe and Mountain Hardwear
Via: Kim Havell
–Joe Spring
@joespring