The Fall Line Meets the Bottom Line
A vetern journalist argues that the ski industry has sold its soul to Wall Street, turning too many mountain towns into overbuilt Disneyfied retail hubs. But don't despair: All over snow country, a back-to-basics counterrevolution is under way.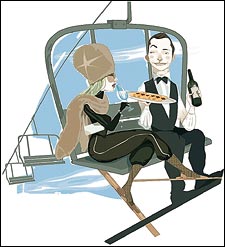 Heading out the door? Read this article on the new Outside+ app available now on iOS devices for members! Download the app.
MAMMOTH LAKES, California, is a beautiful place, tucked into a woodsy alcove on the edge of the Owens River Valley. The escarpments of the eastern Sierra Nevada rise 4,700 feet above town, and the John Muir and Ansel Adams wilderness areas wrap around it. Though Mammoth Lakes butts up against the Mammoth Mountain ski area, the two-lane road leading to town, Highway 203, lacks the sprawl lining many resort approaches.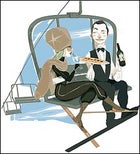 The Vancouver-based skiing corporation Intrawest, which owns a majority share of Mammoth Mountain Ski Resort and eight others in North America, is looking to liven the place up a bit. Intrawest is halfway through a decade-long plan to spend $500 million on Mammoth, for base village construction, homes, condominiums, and golf courses. The total investment, including money from other parties, approaches $800 million, equal to $123,000 for every current Mammoth Lakes resident. The strategy is to bring the resort, which saw about 950,000 skier days per year in the late 1990s, back to its historic high levels of 1.4 million in the mid-eighties—when visitors started straying to the Vails and Whistlers of the world.
I got a peek at the future one afternoon not long ago, when thenÐtrawest sales director Rick Davis, 48, took me on a tour of new properties. Driving across town in a black GMC Yukon Denali, Davis rattled off the numbers. Juniper Springs Lodge, constructed by Intrawest in 1999, offered 174 condominiums for $200,000 to $600,000 each. The 77 condos at the Sunstone building had sold out in two and a half hours in the spring of 1998, at a sales event in Los Angeles. A new gondola and 18-hole golf course were under construction and would open over the next two years.
We stopped at The Timbers, 32 Intrawest town homes that would list at prices from $650,000 to $900,000 (to date, 27 have sold). The Timbers units supposedly reßect a California Craftsman bungalow design, but the houses were oversize, inflated-looking things with concrete siding textured to resemble wood. The interiors had the charmless elegance of upscale hotel suites.
And upscale they were: For an additional fee, starting at $65,000, you could get a town house that was completely furnished, right down to the napkins. "The sky's the limit," Davis said, taking me into a unit's newly built wine closet—an option that went for $31,969 and came stocked with 300 preselected bottles.
Out on the new golf course, the ball-washing gizmos were mounted on four-foot-tall carved wooden bears. "It gives the place character," Davis said. "We're hoping in a few years that we'll be competing with resorts like Vail and Aspen and Beaver Creek. We have all that nature offers. We just need the man-made stuff."
SKIING DIDN'T START OUT with such fancy trappings. When it was introduced to the United States by immigrant Swedes and Norwegians during the mid-19th century, it was all about the Nordic ideal of idraet: spartan outdoor exercise that bred strength, toughness, and health. This romantic ideal helped define the first major wave of American ski resorts in the 1950s, and continued as late as the 1970s, when many ski areas were still simple, family-run hills where people learned to ski on the cheap.
But between 1982 and 2000, the number of U.S. ski areas shrank by a third, to 503, most of the casualties mom-and-pop areas that couldn't keep up with an increasing demand for extras. Since then skiing has become a mainstream tourism business, as dependent on off-slope entertainment as it is on snow. The high price of competing has meant that the big resorts have gotten bigger at the expense of the small, and prices have risen every year.
Today, three publicly traded conglomerates control many of the largest, best-known resorts in North America, places like Vail, Beaver Creek, Breckenridge, Keystone, Copper Mountain, Steamboat, Whistler/Blackcomb, and Killington. The Big Three—Vail Resorts Inc., Intrawest Corporation, and the American Skiing Company—have interests in 18 ski areas in the United States, lease about 40,000 acres of Forest ServiceÐnaged land for their operations, and sell 24 percent of U.S. lift tickets. In 2000, the trio reported they'd taken in $1.74 billion, netting almost $212 million. Calculated before interest, taxes, depreciation, and amortization, though, this figure was a slippery one and hid the fact that these companies either didn't make much money or lost a good deal.
With government on their side and Wall Street backing them through the nineties, the Big Three have profoundly reshaped modern skiing, and to some degree what they've done has been a logical response to marketplace realities. When they came along in the late 1980s, the industry was flat. Skiing had grown with the nation's 78 million baby boomers, but statistically, participation in the sport drops off a cliff after people turn 44, and this brought some hard realities to bear.
The most basic was this: At least in the short term, if a ski area wanted to increase its skier visits, it could do so only by poaching customers from competitors. The Big Three reacted by investing massively in the sport's infrastructure—with snowmaking, high-speed lifts, gondolas, and new terrain—while embarking on a seemingly contradictory strategy that made skiing a less important component of financial success. Reading the demographic tea leaves, the companies saw two potential proÞt centers: selling real estate to boomers and attracting nonskiers by turning resorts into four-season vacation spots.
The result, in the Big Three's own corporate phraseology, is not really about skiing at all, but about providing a scripted leisure experience, with base villages, shopping clusters, and lodging all carefully laid out to maximize spending. "I would draw a parallel to Disney," Scott Oldakowski, 39, former senior vice-president for real estate sales and marketing at the Park City-based American Skiing Company, told me. "There's a certain expectation you would have that's been set by Disney when you get to their resort. . . . We can create what we feel is a collective expectation of a staged experience."
During the 1990s the Big Three dictated the stakes throughout the North American skiing world, and independent ski areas—from Stowe and Telluride down to small hills like SolVista, Colorado—anted up. High-end real estate development is a strategy also being pursued by privately held ski-resort conglomerates like Boyne USA Resorts, in Boyne Mountain, Michigan, and Booth Creek Ski Holdings, in Truckee, California.
The question is whether this is an inevitable ordering of the ski world. Certainly big is not always wrong, nor is all change undesirable. (Fast lifts and good grooming can be a fine thing.) But whether you like the big-resort aesthetic or not, the unsettling truth is that theme-park skiing all too often is bad for ski towns, bad for the public lands exploited during resort expansions, bad for the ski business, and, some would add, bad for the sport itself.
Even the Big Three have not been rousing successes, if judged by the perpetual-growth expectations placed on large public companies. Although they have grossed substantial sums of money selling real estate, they have failed to impress Wall Street, because their operating costs and debt service are so high. By 2001, the American Skiing Company was seriously struggling. Its troubles climaxed with the departure of Les Otten—the man who, as much as anyone, invented the Big Three's style—and the company's takeover by its creditors.
When that happened, many insiders started questioning the whole premise of the Big Three. "I don't particularly believe in these villages," said one top ski industry executive who asked not to be named. "I just don't see them being as successful as the developers envision."
This dawning realization has produced a back-to-the-future movement inside the industry. In this next wave, which will be marked by the coming of age of 72 million Generation Y kids, small local ski areas may hold the key to skiing's revival—a revival that must find a way to convert more uncertain beginners into ski aficionados.
"WHAT'S WRONG WITH SKIING in America is that it's too expensive, it's getting more expensive, and it doesn't have to be," says Lito Tejada-Flores, 61, a widely respected ski instructor and author of the bestselling Breakthrough on Skis series. The top price of a single-day ticket will almost certainly break the $70 barrier this winter or next. Last year a 27-resort industry survey revealed that an average three-night ski trip sets one person back $1,608. Prices keep going up, and they do so because executives at competing resorts have engaged in what amounts to an arms race on the slopes.
The race began in the Northeast with Otten, the Newry, Maine, entrepreneur who in 1980 purchased Maine's Sunday River Skiway, the first area in what would become his American Skiing Company empire. Otten's revolutionary notion was to take the uncertainty out of ski vacations with massive snowmaking. Sunday River rolled out 1,300 guns capable of turning 9,000 gallons of water per minute into white stuff. Between 1980 and 1998, annual skier days at the resort jumped from 40,000 to 552,000.
Meanwhile, out west, Vail threw down the gauntlet with the 1985 installation of the Vista Bahn, skiing's first detachable quad chairlift, able to ferry four skiers at a time uphill at much faster speeds than traditional lifts. By the mid-1990s, U.S. ski resorts as a whole were investing an average of $100 million a year just on new lifts. In 1999 alone, Vail Resorts spent $65 million at its four ski areas on capital improvements such as lifts, grooming machines, on-mountain restaurants, and snowmaking systems.
Operating all the shiny equipment wasn't cheap. The monthly electric bill to run a high-speed quad can hit $14,000. A major ski resort can easily spend more than $1 million annually for electricity to make snow and operate lifts. At Sugarbush, a former American Skiing Company property in Warren, Vermont, electricity bills for snowmaking ran up to $300,000 per month. Higher costs meant ticket prices had to rise, and they did.
But all the capital investments could not alter the bad news that skiers were aging. The Big Three, however, saw an emerging opportunity as boomers began buying second homes. Vancouver-based Intrawest set the standard for building mountain resorts where skiing isn't really the point. Its crown jewel is British Columbia's Whistler/Blackcomb. In the nineties, the company turned it into North America's top-rated resort by developing a base area patterned after a European-style village, full of expensive condos and lively shops and restaurants. Intrawest knew that its average guest was on the slopes only two hours per day. As 42-year-old Lorne Bassel, the company's executive vice- president of resort development, puts it: "What are you going to do with them the other 22 hours?"
The answer, it turns out, is to let them shop. Bassel's team, called the Village People, designs the experiences at Intrawest's base areas to ensure maximum retail temptation. The company takes a cut from the village businesses, and although these appear to be a quirky mix of independent shopkeepers, each commercial tenant has to fit into Intrawest's overall plan, which is careful and prescriptive.
"We want to keep guests busy 24 hours a day," Bassel says. "What if I can come out of a bar at two o'clock in the morning and there's a place that sells slices of pizza? Holy cow, you've just extended my time clock and added to my experience."
The real money at Big Three resorts, though, is made developing and selling homes and condos. This approach seemed to be a surefire strategy for profitability: On a single day in August 1998, for example, would-be buyers stood in line for eight hours for the right to purchase one of American Skiing Company's 150 planned condominiums at the Sundial Lodge at The Canyons in Park City, Utah—units that existed only on paper. At the end of the day, the company had taken in $42.6 million.
Intrawest's performance was even more impressive. In four consecutive weekends in 1998, the company sold 376 unbuilt condominiums for a total of $94 million at Stratton Mountain, Vermont; Snowshoe, West Virginia; Copper Mountain, Colorado; and Mammoth Lakes. In April 1999, 139 Intrawest condos-on-paper at Squaw Valley were sold in six hours for $73 million.
DOESN'T DEVELOPMENT OCCUR only in response to market demand? Perhaps. But in the real world, the ski industry operates outside the rules of Econ 101. Much of its growth is floated by exploitation of public lands (where the slopes are), which in turn creates traffic in the towns and private-property villages below. Half of all skier days are counted on land managed by the U.S. Forest Service. And this government agency, which most people think is responsible for environmental stewardship, is actively underwriting ski area expansion—even when there's no demonstrated need.
In 1994 the Forest Service committed itself to the National Winter Sports Partnership, a recreation-promotion agreement that obliges the federal government to spend taxpayer dollars on behalf of the National Ski Areas Association, an industry group that represents 326 ski hills and accounts for 90 percent of skier days. One 1996 Forest Service memo put it bluntly: The agency's role, it said, was to "help our partners achieve business success."
That's a problematic goal, since the federal agency is also responsible for regulating the ski industry's use of Forest Service property. But growth remains job one. During the nineties, when Colorado skier days increased by only 2 percent annually, skiable terrain grew at 7 percent annually and doubled over the course of the decade.
Like partners in a bad marriage, the Forest Service and the ski industry are using each other, and neither partner is likely to rock the boat. For example, where was Smokey Bear, in 1998, when Vail Resorts sought to expand Breckenridge, already one of the most kitsch-heavy ski destinations in the United States? Vail Resorts, which operates the ski area on Forest Service property, had unveiled expansion plans for three new villages at the northern edges of this sprawling 2,043-acre resort, near an undeveloped alpine wetland called Cucumber Gulch. The expansion included 165 acres of trails. What was unstated, but seemed apparent to environmentalists, was that the company's private property around Cucumber Gulch would make a prime base area.
Vail Resorts publicly denied it had any specific plans for base village development around this spot, called Peak 7. It presented the expansion and new lift to the Forest Service as a freestanding proposal, unconnected to any future development. And the Forest Service approved it. Environmentalists appealed the decision, Vail stonewalled, and the appeal went nowhere.
But the U.S. Environmental Protection Agency smelled a skunk. Under serious EPA pressure, Vail Resorts came clean in March 1999 with drawings of a new village at Cucumber Gulch, complete with a five-screen movie theater, conference center, ice rink, retail shops, and restaurants, all connected by road and gondola to parking lots on the valley floor. All told, the proposal would add 853 new condos, town homes, and houses to the slopes, plus 63,000 square feet of commercial space.
As of September 2002, Vail Resorts and the still-wary citizens of Breckenridge had reached a tentative compromise for a $400 million development that included up to 500 condos, a gondola, two chairlifts, and about 15,000 square feet of retail space. The feds had signed off on that as well.
It's obvious what the ski industry gets out of such deals, but what does the Forest Service get? Not much. The agency collects $17 to $19 million a year in ski area land leases. That comes to between 71 and 80 cents per skier day; the Forest Service charges 1.5 to 4 percent of the gross revenues that are realized on its land (adjacent base village and real estate profits aren't counted).
The results of such expansions are often hugely detrimental to the Forest Service's other constituency: wildlife. On the I-70 corridor stretching from Vail west to Eagle, development has pushed wildlife to the brink. The area's elk have foundered, driven from their former wintering grounds in Bachelor Gulch, west of Beaver Creek, by a new spate of multimillion-dollar homes. Four times in three winters during the late 1990s, several hundred elk charged I-70, maddened by starvation. As drivers swerved and tires squealed, the herds surged across the four-lane highway in a panicked hunt for forage, looking for the last good place.
LARGE-SCALE DEVELOPMENT might make sense if the industry were making a killing, but the capital-intensive village model is a shaky long-term bet. Despite the billions of dollars invested in the nineties, skier days did not grow significantly. About 33 million Americans consider themselves skiers or snowboarders, but only a third of them actually go out in any given year, and annual skier days fluctuate between 46 and 57 million.
For now, the Big Three don't really have to care about skiing's next generation. Making a profit doesn't necessarily coincide with recruiting new skiers, and they're covering their bets by investing in non-skiing developments. Intrawest is pushing village-style projects in Nevada and Florida, and golf resorts and time-shares in Arizona. Vail Resorts branched into a golf and tennis club in Rancho Mirage, California, and a hotel company with properties in Santa Fe, New Mexico; Islamadora, Florida; and Washington's San Juan Islands.
But the projections still don't look good, and already one of the Big Three has hit the rocks. Heavily leveraged, the American Skiing Company was forced to sell its Sugarbush ski area to a quartet of Vermont businessmen in 2001, and California's Heavenly to Vail Resorts in 2002. It had been stymied by Vermont opponents in its efforts to develop a village at Sugarbush; for this and other failures, including an enormous hangover of unsold real estate, both its stock price and bond ratings went down the tubes. When Les Otten found himself out of a job in the spring of 2001, the company was taken over by its creditors, and by mid-2001 it was deeply in debt, its stock trading at around $1 a share—down from $18 when it went public. That price has since slipped to 14 cents.
Vail Resorts and Intrawest have fared better, yet neither could be called a rousing success. Since their 1997 IPOs, both firms have substantially underperformed in the stock market. An Intrawest share today sells for about the same $16 that it did five years ago; Vail stock goes for around $15, about 30 percent less than its IPO price. Even before the market rout that began in March 2000, both were seen as mediocre performers during a decade-long market run-up, and the post-9/11 economic downturn hasn't helped matters.
It's not just the Big Three, either. Hotels in Telluride's Mountain Village now teeter on receivership; Booth Creek resorted to issuing junk bonds in the late 1990s. Certainly, some individuals have done very well thanks to Big Three-style strategies: executives enriched through high-six-figure salaries; real estate brokers who handle the huge transactions brought onto the market by new development; builders who hammer the nails. But when all the villages are built—or more likely, overbuilt—what then? The Big Three will be off chasing baby boomers across beaches and fairways.
FORTUNATLEY, CHANGE IS IN THE AIR. These days, the most talked-about success stories in skiing are not the big guys, but the small fry that got squeezed in the 1980s and 1990s. Local and regional mountains that focus on skiing as an end in itself are the ones quietly bringing new skiers and boarders into the sport, showing healthy increases in ticket sales, and even making a profit—places like Mountain High, California; Eldora, Colorado; Wachusett Mountain, Massachusetts; Hunter Mountain, New York; and Mad River Glen, Vermont, where the skiers themselves own the mountain.
Many of the most innovative hills around are set up as nonprofit companies, with surplus cash getting reinvested in the operation. Consider Idaho's Bogus Basin, a nonprofit that has set out to re-democratize the sport by making it affordable. In 1998 CEO Mike Shirley cut the season-pass price for Bogus's 2,600 acres from $500 to $199. The previous year he'd sold 2,854 season passes. That winter he sold 25,000. First-time pass holders get a season of rentals and a set of lessons thrown in for free; a kid's season pass costs $29. Shirley's conversion rate has been phenomenal; 65 percent of those who tried skiing in 2000 went on to buy a season pass in 2001. "The industry has assumed that it's elitist," says the 61-year-old Shirley, who also sits on the board of directors of the National Ski Areas Association. "We're saying it doesn't have to be. And we're not giving anything away. We're making more money than we ever have."
In nearby Bozeman, Montana, one resident in ten buys a $475 season pass to ski the 1,500 acres of Bridger Bowl, a nonprofit resort that recorded a hefty 25 percent return in 2000 despite lacking "village" amenities.
Mountain High, in Southern California's San Gabriel Mountains, has become a mecca for other ski area operators: In just five years, general manager Karl Kapuscinski doubled his skier days to 550,000 and is turning profits in the 20-percent-plus range. Mountain High lies within 90 minutes of 12 million residents of the Los Angeles Basin, probably the most ethnically diverse corner of the country. Skiing and boarding are typically lily-white sports, but not here. Forty percent of Kapuscinski's customers are non-Anglo, principally Asians and Hispanics. His clients are not boomers but in their teens or twenties; almost everyone is boarding.
At 680-acre Eldora Mountain, 21 miles west of Boulder, Colorado, skiers and boarders are discovering the advantages of a place that's close to home. "It's price and proximity," says Rob Linde, Eldora's director of marketing, who charged a top daily rate of $43 last year at the for-profit hill. Evidently, a lot of snowboard moms are figuring this out; Eldora's skier days grew from about 67,000 in 1989 to almost 250,000 last winter. "We have a responsibility to price the product and programs so kids can get into the sport," Linde says. "The Vails and Copper Mountains of the world don't have the opportunity to do that."
And finally, in western Maine, where Les Otten first started blowing snow, the nonprofit Maine Winter Sports Center is trying to re-create the skiing culture of the 1950s and 1960s in one of skiing's American cradles. In 2000, MWSC bought two tiny ski hills, BigRock and Quoggy Jo, and revived them. Aided by an average $10 daily ticket, skier days at BigRock rose from 11,000 to 15,000 in a year. This year it expects 30,000.
The corporate resort will always be with us, but for now it no longer defines the future. These days there are refreshing signs of revived interest in the thing itself: skiing. During the coming years, more of skiing's World War II-era pioneers will die or retire, and some of their ski areas will be sold. If those pioneers have done things right, they will have remembered—and taught those who take up the reins in their place—that skiing's success, as always, is found in an open hill, cold air, and a clean line.