Friday Interview: Seth Morrison
One of skiing's most recognizable icons discusses fame, death metal, and the lessons he has learned during a decades-long career in a sport that can wear people down pretty quickly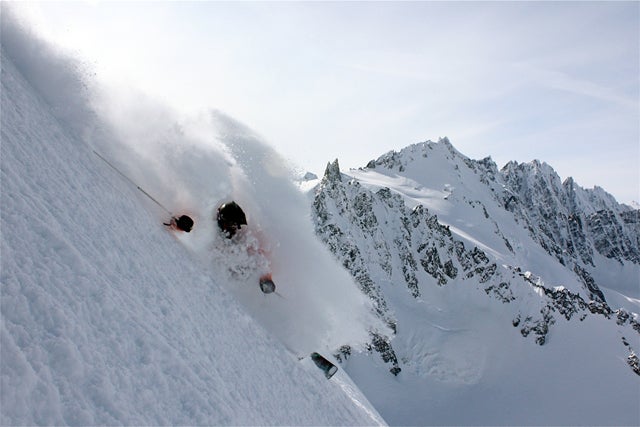 Heading out the door? Read this article on the new Outside+ app available now on iOS devices for members! Download the app.
In 1992, a 19-year-old Seth Morrison skied fast, fluid, and clean down a technical line at the U.S. National Extremes in Crested Butte, Colorado, to place second in his first contest outside of ski racing. This marked the beginning of a 20-year career that has seen Morrison push the outer edges of skiing and, in doing so, redefine the sport.
At 38, Morrison has survived avalanches, a helicopter crash, and numerous injuries, not to mention the ski industry. He's won dozens of awards, including the Powder Video Awards' Readers Poll over seven times, and appeared in over 36 movies, including this year's Teton Gravity Research flick Dream Factory and last year's Ordinary Skier, a documentary about his life. With his unkempt jet-black hair, pierced eyebrow, and mind-bending skiing, Morrison has emerged as one of skiing's most recognizable icons.
Born in the flatlands of Murray, Kentucky, Morrison moved to Colorado in 1984, where he began ski racing first with the Buddy Werner Ski Club and later with Ski Club Vail, where he competed in FIS level events. At age 19, as a freshman at Western State in Gunnison, Colorado, he entered Crested Butte's U.S. National Extreme competition, placed second on the mountain he'd been skiing nearly every day that season, and extreme skiing's dark knight was born. Morrison began filming, traveling the globe, and attracting sponsors. Since then, he's built a career that has outlasted most of his peers. Get past the larger-than-life, rock 'n' roll image, and you'll find an insightful, quiet, straight-up guy. Sure, he's cynical about the media and ski industries, but he also realizes it's a means to an end.
There's no B.S. with Morrison, no ego or attitude. No caps lock tweets or gratuitous self-promotion. Talk to Kye Petersen or JP Auclair. Talk to your 35-year-old uncle who had posters of Morrison on his bedroom wall during his ski bum stint in Jackson. Most everyone will agree: Seth Morrison is skiing's Jedi Master.
From his cabin in the hills above Crested Butte, as he waited for the fourth elk-hunting season to start, Morrison took a few moments to talk about fame, death metal, and the lessons he has learned during a decades-long career in a sport that can wear people down pretty quickly.
What's the biggest misperception about you?
Everyone I travel with thinks I listen to death metal all the time or punk rock music. "Oh, I pictured you listening to death metal." I like all different kinds of music.
When did you know that you'd made it as a skier?
I guess after doing well in the Crested Butte Extremes in my first contest basically out of ski racing. And just from that, it was getting the notoriety and doing ski films and being noticed as a skier that wasn't racing.
How do you feel about your fame?
It's what's kept me going in what I'm doing. Without it I probably would have been gone a long time ago. You watch a lot of skiers come and go over 20 years.
So what do you attribute the longevity of your career to?
Just hard work and trying to be more unique than others and staying ahead of the curve of what's going on. Doing new things.
Have your priorities shifted in terms of skiing, your personal life, or what you want out of life—and if so, how?
No, but I've had to adapt to what I'm doing because a lot of times that's condition-based, and with the last couple of years the snow not being quite as good where I've been going, I've had to get creative in the non-powder environment.
In terms of people in the ski world you've lost, which loss has affected you the most?
Trevor Peterson. He was one of the first people I looked up to in the ski world as a kid. Obviously Doug Coombs and this kid Josh Malay that used to do a lot of artwork for my skis. And just with all of them, it was the fact that it was doing what you love to do: Skiing. Makes you really think a little bit more about what you're doing when it happens.
Are you scared to die or are you at peace with it?
The problem is, when those accidents happen, it's during your season, and you always hear about them, and so then it kind of makes you think about that happening to you during the season. Because you don't know what's beyond. If you die—and I think that's the thing people are afraid of, the unknown. I don't think I would ever be afraid, it's just … if you're afraid, it's more about the people that you'll leave behind and how it's going to affect them or if it's going to hurt for a long time. Or if you're going to be suffering, or if it's going to be a flip-of-the-switch kind of thing.
I know you've been in several accidents, avalanches, a helicopter crash—what was the scariest for you and what was the takeaway?
Probably the avalanches, more because you learn about where you should be and where you shouldn't be, a little bit more about the snowpack of events—and that's something you can have control over. The helicopter crash was an accident that I had no control over other than just not getting into the helicopter. The same thing could happen to people flying in planes. Wrong place, wrong time. But being caught in an avalanche, you have a lot more control over the situation—you don't have to go to that place, you don't have to go down that run, you can turn around. You can decide more what is happening.
How many avalanches have you been in?
A handful. Buried once, but I was able to sit up after it had run. That was in Haines.
Growing up, who were your ski idols? Who did you look up to?
When I was a kid, it was ski racing. So I was watching people like Pirmin Zurbriggen and Ingemar Stenmark. They were the exciting guys to watch back in those days. Then, of course, everybody started to watch the Greg Stump films and also those guys out of Canada who did Carving the White—Kirk Jensen, Eric Pehota, Trevor Petersen.
Who are the skiers now who impress you?
You know, we always watch all these ski films and the industry hypes up certain people, delivers who we should be watching. But there's a lot of skiers out there that no one has any idea about, you don't even see them because they don't want to be in that realm. They just want to go ski. Just from the Chamonix experiences, there's a lot of people over there who are just skiing for themselves. But currently, Andreas Fransson has been getting quite a lot of play for his solo accomplishments.
What were some of the biggest lessons you had to learn along the way?
It was more figuring it out and not getting taken advantage of. Trying to make money doing it rather than working for other people for free and promoting their gear. I got taken advantage of quite a bit when I was younger and that's why I handle things differently. If you don't cover your ass, then that's the way it goes. Anything can happen. A lot of us don't have agents and that's who would be looking out for you in those situations—but we don't make enough money to warrant having an agent.
Do you make enough money now to be comfortable?
Sure, but it's taken me a long time to get to that point. Even when I started, it was hard to convince companies of the value of having athletes. Companies are finally realizing that athletes are valuable to promoting their gear and helping them sell more gear and helping them improve the gear.
Where do you ski when you're not traveling?
Between the backcountry or Crested Butte, or Summit County, Vail—depends on what's going on.
What was Alaska like the first time you went?
I went in 1993 for the World Extreme Skiing Championships to Valdez. And at that time there wasn't really any established anything. There were no guides. There was no lodge. No heli lodge. No heli packages. There was a helicopter that landed on the side of the road and you just got in line.
Do you still like going up there?
It's fun to go up there; it's more fun to go away from where those operations are and do your own thing or go to a smaller operation, like Tordrillo's Lodge—they're more intimate, more what we've done with TGR. Just get in the helicopter and find your own places to go to. You're out of the riff-raff of it. The best part about it is the terrain you're able to go ski and the safety factor—that's the big part of it, the snowpack being stable.
What do you like about the terrain up there?
Each zone offers different styles. So there are mountains everywhere, but some places offer more spines, others places offer more walls, others more ramps. Just the untouched factor, and you don't see a lot of traffic out there in the mountains, except where those heli operations are.
What's your favorite terrain to ski?
I like it all. I like to ski more couloirs but they don't like those in the movies because it doesn't look that exciting, but to me they look pretty cool and they're fun to ski.
Where are some of your favorite places in the world to ski?
In the Southern Hemisphere, New Zealand and South America, depending on the conditions. Las Lenas is one of the best places you could possibly go with a chairlift.
In North America, it's definitely Alaska. It seems that you're always guaranteed to find good snow when you go to Canada, British Columbia. And lately it's been Chamonix, but there are other places that I've never been to that are probably just as grand. So much to explore, so little time.
How did your evolution to ski mountaineering come about?
I enjoy doing it, but it's a matter of finding the people you want to do it with because it takes a lot of trust and knowledge. It's been fun, but it's by no means all I'm going to do. I want to keep doing it, but it's hard to do. You've got to be in good shape and if you're going on a bunch of film trips you don't do a lot of skiing and you don't do a lot of working out like you do when you're on your own time.
Who has showed you the ropes in the ski mountaineering world?
Mostly Nate Wallace when we were filming the Ordinary Skier, and there were some other guys.
What do you have on tap for this winter?
We've been talking about revisiting the Haute Route that the Poor Boyz tried to do last year, but it warmed up on those guys, so they weren't able to finish it. It's doing the Haute Route, but skiing some big lines along the way—that's the idea. So I'll probably go do that as long as everyone stays healthy.
Do you still enjoy filming, or are you over it?
I still enjoy filming, it's just that I'm more particular in what I want to film and who I want to work with. Because after all these years, you find yourself—you don't want to waste your time because there are other things you could be doing and it's no fun to go on a trip and spend a lot of money and end up not getting anything out of it.
What's been the biggest change you've seen in the ski industry since you've been in it?
Just the amount of people who are out there now skiing. I remember skiing early season ski racing and, sure, there would be people skiing, but not as many as now. With these staff deals and on weekdays, it's like, Do people work anymore? Because there are so many people out there skiing, when in the old days it used to be so quiet.
Do you still enjoy skiing?
Oh yeah, I just don't enjoy the work part of it. I'd rather just go skiing for fun, and that's the one thing I keep missing out on is the skiing for fun aspect.
What's your future look like?
The same thing, but maybe grander adventures.