The Future of Winter Sports Is Storing Snow
Meet the man revolutionizing how we save snow from season to season—climate change be damned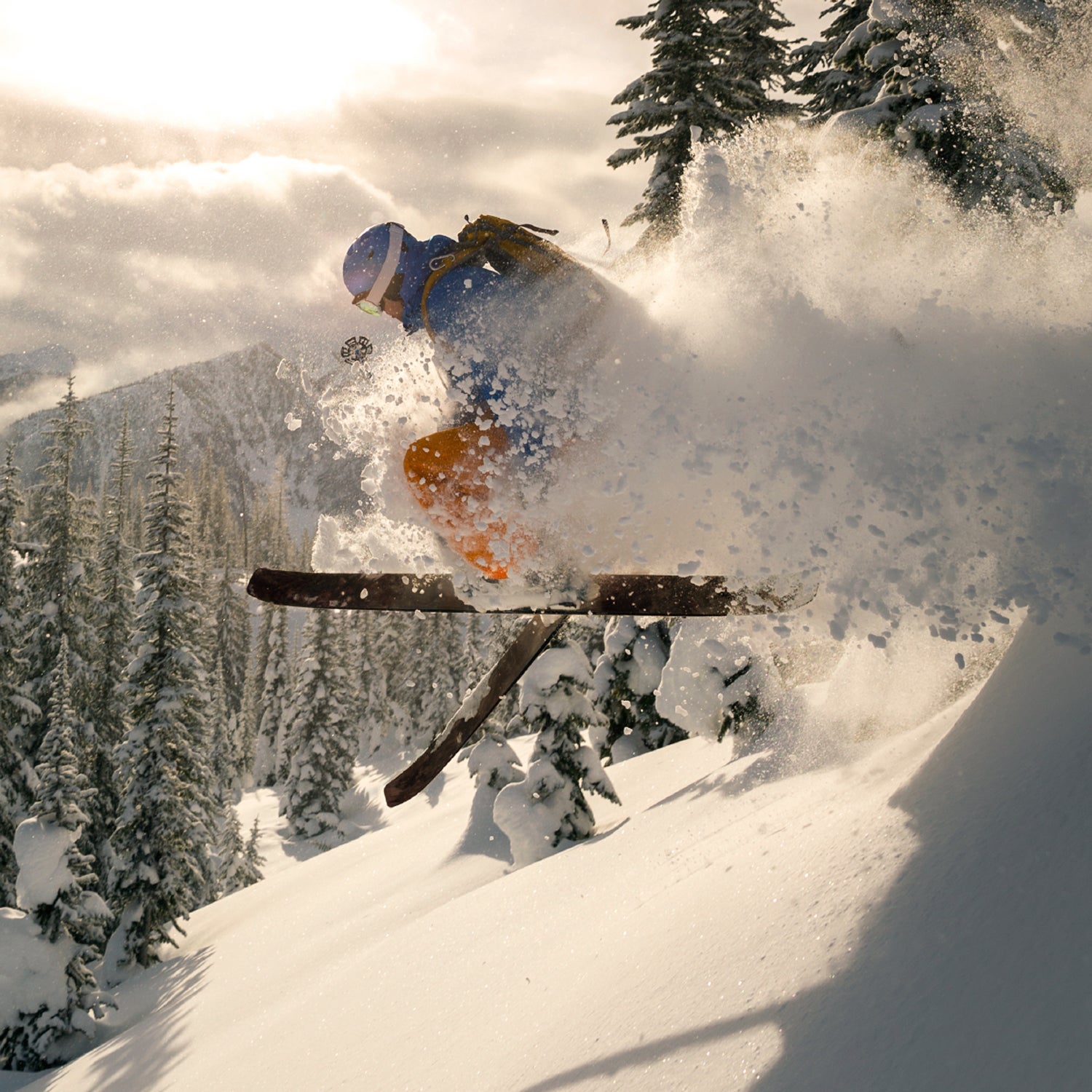 Heading out the door? Read this article on the new Outside+ app available now on iOS devices for members! Download the app.
Earlier this month, three days before the ceremonial start of the Iditarod sled dog race in downtown Anchorage, a train loaded with 350 cubic yards of snow left Fairbanks and began a 360-mile journey to the state capital. An unusually warm winter in the southern part of the state left Anchorage bone dry, and race officials, who often stockpile snow around the city to use later in the race, requested the Fairbanks snow as an insurance measure: no one wants to see mushers scraping their sleds on asphalt for the three-mile-long start, which was the best opportunity for onlookers to see the competitors and their dogs up close.
It was the first time in the history of the race that organizers arranged to import snow like this, and the last-minute maneuver represents a growing need around the world for fresh snow, on demand. It's not just the Iditarod. Sporting events like the Hahnenkamm World Cup ski races in Austria, as well as ski resorts throughout Europe and Asia, all depend on snow deliveries and storage for their success. Even the Sochi 2014 Winter Olympics needed a boost. As climate change bears down, decision makers in traditionally chillier climates are relying on artificial means to stage winter competitions and prolong their lucrative cold seasons—and more businesses are capitalizing on the niche market.
"The need is obvious," says Finnish snow-storage pioneer Mikko Martikainen, 59, who led a four-year effort to store one million cubic meters of snow for the Sochi Olympics. (If you spread that amount of snow across a football field, the resulting snow block would be 700 feet tall.) "Look at resorts in Europe this winter: very [low snowfall]. And scientists are estimating no skiing below [6,500 feet in elevation] in the Alps in 20 years. But if you store snow, your business won't be ruined."
As Martikainen tells the story, he came up with the idea to store snow from one season to the next more than 30 years ago. Back then, amazed to see a pile of snow remaining under a cover of paper fibers on a hot summer day in Finland. Martikainen, a lifelong skier, realized the business potential of snow storage but doubted anyone would buy into it. "If I had started to push it then," he says, "they would have put me in a mental hospital." Not only was snow in abundance in the mountains, but snowmaking systems were advancing to the point where they could manufacture snow in temperatures above freezing.
"The whole idea of storing snow is to repeat it year after year and recycle the insulation, because then the snow comes really, really cheap."
But in the past two decades, the need has become apparent, and Martikainen launched his snow-storage business, Snow Secure, in 2005. Still the lone employee, he travels around the world working with more than 20 ski areas and consulting with international ski federations from Norway to Croatia. Earlier this month, he flew to South Korea to conduct tests with the organizing committee for the 2018 Winter Games. His job: ensure there is enough snow to stage the alpine and cross-country competitions two years from now.
"It's going to be very challenging because it's a subtropical area, with monsoon rain, so in principle it's crazy even to try it," he says. "We will need to store snow for eight months in temperatures up to 35 degrees Celsius [95 degrees Fahrenheit] with enormous rain. No one has done it. So, of course, I would like to do it."
Snow storage essentially involves recycling snow from one season to the next. The most common method involves covering piles of natural and manmade snow or crucial pieces of a glacier—like, say, a swath that connects one piste to another—with a polypropylene tarp with reflective properties at the end of the spring. That will typically preserve the snow until the following autumn. The textile giant TenCate, for example, supplies two-millimeter-thick tarps to a number of European ski areas in rolls that measure 230 feet by 16 feet. Snow storage represents just a fraction of TenCate's overall tarp sales—it sells far more tarps for road construction—but according to product manager Manfred Wewerka, the goal is to supply tarps strong enough to be recycled like the snow they preserve, not to sell new tarps every year.
Sporting events often require more extravagant measures, like when the Kitzbüheler Ski Club—which organizes the Hahnenkamm races in conjunction with the International Ski Federation—helicoptered in snow to create a worthy track in 2007. Or this past January, when the organizing committee in Adelboden, Switzerland, made snow next to a waterfall then transported it a mile by truck to the World Cup race venue. (Officials still had to cancel the women's giant slalom due to drizzle and fog.) And in the business of snow storage, quality isn't as important as quantity: As long as there is enough of a volume of the white stuff, snow facilitators like Martikainen can inject water into the existing snow to induce iciness and adjust its consistency and hardness.
Perfecting the tarp cover process will create a more economical, long-term solution, Martikainen says. He calls Sochi's snow storage system "a huge mistake," because locals failed to replicate it after the Olympics, and all the saved snow melted away. "The whole idea of storing snow is to repeat it year after year and recycle the insulation, because then the snow comes really, really cheap. If you do that, in ten years the price will be one-tenth."
Still, Martikainen believes the market's future will evolve beyond tarps, though he would not say what might replace them—only that he is already developing an alternative. He is currently testing his idea in Croatia, where the national ski federation has had to cancel World Cup alpine races three times in the past decade due to shoddy conditions.
Snow storage will never replace snowmaking at large ski resorts, Martikainen says, because those resorts offer snow across to massive areas that need constant nourishment. But effective snow storage can prolong the ski season by one to two months, Martikainen says. More importantly, it allows for a predictable start to the following season.
As for the snow brought in by train to Anchorage, Alaska Railroad spokesman Tim Sullivan said it was eventually taken to a municipal snow dump and left to melt. Which means that if the Iditarod runs into the same problem next year, the search for snow will start all over again.
Lead Photo: ZargonDesign/iStock