Get Me Out of Here: Ice Skating
A graceful ponytail helps ease the pains of a childhood long gone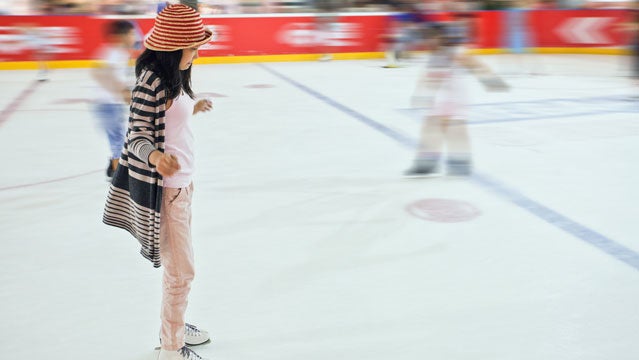 Heading out the door? Read this article on the new Outside+ app available now on iOS devices for members! Download the app.
There are distant childhood memories I have that I'm forced to conclude are false, only because their existence differs so sharply from the narrative of the rest of my life. One: that my presence once made a boy pretend to faint. (We were in the first grade.) Another is that—I think—I used to be pretty good at ice skating.
Get Me Out of Here
Moose Hunting

Paddleboarding

Hiking Bass Lake

Archery

Caving

The Depot
, a former train shed and current ice rink in downtown Minneapolis, to ice skate. I took two of my thickest pairs of socks with me and put a third in my purse. That much I could control.
WHEN RYLEE, MOLLY, AND I arrive outside The Depot on a Thursday night, we can see about 10 people on the ice. With the way the windows are positioned we can't see their feet, so it looks like they are floating peacefully in circles. They're sparkling, too. "It looks horrible in there," I say—the fear talking—but I keep walking toward it, because with the disco ball twirling above the rink it also looks like we're about to walk into a very large snow globe.
The thing about poorly-executed ice skating is that it does not provide a great number of interesting details: at some points we were on this one patch of ice, and at others we were on patches on the opposite side. My first lap around the rink was cautious, and the next few progressively less so—but only up to a point. It was easier and better than I remembered it being, which is no doubt due to the thicker socks and the fact that Rylee was, at various points, more pulling-me-along than I was skating independently. She tells Molly and I that we have to do tricks, so every time she says "go" we sort of crouch down toward the ice like the dullest three-member synchronized-skating team there ever was.
No matter the socks, no matter the simplicity of my skating: my ankles and feet hurt right away. Ice skating is hard, and I know throughout it that I do not look graceful. I probably never did. We skate to the railing to take one of many short breaks before finally leaving, and it is then that we notice a tall, middle-aged man wearing an unbuttoned plaid shirt, a curly graying ponytail halfway down his back, arms out to the side like I used to do when I was little. I don't ask, but I am certain his name is either Lester or Wolf. He is skating backwards. I keep expecting him to leap, but he doesn't. By now there are over 30 people on the rink—couples and little kids and high schoolers, mostly. Wolf does not appear to see any of them, but neither does he ever come close to a collision. He is, and not just because of his ponytail, magnificent.
When we hop off the rink, quitting earlier than we expected but not a moment too soon, we take off our skates slowly to watch Wolf loop around the rink. "Look!" I whisper, pointing. He's twirling—a scratch spin—and not one of us breathes until he stops. And I swear I remember feeling the specific serenity I see on his face. That's why it's terrible to grow up; when I skated on that pond I knew I wasn't Kristy Yamaguchi, but I also thought I might still have the time. But even if we can't all do everything we admire, there is nearly always someone who can. And to watch that person love it like you used to is, from where I sit, often just as good.
Katie Heaney is a writer based in Minneapolis. She has a memoir coming out in early 2014.
Lead Photo: Pavel Ilyukhin/<a href="http://w