The Great Ungroomed
Let's be honest: Heli-skiing means blowing a significant sum—you'll typically drop at least five grand per week. Like all the finer things in life, however, it's not about the cost. It's about what you get for your money. And with more than three dozen outfitters now operating in North America, you can practically handpick the accoutrements that will make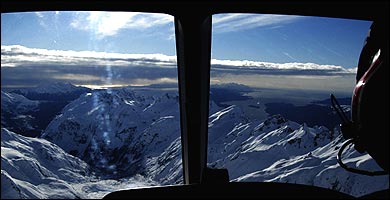 Heading out the door? Read this article on the new Outside+ app available now on iOS devices for members! Download the app.
THE CLASSICS
Forty years ago, Hans Gmoser founded the world's first heli-skiing lodge, in British Columbia's Bugaboo Mountains. It still remains the crown jewel of Canadian Mountain Holidays' dozen outposts. Why? See the granite needles of Hound's Tooth and Marmolata Spire piercing Bugaboo Glacier, beyond the dining room window? You'll be making turns beneath them an hour after breakfast.
Info: $6,333 per week; 800-661-0252, www.cmhski.com.
At Mike Wiegele Helicopter Skiing's 35-year-old compound, in Blue River, B.C., captains of global industry conclude powder days with caviar-sprinkled dinners. But every last dirtbag would sell his mother to ski "Wiegele World"—3,000 square miles of the snow-smothered Cariboo and Monashee ranges. In December, Wiegele opens Albreda Lodge, an intimate 18-room inn about 25 miles north of Blue River.
Info: Prices start at $5,042 per week at the Blue River compound, and $7,022 per week at Albreda Lodge; 800-661-9170, www.wiegele.com.
NEW FACES
Runs on the peaks of the Pantheon Range, on the inland side of B.C.'s Coast Mountains, average a thigh-frying 3,500 vertical feet. Brand-new Pantheon Heli continues the extreme-frontier theme into the evening, when skiers gather to eat at communal tables on a 1,300-acre working cattle ranch–cum–lodge that generates its own power.
Info: $8,500 per week; 520-465-2924.
The owners of Dream Catcher Heliskiing did their homework before choosing Bella Coola, in B.C.'s central Coast Mountains, to set up shop last winter. It shows: You'll touch down atop 70 feet of annual snowfall and point your skis toward the whales playing in the water of South Bentinck Arm, 4,000 feet below.
Info: $6,008 per week; 403-762-0435, www.dreamcatcherheliskiing.com.
heli ski

Padded Landings: Up in the Deep Snow
SURF AND TURF
If heli-skiing out of Points North Heli Adventures' comfy lodge, a converted cannery in Cordova, Alaska, isn't exotic enough, reserve the Maritime Maid, an 85-foot former fish tender that cruises Prince William Sound's inlets with a helicopter, stalking the choicest runs in the ragged Chugach Mountains. This winter, PNHA has added Majestic Valley, a new lodge at Tahneta Pass, between the Chugach and Talkeetna ranges. Prices will run US$9,250 per week for the Maritime Maid and US$4,875 for Majestic Valley Lodge; 877-787-6784, www.alaskaheliski.com.
Charter the 110-foot MV Ocean Explorer I, a floating heli-base that roams the spectacularly fractured B.C. coast for a week, scoping out towering lines in the northern Coast Mountains. A typical day on this Bella Coola Heli Sports odyssey? Wake up, set crab pots, pile into the chopper, plunder powder, return for wakeboarding and cioppino. Group of eight, US$68,456 per week; 604-932-3000, www.bellacoolahelisports.com.
QUICKIES
A five-hour drive northeast from Seattle takes you to the Methow Valley—home of sunshine, chalk-dry snow, and North Cascade Heli-Skiing. If you think the popular three-day package sounds like some sort of junior-varsity heli-experience, wait till the skids of the A-Star touch down on 8,876-foot Silver Star glacier, with 4,000 feet of turns below your K2 Seth Pistols. Prices start at US$2,545 and include lodging at the luxurious Freestone Inn; 800-494-4354, www.heli-ski.com. For 38 years, Ruby Mountain Helicopter Skiing has flown into the Rubies, a fistful of unlikely, rugged peaks that jab out of Nevada's Great Basin, snagging 300-plus inches of Utah-quality snowfall annually. That and a few nights at the plush, 100-acre Reds Ranch make a three-day trip with this outfit a popular topper to a week at a Wasatch resort, 270 miles to the east. US$3,050; 775-753-6867, www.helicopterskiing.com.
GEAR
POLAR, which pretty much invented the wireless heart-rate monitor, now has a wrist-top computer for the vertically inclined. The slick stainless-steel AXN500 ($329; 800-227-1314, www.polarusa.com) graphs your rate of descent in real time, and also lets you chart your ticker skipping a beat as you huck off that hairy cornice.
The soft microfleece lining in ARC'TERYX's Gothic Hoody ($249; 800-985-6681, www.arcteryx.com) belies the warmth of its rugged wool exterior. Unlike those techie soft shells you've been zooming in all day, the Gothic is cut large and loose for chill-out comfort.—Grant Davis
If weather grounds the whirlybird, wait out the storm with a game of dominoes on this suave 28-piece, David Quan–designed walnut set ($60; 212-930-0869, www.thelibraryshop.org), which comes with a matching case.—Christopher Solomon
After a day trapped in plastic boots, you'll want to pull on footwear built to rejuvenate those tired dogs. A pair of new UGG AUSTRALIA COPLEY sheepskin-lined boots ($120; 888-432-8530, www.uggaustralia.com) ought to do the trick. We like to think of them as the world's plushest doghouses.—Grant Davis