The Hot List
Dispatches Special: 2006 Ski and Snowboard Report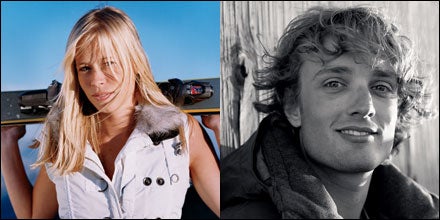 Heading out the door? Read this article on the new Outside+ app available now on iOS devices for members! Download the app.
» When the boys wouldn't let her play,
KRISTI LESKINEN
decided to start her own game: women's park-and-pipe skiing
The 2005-06 Ski Resort Guide
Introducing your winter passport: Detailed resort profiles, up-to-date snow condition reports, the best resorts for a cadre of special interests, how-to and gear-review articles, special lodging and package-deal rates, and loads more.
CLICK HERE
» Skip the high-rise hotels for five of our favorite
CLASSIC LODGES

» The best-decked
SLOPESIDE BARS
are perfect for revelers and hecklers
» Nordic novelty
ANDREW NEWELL
is a skinny-skiing freestyle badass
» With sprawling blues, 50-degree chutes, and a lift ticket also good at Big Sky,
MOONLIGHT BASIN
, Montana's newest resort, is a secret paradise
»
REAL SKI PORN
has nothing to do with face shots and meaty hucks. Or does it?
» Meet
DANA FLAHR
, Canada's next gravity-violating superstar
» Bean buzz: We suss the best ski-hill
JAVA SHOPS

» The new, new thing in resort terrain parks:
A TERRAIN-PARK RESORT

» Atypical
SKI-TOWN JOBS
, from chaplain to surgeon to brewmeister
»
TIPS FROM BODE MILLER:
The world's greatest alpine racer has an opinion on just about everything, including the best Rx for your turns
» Say it with us: "I've got a little place up in Aspen." We dish the
TIME-SHARE 411
.
» Forget the tickets to Turin; the perfect place to
WATCH THE OLYMPICS
is a rough-edged Gem State watering hole
»
STYLE:
We hit the streets and peaks of Sun Valley, Idaho, mixing aprè;s and play in mountain-ready technical wear and town-tested casual threads
»
REVIEW:
The best new boards and skis, from Salomon, K2, Burton, Arbor, Ride, Atomic, and others
PLUS: Why are low-impact athletes like cyclists and swimmers ending up with bones as brittle as a 70-year-old's? Turns out
YOUR SKELETON NEEDS A GOOD POUNDING
to build mass. We lay out a sound plan for strong bones. PLUS: What makes a good skier? In our newest column, we reveal what it takes to
CARVE LIKE A CHAMP .
Nordic Revolutionary
Andrew Newell: Nordic Skier
Cross-country skiing in the U.S. suffers from the soccer syndrome—lots of people do it, but nobody watches the pros. The fact that our Olympians have earned just one medal, in 1976, hasn't helped. Enter Andrew Newell, 21, a Turin-bound sprinter from Shaftsbury, Vermont, who's using his skinny skis to pull off terrain-park tricks. In the past three years, Newell has produced two nordic-action flicks, and he consulted with ski manufacturer Fischer during the development of the new Jibskate, a twin-tip nordic ski engineered more for hucks than laps. Is the future of cross-country up—way up—in the air? Christopher Solomon had to ask.

OUTSIDE: You've called cross-country skiing "the most gnarly, badass sport there is." Are you kidding?
Newell: Maybe that's a little much, but it's painful to be a world-class nordic skier. We push our bodies above and beyond what is even considered healthy. I throw up after probably half my races.
When did you start pulling tricks on skinny skis?
I was into skateboarding and surfing as a kid—I still am—and looked up to guys like Gerry Lopez, who added a new level of style and individuality to his sport. Plus I just wanted to have fun on skis. So I would go out and build jumps after practice.
Not everyone likes what you're doing.
I've heard of coaches who won't let their skiers hang posters of me because they don't want them to go out and hurt their backs. And some traditionalists don't like things in our movies—scenes of us shooting guns and drinking beer and having a good time. But we're Vermont rednecks at heart. You can't make everyone happy, you know?
Your movies are odd.
We're trying to attract more kids to the sport and bring American cross-country skiing up to a world-class level. We need to show them that we're not just these endurance "nordic dorks" who sit around worrying about their heart rates.
But aren't backflips a distraction for a sprinter?
Tricks helped me get to where I am now with my balance. Cross-country skiing is all about balance.
Anything special up your sleeve for the Olympics?
No—I need to focus on racing. But on European courses there are a lot of little bumps, so sometimes I will throw a 360 during warm-ups. I can't help giving something to the crowd.
Newest Rush
Aspen Highlands' Newest Rush
As if the 1,500 feet of up to 45-degree treeless chutes and pine glades in Aspen's Highland Bowl (hike-to terrain only) weren't enough to max out your lung capacity and singe your quads, this winter you'll have 1,000 more feet of expert-only vertical. In seven minutes, the new Deep Temerity triple chair rockets you 1,700 feet to the top of Loge Peak, where 180 new acres of steep snow alleys, wide aspen groves, and pine forests await your turns. The lift also eliminates the ten-minute Grand Traverse cat track out from the base of Highland Bowl, so you can exploit every penny's worth of that precious $78 lift ticket. 800-525-6200, www.aspensnowmass.com
Pipe Queen
Kristi Leskinen: Freestyle Skier
Kristi Leskinen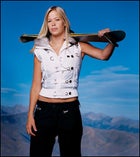 Kristi Leskinen
When top U.S. freestyle skier Kristi Leskinen drops into the Aspen superpipe this January at ESPN's Winter X Games, expect the following: an audacious rodeo 720 (two backward, off-axis flips) and an ear-to-ear grin (even if she biffs).
Well, maybe that's pushing it. But these days Leskinen, 24, has a hard time losing her smile. After four years of hounding X Games organizers, the Uniontown, Pennsylvania, native has gotten what she wants: a chance to compete. A gifted athlete with a penchant for alternative sports (at 18, she placed fourth at the amateur world wakeboarding championships), Leskinen was stuck on the X Games sidelines while freestyle remained men-only. Her trick for amping up the buzz for high-flying females? Taking off her skis—and some clothes, too.
In 2001, a year after she scored her first role in the ski flick The Game, Leskinen posed for a sexy Nordica pinup. The exposure had a surprisingly powerful side effect. "She showed that there actually were girls in this sport," says Denise Jaworsky, 22, a top-ten finisher at the U.S. Open. "It inspired others like me to join in."
Leskinen then began relentlessly pestering event managers for inclusion; finally, in 2005, the X Games hosted its first women's freestyle contest. (Leskinen took third.) But her success hasn't kept her from appearing in more fleshy photo shoots, including a lingerie spread in FHM in February. "If it can attract more interest in the sport, that's never a bad thing," she says. "If it draws more women, that's a great thing."
Still, Leskinen is hardly considering a career makeover. "I'm not a model," she insists. "I'm a skier."
Rising Star
Dana Flahr: Freeskier
Dana Flahr

Name:
Dana Flahr
Home:
Whistler, British Columbia
Gig:
Freeskier
Height:
5'10"
Weight:
160
Age:
23
Flahr is the new stud in Teton Gravity Research's talent pen. In January 2005, the film company invited him down to HQ in Teton Village, Wyoming, for an informal tryout. Flahr didn't disappoint: He capped off a bold line down a rocky backcountry face by launching a misty 720 (two front, off-axis flips) off a 50-foot cliff. "We'd never seen anything like it," says TGR producer Josh Nielsen.
Seen Next: Hogging the spotlight in TGR's The Tangerine Dream as the film completes a 150-city tour across the U.S., Canada, Europe, and Japan through December. (For a preview go to www.outsideonline.com/tangerine.)
Out of the Igloo: Reared on the inland slopes of rural Kamloops, B.C., Flahr made a beeline for Whistler after graduating from high school in 1999, but he eschewed the town's legendary international party scene—his early-bird room-service job had him in bed by 10 p.m.—in favor of powder-day dawn patrols and extra hours in the terrain park. That discipline paid off: In 2003, he was crowned North America's overall freeskiing champion.
Fashion Flahr-Up: Last January, Flahr and his buddy Ryan Oakden, 26, the 2001 world freeskiing champ, crashed a Jackson Hole terrain-park event by running the course dressed head to toe in denim, with smoke bombs taped to their boots.
Deep Impact: In 2003, Flahr launched off a 40-foot cliff at Whistler and landed in the fresh snow like a human bunker buster, burying himself in his own crater. "I was held under for five minutes with just a small air pocket," he says. His friends dug him out shaken but unharmed.
Second Opinion: "A lot of up-and-comers only know how to hit jumps and do tricks," says Oakden. "And a lot of big-mountain guys can ski well but don't have any style. Dana can do it all."
Freshest Mortgages
New Ski Condos
Bode Miller: Greatest Living Writer!
Skiers, from beginners to pros, often put too much weight on the tails of their skis. The fix? In his just-published memoir Bode: Go Fast, Be Good, Have Fun ($25; Villard Books), Bode Miller, reigning overall World Cup champion, suggests sliding PowerBars behind your calf to push you forward: "I'd put them in my boots…and let them mold to my shape; by the time I got up the mountain they'd have firmed up again, nice and high in the back. Worked like high-test gas." —Gordy Megroz

Want to vacation like a billionaire? Welcome to the world of fractional ownership, where scores of property-owning options at the nation's top resorts are on the table for literally a fraction of the cost—just take one multi-million-dollar luxury home and divide the deed with a dozen other folks. For at least four weeks a year the pad is yours, along with all the priority trimmings a Fortune 500 income can buy.

Front Four at Stowe Mountain Lodge Stowe, Vermont
The 2,000-to-3,500-square-foot Front Four condos, slated for a June 2007 premiere, have plush accoutrements like granite countertops and flat-screen TVs—plus free access to the resort's day spa. From $289,000 for 1/8 share; 877-977-7823, www.frontfouratstowe.com

Storied Places Mammoth Mammoth Mountain, California
Snag one of these 2,800-square-foot, ski-in, ski-out townhouses, to be completed by 2007, and you'll have 33 reasons for taking on that second mortgage—one for each foot of snow. $500,000 for 1/7 share; 888-955-7155, www.storiedplaces.com

The Ritz-Carlton Club, Bachelor Gulch Beaver Creek, Colorado
Ownership in one of 54 condos—up to 2,500 square feet worth—in Beaver Creek's Bachelor Gulch gets you door-to-chair access to lifts, plus a valet who warms your boots and schleps your skis to the slopes. $200,000–$530,000 for 1/12 share; 866-485-2400, www.ritzcarltonclub.com

The Residences at the Chateaux Deer Valley, Utah
You'll have views of 10,000-foot Jupiter Peak, sandstone fireplaces, and a private deck in a 2,200-to-3,000-square-foot space. What else is there? E-mail a grocery list to the office and they'll stock the cupboards before you arrive. $306,500–$475,000 for 1/6 share; 866-658-8555, www.chateauxresidences.com

At Nature's Door Whistler, British Columbia
Can you really put a price on a hot-tub view of the 2010 Winter Games downhill events? These 22 wood-and-slate, 2,300-to-2,700-square-foot abodes come with media rooms and wood-burning fireplaces. Plus, at Christmas, you'll get preferential seating at restaurants like the Bearfoot Bistro. $208,000–$275,000 for 1/10 share; 866-877-4545, www.storiedplaces-whistler.com
Best Lay
Historic Lodges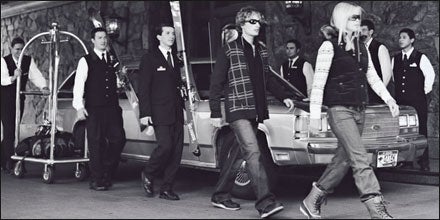 These days, a luxury arms race rages among high-end resorts. (Slumber under our duvets of goose down hand-plucked by virginal Swiss maidens! Marinate in our pomegranate facials!) But these elegant lodges have something money can't buy: a place in skiing history.
Sun Valley Lodge Sun Valley, Idaho
Built in 1936, Sun Valley Lodge was the first destination ski resort in America. But don't get the impression this is just a place to dress up in ski woolens, smoke Lucky Strikes, and have a sepia-tone weekend. The lodge's 148 rooms were remodeled last season. Rent room 206 and tip a tumbler to Hemingway—that's where Papa finished For Whom the Bell Tolls. Midwinter doubles from $189; 800-786-8259, www.sunvalley.com
Sonnenalp Resort Vail, Colorado
Fourth-generation Bavarian hotelier Johannes Faessler has achieved gemütlichkeit-in-the-Rockies at the Sonnenalp, his 88-suite, alpen-swank resort. Watch for 40 more rooms to come this December. Midwinter doubles from $675; 866-284-4411, www.sonnenalp.com
Stein Eriksen Lodge Deer Valley, Utah
Its Norwegian-inspired architecture makes this the handsomest of ski-country digs, but it's the service that keeps fans returning. At the end of the day, thoughtful valets unbuckle your boots, toss them onto a warmer, stash your skis, and hand you a cup of cocoa. Midwinter doubles from $700; 800-453-1302, www.steinlodge.com
Mount Washington Hotel Bretton Woods, New Hampshire
This 200-room 1902 Spanish Renaissance structure was rescued from demolition in the eighties. Good thing. It's at the foot of the Presidential Range, with 60 miles of groomed nordic skiing out back and Bretton Woods just across the street. Midwinter doubles from $280; 800-314-1752, www.mtwashington.com
Post Hotel Lake Louise, Alberta
How many hotels can boast a 29,000-bottle wine cellar, with some bottles dating to 1942, the year the lodge opened? The 97-room Post is also a five-minute shuttle ride from Lake Louise's 4,200 skiable acres. Midwinter doubles from US$215; 800-661-1586, www.posthotel.com
Sexiest Sponsorship
Carrie Jo Chernoff: Sexiest Sponsorship
"I myself am not a porn star," says Carrie Jo Chernoff, 31, a top-ranked big-mountain specialist on the world freeskiing tour. It's an assumption the Crested Butte, Colorado–based skier has had to frequently quash since she signed a sponsorship deal with XXX cable channel the Erotic Network (TEN). A year ago, Chernoff was working as a personal trainer and massage therapist for Michael Weiner, the CEO of TEN's parent company, the $46-million-a-year, Boulder-based New Frontier Media. Perhaps owing to some confusion over the definition of "ski porn"—a term applied to thrill-a-minute ski flicks—Weiner thought Chernoff would make a good addition to TEN's talent pool. She may never bare all, but Chernoff's helmet and skis bear the distinctive TEN logo. Like most top skiers, Chernoff has her pick of gear, plus a comfy travel budget. But it's doubtful that anyone else can match the TEN-supplied cheering section of bleach-blond, fur-collared boosters. No, boys, that's not just 700-fill down in their parkas.
Sweetest Steeps
Moonlight Basin, MT: The Sweetest Steeps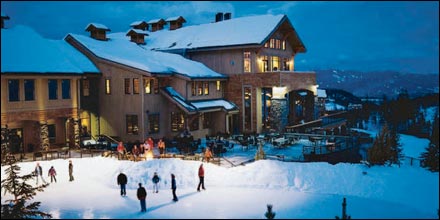 Easiest Diet Ever
Good News: Going from sea level to 5,000 feet and above spurs your metabolism to burn an extra 300 calories a day, reports Monique Ryan in Performance Nutrition for Winter Sports ($20; Peak Sports Press). Bad News: Until you acclimatize, a diminished appetite may cause you to undereat, resulting in less energy when you need it most.

At first glance, Moonlight Basin, Montana, wears a sleepy smile with its skein of lazy, near-empty blue runs, but beware: That soporific grin hides fangs. Just look up—way up—to the Headwaters, a snarl of a headwall that's striped with a dozen lift-served chutes that can tip 50 degrees or more in spots. Whether you're a snow bunny or a sick bird, though, Moonlight offers the best of both worlds. When the lifts close, head to the lodge, a grand timber-and-stone palace anchored by a central fireplace so lofty that stuffed mountain goats pose on its rocky chimney. And there's more: Moonlight and neighbor Big Sky Resort have stopped their Cold War–like bickering and wisely joined forces. Buy the Lone Peak ticket this winter and ski a linked, Euro-style spraddle of 5,300 acres. Ah, the fruits of détente. Moonlight (full-day adult), $40; Lone Peak (full-day adult), $78; 877-822-0430, www.moonlightbasin.com
Slick!
Score a perfect ride—floating in powder, grabbing big air, blitzing the entire hill—with the best new skis and snowboards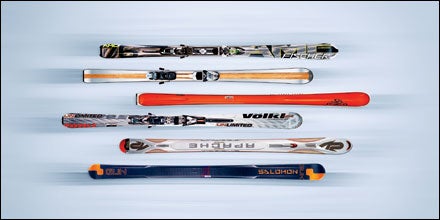 The Confidence Builder
Fischer AMC 76
Length tested: 182 // Sidecut: 120-76-106 (tip-waist-tail)
Wood-core skis are justly celebrated for their lively feel, but Fischer's new AMC proves that a weight-shaving wood-and-carbon-fiber core blend can run with (and past) the best of them. Credit the ski's patented Railflex2 integrated binding system, which settles the boot into the ski's chassis and allows an even and consistent flex throughout. On multiple laps at Colorado's Aspen Highlands, my AMC 76 bit into firm groomers like a pit bull, but the adequate waist width helped it ride comfortably through variable crud once I got off the manicured trails. The most versatile ski of the bunch. $1,050, bindings included; www.fischerskis.com
The Masterpiece
Zai Siegiu
Length tested: 170 // Sidecut: 118-76-103
Part art project, part trophy ski, Zai planks are handcrafted in Switzerland. Yeah, they're showy, but they're also top-flight performers. They shined brightest on hard snow at slightly slower speeds, thanks to easy turn initiation and strong edge hold. An ash-and-titanal topsheet damped vibration nicely on high-speed blues, and the shorter length helped them jitterbug nimbly through thigh-blasting bump runs. They're not wide enough to excel on powder days, but you can't have it all, even for the price of a Zermatt vacation. $3,500, bindings, poles, and ski bag included; www.zai.ch
The Punk Rider
Atomic Sweet Daddy
Length tested: 181 // Sidecut: 119-80-105
It's a shame that all absent-father problems aren't so easily fixed. Filling a significant gap in Atomic's lineup, the Sweet Daddy stands out with slim dimensions, a lightweight foam core, and a slightly shallower sidecut than that found on its brethren, the Big Daddy and the Sugar Daddy. This ski was happiest carving sweeping, powdery turns, but it also rips just fine on firm steeps. Atomic's Beta Cap design minimizes ski twist when on edge, providing superior grip. The reasonable price and understated graphics belie this ski's power and control. $749 (skis only); www.atomicsnow.com
The Mixed Master
Völkl Unlimited AC4
Length tested: 184 // Sidecut: 125-82-110
Völkl has come a long way from its racers-only pedigree. And the Unlimited best represents the brand's growing commitment to high-performance, all-mountain planks. Benefiting from Völkl's new double-grip design—a raised profile on both sides of the ski to better transfer energy to the edges—and a lively popple-wood core, this ski instantly elevates any skier's ability. In Crested Butte Mountain Resort's Phoenix Bowl, which offers some of the most intense lift-accessed runs in the West, the Unlimited ran fast and sure over a variety of terrain, arcing across sun-baked bumps, through crusty glades, and into tracked-up powder without missing a beat. $1,065, bindings included; www.volkl.com
The Phat Cat
K2 Apache Outlaw
Length tested: 181 // Sidecut: 124-88-111
If you have a search-and-destroy attitude about powder stashes, the Outlaw is all the ski you need. It reigns supreme in knee-deep, whether you're in bounds or outside the ropes. The wide platform skittered a little on hard snow but made up for it in the soft stuff, where it powered through variably deep, jerky, and at times perfect powder with gunslinging authority. A weight-saving alloy layer and touch of flex make the big boards surprisingly responsive in the bumps, while they still cut long, gracious GS turns on lower-mountain runouts. $875 (skis only); www.K2skis.com
The Soul Slider
Salomon Teneighty Gun
Length tested: 185 // Sidecut: 122-90-115
The foam-core Teneighty Gun, with its surf-inspired name, is a slightly stiffer version of the Pocket Rocket, Salomon's pioneering twin-tip powder plank. At Crested Butte, these all-mountain skis were perfect for the north face's chutes, bumps, and trees. They also provided a blissfully chatter-free joyride on a high-speed, mile-long cruiser. These skis are too wide for a full day carving hardpack, but if you seek out the softer parts of the hill, the Guns will have you chasing an endless winter. $795 (skis only); www.salomon-sports.com
Slick!
The Latest Snowboards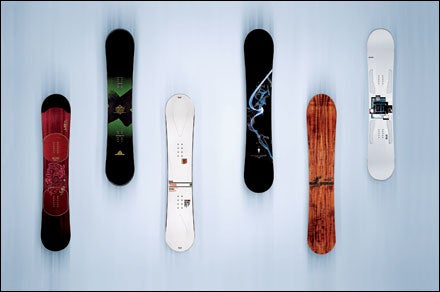 Ice Queen
Lib-Tech Dark Series
Length tested: 161
The radically designed Dark Series Magnetraction comes with a secret weapon that can turn East Coast ice into West Coast corduroy. Lib-Tech took a page from hockey skates, which employ subtle contact points along the blade to enhance bite, and created a revolutionary sidecut by applying similar points along the board's edges. The effect is obvious: The board grabbed instantly when I leaned into a turn. But while it excels on ice and handles groomed terrain just fine, beware of crud and bumps: Those points can catch on stuff that you'd ordinarily blast through. $599; www.lib-tech.com
All-Mountain Master
Ride Timeless
Length tested: 161
If you like to board the entire mountain, grab this reinvented classic. It delivers great versatility, courtesy of a few smart updates. A layer cake of precisely sculpted fiberglass-covered wood distributes your weight along the board's entire edge for superior control, a damper in the nose smooths out the ride, and multiple radius angles along the sidecut allow you to flow easily into and out of tight and fast turns. From swooping into the halfpipe to nailing quick cuts in a forested glade, there's nothing the Timeless can't do. $500; www.ridesnowboards.com
The Fresh Hero
Arbor Abacus
Length tested: 163
The Abacus is built for powder. Its key ingredient? Bounce. For such a wide and long board, the koa-topped deck flexes like a trampoline. Combine that with a rearward stance and a massive shovel-head at the tip and the board tracks superbly through a foot of fresh. Since the nose won't dive, I was able to charge into anything—trees, moguls, kickers—with confidence. When everything's tracked out, though, the Abacus loses its magic. Instead of cutting through crud, it rides up and over it, making for one helluva bumpy trip. $499; www.arborsports.com
Cruise Liner
K2 Zeppelin
Length tested: 161
You wouldn't know it from snowboard ads, but there are plenty of happy riders who like nothing better than fast and wide groomers. If that's you, your board has arrived. This year's Zeppelin, an updated version of a K2 stalwart, uses damping pads under each foot to suck up vibration and give you a flat, smooth, and speedy ride. The price of such stability? It takes work to snap the Zep from side to side in an aspen glade or narrow gully. $480; www.k2snowboards.com
Sky Surfer
Burton Vapor
Length tested: 160
Boarding's fat and happy grandfather is suddenly obsessed with dropping weight. Exhibit A: the new Vapor. At five pounds ten ounces, it's the lightest board Burton's ever rolled out, thanks to aluminum-and-carbon-fiber construction and a set of dialed-down binding hardware. The binding options favor a wider stance, which suits the Vapor's forte: aerials. Instead of becoming dead weight when you launch off a catwalk or kicker, this pipe rider feels like an extension of your feet—360 spins and big-air rail grabs will suddenly seem temptingly possible. $900; www.burton.com
Little Big Board
Salomon L.O.F.T.
Length tested: 160
Salomon also wanted a trim-down, so it sent its popular ERA model to fat camp over the summer. It came back with a new name, L.O.F.T. (Light– weight Optimum Feel Technology) and a Kevlar-reinforced core wrapped in ultralight aspen. A raised center beam helps the board handle aggressive, high-speed descents like a much longer and fatter deck, while its moderate hips make tight turns a snap. On powder days it struggles to stay afloat, but overall this board is a beginner's dream: stable, responsive, and forgiving of shaky form. $700; www.salomonsnowboards.com
Snow Jobs
The Best Ski-Town Gigs
gabe schroder

ALL PLAY: Gabe Schroder commutes to work in Ketchum.
Pining for turns but not willing to ditch your career? Don't worry—you don't have to be a liftie to ski like one. Here are four winners who balance work and play.
Gabe Schroder, 31, Ketchum, Idaho
Gig: Ski and outdoor promotions manager at Smith Optics. On the Clock: Manages Smith-sponsored athletes and throws parties to hype the brand. On the Slopes: At nearby Sun Valley five days a week, plus a trip this spring into Alaska's Chugach Mountains to check in on Smith's heli-skiing operation.
Tom Hackett, 38, Vail, Colorado
Gig: Orthopedic surgeon at the renowned Steadman-Hawkins Clinic. On the Clock: Performs up to five shoulder surgeries a day, including many on NFL, NBA, and MLB stars. On the Slopes: Three times a week—unless he's ice-climbing the East Vail chutes.
Tom Perry, 51, Angel Fire, New Mexico
Gig: Chaplain at Taos Ski Valley. On the Clock: Gives two 15-minute mountaintop sermons on Sundays. On the Slopes: Whenever he wants—Taos grants him a season pass for his services.
Jason Senior, 30, Mammoth, California
Gig: Brewer at Mammoth Brewing Company. On the Clock: Manages all facets of brewing, from boiling and milling grain to taste-testing his concoctions; works nine to five, twelve to eight, or two to ten, depending on snow quality. On the Slopes: Three days a week, plus powder days and "runs" to check in on the resort pubs that serve his beer.
Supercharged Recharge
Stoweflake Mountain Resort and Spa
After a few days of banging down icy East Coast bumps, the beer-and-Advil combo stops working. You need professional healing. The new daylong Skier Recovery Package at Stoweflake Mountain Resort and Spa, in Stowe, Vermont, includes a 50-minute deep-pressure rubdown with pain-relieving arnica-infused oil (oooh), a bio-maple facial to halt the Redfording of your mug (ahhhh), and access to two heated waterfalls and a Hungarian mineral pool (yes! yes!). The next day? It's back to brews and ibuprofen. $210; 800-253-2232, www.stoweflake.com
Newest Trickster Terrain
Echo Mountain, CO: The Newest Trickster Terrain
A 15-year-old launching 50 feet over a monster gap may be sheer lunacy to some old-schoolers, but that kid represents a new generation of resortgoers. Slopes across the map have amped up their tricky topography, but Echo Mountain, 35 miles west of Denver, will become the first hill in the country to be custom-built from the ground up as a terrain park. Music from the likes of Ludacris will thump across 30 acres of jumps and pipes built by Planet Snow Design (the same crew that designed the superpipe at the 2002 Winter Games), and the 8,000-square-foot base lodge, with its austere industrial styling, will resemble a SoHo loft. Whether or not Echo opens before Christmas is TBD, but one thing's for sure: It will break the mold. "We're not going to have million-dollar homes and straight blue groomers," says General Manager Doug Donovan. "Your mom won't like this." Full-day adult lift ticket, $30; 720-226-0636, www.echomtnpark.com
Supreme Caffeine
The Best Slopeside Coffee
coffee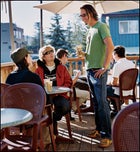 MO' 'SPRO, BRO? Java on 4th owner Todd Rippo works the deck.
Rousing yourself at the rooster's cry for fresh tracks is no easy feat. But more cafés than ever are roasting their own beans and treating the resulting brew like fine wine, leaving myriad options for eye-popping ski-town java.
Java on 4th Ketchum, Idaho
The '62 Continental is a gentle hit on the espresso Richter scale: mild and dark. You don't have to be a connoisseur to appreciate it. 208-726-2882
Camp 4 Coffee Crested Butte, Colorado
For a swift kick in the ski pants, sip the Sledgehammer espresso blend. Delicious, dark, and complex, it's like drinking a 30-year-old Bordeaux—without staining your teeth red. 970-349-5148
Java Junction South Lake Tahoe, California
Take a seat round the deck's fire pit and swig local roaster Alpen Sierra's traditional Italian blend for a dark, intensely drinkable espresso with an oaky finish. 530-659-7453
Oso Negro Nelson, British Columbia
Grab a shot of whatever's in the "hopper" for a multifaceted espresso experience. Or toss back the Princess of Darkness blend. 877-232-6489
Coolest Numbers
Cool Statistics
Funkiest Dive
If ringing cowbells slopeside in Sestriere, Italy—the site of the alpine events for Turin's 2006 Winter Olympics—is out of credit-card range, the next-best place to watch the thrill of victory and the agony of defeat is on the three screens tucked into the corners of Grumpy's, in Ketchum, Idaho. The SORRY WE'RE OPEN sign says it all: The place doesn't even have a phone, which means no distractions while watching Bode & Co. rip up the downhill. Plus, with cheap and tasty eats like the $5.50 Fowl Burger washed down with a 32-ounce schooner of Fat Tire for only $4.75, who needs antipasto?—Lindsay Yaw

Oldest Destination Ski Resort in the U.S.: Sun Valley, Idaho (opened in 1936).

First Indoor-Skiing Snow Dome in the U.S.: Meadowlands Xanadu, in East Rutherford, New Jersey (opening in 2007).

Highest Chairlift in North America: Breckenridge, Colorado's new Imperial Express Superchair (top: 12,840 feet).

Lowest Major Ski Resort in North America: Alyeska Resort, in Girdwood, Alaska (base: 250 feet).

Most Innovative Lift in North America: A 575-foot tunnel under construction at Snowbird, Utah, that will deliver skiers via conveyor belt to Mineral Basin.

Highest Annual Average Snowfall of Any Lift-Served Ski Area in North America: 647 inches, Mount Baker Ski Area, Washington.

Longest Ski Season in the U.S.: Timberline, on Mount Hood, Oregon; typically closes around Labor Day.

Most Elbow Room in North America: Montana's Yellowstone Club (motto: "Private powder"), whose 2,200-plus acres are skied by a maximum 864 members at any given time. The hitch? Entry-level price for a must-have homesite is $2 million.

Most Vertical Drop in North America: Mount MacKenzie Resort—under construction outside of Revelstoke, B.C.—has 6,100 feet, 800 feet more than Whistler Blackcomb, B.C., the current record holder.

Best Christmas Present Ever: 15 feet of snow in 15 days, from December 26, 2004, to January 12, 2005, at Mammoth Mountain, California. The resort stayed open until the Fourth of July.
Most Chill Lounge Acts
Après-Ski Bars
river run day lodge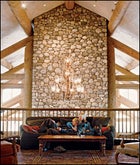 Bittersweet: Flahr and Leskinen sipping bubbly at River Run Day Lodge
Swilling slopeside after a day of ripping powder and thrashing moguls is a beloved alpine tradition. Here are five base-of-the-mountain bars where, as the libations flow, the stories are guaranteed to grow.
River Run Day Lodge Ketchum, Idaho
All roads lead to River Run—or at least all trails do. The slopes down Bald Mountain's southeast flank allow a hasty descent to the heated back deck. Order Like a Local: Champagne Cocktail—a sugar cube soaked in bitters, then doused with champagne. 208-622-6136
Los Amigos Vail, Colorado
On a sunny day, better point 'em to this Vail Village landmark by 3 p.m. to get a seat on the narrow deck. The afternoon sun slow-roasts Los's patrons to habanero-red. Order Like a Local: A carafe of tart margaritas. 970-476-5847
Bear Mountain Base Lodge Killington, Vermont
Shoehorn yourself onto Bear Mountain's crowded deck to watch the gifted and the gripped pinball down Outer Limits, the steepest bump run in the East. Order Like a Local: Magic Hat Brewing Co.'s #9, a Vermont specialty. 802-422-3333
Hotel St. Bernard Taos Ski Valley, New Mexico
The St. Bernard—with its deck at the base of Snake Dance—is a cherished throwback. Follow the smoke to grilled-brat bliss. Order Like a Local: The St. Bernard—Kahlúa, Myers's rum, Wild Turkey, and hot chocolate. 505-776-2251
Grizzly's Stratton Mountain, Vermont
On weekends, Stratton's universe revolves around Grizzly's base-area deck. Order Like a Local: Long Trail Ale, from Vermont's Long Trail Brewing Co. 802-297-2200