Sponsor Content: Club Med
How an All-Inclusive Resort can Help you Check off your Ski Bucket List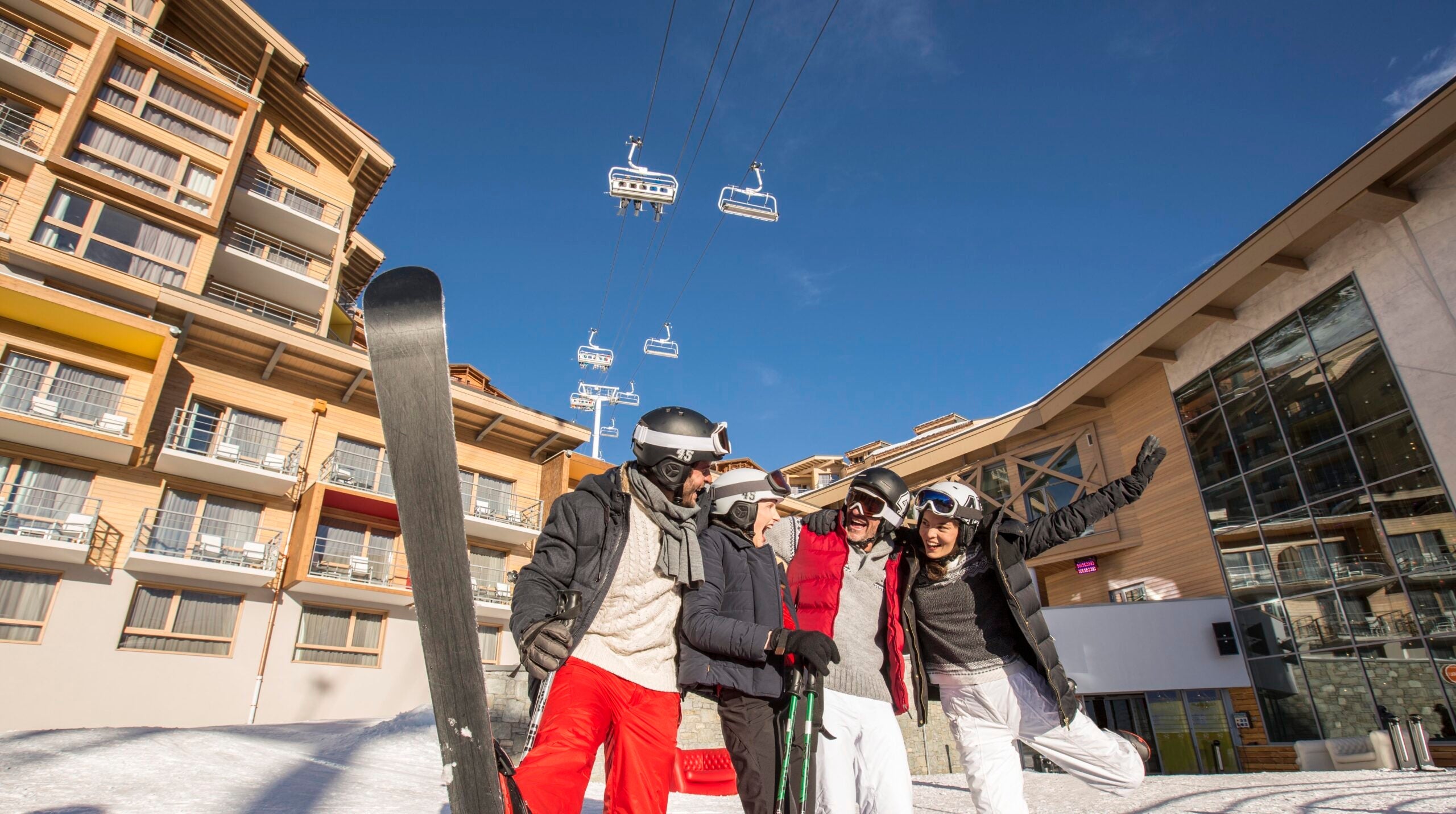 On a gray afternoon in the French Alps, I eyeballed the trail map debating where to go. The open and seemingly endless expanse, with slopes and trails discernable almost everywhere I looked, intimidated me. I'd spent the morning sticking to slopes where I could see a nearby lift's base. Flummoxed by the trail map and nervous about the terrain, I eavesdropped on conversations, but my limited French language skills proved insufficient. Even lunch defeated me. Not able to comprehend the menu, I played it safe with soup and bread while those nearby savored steaming dishes layered with cheese. My first European ski trip wasn't realizing my expectations, and I had only myself to blame.
I'd envisioned slopes and trails peppered with alpine huts, barns, and chapels, stumbleupon restaurants serving dishes made with local cheese and charcuterie, and pocket-sized slope-side bars doubling as sunbathing parlors. The resort offered all that and fabulous skiing, but it eluded me. Creating the perfect international ski vacation requires careful and extensive planning, and I'd winged it, jumping when an opportunity arose and not doing the homework.
Whether crossing the border to Canada or flying to Europe, there's much to consider when planning an international ski vacation, especially when traveling with kids or multiple generations. Which resort best meets the family's needs and welcomes kids with age-appropriate activities and facilities? Does the ski school provide options for all ages? Are there dining choices that will keep everyone happy? Is childcare available? Will a foreign language create challenges? Does the hotel offer interconnecting family rooms? What about cribs and other infant paraphilia? Is a meal plan available? Of course, one must get to the resort, which means deciding when to buy airline tickets and then arrange airport transfers or a rental car. Phew! It's exhausting, not to mention stressful, to think about it all.
Or, one could book an all-inclusive ski vacation. Doing so not only eliminates the time-consuming and often frustrating hassles it also reduces the overall price. For example, a recent analysis comparing a do-it-yourself vacation in Aspen – which includes a seven-night stay, taxes and resort fees, all meals, alcoholic and nonalcoholic beverages, gratuities, childcare from 4 years and up, a six-day lift pass, and ski lessons – with an all-inclusive ski vacation in the French Alps at the new Club Med Val Thorens, found savings of more than $2,100 per person (compared to a stay in Aspen).
I discovered the beauty of one-stop shopping at Club Med Val Thorens. Although initially skeptical, the experience quickly eased my angst, and the resort put to rest any preconceived notions about Club Med. The included ski lessons turned out to be one of the things I appreciated most. No one wants to waste precious vacation time and resources figuring out ski area logistics, such as where to ski at what point in the day for optimal conditions. The bigger the resort, the more important this becomes, especially in Europe, where many ski areas flow across mountains and even sprawl across international boundaries. While it's inconvenient to end up at the wrong base in North America, in Europe, doing so can cost a mint and involve a lengthy cab, train, or bus ride.
That's where the instructor comes in handy. Those still developing alpine skiing skills enjoy terrain best suited to their levels while learning techniques and improving as the days or week progresses. The instructor doubles as a guide for upper-level skiers, helping them discover terrain they might be nervous about attempting or otherwise never find. In addition to skiing far more of the resort than I would have on my own, I became more confident in bumps, powder, and varied conditions.
Having meals included takes the worry out of getting reservations and deciphering menus. That's another benefit of staying at an all-inclusive: There's little reason to carry cash wads or credit cards. Many also include childcare and children's dinner programs, a big plus for parents wanting a romantic dinner or a little together time.
I'm considering the new Club Med Québec, sited at Le Massif in Canada's Charlevoix region, about 90 minutes east of Québec City for my next ski vacation. The region, a UNESCO biosphere reserve, earns renown throughout Canada for its gastronomy and a dramatic landscape that's inspired generations of artists. Le Massif has the biggest vertical drop east of the Rockies, with trails ebbing and flowing from the summit to the St. Lawrence shoreline. When skiing here previously, I've always thought that with enough speed approaching a bump, I could land on an ice island below.
Returning to Europe also tops my bucket list. Tignes Val Claret is a historic destination that has been home to Club Med since 1958. It's an outdoor sports lover's paradise located in the French Alps at an altitude of 7,053 meters. The brand-new Club Med Tignes resort (opening December 2022) will be in the center of the liveliest part of town, making it a hotspot for winter sports and nightlife. The resort will feature 430 rooms, including 25 Exclusive Collection (5-Star) suites, ski-in/ski-out access, two restaurants, a full spa and wellness salt wall, the largest indoor pool in the Alps, a full childcare program, and a ski domain suitable for every level.
---
Book now and take advantage of Club Med's Ski Getaways Sale offers savings of up to 45% off and is open for bookings now through October 12, 2022, with travel dates through the ski season at Club Med Québec and Club Med resorts in the French, Swiss and Italian Alps. Better yet, kids under 4 stay free – making the all-inclusive savings all the more sweet.
Lead Photo: Club Med