How to Train a Sled Dog Team
The Iditarod is one of the most grueling races in the world, covering 1,000 miles of Alaskan backcountry, and the dogs that run it train harder than almost any athlete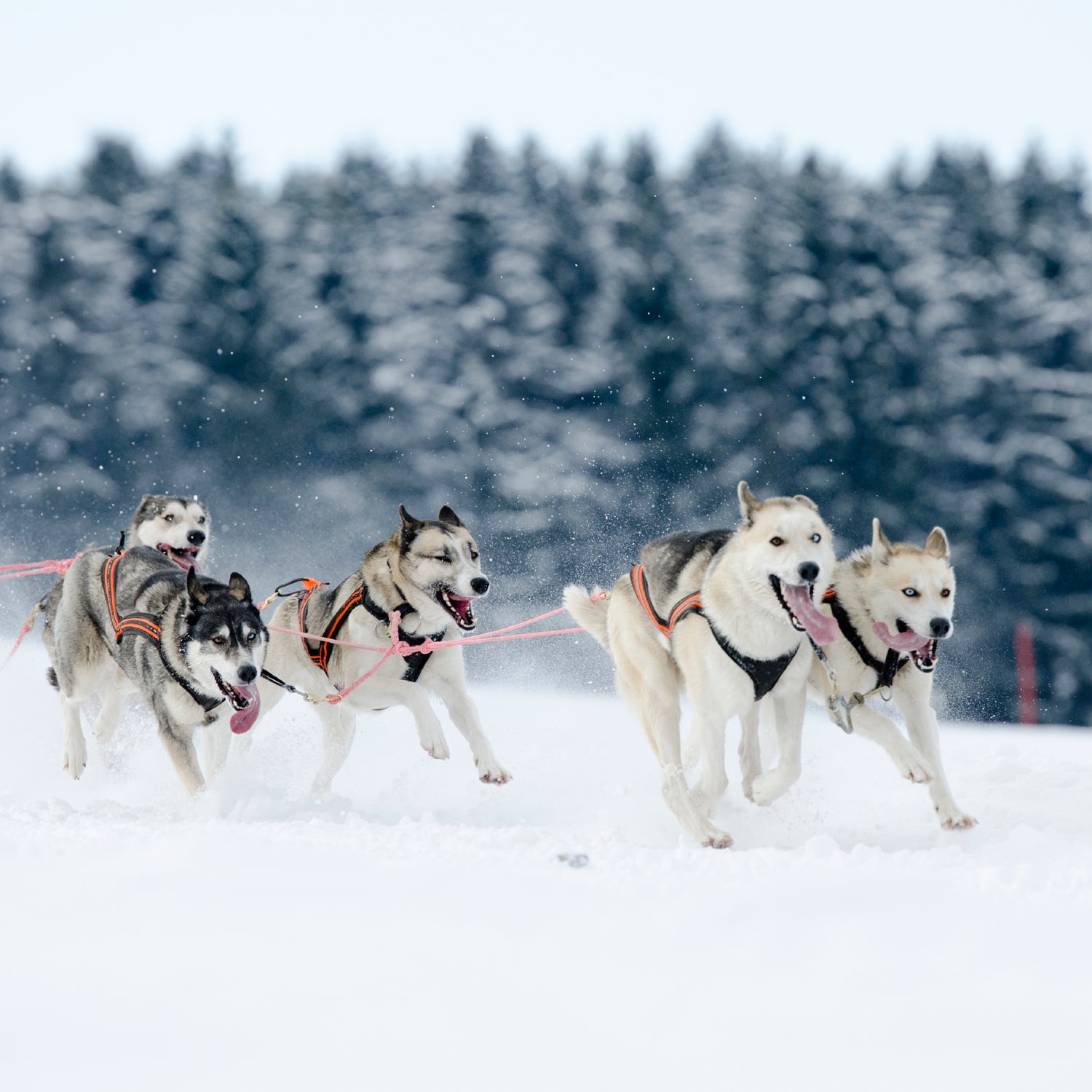 Heading out the door? Read this article on the new Outside+ app available now on iOS devices for members! Download the app.
The Iditarod Sled Dog Race is called the Last Great Race on Earth, and for good reason. Mushers and their teams of 16 Alaskan Huskies trek 1,000 miles through the Alaskan while facing gale-force winds, whiteout blizzards, and temperatures as low as -50 degrees. It's been much warmer this year—so warm, in fact, that race organizers had to import snow for the ceremonial start of the event in downtown Anchorage—but that hasn't made things easier: racers face snowless sections of rock and dirt.
Any musher will tell you that the real athletes of the race are the dogs. They haul a 450-pound sled for the 9-to-12 day journey from Willow to Nome, on the Bering Sea. The trip is so demanding that mushers are sometimes forced to drop some of their dogs at checkpoints along the way as they succumb to injuries and exhaustion. Only the strongest dogs complete the full 1,000-mile run.
To understand how the Iditarod's top dogs are trained and prepared for this epic undertaking, Outside talked to current and former mushers about what they eat, how they exercise, and how to prevent dogfights before they happen.
Breeding
The Alaskan Husky is a mongrel that is bred for one specific purpose—to pull a sled for as long as possible. Siberian Huskies and Canadian Inuit Dogs were the original sled dogs used for transportation, both by native peoples in the Arctic and by mail carriers and supply runners during the gold rush in Nome, Alaska, around the turn of the 20th century. These original sled dogs were bred with many different breeds, such as German Shepherds and German Shorthair Pointers, to improve endurance and strength, making Alaskan Huskies the most efficient sled dogs in the world. Due to their mixed bloodlines, their appearance and temperament varies highly from dog to dog, but generally they are very friendly toward humans and have loyal pack instincts.
Breeding sled dogs is still a fine art today. A good lead dog can sell for as much as $5,000, and some kennel owners will lease out race dogs to mushers for as much as $1,000 per dog.
Diet
Alaskan Huskies bred for racing require significantly more protein and calories than your average domestic dog—they burn as many as 10,000-to-14,000 calories on the trail a day, compared to the 1,000 calories a typical house dog burns in a day. A standard diet is raw meat and kibble mixed with water to help them stay hysrated. (Despite the enormous amount of energy that the dogs use while running, they tend to be reluctant to drink plain water, especially when tired.) 
Raw salmon is one of the most common meats fed to the dogs due to its high water content, but each musher and kennel uses their own specialized diets. Some use a combination of proteins that often includes chicken, beef fat, lamb, elk, and bloodmeal. Lance Mackey, who won four consecutive Iditarod championships from 2007 to 2010, swears by beaver as a "super food" for the dogs. "I like to keep it simple," Mackey says. "Fish, beef, beaver, and supplements to make the dogs healthier."
The supplements for sled dogs include multi-vitamins (just like the ones we take) and vitamin E capsules to help prevent the buildup of lactic acid and cramps. "Red Cell is another good trick," says Dana Grant, who trains sled dogs in Wyoming. It's an iron-rich horse supplement designed to boost red blood cell count, which helps with circulation.
Exercise
The Alaskan Husky is an incredibly energetic animal that needs to be run often. In the summer offseason, Iditarod mushers often send their dogs to run commercial tours on the glaciers in northern Alaska to keep fit. They will also harness their dogs to a vehicle other than a sled—an ATV in neutral, for example—to run the dogs when there isn't enough snow on the trails, according to Dana Grant. Iditarod racers will generally start running their dogs on a strict training routine in September or October to prepare for the race.
During the winter race season, canine competitors generally run harnessed to a sled for about five hours, five or six days a week. In the Iditarod, they will run much more than that, clocking 12 or more hours a day with three- to six-hour breaks, and one 24-hour rest at some point during the week-and-a-half-long race.
Training
Mushers typically train dozens of dogs before settling on a core team. They start training at about nine months of age, and the best of dogs can race until they are nine or ten years old.
Owners of large kennels will often hire assistants for what amounts to a dog-training apprenticeship. Apprentices raise the dogs from pups and start running them attached to a sled when they're roughly one year old. Before they are ready to run in a harness, some trainers will run the pups through obstacle courses or encourage them to chase vehicles like ATVs. By two years old, dogs are ready to race in the Iditarod, and a trainer will put together a team of 16 dogs that run well together.
It's particularly important during training to find a lead dog that is smart, can hear commands from the musher on the sled ("gee" means left; "haw" means right), and is not easily distracted by wildlife or other dog sleds. The strongest dogs are generally placed closer to the sled, in the rear of the pack, but for the wheel position right next to the sled, smaller dogs are required so they do not get rubbed raw by their harnesses.
Fights occasionally erupt during a long race, but they rarely last long, because race dogs are trained to respond quickly to a musher's commands. To prevent fights, some mushers believe in placing males and females side by side. Most mushers run a combination of male and female dogs, but some mushers believe that single-sex teams work best.
Out on the trail, mushers are unquestionably the alpha of the pack, and that means more than just telling the dogs what to do and when to turn. If a musher turns frustrated or disheartened, which is easy to do in a frigid 10-day race, it can affect the dynamic of the whole team.
"You're like a coach out there," says Elliot Anderson, who is running his second Iditarod this year. "You have to stay positive or your dogs will pick up on it and they won't perform. You go through ups and downs mentally, but you need to stay happy for the dogs' sake."
Lead Photo: RelaxFoto.de/iStock