I Did It Friedl's Way
What happens when a veteran mountain guide has to follow someone else's lead for a day of heli-skiing? Heads swell, powder flies, and somebody gets handed a big slice of humble pie. Dave Hahn confesses.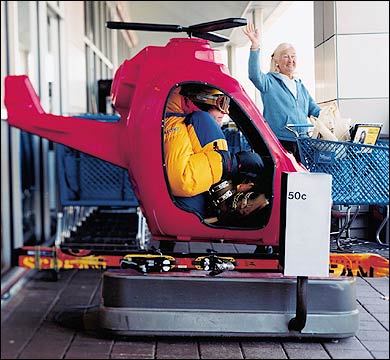 Heading out the door? Read this article on the new Outside+ app available now on iOS devices for members! Download the app.
COUPLE OF WINTERS AGO, I was invited by the Calgary, Alberta-based energy-investment firm Peters and Company to give a slide show about my alpine adventures at their annual conference at Lake Louise, in the Canadian Rockies. The organizers flew my girlfriend, Deirdre, and me up there first-class from my home in Taos, New Mexico, and made it clear that we were going to get rock-star treatment. Having spent much of the last 18 years as a professional mountaineering guide and ski patroller in cold, harsh places—I had just gotten back from three months of guiding in Antarctica—I felt justified in soaking up the good life, and the gravy seemed to be coming my way, right on schedule. The immigration agent in Calgary who checked my passport asked if I was the Dave Hahn, the one who did all that climbing. Deirdre, a Scottish expedition doctor, rolled her eyes, figuring that I'd somehow paid this guy ahead of time for the compliment. He let me into his country, with my head swelling uncontrollably.


For three days, Deirdre and I lived better than royalty, enjoying swank housing at the Chateau Lake Louise and reveling in the fanfare of a hundred energy-company CEOs from Canada and the United States. Normally my ego is kept in check by my colleagues—guides who have accomplished more than me and who make fun of me every time I screw up. But I didn't see any of them being wined and dined and retiring to a private hot tub. I lapped up the attention, begging—I see now—to be put in my place.


It didn't take long. Almost immediately, my Canadian tour de force was plagued by setbacks. For starters, I'd caught a vicious case of laryngitis. There I was, ready to pontificate about what a big-shot climber I was, and my voice wouldn't put out. A little adversity never hurt anyone, except perhaps my listeners, who had to endure 50 minutes of me croaking and choking like a cat coughing up a hairball. I did my best to entertain, showing slide after slide of yours truly doing the Tiger Woods fist pump on one summit after another: McKinley, Rainier, and Everest, with a couple of stories tossed in about being part of the 1999 expedition that found George Mallory's body. These were nice people, and they clapped when I finished—or perhaps because I finished.


But there was another, more profound glitch. The slide-show invitation had included such sweet incentives as free lift tickets for nearby Lake Louise Alpine Resort, but there was hardly a meter of snow on the ground there. If Deirdre and I were going to sample Canada's legendary powder, we'd have to do it via helicopter.


Local knowledge of the mountain range and weather patterns is essential for heli-skiing, especially on the steep faces of the northern Rockies. We would need the full deal—a day of flying and an expert guide. Heli-ski guides have a sexy and dangerous job: They wear one-piece ski suits with belted waists that make them look like Transformers, they work with well-to-do folk (at the time, a day of heli-skiing ran about $800 for two, more than I usually shell out for a day of fun), and they're damn good skiers.


So I called a local outfit and booked the last two seats in a chopper going out the next morning. I decided not to tell the outfitter that I was a mountain guide and ski patroller; I was looking forward to getting out and playing for a day, and I didn't want to tell Everest stories or live up to anybody else's expectations. I also figured I could stand to brush up on my own guiding skills by seeing how someone else did it.


I should have known it wouldn't be that simple.
THE FIRST THING I learned is that you don't want to piss off your guide. We had been instructed by a staff member of the heli-skiing operation to meet at the company's cabin at seven in the morning. We arrived at exactly that time and were greeted by our guide, who informed us that we were 30 minutes late and that we should join the rest of the group pronto. He didn't say "pronto," of course, since that isn't a very Canadian thing to say, but I had no trouble getting his drift. He was short and fit and spoke with a European accent (many of the elite guides in this part of Canada hail from the Alps), and I had no doubt that he had been guiding forever and that he was the Big Dog. In the interest of staying on his good side, we shut our traps about the misunderstanding.


Once we were all assembled, the Big Dog—let's call him Friedl, since that isn't his name—began his safety talk, and Deirdre and I quietly started to pull on our gear as we listened, not wanting to further delay the group. This drew a stern rebuke from Friedl, who asked pointedly if we wouldn't mind paying full attention for the few minutes it would take to get this life-and-death stuff covered. Naturally, we stopped our bad behavior immediately. I listened totally, trying to affect an appearance of respect and submission. But I also allowed one eye to roam around the room to check out the nine other clients—mostly banker and lawyer types—who were outfitted head to toe in that year's colors. I realized that Deirdre and I were greatly outdone in the style department. My gear was functional, but now seemed scruffy. Deirdre's looked downright used, for God's sake.


While mulling over our fashion faux pas, I heard Friedl asking if anybody had brought an avalanche beacon. Like an idiot, I put my hand up. He inquired if I'd used it much, and I intended to say, "No, it's new—I've only used it for a few months," but, feeling shaken from our greeting, my reply came out as a timid "No." Friedl then asked if I'd be so kind as to use the one that he was going to provide, since I didn't seem to know squat anyway. He didn't say the "squat" part, but he might as well have.


Unfortunately, Friedl wasn't finished. "Does anybody have their own shovel?" he asked. At that point, I wouldn't have raised my hand even if I'd had a shovel sticking out of my forehead. But he settled his eyes on me and said, "You bring a beacon but not a shovel? That doesn't make so much sense." This would have been tough to argue while remaining pleasant, so I simply nodded.


I was quickly becoming a good example in Friedl's lecture of what not to do, and I figured he was trying to use me to show the group who was in charge. I thought back to the many briefings I'd conducted with clients before their first climbs. Had I used this technique to establish leadership and safety in the mountains? I hoped not. Not to say that I hadn't resorted to arrogance on occasion to deal with aggressive clients, but I was baffled as to how Friedl thought I was challenging him. Instead of filling me with warm fuzzies of loyalty and trust, Friedl's bossy routine made me feel insecure. Perhaps I should have spoken up then and there about my own guiding experience, but while earlier it seemed unnecessary, now it seemed positively imprudent. The odds were good that I'd come off as a pompous jerk, trying to undermine Friedl's authority. Besides, it was almost time for the good part.
OUTSIDE THE CABIN, I could smell the jet fuel. The rotors were spinning, the pilot looked cool as hell in his shiny helmet with its Darth Vader visor, and soon we were lifting off the ground. In minutes we'd snuck out from under a low-lying blanket of clouds and into a world of blue sky and mountains. There were signs of avalanching in every direction and at almost every altitude. Looking out at the hazards, I was relieved that it was my day off.


Our first run was in a large open bowl well above timberline, and we skied for what seemed like an eternity down a series of ravines and into a wide valley, where the chopper was waiting. And back up we went. Each run, Friedl skied off first, and we followed. He seemed unconcerned about the tail end of things—perhaps because he was carrying a set of climbing skins and could get back up to whoever might have busted a leg or hit a tree. I'd have gladly skied as rear guard if I'd been asked—or, let's be honest, if I'd swallowed my pride and offered. After a couple of laps, I concluded that Friedl had no intention of getting us into the hazardous steep terrain. Given the poor snowpack, that seemed like a good plan, so I decided to stop feeling responsible for people in the mountains and just enjoy the scenery.


The powder came to my boot tops, and we never seemed to come close to our previous tracks, leaving long, gorgeous snow squiggles that stretched for miles. During our picnic lunch, I tried to make conversation, hoping to reassure Friedl that I meant no harm. "So that's the border with British Columbia?" I asked, pointing east.


"Yes," he answered, not exactly bursting into conversation. Now, instead of ridiculing me, Friedl was just ignoring me, skiing ahead with the more well-heeled clients, with whom he seemed to enjoy a better rapport. I'm not sure which approach was worse, but I wasn't going to let either ruin my day.


By late afternoon, we'd gotten in four runs of five thousand vertical feet each, and we were entering heli-skiing's sneaky bonus period, in which clients can keep skiing at an added cost of about $45 per run, but only if everyone is willing. We'd already gone for one extra lap when Deirdre and I politely declined the last; her ankles were getting beaten up and my wallet was getting hammered. Friedl looked at us for a good, long while, stalling until I caved in to silent peer pressure. Finally, I said that we didn't mind waiting alone near the pickup point—and we didn't, having been in a few cold places before.


As we sat on a log and enjoyed the solitude and beauty, I asked Deirdre what she thought about my dealings with Friedl. Had it been my ego problem, or his? "Mostly his," she replied. I pondered that a bit and realized that being in the backseat had given me a fresh insight on guiding. I've always tried to put clients at ease with humor and to let them know that we were all new to these games once. I decided that, from there on out, I'd work harder to climb into their boots—and to remember that everybody likes to feel like a rock star now and then.
LATER, AS WE ENJOYED a complimentary drink back at the cabin while we squared up the bill, Friedl attempted his first bit of chitchat with me. "So, tomorrow it's back to work, eh?" I looked up to see if there was a sneer on his face to match the condescension I thought I heard in his voice. There wasn't, but I couldn't help wondering if Friedl thought I worked behind a desk, and assumed that his was a world I was allowed to visit every now and then if I saved my pennies. I swallowed, smiled, and finished signing the credit card slip. "Yes," I said, "tomorrow it's back to work."


It wasn't, really. The next day was a series of first-class flights back to New Mexico. But the day after that, it was back to work. It had been snowing, so the day started—as many great ones do—with a 4 A.M. telephone call. It was "Devo"—Rey Deveaux, then snow safety director of Taos Ski Valley—telling me to come up for a morning of avalanche control in the Sangre de Cristo Mountains.


It had snowed about three feet of the lightest, most pleasant powder imaginable, and as we patrolled, I told a few stories about my hairball slide show and abuse at the hands of Friedl. After we'd thrown our bombs and shaken snow from the cornices, there was nothing left to do but hop in and rip it up. Devo and I stood with the tips of our skis jutting out into the air above Stauffenburg Chute, just as the sun began to pull over the horizon. He turned to me and said with a smile, "Ja, Friedl, it's back to work!"


I listened to the hiss of his skis, watching him disappear in a vapor trail of white smoke. When I could see that he was safe, I followed. The powder was so deep it was pouring over the collar of my jacket. Normally, this long, 40-degree line would be tough to ski, but on this day, with all the snow we'd knocked into it with our bombs, it was cake. Good cake. I pointed my skis down and gasped for air every time I came to the surface—floating, laughing, and trying to scream with a mouthful of snow: "Jaaaaaaa, Frieeeeeedl … it's back to woooooooooooork!"