Iconic Ski Director Warren Miller Dies
The legendary filmmaker knew the secret to making great ski movies. You couldn't just show skiing, skiing, and more skiing. You needed to tell a story, too, with emotion and humor.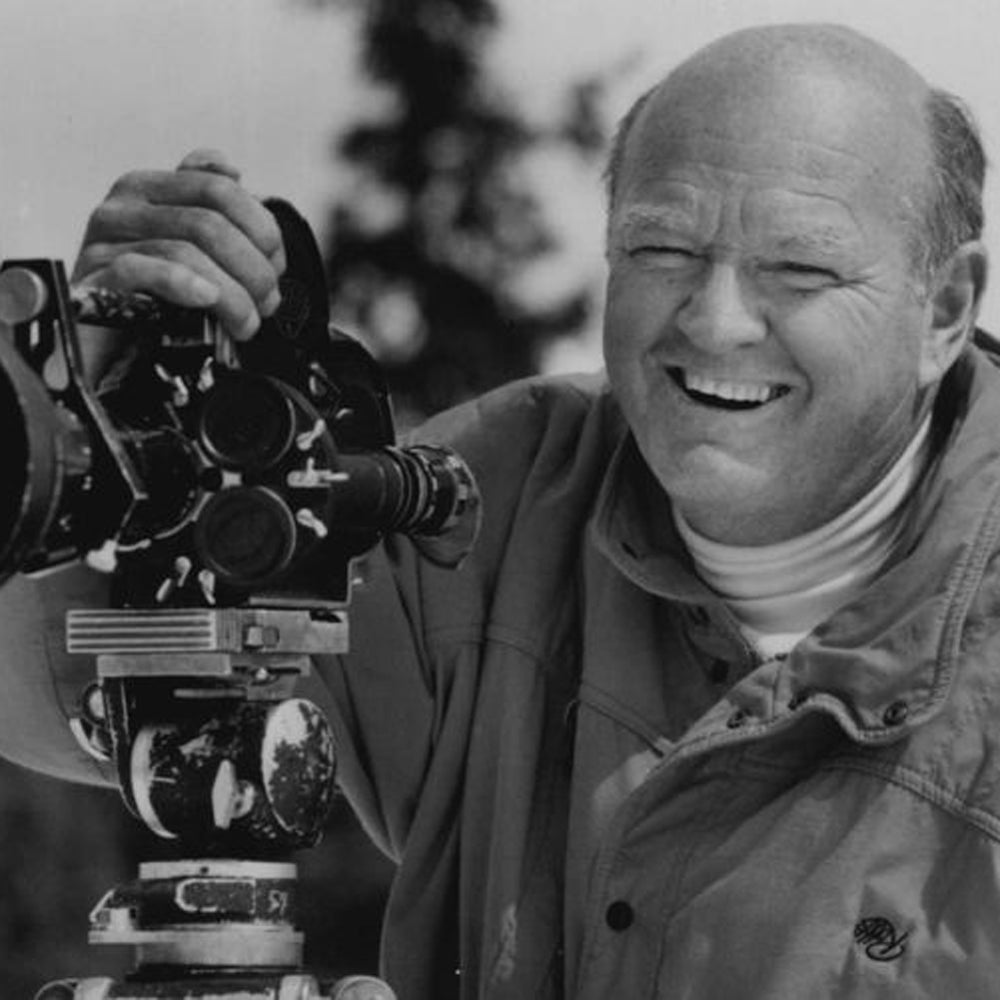 Heading out the door? Read this article on the new Outside+ app available now on iOS devices for members! Download the app.
Legendary ski filmmaker Warren Miller died Wednesday night at his home in Orcas Island, Washington. He was 93.
During his career, Miller made more than 500 movies, primarily about outdoor sports, but it was his ski films that he was famous for. "What made the Warren Miller films incredible was his connection to the audience and the film tour," says Chris Anthony, a professional skier who's filmed and toured with the Warren Miller movies since 1990. "He built his audience one person at a time, one family at a time. He was responsible for taking skiing mainstream."
Miller's early films came out during the era when many ski resorts were first opening in the 1950s and '60s. Skiing was transforming from an a niche, elite activity to one enjoyed by the masses, and it was helped along in large part by Miller's fun, mainstream films. 
Miller was born in 1924 in Hollywood, California, the son of a Depression-era aspiring radio actor who struggled to make ends meet. As a kid, he learned to make his own money. In his 2016 autobiography Freedom Found, Miller writes about hunting for Coca-Cola bottles on the beach to trade in for two cents to buy a candy bar.
He bought himself his first camera when he was 12. Three years later, he bought his first pair of skis after spotting skiers on a winter Boy Scout trip to the San Gabriel Mountains. They cost $2, money Miller had earned delivering newspapers. He learned to ski on the slopes of Mount Waterman, outside Los Angeles. "There it was—the most beautiful sight I had ever seen: my first view of an untracked snowfield," he wrote in his book. After high school, Miller attended the University of Southern California and enlisted in the Navy during World War II.
In the winter of 1946, as the war was coming to an end and Miller was back home in California, he bought an eight-millimeter camera for $77. He and his ski buddy Ward Baker set off on a now-famous road trip around the West, towing an eight-foot teardrop trailer and living in the parking lot at ski resorts like Alta, Utah, Sun Valley, Idaho, Jackson Hole, Wyoming, and Aspen, Colorado. "The best place to ski in the world is where you're skiing that day," Miller often used to say. 
He and Baker shot footage of each other, spliced together the film, and Miller ad-libbed voiceover. It was funny and lighthearted, with stunts like a chimpanzee on skis and lines like, "You can't get hurt skiing unless you fall." "A film that shows nothing but skiing, skiing, and more skiing can lose its audience, but funny footage brings the audience's attention back," Miller wrote in his book.
"His movies always motivated people to go and ski," says Tom Day, a cinematographer with Warren Miller Entertainment since 1998. "He was able to make a film in an entertaining way that not only represented the sport but also the lifestyle and humor that goes with skiing. He was able to capture that emotion."
His first real film, called Deep and Light, debuted in 1950. Over the years, his movies drew in larger and larger audiences as he toured theaters around the country. "I remember going to Warren Miller movies when I was young," says pro skier Wendy Fisher, who filmed with Matchstick Productions and Warren Miller Entertainment in the early 2000s. "His films had a cult following, and he had this way of showing the ins and outs of the sport of skiing in a way no one else had done before. It became a family tradition to see the films together to kick off the winter season."
In 1989, Miller sold his film company to his son Kurt Miller and his partner, Peter Speek, who sold the company to Time Inc. in 2001. Warren Miller Entertainment, which is now owned by Active Interest Media, continues to make ski films, but Miller's participation in the movies ended in 2004. (Though he did appear in the company's 2016 film, Here, There and Everywhere.) 
Miller was married five times in his life, and his last marriage to his wife Laurie lasted 30 years. He has three children, Scott, Chris, and Kurt. In his eighties, Miller launched an organization, the Warren Miller Freedom Foundation, that provided entrepreneurial training to young people.
"This is a sad day during which we draw some comfort from the fact that Warren's legacy of adventure, freedom, and humor carries on in the countless lives he touched," Laurie Miller said in a statement. "Warren loved nothing more than sharing his life's adventures and hearing literally every day from friends old and new about how his stories inspired others to enrich and enjoy their own lives. All of us are better for knowing and loving Warren."