Burton Snowboard Founder, Jake Burton, Has Died
The snowboard pioneer passed away after a battle with cancer. He was 65.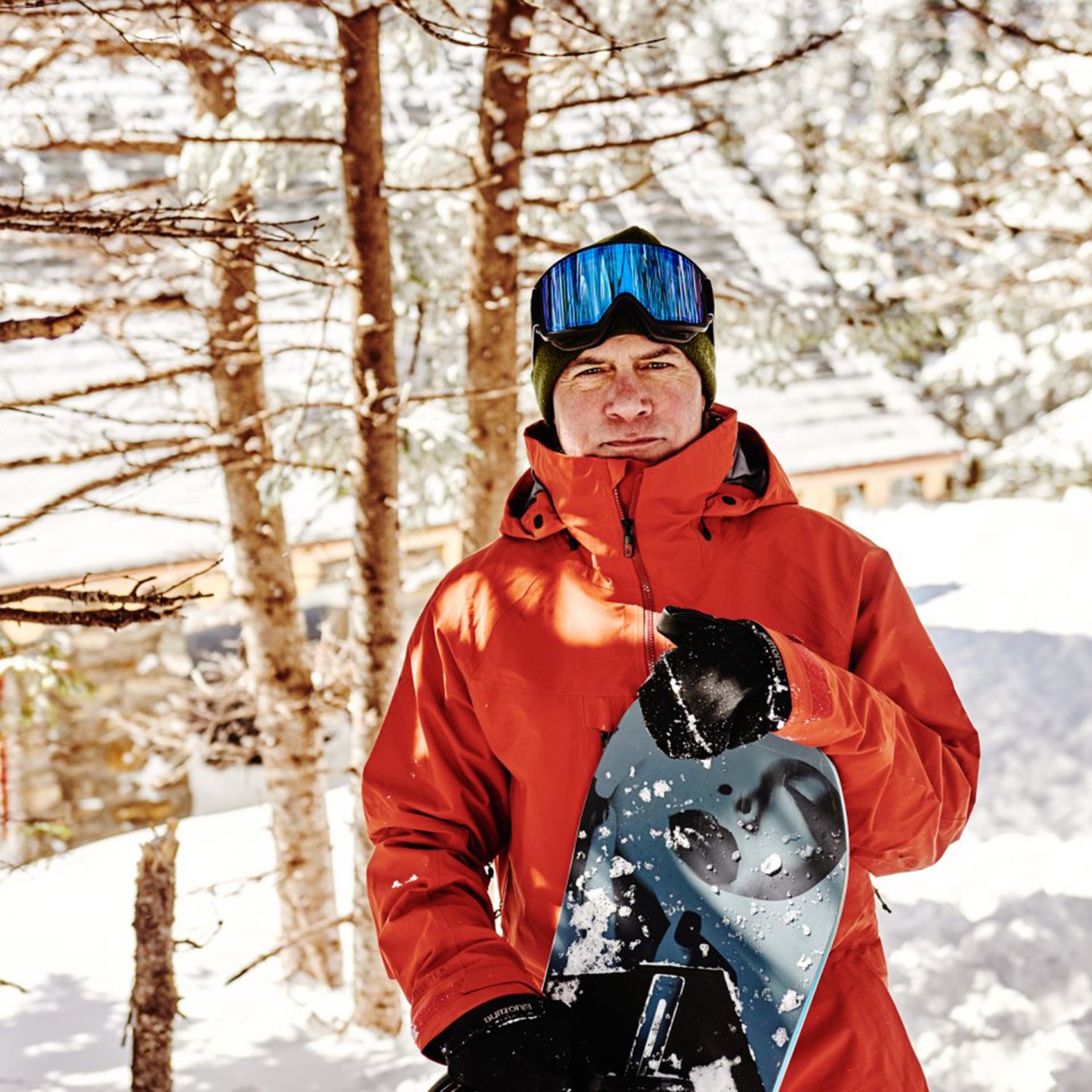 Heading out the door? Read this article on the new Outside+ app available now on iOS devices for members! Download the app.
Jake Burton Carpenter, the founder of Burton Snowboards and one of the pioneers of the sport of snowboarding, died Wednesday night. Carpenter had announced early in the month that he was battling cancer for a second time. He was 65 and leaves behind his wife Donna and three sons, Timi, George, and Taylor. 
Carpenter grew up in Cedarhurst, New York, eventually moving to southern Vermont in the mid-1970s. He was a skier, but he'd developed a love for the Snurfer, a piece of plywood that sort of resembled a water ski and could be ridden down snowy hills while standing and holding a rope. Carpenter believed he could improve upon the Snurfer by shaping a wider board out of better materials and adding bindings. In 1977, working out of a barn in Londonderry, Vermont, Carpenter, who described himself as a "loser in shop class," started using industrial machinery to try to bring his vision to life. Many of the prototypes ended up shooting out of the machines and through the walls of the barn. But he finally produced his first model, the Backhill.
He only sold 300 snowboards that first year and almost gave up. "I came incredibly close in the beginning to just bailing on the whole thing," he told Outside in 2002. Instead, he stuck with it and sold 700 boards the next year. 
But snowboarding had a problem. Ski areas were wary of people riding the new contraptions on their slopes and banned snowboarders from riding the lifts. To get on the hill, boarders resorted to poaching the ski areas by hiking up trails after they'd closed for the day, or tromping around the backcountry. In 1983, Carpenter reached out to Paul Johnston, then the vice president at Vermont's Stratton Mountain Resort. 
"He approached me one day and said, 'will you guys at least try it?'" remembers Johnston. "I said, bring up some boards and I'll try it." Carpenter took Johnston and other executives from Stratton up a bunny slope and tried to teach them how to make the board turn. "Half of us couldn't even get down the ramp from the chairlift," says Johnston. "People went into the woods. Nobody wanted to have it on the mountain, but I said I'm going to try it." Stratton opened to snowboarders that year. 
"I do feel that snowboarding is still a big brotherhood, or sisterhood, in the sense that when you see someone on a snowboard, you're going to give them the benefit of the doubt," he said in 2007. "You just have something in common—there's a bond there."
Two years later, the resort hosted the U.S. Open, an event that would become the sport's preeminent contest. "He had a real vision for what he wanted to achieve," says Johnston. "I remember, early on, he showed me a drawing that he'd done. And half the people on the mountain were skiing and the other half were snowboarding. 'This is what I want,' he said."
Carpenter would eventually move his business to Burlington, Vermont, where he'd grow the company to 950 employees and produce snowboard gear and apparel. The fledgling sport became a billion dollar industry and served as a boon to the snowsports sector. "When we started allowing snowboarding it brought all the kids back out again," says Johnston. "We started to see 200 kids coming out of snowboard school and only 15 kids coming out of ski school." 
"As far as the ski industry was concerned, we didn't exist," Carpenter told me when I interviewed him in 2007 for Outside's 30th anniversary issue. "Then we became a nuisance. Then we started getting into resorts, and became a threat. Next thing you know, we were the saviors."
In 1998, snowboarding became an Olympic sport, and the way it was presented made Carpenter cringe. "Animal, a Muppet character, with orange hair and a nose ring—that was our mascot," he told me. "In the Nagano Olympics, they spelled 'snowboarding' wrong."
The bright spot was Ross Powers, a Londonderry native who Carpenter had known for years. "In fifth grade I remember getting a one-page letter from Jake saying that the company wanted to sponsor me," he says. "He really gave me a chance." Powers won a bronze medal at Nagano and followed it up with a gold at the 2002 Olympics in Salt Lake City. "This is a big loss in our sport," Powers says. "Way too early. But he lived his life to the fullest and affected so many lives and made so many of us part of the snowboard community." 
Carpenter was especially proud of that community. "I do feel that snowboarding is still a big brotherhood, or sisterhood, in the sense that when you see someone on a snowboard, you're going to give them the benefit of the doubt," he said in 2007. "You just have something in common—there's a bond there."
Lead Photo: Guido Vitti