Lake Effect
With big snow, bright skies, and steep terrain, Lake Tahoe beckons the diehards.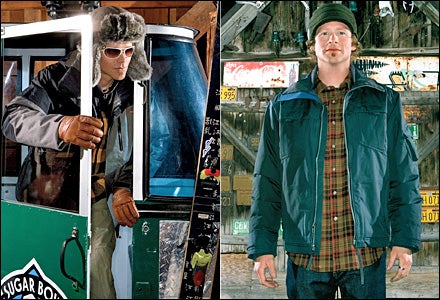 Heading out the door? Read this article on the new Outside+ app available now on iOS devices for members! Download the app.
THE NICE GUY

JEREMY BENSON doesn't like talking about himself; he really wanted to tell us about his pro-skier girlfriend, 29-year-old Lynn Kennen. But we finally got him to cop to being one of Tahoe's best backcountry skiers, cleaning the steepest lines from Donner Summit to Tioga Pass. The 28-year-old moved to Lake Tahoe's West Shore from Vermont six years ago and hasn't left. "I still live here because I'm hopelessly addicted to skiing," he says. His best tip for powder stashes? "For the truly adventurous, the open boundaries at Alpine Meadows are a dream," Benson says. "Bring your avy gear and head south into Ward Valley. You can be skiing completely untouched lines days, sometimes weeks, after a storm."
ON JEREMY (left): Herman hat ($36) by SHRED ALERT; Deluxe sunglasses ($60) by UVEX SPORTS; Aristocrat Softshell ($180), Ital Corner Pant ($140), and Rogue Plaid Fleece ($80) by COLUMBIA SPORTSWEAR; Henrik Windstedt Pro Model gloves ($110) by HESTRA GLOVES. Photographed at the Sugar Bowl Ski Resort, Lake Tahoe, California.
ON JEREMY (right): Metoo hat ($22) by SHRED ALERT; Almanac jacket ($375) by SCAPEGOAT; Marina Cove shirt ($79) by QUIKSILVEREDITION; Ty tee ($44) by HORNY TOAD; jeans ($78) by LEVI'S ECO.
The Clown
Food Q&A
What's the difference between whole grains and processed whole grains?
Nothing, in terms of nutrition. Here's a primer. Whole grains: Seeds are intact, surrounded by an endosperm and nutrient-rich germ and bran.
Processed whole grains: Seeds have been cracked, rolled, crushed, or ground and provide the same nutrition as the original whole grain.
Avoid refined grains (nutrient-poor white flour) and enriched grains (same as refined but with some nutrients restored).
Your Stomach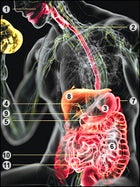 If you find yourself injured and in ski patroller Dan Robichaud's sled, know this: Not only was the 33-year-old Squaw Valley's 2003 patroller of the year; he's a former wasabi-eating champion at Mamasake sushi restaurant. Not bad for a rowdy Red Sox fan who's known affectionately around town as Jackass Dan. So where does this party animal get a drink after saving lives on the mountain all day? "I go to the Auld Dubliner (aulddubliner.com/SV), in the village at Squaw, for a Guinness and a shot of Jameson," he says.
ON DAN (left): Cloverdale sunglasses ($110) by SPY OPTIC; Valley Full-Zip jacket ($95) by PATAGONIA; Orvis shirt ($48) by PLANET EARTH; Iconic Khaki pant ($48) by DOCKERS.
ON JEREMY (right): Norse Sweater ($120) by HELLY HANSEN. Photographed at the Cal Neva Resort, Crystal Bay, Nevada.
The "It" Girl
Weight Q&A
How can I avoid gaining weight over the holidays?

Lose five pounds before Thanksgiving. Here's how: Bump up your strength training to three times weekly, which increases lean muscle mass and the rate at which you burn calories. Then aim for a steady weight loss of half a pound to one pound weekly by reducing intake by 350 to 500 calories daily. Emphasize high-fiber, low-fat foods and mix in modest amounts of lean protein. The combination will keep you feeling satiated longer.

Everyone in town knows Michelle Parker (pictured with Dan Robichaud and Amber, Sugar Bowl's two-year-old avalanche-rescue dog), and not just because she was the tomboy who grew up following freeskiing big man Shane McConkey around Squaw. Now 20, at 16 she was among the first women in the Winter X Games halfpipe event and took home second place in slopestyle at Vail's 2007 U.S. Freeskiing Open. Another reason it's hard to miss her? The five-foot-two huck doll drives a jacked-up four-door V8 Toyota Tundra with a Kicker audio system. And when she visits her favorite breakfast spot, Wildflour Baking Co., at the base of Squaw, to use her $130 cookie pass—good for 100 tasty home-baked treats and breakfast sandwiches—they know what kind she's after: peanut butter.

ON DAN (left): Stratos sunglasses ($125) by SPY OPTIC; Unity Suit ($549) by THE NORTH FACE; Windstopper Active gloves ($70) by HESTRA GLOVES; Caribou Reserve boots ($400) by SOREL.

ON MICHELLE (right): Sno Bunny beanie ($30) and Deville gloves ($50) by DAKINE; Luce Sunglasses ($125) by ANON; Larah jacket ($300), Magalie sweater ($120), and Joliette pants ($230) by ORAGE; Karin Boot TCY ($290) by TECNICA. Photographed at the Sugar Bowl Ski Resort, Lake Tahoe, California.
The Coach
Nutrition Q&A
Is it worth splurging on exotic juices that claim health benefits?

While juices made from mangosteen, noni, goji, açai, and others are high in antioxidants, there's little evidence that these trendy "superfruits" are better for you than other dark-colored berries. The best advice: Just eat a variety of brightly colored fruits and vegetables daily.

THE COACH

Since 2003, Jason Dobbs, 27 (left), has logged 95 days per year at Squaw Valley, coaching eight-to-18-year-olds on the Squaw Valley Freestyle and Freeride Team, which produced Olympic gold medalist Jonny Moseley. Although Dobbs has scored well at big-mountain competitions—eighth at Kirkwood's 2006 World Freeskiing Tour finals—he's proudest of the Best Waiter of North Lake Tahoe and Truckee titles he held in 2006. Naturally, he recommends his employer for the best bargain dinner in town: "Head to Dragonfly Restaurant and Sushi Bar [dragonflycuisine.com], in Truckee, for the $8 Sapporo-and-Long Roll combo," he says.

ON JASON (left): Cancale hoodie ($225) by NAPAPIJRI; Essential crew shirt ($58) and 514 Slim Straight Corduroy pants ($44) by LEVI'S; Aliso boots ($170) by UGG Australia.

ON JEREMY (middle): Wagontire half-zip sweater ($90) and Cascada Long Sleeve Shirt ($50) by COLUMBIA SPORTSWEAR; Panas pants ($120) by DIESEL; Young boots ($220) by UGG Australia.

ON DAN (right): Bernal Heights shirt ($79) and Coast Highway pants ($85) by QUIKSILVEREDITION; Phenom Eye Tee ($32) by OBEY; Wallabee Boots ($120) by CLARKS ORIGINALS. Photographed at the Cottonwood restaurant, Truckee, California.

WHERE TO FIND IT:

anonoptics.com

clarksusa.com

columbia.com

dakine.com

diesel.com

dockersstore.com

hellyhansen.com

hornytoad.com

hestrausa.com

levisstore.com

napapijri.com

orageski.com

patagonia.com

planetearthgreenlabel.com

quiksilveredition.com

shredalert.com

sorel.com

spyoptic.com

tecnicausa.com

thenorthface.com

uggaustralia.com

uvexsports.com

valsurf.com (Obey)