What It's Like to Ski-Tour for 60 Hours Straight
In an uncommon skimo race in New Hampshire, two skiers climbed the equivalent of Mount Everest—twice
Heading out the door? Read this article on the new Outside+ app available now on iOS devices for members! Download the app.
After skinning to the top of the same run for the 60th time in as many hours, Ben Eck and Jerimy Arnold turned off their headlamps and took in the stars. The two New England skiers were the finalists in an uncommon event: the second annual Last Skier Standing race in Jackson, New Hampshire. At 10 A.M. on Saturday, February 6, they and 80 other athletes began to lap a 1,000-vertical-foot course. They would climb and descend it once every hour until they couldn't do it anymore.
On Monday morning, the third-to-last skier standing called it quits. By 10 P.M. that day, Eck, 29, and Arnold, 40, had been slogging it out head-to-head for 18 laps, vying for the title of Finisher. Second place would take home the First Place DNF title—no small honor. 
Last Skier Standing is the brainchild of Andrew Drummond, 39, an ultrarunner and skimo racer who founded a gear shop called Ski The Whites in Jackson, New Hampshire, to serve and foster the region's community of mountain endurance athletes. The race takes place at Black Mountain Ski Area, a low-key hill with a 1980s vibe where Drummond grew up skiing. Drummond drew the inspiration for the race from the Big Dog Backyard Ultra Race in Tennessee, in which contestants run a roughly four-mile loop once every hour, then wash, rinse, and repeat until all but one person give up. In its second year, Last Skier Standing drew 25 percent more participants, each of whom paid $125 for the opportunity to push themselves beyond the breaking point in one of the weirdest endurance races in America. (Race organizers implemented temperature checks and social-distancing protocols to reduce risk to participants and staff.)
By Monday evening, Eck, a grad student and backcountry tele skier who lives in Boston, and Arnold, an engineer, ultrarunner, and skimo racer from Westford, Massachusetts, had already bested the previous year's Finisher by 25 laps—an additional full day plus one hour of skiing. They had traveled the equivalent of about 150 miles and ascended more than twice the sea-to-summit vertical gain of 29,035-foot Mount Everest. Usually they had about 15 to 30 minutes between laps before they had to shuffle to the start line again, just enough time to grab a snack, change socks, gulp down some of race co-director Monte McIndoe's hot Tang, and catch the tiniest of catnaps. Conditions were unfavorable: they faced 40-mile-per-hour gusts and sub-zero temperatures on the second night, and the top 250 feet of the course were peppered with rocks and icy moguls, which were particularly difficult to navigate in the dark. Neither had any idea when the other would quit, but both hoped like hell it would be soon.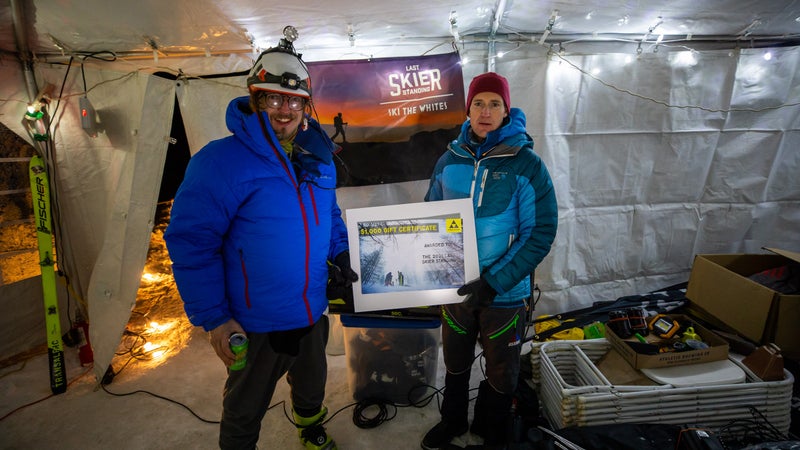 In traditional skimo races, contestants race to complete a predetermined route as quickly as possible. According to the United States Ski Mountaineering Association, a typical individual skimo race should last around two hours and include a minimum elevation gain of about 4,500 feet. Sprint and vertical categories are even shorter. "Normal skimo races are much higher intensity," Arnold says. "There's a set course you finish and you can always tell who's in front or behind." Last Skier Standing is more psychologically challenging, he says, because "you can never tell who's winning and there's no real way to push anybody." 
"The form invites a lot of dark horses," says Eck, who was often the last skier to the top of the run as the pack thinned. "You don't need to be the most fit—you just need to be fit enough and stupid or stubborn enough to stay in a long time." This year, Eck was the dark horse. His only real training was a hut trip in Colorado earlier in the winter during vacation from Northeastern University, where he's working on a Ph.D. in civil and environmental engineering. "I've never been that good about training," Eck says. "I just mostly like to ski and bike a lot." A broken telemark binding early in the race did not hold him back. He jury-rigged it and got on with the race. "It didn't ski great, but it skied about the same as all tele gear," Eck jokes. His outerwear was similarly nontechnical: he showed up in a full-body raccoon costume and proceeded to ski 25 laps in it.
Not long after they slid into the base area after their 60th lap, Eck saw Arnold taking off his boots for what looked like the final time. Sure enough, Arnold walked over to tell Eck that he was done. After another cup of McIndoe's hot Tang, Eck made his way to the starting line to set off for number 61: the victory lap.