Life After a Brain Trauma, Caught on Film
A terrific new documentary about injured snowboarder Kevin Pearce takes a searing look at the dark side of action sports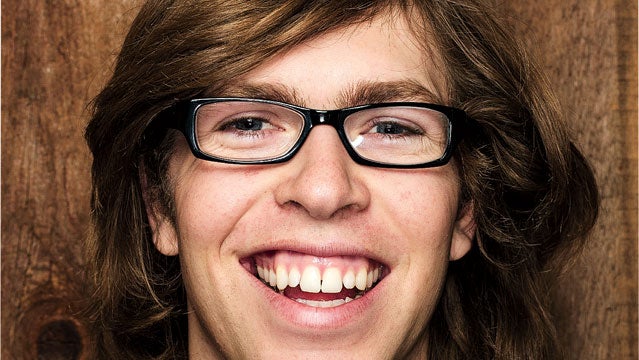 Andrew Hetherington
Heading out the door? Read this article on the new Outside+ app available now on iOS devices for members! Download the app.
In her latest documentary, The Crash Reel, which airs on HBO in July, two-time Academy Award nominee Lucy Walker opens a door into the life of former pro snowboarder Kevin Pearce as he recovers from traumatic brain injury (TBI). Think of it as the rise, fall, and brutally slow reinvention of a sweet kid who could be your son, nephew, brother, or best Frend (as Pearce's crew referred to one another). If you can watch it without tearing up, you're a harder man than I.
Pearce's long recovery after a 2009, pre–Vancouver Olympics training accident (in the same Utah superpipe where freeskier Sarah Burke was later fatally injured) is a story of unbridled dedication and courage that's both uplifting and utterly deflating. The Crash Reel forcefully swipes away the energy-drink haze that has clouded our collective consciousness into believing that today's competitive action-sports scene makes any sense at all.
I'm talking, of course, about the very existence of 22-foot-walled superpipes, inverted snowmobiling at night, extreme-skiing competitions held in vertical rock gardens glazed in ice, and the rest of the SoCal-born foolishness that demands bigger air, one more spin, and razor-thin margins for error. As The Crash Reel fearlessly depicts, your payment for the smallest of mistakes is a broken bone or concussion for each year you've lived. Until that one injury that changes your very identity.
Pearce is firmly of the this-life-will-be-televised generation, so Walker has ample footage to work with, from first steps to first hucks in the Vermont woods to polished competition clips. The viewer is reminded of just how young X Games–style competitors are just prior to their stardom. There's a dreadful tension in the buildup to Pearce's fall that's masterfully done, but for one quibble: perhaps to make those early scenes more taut, Walker weaves a parallel thread into The Crash Reel—the rivalry between Pearce and Shaun White. It's a filmmaker's device, and it's unnecessary. The extent of the animosity seems overblown, if only because of the screen time it commands. And as a head-injury victim himself, with several concussions and counting, White hardly deserves demonizing.
Pearce's story is enough. We see in wrenching detail the effects of his injury—memory loss, a newly irritable disposition—as they radiate outward toward those who care for him. (Walker appears to have had limitless access to the Pearce home in Hartland, Vermont.) And then the inevitable: warned by his doctors that even a small blow to the head could erase his hard-won gains, Pearce nevertheless vows to return to the slopes, even if only for fun. At one point, the mother of another brain-injured snowboarder—who, upon returning to competition, suffered a second, massively debilitating TBI—deadpans to Pearce, "Kevin, you had a great life before, but you're given a totally different brain now. You can't go back to who you were." But Pearce does insist on going back, and we're left waiting helplessly.
TBIs are getting a lot of play now, thanks to President Obama's promise of a multibillion-dollar effort to map the brain. But for those of us in the skiing and snowboarding world, TBI is nothing new. I know six skiers recovering (because you never stop recovering) from brain injuries, most of them severe. As Walker powerfully depicts, the brain is not a blown ACL repairable with time and a scrap of pig tendon. A TBI is forever.
We've been led to believe that the creation of taller and steeper halfpipes is the natural progression of the sport. It isn't. If you somehow come away thinking it's OK to send a child—yours or one you only sponsor or write about—40 feet into the sky and hope that he or she returns to earth without shattering his mind, you've missed the film's point entirely.
Trending on Outside Online