Lindsey Vonn Is Learning How to Rest. Kind Of.
We caught up with Lindsey Vonn to chat about recovery, sleep, and who she's watching this winter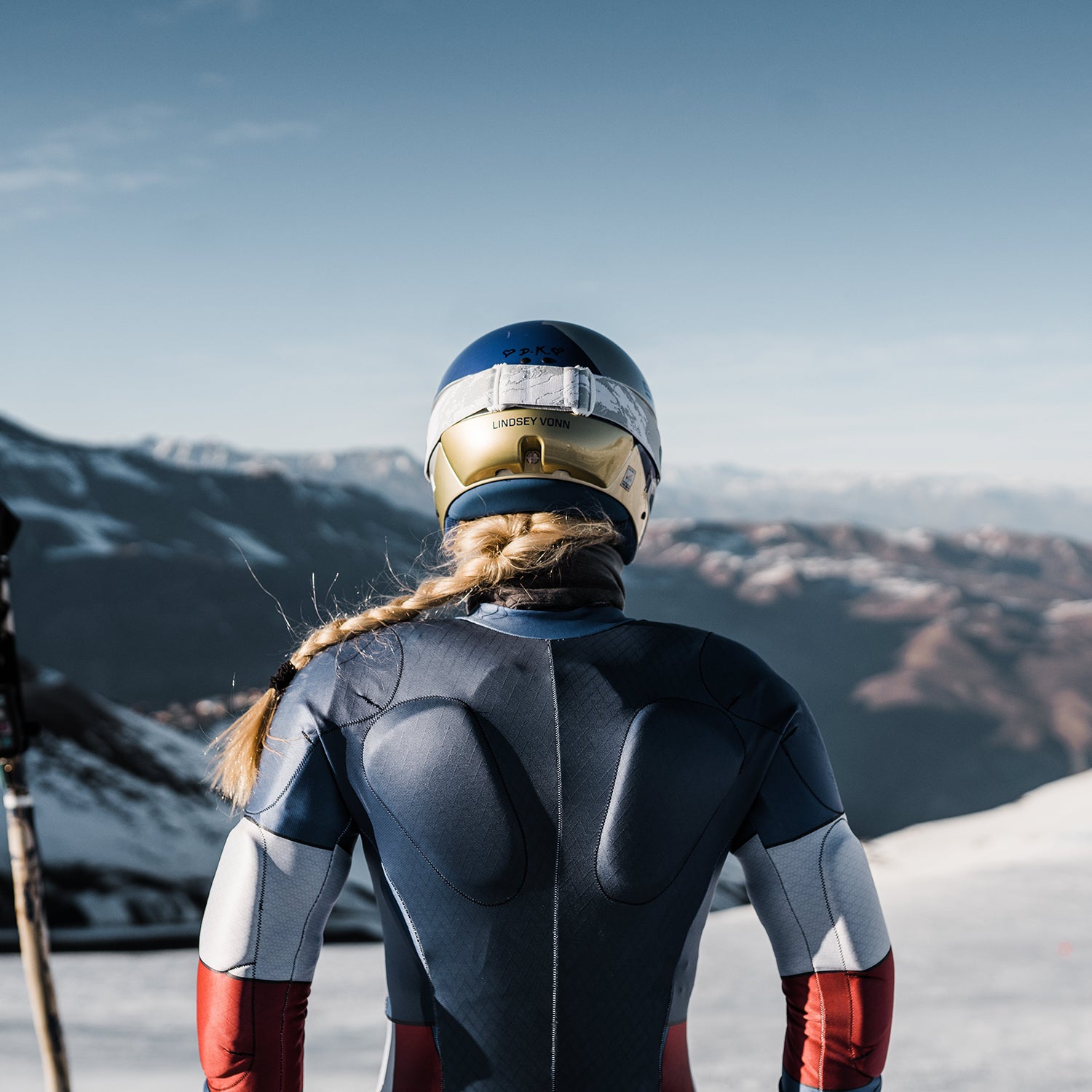 Courtesy Claire Abbe
Heading out the door? Read this article on the new Outside+ app available now on iOS devices for members! Download the app.
Lindsey Vonn is perpetually in motion. Now that she's fully retired from her championship career on the U.S. Ski Team, she's running her foundation, keeping up her wellness routines, and was even spotted at the U.S. Open praising Billy Jean King. She's also halfway through a series of knee-replacement surgeries to repair the damage sustained across 19 seasons of racing.
After announcing her official retirement in 2019 Vonn has been placing a major emphasis on rest and recovery, mainly so she can live the post-retirement life she's always envisioned, and do so pain-free. However, retirement has not necessarily been a walk in the park (or should we say a ski down the bunny hill?).
"I knew it was going to be a challenge when I retired from racing," she said during a Zoom interview with SKI. "I was hoping maybe it would be less of a challenge than it has been, but I have no regrets. Right now I'm working to get a pain-free happy lifestyle."
To achieve her goal, Vonn has been undergoing several knee surgeries to prepare herself for her full knee replacement, a direct result of her career as a racer. Her first knee-related surgery was back in 2013, and she's not done yet. The skier is in the process of recovering from her most recent knee surgery now, with a full knee replacement on the horizon.
"It's been three weeks now and it [the most recent surgery] was more of a bone repair, so that's why I was able to get back to activity pretty quickly. In total it'll take four or five months for the bone to fully heal, and I'm doctor-approved to do any activity that doesn't hurt me," she explained.
In addition to her grappling with knee pain, Vonn has been open about her struggles in falling and staying asleep due to her insomnia, which she believes began with the onset of her knee surgery ten years ago. "This is actually the first surgery I've had where I'm not suffering from insomnia, so it's a different recovery process for me and I feel like I'm healing better," she explained.
And when her insomnia does get the best of her Vonn comes prepared. She has a curated routine that includes writing in her journal taking medication, and even has a special nighttime scent (a candle for home and a spray for on the road), Gardenia Colonia by Voluspa, to remind her of home.
"I feel that if I keep those things consistent I'm able to fall asleep faster and stay asleep longer," Vonn says, explaining how the routine helps her to wind down and get to a state where she actually wants to go to sleep.
Feeling well rested has helped Vonn recover more quickly and spend more time doing the things she loves, like getting back on the mountain and skiing with friends and family, traveling, and running her namesake foundation, the Lindsey Vonn Foundation.
While skiing isn't the primary focus of the foundation, Vonn's philanthropic efforts help give underserved girls scholarships to experience different types of activities, camps, and sports, skiing being one of them. The foundation also hosts an annual gala that took place in mid-August in Park City, Utah. "Every year we do a theme for our big fundraiser, so if readers want to come up with a theme they can DM the Lindsey Vonn Foundation Instagram, Vonn shared, adding "We don't get a lot of these suggestions, so any and all are welcome."
View this post on Instagram
And while she won't be competing, Vonn already has her eye on a few racers for the upcoming season and on toward the 2026 Winter Olympics in Cortina:
"Breezy Johnson and Bella Wright. Breezy's been coming back from a knee surgery last year and I think she's incredibly strong mentally and physically. Sofia Goggia is a good friend of mine and she's been working very hard. And of course, seeing Mikaela [Shiffrin] and seeing how many more wins she can get. On the men's side [Marco] Odermatt is a really exciting racer to watch."
Vonn also voiced her excitement for the Olympic course. "It's going to be exciting to have an Olympics in such a classic venue, downhill racers specifically. Sometimes the Olympics aren't traditionally tracks we race on, so having Cortina be an Olympic track is pretty incredible."
And even though she finds herself not baking banana bread as much as she did back in 2010, during frequent weather delays at the Vancouver Olympics, Vonn was kind enough to share her secret about her famous baked good with us "There's no butter. And my secret ingredient is applesauce."
Lead Photo: Courtesy Claire Abbe
Trending on Outside Online