Lindsey Vonn Names America's Next Great Downhiller
The legendary skier anoints a successor, Breezy Johnson, to the title she held for years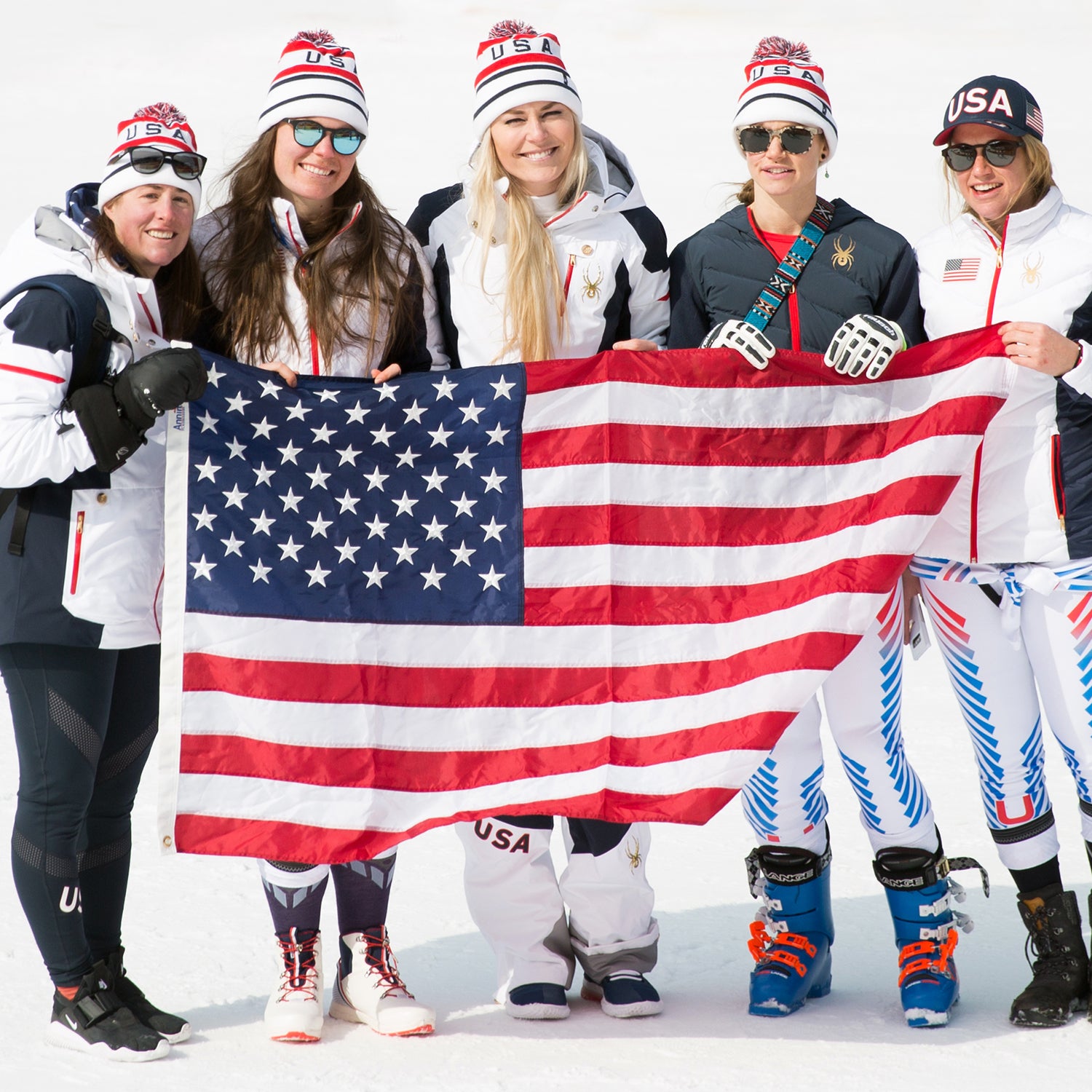 Courtesy U.S. Ski & Snowboard(Photo)
Heading out the door? Read this article on the new Outside+ app available now on iOS devices for members! Download the app.
When you retire from a career as a professional athlete, the most common question people ask is: What is your legacy? That's an incredibly hard question to answer, but I will try now to find the words.
I met my idol, Picabo Street, when I was nine years old. She was signing autographs at a ski shop in Minnesota. After just two minutes with her, I knew that I wanted to become an Olympian. Little did either of us know that nine years later we would be racing together in the 2002 Winter Olympics in Salt Lake City. 
This winter, nearly two decades later, I asked her the same question I have struggled to answer. To my surprise, she said: "You. You are my legacy." I admit we shared a few tears as we acknowledged the impact we had on each other. 
Picabo paved the way for me to have the career and life that I do. Without Picabo Street, there would be no Lindsey Vonn. She gave me someone to look up to: a woman who broke the mold, always pushed the limits, and transcended sports barriers at a time when women were only beginning to break out and be recognized for their achievements.
That first interaction left me with more than just inspiration, it taught me how impactful spending even a few minutes with a child can be. I strive to pass that down to as many kids as I can. During my skiing career, I always stuck around after races to autograph posters and ski jackets, take pictures, and try to be the example for them that Picabo was for me. 
I now understand that my teammates and fellow athletes are my legacy. They created a mutual network of support and inspiration throughout my career. These included the downhillers who weathered injuries and comebacks alongside me, like Alice McKennis, Laurenne Ross, and Jackie Wiles; the newcomers to the scene, like Keely Cashman and Bella Wright; and even athletes from other nations, like Swiss skier Corinne Suter, who I recently learned had a poster of me in her childhood bedroom and who just won gold and silver at the Cortina World Championships, as well as my good friend Sofia Goggia, an Italian who bested me for the Olympic gold medal in Pyeongchang, South Korea, in 2018. Sofia is more like me in personality and skiing style than anyone I have met, and it is an honor to be her friend.
There are many incredible women in the field right now, but one who I am most excited to watch grow is Breezy Johnson, a 25-year-old from Jackson Hole, Wyoming, who nabbed her first spot on a World Cup podium in December at Val d'Isère, France. 
"I like to think that my success is a little bit part of [Vonn's] legacy, because of how much she taught me and how much her success has impacted my career," Breezy said in an interview with NBC Sports. When I heard that, I got an idea of what Picabo must have felt like when I sat across from her and asked about her legacy.
Breezy is a standout athlete. "She leads by example with her professionalism and hard work," says Alex Hoedlmoser, head coach of the U.S. women's speed team and my coach for decades. "She works her ass off in the gym and in dryland workouts. That is her strength, like it was yours, to know that she puts more hours in the sport than others do." Breezy's approach is relentless and meticulous: she has a notebook in which she describes every course on the World Cup circuit in detail and what to do the next time she competes there. She also understands obstacles and comebacks, after missing two full seasons due to ACL and LCL surgeries. Despite those injuries, she fought her way onto the podium four times this season with a wild yet controlled style that reminds me of someone special: Picabo. 
With the veterans on the team injured, Breezy has taken on the responsibility of leading the next generation of downhillers into the future with grace. She is focused on the entire team's success and is kind and quick to give others credit. Bella Wright, another rising star on the team, says that Breezy is always on the radio to share advice after her runs and asking: Do the girls need anything?  
I see myself in Breezy. I see myself in the words "Like the Wind" printed on her helmet, much like I used to write phrases of encouragement on sticky notes pressed to my skis. I see myself in that underdog, with her hardworking, never-going-to-quit ethic.
We can all have an impact on the future. Too often we take our influence for granted and forget that people are watching. Athletes are supposed to push boundaries, beat records, and strive for greatness, but sometimes we get lost in our own accolades and lose sight of what our legacy really is. Especially as women, we're breaking trail for the ones who come after us. Breezy understands that and is already paying it forward. I am proud to watch my former teammates emerging as a deep and powerful team that I know will inspire the next generation after them. Legacy is not what you leave behind, it is how you help push others forward.
Lead Photo: Courtesy U.S. Ski & Snowboard
Trending on Outside Online