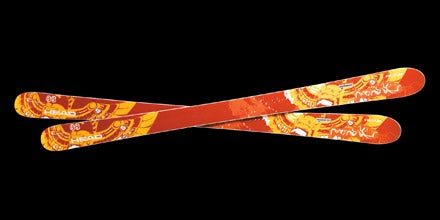 Heading out the door? Read this article on the new Outside+ app available now on iOS devices for members! Download the app.
Over several weeks of testing at three resorts Colorado's Copper Mountain and Utah's Snowbird Resort and Powder Mountain our crew skied hundreds of runs in variable conditions on the best skis the industry has to offer. Here's this year's standout.
Head Monster 88 (126/88/112) $950 head.com
1. It's a friendly monster. Our advanced-intermediate testers felt like heroes, our former U.S. pro said it "laid a nice rail," and everyone in between praised its ability to stick on hardpack, plow through crud, and provide the overall smoothest ride of any of the skis we tested.
2. Sure, this year's Monster 88 was upgraded with better graphics. But what you can't see is what really counts. Copper fibers placed in front of the binding are designed to absorb vibrations and also make the ski more torsionally stiff. It's called Intelligence Technology, and it works.
3. A silver spruce wood core surrounded by a sheet of metal alloy provided a soft, smooth flex "like riding a stick of warm butter," said one tester. But that didn't make the ski floppy: Thanks to a solid, ABS-embedded sidewall, there's no annoying chatter, even on the firmest of hardpack.
4. "This ski popped out of turns on ice and turned quickly in the bumps," said one tester. Credit the Monster's Liquidmetal technology for all that maneuverability and snap: A mix of three or more metals, when cooled the alloy has more than twice the strength of titanium.
5. Racers might find it too damp or sluggish at high speeds, but everyone else should find it just right. The Monster is neither the lightest nor, at 88 mm underfoot, the fattest ski we tested, but you won't sink in powder, and you'll appreciate its heft when blasting through crud.
Cold Warriors
Arc'teryx Hercules Hoody
Arc'teryx Hercules Hoody

Arc'teryx Hercules Hoody
You can find a jacket for every season and microclimate. But let's not forget: Soft shells were born in winter and excel when you're working hard in the cold and wind and snow. Some are every bit as waterproof as a hard shell, while others are as warm as streamlined puffies. And then there are jackets like Arc'teryx's Hercules Hoody, which you might not take off until summer.
Arc'teryx Hercules Hoody (1.3 lbs, M) $325 arcteryx.com

1. The Hercules garnered more envious comments than any other jacket we tested—there's just something about a sharp-looking soft shell with a fuzz-lined hood that people can't resist. But less obvious touches—like flap-free drawcords and cuffs that repelled snow and rain without feeling constrictive or bulky—are what ultimately earned the highest praise.
2. Even with its fashionable cut, the Herc is first and foremost a top-notch performer. With a trim, athletic fit, it easily slides under a hard shell when the weather rolls in. And while the cut might prove restrictive with any other fabric, the Herc is supple and stretchy enough to allow complete freedom of movement. Plus it's one of the lightest shells we tested.
3. It adapts incredibly well to changing conditions. Credit a new fabrication of Polartec Powershield that has a high-loft, fleece-lined interior. The combination of a weather-resistant, breathable outer and a plush inner proved extremely versatile at the resort and in the backcountry, keeping us warm on windy ridges and venting excess steam once we started pumping again.
Boarding Pass
Palmer Honeycomb 164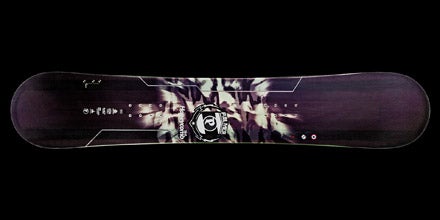 Evolution is not always gradual. Snowboard designers hit fast-forward in adopting new technology this season, introducing radical innovations in shapes and materials that deliver precision rides with more versatility than ever before. Lib Tech's Skate Banana has a surf- and skateboard-inspired deck that delivers incredible edge hold, for instance, and Burton reinvents the ultraresponsive baseless binding. And this year's Gear of the Year winner, Palmer's Honeycomb, simply does it all with a design that floats easily, rides fast, and turns like it can read your mind.
Palmer Honeycomb 164 $749 palmersnowboards.com

1. It's long enough to float in powder and generate white-knuckle speed on groomers, but still light enough for easy spins and big airs through the park and off backcountry booters. "This behemoth makes turning thoughtless, spinning simple, and powder a pleasure," said one tester.
2. Palmer debuts its DPD technology, which optimizes action between the lowered nose and tail kick and the sidecut. It helps maintain speed when you initiate a turn because the nose doesn't dig into the snow. It also transfers power more quickly to the effective edge.
3. Thanks to DPD, the Honeycomb felt stable at speeds that cause other boards to get shaky. "Carving feels effortless and faster," said one tester. There's also an increase in stability through the turn. And coming out of the turn, this monster accelerates even more.
4. The board is cored with superlight Nomex Honeycomb from tip to tail, creating one of the lightest production boards available. Accordingly, the Honeycomb floated and turned with ease, while DPD gave it the ability to power through the worst springtime crud.
5. Don't be intimidated by the Honeycomb's length. The weight-saving design makes what appears to be a big boy's board feel rideable for anyone. As one height-challenged tester concluded, "It turns more quickly than one would expect and is definitely manageable for a 164."
Let it Snow
Cloudveil Koven Plus
Cloudveil Koven Plus
Cloudveil Koven Plus
After testing 50 jackets for this review, we can confidently declare: Storm shells are back. Advances in fabric technology have spurred a whole new breed of winter shells that are light and easy to pack, repel the worst weather, and are comfortable in a wide range of conditions. If that doesn't describe your jacket, perhaps it's time for an upgrade.
Cloudveil Koven Plus (1.3 lbs, M) $440 cloudveil.com

1. This is simply the most adapt-able winter-specific storm shell we tested. The key is Schoeller's new waterproof-breathable fabric with c_change technology, a membrane with a polymer structure that opens up when you get hot and contracts when you cool down. Translation: Testers didn't overheat when their buddies did on a spring slog, yet they stayed warmer while riding the lift.
2. The Koven Plus became our go-to jacket whether we were pounding out backcountry laps, ice-climbing in Rocky Mountain National Park, or tagging fourteeners in spring. Credit the use of stretchy fabric in high-mobility areas, stitch-free construction, precision-shaped fleece patches on the back and collar, and a trim, athletic cut suited to dynamic movements like tele turns.
3. A 21st-century storm shell must be versatile—especially if it costs more than a night at Yosemite's Ahwahnee Hotel. The Koven Plus delivered: Thanks to the adaptability of the fabric and the trim fit, as well as details like a perfectly sculpted hood and easy-to-reach pit zips, testers rated it tops for powder days, ice climbs, resort laps, and waiting around for their buddies to catch up.
Freedom of the Hills
Black Diamond Verdict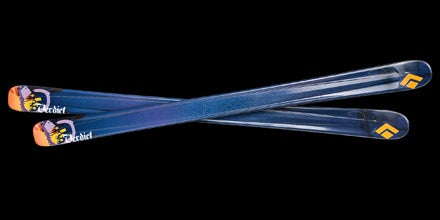 Of course you can ride the lifts with these skis, but the raison d'être of alpine touring and telemark setups is their ability to go up. We assembled the best new hardware into ideal setups for different pursuits. You'll find our favorite picks for utmost versatility in All Mountain, the lightest gear in Touring, and the widest skis and stiffest boots in Big Mountain. Or, if you just need new boards, consider Black Diamond's do-it-all Verdict, favored by both our alpine-touring and telemark testers.
Black Diamond Verdict (132/102/118, 8.8 lbs) $599 bdel.com
1. Black Diamond rolled out an impressive 11 new models this year. But our tele and alpine testers agreed: Of all the new skis we reviewed, the redesigned Verdict was the most versatile, wide enough for the deepest days and stable on hardpack yet still lightweight enough for touring.
2. Whereas previous iterations of the Verdict had an acrylic foam core, this year's model is constructed from solid poplar, which gives the ski a much damper feel. "It's much smoother overall," said one tester. "Less chattery on hardpack and busts through crud even better."
3. At 102 millimeters underfoot, the Verdicts are a blast on any type of soft snow. But unlike most skis with this much girth, they don't flop around on the hard stuff. On a bone-rattlingly firm day at Snowbird, the Verdict held its edge as well as boards with much narrower waists.
4. From Wyoming's backcountry to Colorado's sidecountry leftovers to Utah's champagne fresh, the Verdict was a constant companion. The reason: Black Diamond's Formula One technology, a sculpted design that saves weight by concentrating the ski's mass at the edges.
5. Even the graphics were carefully thought out. When you're slogging up a skin track, Black Diamond figured wild graphics would be distracting. So they concentrated all the surprisingly cool artwork on the tail of the ski. Like a mullet, "business up front,party in the back."
Big Feet
Atlas 12 Series
Atlas 12 Series

Atlas 12 Series
One of the oldest forms of snow travel is still one of the most versatile, whether you're running groomed trails, exploring the backcountry, or anything in between. Just don't mistake old for old-school. This season's best snowshoes have advances like piranha-sharp teeth and new binding technology that's easy on cold fingers. Don't know what the day will bring? Take the Gear of the Year-winning Atlas 12 Series, a shoe with tenacious grip, excellent stability, and a natural stride. Bonus: We've paired the rest of our top snowshoe picks with optimal footwear in order to help you create the perfect system.
Atlas 12 Series (4.1 lbs; 25″, 30″, 35″) $260 atlassnowshoes.com

1. Atlas's signature Spring-Loaded Suspension helps underfoot crampons bite into hard snow and ice for maximum traction. Offset rows of aggressive teeth have exceptional lateral stability and grip to keep you from sliding sideways while traversing. During a heinous descent of Vermont's exposed Sunset Ridge Trail—a mix of rock, ice, and snow—these snowshoes always felt secure.
2. Say goodbye to annoying shin bang. The suspension encourages forward momentum for a natural, smooth stride and allows you to back up without burying your tails. It also reduces both shoe drag and snow kick-up. The binding's auto-locking straps tighten or release with one finger: In Canada's Selkirks, we were able to adjust binding tension without taking our gloves off.
3. It's built to last. The Duratek decking (read: lightweight and bulletproof plastic) was unfazed by rocky stretches of trail. The aluminum frame is elliptical, shaped for maximum stiffness at the lightest possible weight. Components and deck rigging are indestructible. And the sturdy quick-flip heel lift locks securely up for climbing and flips down easily—it never jammed.
Your Haul
The North Face Patrol 35
The North Face Patrol 35

The North Face Patrol 35
To find the perfect ski or snowboard pack, you must first decide what constitutes the perfect day on snow. Unencumbered resort laps? A fully loaded backcountry tour? Heli-skiing or hut-to-hut? Pick your passion and you'll find a pack tailor-made for it here. And if your typical ski season involves a little bit of everything, consider The North Face's Gear of the Year-winning Patrol 35, which does exactly what a versatile pack should do: subdue unwieldy loads on the way up and disappear on the way down.
The North Face Patrol 35 (3.6 lbs) $139 thenorthface.com

1.The Patrol 35 nails the most important feature in a winter pack: how well it carries skis or a snowboard. TNF's Fly-Trap carrying system compresses skis (A-frame or diagonally) or board (vertically) amazingly close to your center of gravity. The result is excellent stability—which made me feel balanced and secure when I boot-packed up icy steps on Colorado's Loveland Pass.
2. The carrying system is backed up by a suspension that delivers solid support even when the pack is loaded to the gills. Dubbed the X-2 Suspension—an internal frame of aluminum stays crossed in an X—it provides great load control without adding much weight. Translation: On the way down from Loveland I hardly noticed I was wearing a pack, even while weaving through tight glades.
3. If one ski pack can do it all, this is it. Credit the versatile size: The 2,150-cubic-inch Patrol 35 is big enough for ski touring a hut system (which we did near Aspen) and compact enough for routine day trips (which we did all over). It's a bit cumbersome for riding the chairlift, but as our crew tested pack after pack, this one stayed in the rotation for everything else on the itinerary.
Quick and Dirty
Salomon SpeedCross 2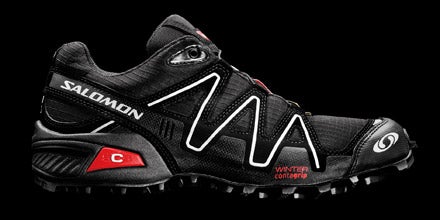 To keep you motoring in mud and snow, we found shoes that'll work no matter where you live—or how sloppy it gets. For you northerners, there's the 16-spike IceBug Pytho BUGrip, which can handle even the slickest iced-over trails. Southerners who crave speed should consider the svelte New Balance 800, a nimble cross-country-style flat. And then there's Salomon's SpeedCross 2, which earns Gear of the Year honors because it simply runs the best in most conditions.
Salomon SpeedCross 2 (9 oz) $110 salomonsports.com

1. Most shoes are either racers or trainers. The lightweight SpeedCross 2 manages to be both: Shock-absorbing rubber outsole lugs compensate for the minimal midsole cushioning. And because it's soft-flexing, with a low-to-the-ground profile, it "hugs" all types of terrain.
2. Salomon designers took inspiration from the legendary grip of British fell-running shoes, the minimalist, knobby-soled racing shoes that excel on grassy hill courses in the soggy United Kingdom. They nailed it. The soft, dual-direction lugs gripped even the slickest trails.
3. The foot-hugging mesh upper cinches through the midfoot by a one-pull lacing system and, combined with a narrow heel cup, provides a secure, wraparound snugness from heel strike to toe-off. "It has the agility and reliable traction of a climbing shoe," said one tester.
4. The breathable, tightly woven mesh uppers offer adequate weather-proofing for all but the sloppiest conditions. The SpeedCross 2 easily keeps trail debris out, yet lacks the problems—namely increased weight and overheating—typical of most waterproof running shoes.
5. Light and nimble does not mean flimsy and unstable, thanks to construction that's much like a motion-control road shoe's. The SpeedCross 2 has a stabilizing cushion in the heel with a stiff medial posting to minimize pronation and keep momentum moving forward.