Mikaela Shiffrin Just Broke Lindsey Vonn's Record for World Cup Victories
Shiffrin notched her 83rd World Cup victory by winning Tuesday's Giant Slalom race in Kronplatz, Italy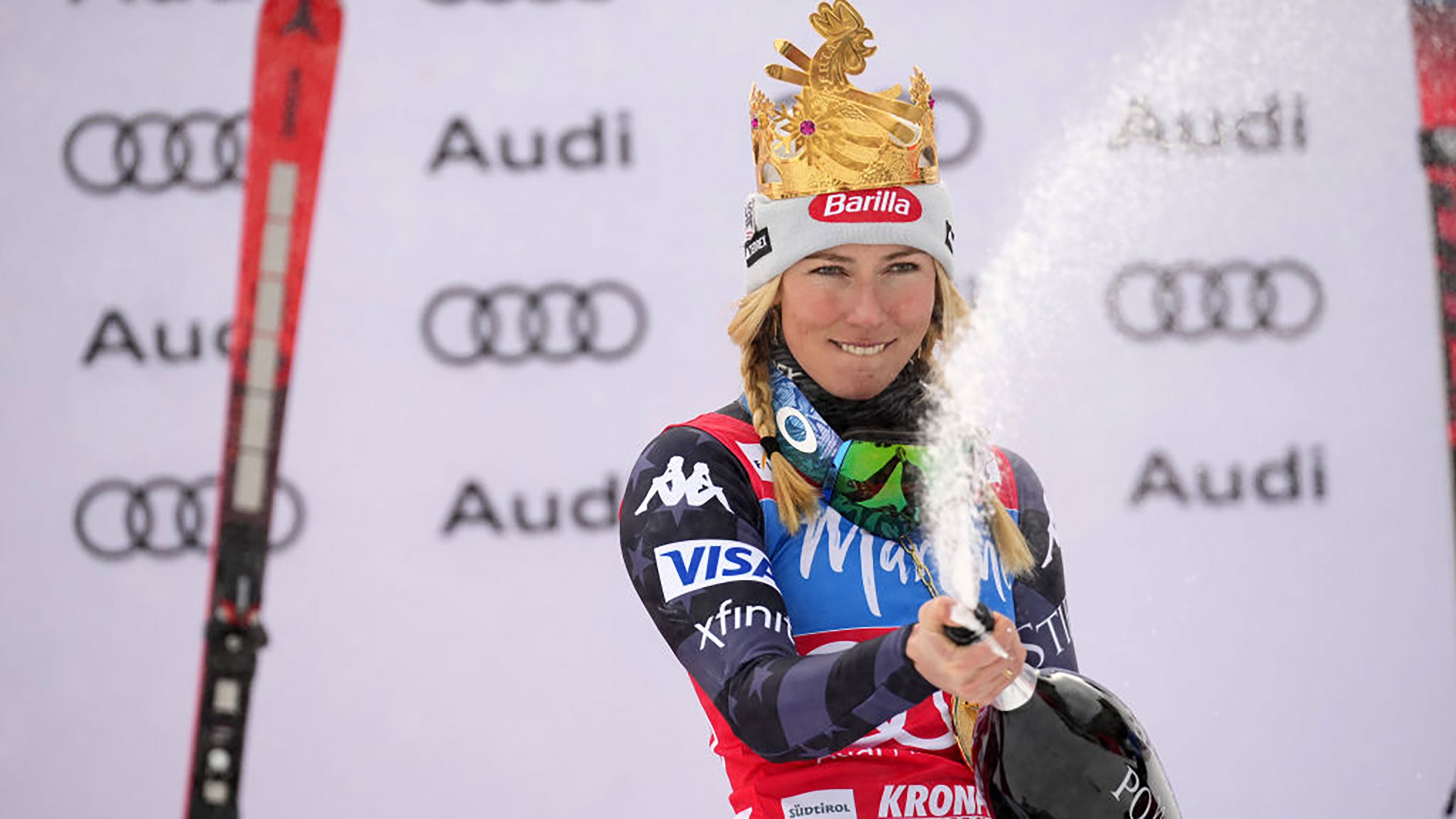 Alain Grosclaude/Agence Zoom/Getty Images
Heading out the door? Read this article on the new Outside+ app available now on iOS devices for members! Download the app.
Kronplatz, literally, means "Coronation Place" and today, in Kronplatz, Italy, for the Queen of Skiing, it was exactly that. Here, under perfect conditions on the steepest giant slalom of the World Cup tour, Mikaela Shiffrin scored her 83rd World Cup victory. In doing so she passed Lindsey Vonn as the winningest woman in skiing history.  
Shiffrin doesn't like the term "breaking records." She prefers "resetting" records. On Tuesday, she made a smashing reset. Now only Sweden's Ingemar Stenmark, with 86 wins, stands in front of her in all-time World Cup wins.
"Breaking sort of insinuates that something's been lost," Shiffrin said leading into these races. "What other athletes have done before you is not something that can be broken. I much prefer resetting records, because it actually shows that it's building off of something else."
Shiffrin accomplished today's task in what has been her style this year, winning both runs of the day over a field stacked with talent. Women's GS has emerged as the most competitive field in World Cup racing, featuring ten women with victories in the event.
"The level is pretty incredible," said Shiffrin. "To be a part of this competition you have to be pushing on the limit … and then if you make one mistake, if it's a big enough mistake, you're off the podium, maybe out of fifth position, tenth position, so you have to be taking the risks and sometimes it's going to be good, and sometimes it's not." Shiffrin, who started her career by dominating in slalom, now seems to be doing the same in GS. This season alone she has won four of the seven GS races, all after leading the first run.
Also Read: Lindsey Vonn Just Became the First Woman to Ski the Kitzbühel Streif—and She Did It At Night
Tuesday's podium was nearly identical to the last GS, in Kranska Gora, Slovenia, with Shiffrin again on top. This time, Lara Gut-Behrami and Italy's Federica Brignone switched places, ending the day in second and third respectively. 
"I was a bit nervous for the second run but mostly I hate waiting," said Shiffrin. "Finally when it was time to go, everything went quiet and I just pushed as hard as I could every turn."  
Tuesday's races fall in the middle of a grueling seven-race stretch spanning two weekends and four events. It started with two downhills and a Super G in Cortina last weekend, stops in Kronplatz for two GS's and then will move on to Spindleruv Mlyn in the Czech Republic for two slaloms.
Shiffrin is one of few tech athletes who race all events. She sees speed as a reset for her mind. "It's a different kind of challenge. It's a place where I know I can win, but I don't expect to win ever." On one hand, racing speed creates a grueling schedule and takes away from training time in tech.  On the other hand, speed events are opportunities to gain valuable points towards the overall title, while also building a comfort and hunger for speed that transfers to more aggressive GS skiing. On Tuesday, the gamble paid off.  
The first run was set by Shiffrin's coach, Mike Day, and sought to capitalize on the racer's recent time on speed skis. Running fourth, Shiffrin took a direct, confident line, finishing in 58.72, just .13 ahead of Switzerland's Lara Gut Behrami, who notched top-five finishes in all three speed events in Cortina. Italy's Federica Brignone was close behind in third, comfortably ahead of Shiffrin's chief Slalom rival Petra Vlhova. American Paula Moltzan charged from 12th to finish fifth.
That set the stage for a tightly contested second run, set by Vlhova's coach Mauro Pini. American Nina O'Brien, tied for 29th, kicked it off with a scorching run that would move her up to 18th in the final standings. Moltzan spun around and tumbled on the final pitch and did not finish. Vlhova held her spot and was edged out by Brignone. Then came Gut-Behrami, taking the lead by nearly one second, making the point that these victories, no matter how many you have in your pocket, are not easy.  
As the last racer at the start, Shiffrin watched. "I was thinking, 'why did I watch?' I can't go that fast. I was a little bit wild in some spots, but it felt so clean and I thought I wouldn't be faster but I could maybe be close." Shiffrin crossed the line .45 ahead of Gut-Behrami and skied herself solidly into the history books.
In the finish, Gut-Behrami could only smile and raise her hands in acceptance. Today, like so many days before it, Shiffrin was just too good to catch.  
It seems the only person who was surprised was Shiffrin herself. "83. It was almost completely out of my mind today, like we're just restarting the season from square one. I guess it's very fitting that it would come in the moment when I actually am thinking about it the least and don't expect it at all."
Shiffrin's 83 victories, starting in December 2012,  have come across all six Alpine disciplines. She holds the record for slalom victories (52) and her 18 career Giant Slalom victories are second only to Swiss great Vreni Schneider's 20. Shiffrin has done it all by age 27 and in just 237 starts. As commentator Steve Porino put it, her 35 percent win rate "reverberates across all sports." 
The victory was Shiffrin's ninth this season and her fifth in GS. She leads the Overall World Cup Standings with 1,417 Overall points over Lara Gut-Behrami's 861. Petra Vlhova is in third with 846. Shiffrin also leads the GS and SL standings.  
Shiffrin struggled at first to put her feelings into words, referring people to the upcoming episode on "Moving Right Along," her YouTube channel, where she records her thoughts on the bigger picture, while staying focused on her skiing.
"Every step of the way people tell you you're amazing before you've done anything," she said. "It's really hard to stay focused on the right things. I have family and I have my closest friends, my coaches through the years–they've always been focusing on the proper things, what I believe are the right things to think about in life. And maybe that's why I'm here now and 83 means a lot less to me than how I skied on the mountain." 
On the awards podium, after the standard Prosecco shower and the medals presentation, Shiffrin bowed to accept one more prize—a golden crown, placed on her head before the very familiar national anthem played in her honor.
Racing continues in Kronplatz on Wednesday with another GS.
Lead Photo: Alain Grosclaude/Agence Zoom/Getty Images
Trending on Outside Online