Mikaela Shiffrin Is Crushing World Cup Ski Races Again
The American scored two slalom victories in Levi, Finland, over the weekend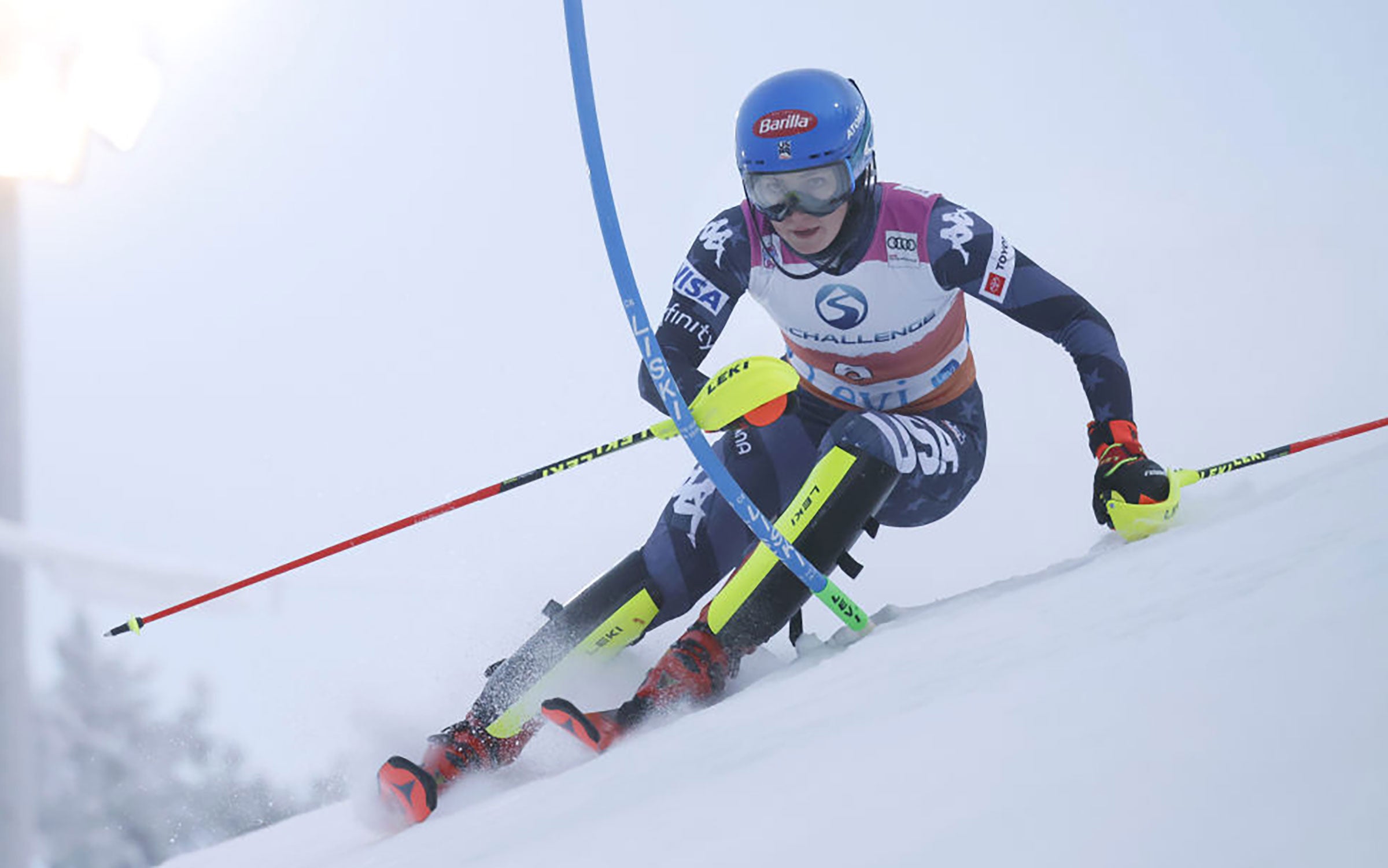 Heading out the door? Read this article on the new Outside+ app available now on iOS devices for members! Download the app.
"Thank you Levi!" Mikaela Shiffrin's words from atop the podium in Finland summed up what was a spectacular weekend for the American skier. Shiffrin took her second slalom World Cup victory in as many days, kicking off her 2022-23 campaign with a perfect score of 200 series points.
Shiffrin's 49th slalom victory breaks her own record for wins in a single event, and brings her total World Cup victory tally to 76 (just six shy of Lindsey Vonn's 82 and ten short of Ingemar Stenmark's all-time record of 86). For as much as it could in the four-ish hours of Lappland daylight, the sun shone on Shiffrin who won both runs of the day in a tightly contested race. Switzerland's Wendy Holdener unleashed a gutsy second run that moved her from fourth place up to second place, just .28 seconds behind Shiffrin. As she did on Saturday, Slovakia's Petra Vlhova landed on the podium, in third.
"Two races in a row like this is a really big effort," said Shiffrin, "so I am just really happy."
While the weekend sweep is an ideal way to start the season, Shiffrin acknowledged that the moments of success, while special, were also fleeting. "Even after 12 years [on the World Cup], I've realized I am never going to feel like 'I am there'. Now I am ok with that," she said.
The double victory marks a return to dominance for Shiffrin after her disappointing campaign at the 2022 Winter Olympics, where she left without earning a medal in the five events she entered. Shiffrin, the most dominant slalom skier ever, spoke at length about the pressure she felt during the Games—she came into the Olympics after enduring a season altered by injuries. Her setback continued the ongoing discussion about the mental health of elite athletes at the Olympics.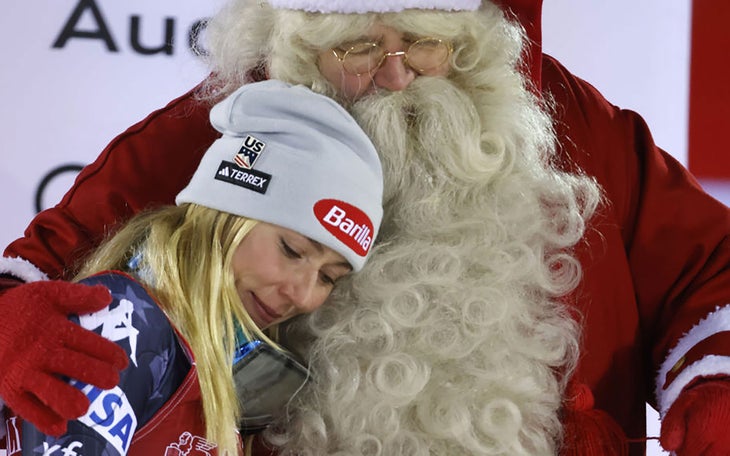 Shiffrin showed her resilience after the Olympics by winning a World Cup Downhill in march and securing the series overall title in slalom. Still, her dominance in Levi marks her first double victory since the Games.
The strong start also shifts the balance of power in the ongoing slalom rivalry between Shiffrin and Vlhova. The two, both 27, have dominated the event in recent years, despite following very different pathways to the top. Shiffrin's first victory came in December 2012, at age 16. She won the World Cup Slalom title that season and Olympic slalom gold the following season in Sochi 2014. Vlhova, by contrast, won her first World Cup in 2015. By 2019 she was second to Shiffrin in the overall slalom standings. She took the slalom title in 2020 and the World Cup overall title in 2021. Then, at the 2022 Olympics, while Shiffrin struggled mightily, Vlhova finally scored Olympic gold.
Related: Shiffrin admits she is "pushing her limits" to keep up with her competitors in slalom
In Levi, success brings a skier a prized reindeer, the award since 2013 to each race's victor. To put the pair's dominance in perspective, only one woman other than Shiffrin or Vlhova—Tina Maze in 2014—has won a reindeer. Heading into the weekend, Vlhova had five, and Shiffrin four. After today, Shiffrin now has a herd of six.
Going into today's second run, Shiffrin held a slim .07-second lead over Germany's Lena Duerr, but admitted that if she was going to bet on anyone on the second run, including herself, it would have been the steely-nerved Vlhova. It was Holdener's second run, however, that seemed untouchable. It was, by everyone except Shiffrin. "I just tried to push really hard. I was actually really surprised," said Shiffrin. "She's so strong," said Shiffrin of Holdener. "I love to race with her. She's pushed my limit."
Holdener, who is still in search of her first slalom victory, claimed her 15th runner-up position in the event.
Three more of the seven Americans at the start—Paula Moltzan, Ava Sunshine and Katie Hensien—landed in the top 30 to qualify for a second run.
It turned out to be another day of heartbreak for Moltzan, who straddled on her first run yesterday. Moltzan finished 12th on the first run and was leading by more than .7 seconds on the second run when she caught a gate and fell hard.
Related: Cut from the U.S. Ski Team, Moltzan battled her way to Beijing
The second run saw the young Americans come out strong but encounter trouble on the swingy turns of the lower steep. Ultimately, they skied to finish to score World Cup points awarded to the top 30. For Hensien, in her 18th World Cup slalom start, it was her third time in the points. For Sunshine, it was her second time in the points in as many tries. The two finished 26th and 27th respectively.
Sunshine, 20, once again qualified for the second run, this time in 23rd place. Katie Hensien started with bib 58 and completed the first run in 29th position.
Sunshine's performances earned another start spot for American women in the slalom that the team will be able to use in the upcoming slalom at Killington.
The women's World Cup resumes next weekend on home turf in Killington, Vermont., with a Giant Slalom on Saturday, Nov. 26 and slalom on Sunday, Nov. 27. Here's how to tune into the Killington races live.
Lead Photo: Christophe Pallot/Agence Zoom / Stringer