Why Are So Many Climbers in Trouble on Mount Hood This Year?
Crowds, inexperience, and social media are leading to a surge in rescue calls on one of the most climbed peaks in America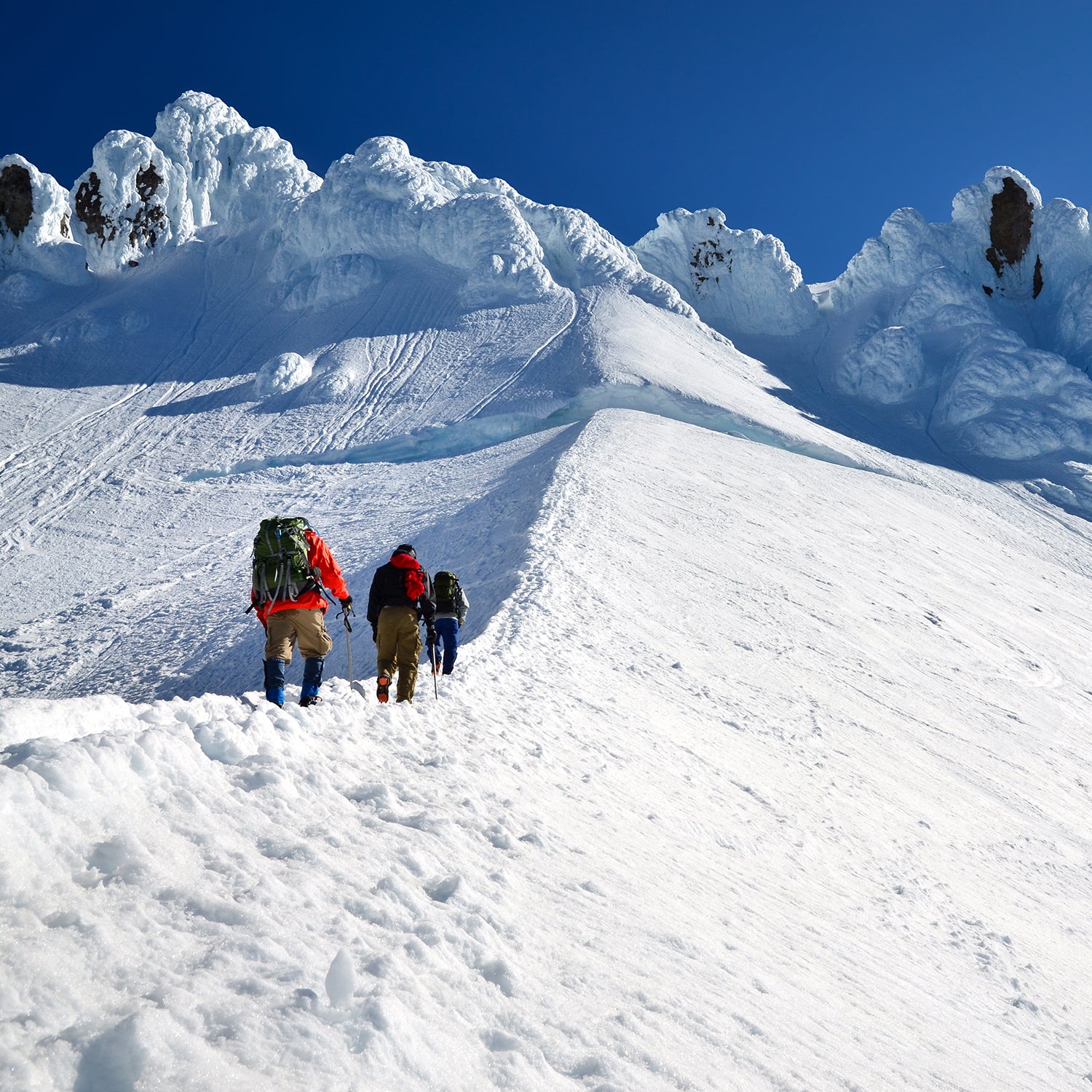 thinair28/Getty
Heading out the door? Read this article on the new Outside+ app available now on iOS devices for members! Download the app.
At 5:38 p.m. on January 26, 72 cell phones from Portland Mountain Rescue (PMR) and 67 from the Hood River Crag Rats mountain rescue team rattled and hummed. "Fallen climber, Devils Kitchen," read the messages. I cringed with consternation and frustration. Someone was in trouble again on the mountain, and my evening, night's sleep, and next day of work would be trashed.
The most popular route up Oregon's Mount Hood, an 11,249-foot active volcano, passes by two giant cavities that exhaust lethal sulfur dioxide and hydrogen sulfide. The Devils Kitchen fumarole sits just climber's right of Hogsback, a steep snow ridge that runs from 10,500 feet up to the Pearly Gates, the final chute to the summit. The Hot Rocks fumarole, where the heat from the earth never allows snow to accumulate, is just climber's left. On a clear, windless day your eyes water and your nose stings from the sulfur that wafts across the flank of the most frequented area—collectively called the South Side Routes—on one of the most climbed glaciated peaks in America.
The mountain rescue teams were notified that 28-year-old George Stevens, descending Hogsback late in the day, attempted to snowboard the steep icy slope, lost an edge, and careened into Devils Kitchen. He landed 30 feet deep on sandpapery andesite. His injuries were severe.
With Stevens in the hole and his two partners perched nearby, the temperature plummeted, the wind picked up, and darkness fell. This is going to be complicated—and take all night, I thought. I hope we can get there in time.
I'm a mountain rescue doctor with both PMR and Crag Rats, and this year has been one of the busiest and earliest alpine rescue seasons ever—and I've been involved in search and rescue on the mountain since 1998. Normally, we have a few alpine missions every year, mostly during the main volcano-climbing season, from April to July. To date, we've had eight missions in the alpine, including a multiday, multiagency search for a missing snowboarder who was found dead after three days. So why the increase in accidents? My colleagues and I can't help but wonder what's happening on our mountain.
---
Following the alert about Stevens, two dozen rescue mountaineers abandoned family dinners, unopened books, and Netflix shows to head to the high alpine, just as we have done for decades. Crag Rats was established in 1926, and PMR's predecessor, Mountain Rescue Council of Oregon, formed in 1955. We are all volunteers, on call every day and every night. We are skilled in cliff, crevasse, and avalanche rescue and accredited by the national Mountain Rescue Association.
Our teams climbed into the night, hauling 600-foot ropes, two-foot aluminum pickets, ice screws, progress-capture pulleys, a Sked litter, a vacuum mattress, and dozens of carabiners. PMR rescue leader Jan Roethle rappelled into the fumarole wearing a gas monitor and respirator to ward off the toxic fumes. Once the patient was stabilized and hoisted out, he had to be lowered 4,000 feet down Palmer Glacier to Timberline Lodge at 6,000 feet, which serves as the hub of the South Side Routes. To accomplish that safely, we used the Hogsback Kit, a specialized system employing a superstrong, 200-meter-long, six-millimeter-diameter rope. Finally, at 3:54 a.m., I sent the stand-down text. Mission complete. By then I was too amped to return to bed, so I made a pot of strong coffee and sat down at my laptop to work—by day, I'm a clinic, emergency, and ski- resort doctor for the Providence Hood River Memorial Hospital and also serve as our county's public health officer and medical examiner.
The rescue season on Mount Hood began just four days before Stevens's fall, on January 22. At 9:50 a.m. a distress call came in from Ian Moses, 27, who was on the summit having equipment trouble and couldn't get down unaided. A few hours after wrapping up the Moses mission, PMR was called to rescue a climber who missed Timberline Lodge on the descent. Then on January 29, a snowshoer slid 1,000 feet, sustained injuries, and needed to be carried out in a litter.
With four missions in a week, the rescue season started abruptly and exhaustingly. And it didn't let up.
---
Mount Hood has had natural hazards since long before it was first climbed on August 8, 1854, by Oregonian editor Thomas Dryer and his friends. Chunks of ice, rime, and andesite peel off cliff bands and pelt climbers, especially in warm conditions. Steep icy slopes lead to all too common uncontrolled falls, which have accounted for several fatalities. Rock-hard glacier-ice globules, ranging from golf ball to basketball size, can cause lethal ski crashes, as happened to my friend and colleague Cory Johnson in 2020. Big holes—crevasses, bergschrunds, glide cracks, and fumaroles—present more risks. (Please understand the difference if you plan to climb.) The fumaroles remained open all winter this year due to unusually low snowpack and high temperatures. Avalanches are a frequent issue too. I've personally witnessed skier-triggered slides on many popular ski routes on the peak.
Weather presents another major problem: Mount Hood is a solo stratovolcano plopped in a maritime climate with a prominence of 7,706 feet above an endless sea of Douglas fir. The monolith collects weather like a magnet. When marine air blows in from the Pacific Ocean, it can ramp into a storm as quick as a flash flood. In a Ping-Pong-ball whiteout, climbers often get caught in the Mount Hood Triangle on the South Side Routes—they erroneously downclimb the fall line, which leads them to a sheer cliff, instead of following the subtle and awkward sidehill back to Timberline Lodge.
But these omnipresent hazards don't solely account for the uptick in rescues. A combination of human factors has us grabbing our rescue packs and heading into the alpine more than ever.
First: a heap of people are climbing, skiing, snowshoeing, and even snow running Mount Hood. The Forest Service issues up to 10,000 permits for Mount Hood every year, reportedly more than any other glaciated peak in the U.S. But the number of climbers is likely higher, according to Heather Ibsen, public affairs officer for the USFS, since the wilderness permit is voluntary and not every climber obtains one.
The traffic can be attributed in part to the volcano's proximity to Portland, an outdoorsy metro of 2.5 million people just one and a half hours away, and to excellent access: you can drive up to Timberline Lodge, about halfway up the mountain.
In recent years, the crowds grew so much that Timberline Mountain Guides made the difficult decision to stop guiding on weekends, says co-owner Cliff Agocs, even though weekends are "the heart of the outdoor recreation business." Traditionally, guides would determine the safety of a summit attempt based on objective hazards like rockfall, icefall, and weather. But that changed a few years ago, because crowds of people of varied abilities on the common routes make the ascent too dangerous.
A second contributor: climbers, skiers, and snowshoers now flock to the peak year-round, instead of primarily during the traditional spring-summer volcano-climbing season. Timberline Lodge and Ski Area ski-patrol director Libby Koroch says now people climb the peak whenever a good weather window presents itself, all winter long. Climbers face bigger risks in winter with weather, avalanches, and snow conditions—and rescuers now face a much longer season.
Third, many climbers are unprepared. "People get blindsided. The resort is nearby so they don't take into account that this is a wilderness," says Koroch. "It's nice that people are outside, but they rely heavily on rescue crews." On climber Moses's rescue from the summit, equipment failure was part of the problem. Crag Rats Leif Bergstrom remarks, "It's important to have mountaineering boots, crampons, and an ice ax and know how to use them."
I summited Mount Hood six times during the pandemic, and once in the Timberline Lodge parking lot I spied a man wearing tights, running shoes, microspikes (low-profile traction cleats designed to fit over normal shoes), and a ten-liter running vest. He held a tiny aluminum ice ax.
"Going for the summit?" I asked.
"Yes," he said, eying my jacket bedecked with mountain rescue patches, "but I'll turn around at the Pearly Gates if it looks too difficult." A cerulean sky and stable snowpack made it a good summit day: I topped out and skied Old Chute. I later connected with the runner, who'd turned around shy of Pearly Gates, a 600-vertical-foot, 50-degree ice chute usually requiring front-pointing in boot crampons and grappling with one or two ice axes.
Climbers should understand rescue is neither automatic nor instant. Even rescues that seem straightforward involve planning, effort, and risk.
Finally, modern technology plays a role in accidents too. "Social media has made climbing more dangerous for some and safer for others," says Jess Joyner, marketing director at Mountain Shop, a longstanding Portland gear store that regularly provides public education and partners with PMR. A plethora of information exists for trip planning, including real-time telemetry for snowfall, temperature, and wind. But trip reports on social media may be inaccurate, misrepresentative, or inconsistent. For example, recent posts describing the Pearly Gates from Facebook's Pacific Northwest Mountaineers group downplay the technical aspects: "Fun menageries of ice" and "Did my first climb in running shoes and microspikes."
Some people just don't seek out the correct information, says Koroch. They call the Timberline Ski Patrol for climbing-conditions info instead of going directly to well-established websites like Northwest Avalanche Center or the U.S. Forest Service Climbing Mount Hood resource page.
Plus, the internet can influence risk tolerance. "The glamor of social media posts encourages some to take risks they may not be ready for," says Joyner.
---
As a rescue mountaineer, I want climbers to know a few things. First, the demand on volunteer rescuers is immense. In addition to having careers, family, and recreation pursuits of our own, we also need to sleep, eat, and attend to other tasks of physical and mental recovery after a mission. Just managing gear—cleaning, drying, repairing, and repacking—is a huge task. This year, we have repaired a broken carbon-fiber handle on our $5,000 Akja sled, retired two ropes after exposure to hydrogen sulfide, and lost an $800 200-meter rope on the glacier.
In addition to managing the complexities of our 501(c)(3) nonprofits, we need to constantly train in high-angle, crevasse, avalanche, and fumarole rescue. And we also train in risk management. "By nature, the men and women who volunteer for this service are deeply committed to saving lives," says PMR rescue leader Mark Morford. "Ongoing training involves techniques to minimize those risks and make well-reasoned decisions."
We rely on climbers to help mitigate risks. PMR promotes safety with educational materials like YouTube videos, Rescue Radio podcasts, and posts on Facebook and Instagram. "It seems that by being more active in social media, PMR created a solid presence in the forefront of people's minds, and many use the posts as a tool in decision-making," says PMR public education chair Mari Feher.
Obtaining proper equipment, skills, and instruction is vital. One can take a mountaineering course with climbing clubs like Portland's Mazamas, established in 1894 on the summit of Mount Hood. Or hire a certified guide like Agocs from Timberline Mountain Guides.
And know that at some point soon, Mount Hood will likely have a climbing permit system that may limit numbers. Similar systems are in place already on Mount St. Helens, Mount Adams, and Mount Rainier. A draft proposal for Mount Hood is in the works, says Heather Ibsen, public affairs officer for the USFS.
Finally, climbers should understand rescue is neither automatic nor instant. Even rescues that seem straightforward involve planning, effort, and risk.
---
As we start the main spring-summer volcano mountain, we will inevitably see more climbers on Mount Hood. When things go poorly, the men and women from PMR and Crag Rats will be ready to respond, just as we have been for decades. Despite mountain rescue's challenges, it's tremendously rewarding. The esprit de corps is unrivaled.
"Mountain rescue is both an honor and a privilege," says PMR rescue leader Paige Baugher. "The inconveniences are less consequential to me than making a positive impact on the lives of those in my community."
Lead Photo: thinair28/Getty
Trending on Outside Online