Can You Learn Avalanche Safety Online?
Mountain guide Mark Smiley released a digital snow safety course. Here's how it stacks up to the real thing.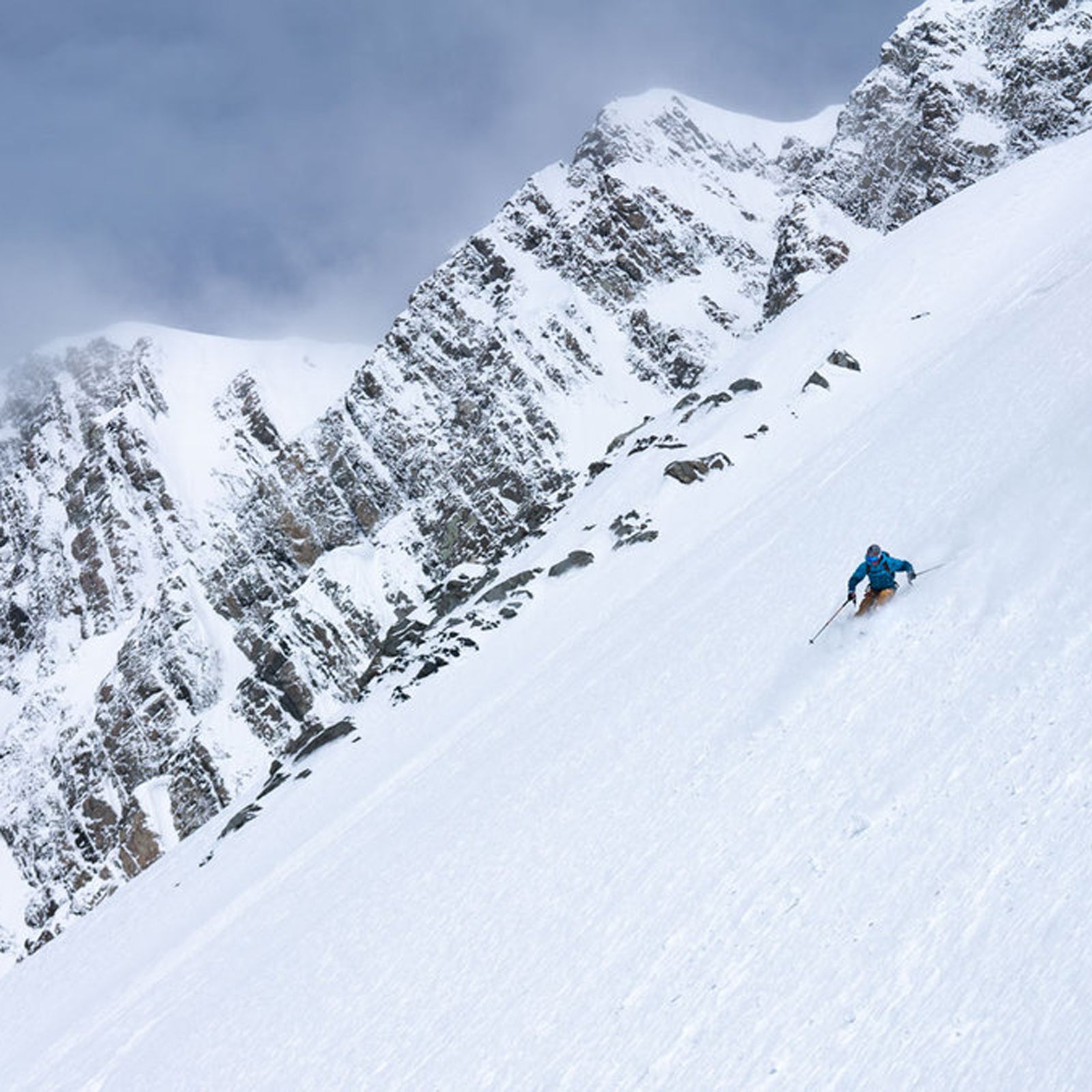 Heading out the door? Read this article on the new Outside+ app available now on iOS devices for members! Download the app.
I was 23 when I started backcountry skiing. I'd been recreating in the mountains my entire life, resort skiing, backpacking, and climbing volcanoes in the Cascades. I'd taken a National Outdoor Leadership School mountaineering course, and I was writing for a ski magazine. And yet I felt completely lost about where to start. So I borrowed some gear and took an American Institute for Avalanche Research and Education (AIARE) Level 1 course, which at the time seemed like the only way to begin. 
AIARE's three-day recreational Level 1 comprises 24 hours of education, usually about eight hours of classroom learning followed by two eight-hour field days, and offers a crash course in snow safety, avalanche terrain, and companion rescue. It has long been the standard entry point for backcountry beginners. 
"The memo is out," says Scott Schell, executive director of the Northwest Avalanche Center. "If you're the random newbie at REI digging around for a touring binding, somehow you also understand that you should take a Level 1. It's remarkable that that's such a strong message." 
But, Schell points out, there might be better places to begin your backcountry ski career than a field course. 
In the past decade, more brands, nonprofits, and other backcountry-ski-adjacent groups have worked to make robust educational resources available online. It's always been piecemeal, though. Then, early this winter, International Federation of Mountain Guides Associations–certified Exum mountain guide Mark Smiley launched "A Comprehensive Guide to Avalanche Safety," a course available on his website Mountain Sense, for $249. Smiley estimates that it takes about seven or eight hours to complete. I was curious how an online education might stack up against the traditional AIARE course, so I signed up.
"The person that I made this course for is essentially my 24-year-old self," Smiley says. "I was like, 'Hey, I wanna go backcountry skiing, I'm super psyched, I don't want to freakin' die.' You can't remove all risk, of course. But I want to make the knowns more knowable, and knowable in an organized fashion."
Smiley is passionate about teaching; Mountain Sense is also home to online courses on mountaineering, rappelling, crevasse rescue, anchor building, and more. Each course, including the one that tackles avalanche safety, is grounded in his own experience, but he's still "standing on the shoulders of giants," as he puts it. Smiley has tons of education under his belt, including courses with AIARE, the American Avalanche Institute, and various guiding companies and certification boards. His program pulls from decades of research and features a colorful cast of experts, including Exum guide Zahan Billimoria and professional skier Colter Hinchliffe, who share their knowledge, too.
Once you purchase the course, you have permanent access to the materials. It's broken into seven sections, each centered around a pillar of backcountry skiing, including the nine avalanche problems you'll encounter, how to be a responsible ski partner, and how to dig snow pits. It covers similar ground as the classroom portion of AIARE's recreational Level 1. Critically, there's no field component, so you won't learn as much about companion rescue—that's something better taught in person. But you will learn how a prolific backcountry skier evaluates the weather and snowpack before a ski day, what professionals in the field took away from their near misses, and which communication tactics make for safe and fun backcountry teams. Throughout it all, Smiley is engaging, funny, and direct, making complicated concepts easily digestible. He's as interested in what happens above the snow—like scoring great conditions—as he is in the science beneath the surface. Quizzes, links to outside resources, and small written sections punctuate short videos, which make up the bulk of the material. An evaluation at the end measures your retention rate, a helpful step that is not included in a Level 1.
I took Smiley's course over the first couple months of this ski season and came away from it thinking that it may be a better launchpad for some beginners than the AIARE Level 1. (It was also a worthwhile refresher for me, an intermediate backcountry skier five years out from my first avy course.) 
The trouble with a Level 1 isn't the curriculum or the format, it's just that it might not be the best first step. "There's a lot that could be done ahead of time on the student's own time and pace that would set people up to get a lot more out of a conventional Level 1," says Schell. "Students today lack fundamental skills that people 20 or 30 years ago had when they came to an introductory avalanche course. The number of people showing up on the morning of their field day that have their skins in their box is just remarkable."
Already possessing skills like how to read a topo map, layer appropriately, pack the essentials, use your gear, and ski-tour efficiently will all help you get more out of your time in the course. "Just imagine someone who is completely spent learning how to do a kick turn, this kind of complicated yogic move, and now you expect them to absorb how to read avalanche terrain? It's a tall order," says Schell.
There's nothing wrong with being a beginner, and there's nothing wrong with showing up to an educational course as a total newbie. But these are the people who Smiley's course could really serve. A good avalanche course will show you just how much you don't know and where your learning should go. Smiley's accomplishes this with both snow safety and more general ski touring. He demystifies a cryptic sport so that you understand where to begin. Afterward you'll be better equipped to confidently make your own gear purchases, pack a backpack for a day in the backcountry, and get out for low-consequence shakedown tours. You can start to learn the basics safely on your own before you spring for an in-person, in-the-field course, which typically costs between $500 and $700.
There are limitations to online learning, of course. Jessica Baker, an avalanche-education instructor for the American Avalanche Institute and an American Mountain Guides Association–certified ski guide, points out that field time is absolutely essential. "Reading the mountains, understanding changing conditions, and understanding hazards in terms of avalanches is all sensory. That feeling element is actually the most important part," she says. Online courses like Smiley's tap into the cerebral side of learning, but they don't offer the same on-the-ground, sensory input that field days do. 
Baker points out another possible hiccup with online learning. Her in-person courses have replaced the classroom component with an online curriculum this year, due to the pandemic, and she's noticed that on the first field day, the number of students who actually come having completed their online coursework is reliably slim to none. "While I'm sure there are people out there who are responsible with how they approach an online course, I think a lot of people just tend to skip over things," she says. "Ultimately, life-or-death decisions are being made from this information. That's when we need to ask: Is an online course sufficient? Is that going to give somebody the tools they need?"
Smiley's course puts the onus on the student to be a self-motivated learner, get out into the field, and practice. And realistically, a Level 1 should do the same. There is a limit to all avy education. Backcountry skiing isn't something you can learn in a weekend. The only way to build skills, experience, and confidence is to frequent that terrain often and over a long period of time. 
"I have always joked that I think a Level 1 ought to be 40 field days," Schell says. "You take a month and a half off, and that's your Level 1. It's just hard to get much out of a three-day class."
Offerings like Smiley's make it possible, in a way, to take a 40-day Level 1. You can move through it at your own pace, and he's available to answer questions and offer counsel throughout the season. If you don't understand a pit you dug, he's there as a resource—his students can email him or add comments to the learning module and he'll respond within a day or two. After a tour, you can easily access and rewatch a video that explains what whumpfing sounds like. Or you can check out your local forecast, revisit the sections that explain how to read it, and then make your plan.
In school, some students learn best from books and others from lectures, some by watching and others by doing. The best thing teachers can offer their pupils is options and a chance to steer their learning in the direction that best suits them. Smiley's course is a welcome addition to an educational field that lacks variety. It doesn't completely replace a Level 1, and his students should still seek out field time with experienced mentors, guides, or instructors—and Smiley is happy to connect his students with a local-to-them guide or educator when they're ready.
While you can't learn to travel safely in the backcountry simply by staring at a computer screen, it can be a useful place to start, or continue, your education. 
Lead Photo: Courtesy Janelle Smiley