Blair Braverman: Packing for My First Iditarod
Among other things, my 14 sled dogs will need 12,000 calories a day—bagged and cached along the race's entire route—and 1,000 very adorable paw booties. This team is ready to roll.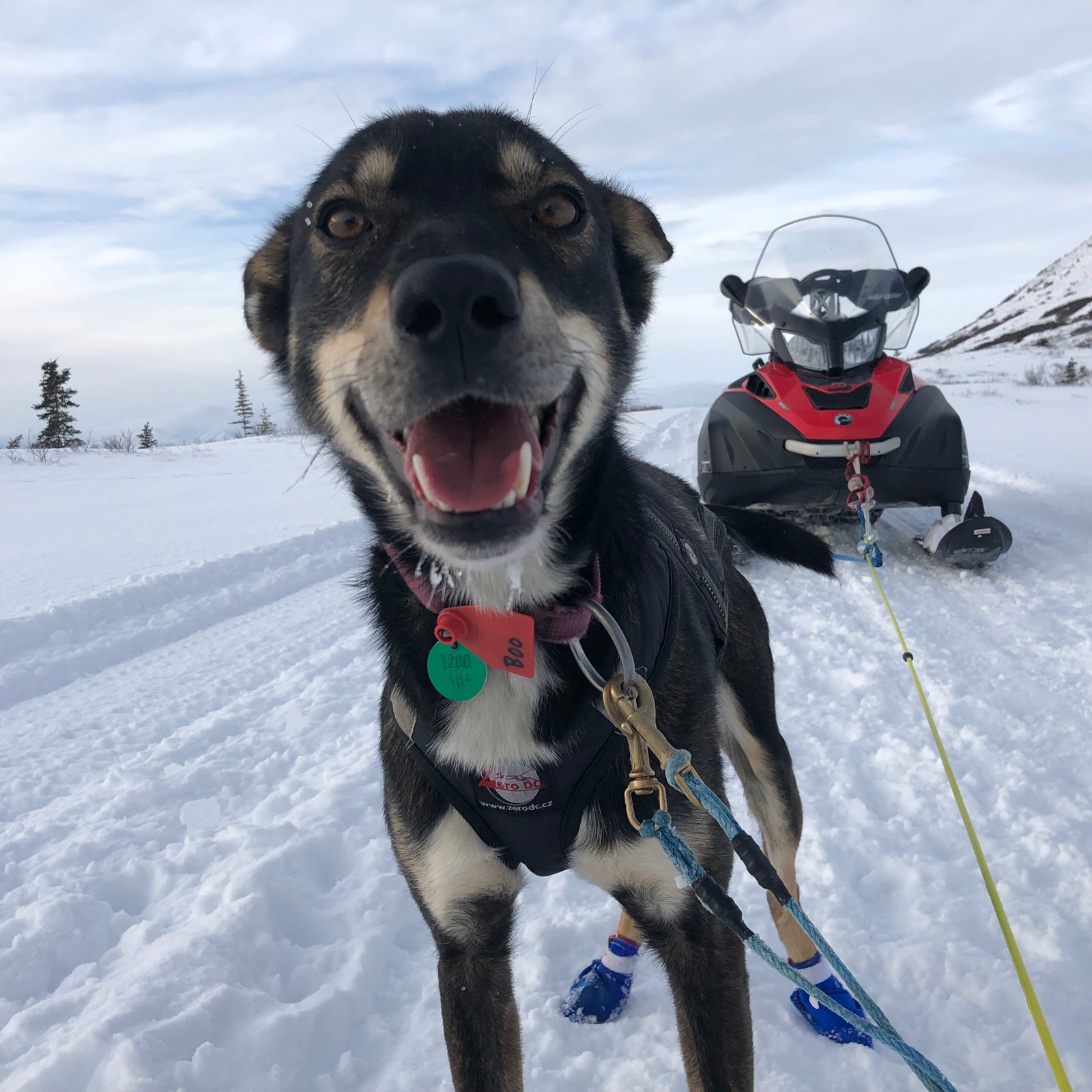 Heading out the door? Read this article on the new Outside+ app available now on iOS devices for members! Download the app.
The time has come—and in some cases, gone—for my final Iditarod preparations. Earlier this month, I turned in my drop bags, the sacks of food and supplies that mushers send up the trail before the 1,000-mile race. This was a major hurdle that had been hounding me since January, when a race veteran mentioned that his New Year's plans were setting back his drop bag preparations. I had not even thought about drop bags yet.
"Aren't drop bags due in February?" I asked.
"Yes," he said solemnly.
I mean, they're sacks of meat. How long could they take?
Of course, I knew that sacks of meat are complicated—and with 25 checkpoints along the trail, most of which accept up to three 50-pound drop bags per team, they're a major undertaking. You need to acquire over half a ton of various frozen meats, some of which require knowing a guy: chicken skin, beef, beef fat, liver, tripe, and salmon. Next, lease or borrow a functional upright meat saw (or get a slot with one of the rare dudes who'll slice meat for pay) and slice the massive blocks of meat into french-fry sized pieces. Divvy the pieces into appropriately-sized bags, sort, label, and repeat.
And each pup will need to eat 12,000 calories a day to maintain weight while running, so you better believe that mushers give them whatever they like to eat.
The idea is that the dogs should have multiple options at every meal. Their appetites change based on temperatures and mood, so you want to be prepared for anything. When it's warm, my dogs prefer fish, which keeps them hydrated; they only eat fatty meat when it's very cold. And each pup will need to eat 12,000 calories a day to maintain weight while running, so you better believe that mushers give them whatever they like to eat.
The drop bags will be kept outside, so in theory they'll stay frozen, but there's always the risk of warm weather and spoilage—which means more decisions. Some people recommend storing meat in woven poly bags, which have better ventilation, to keep it from going bad. Others swear by commercial ice bags, so that rotten meat won't leak all over your other stuff. Even if your meat doesn't spoil, warm weather poses another risk: all those nice little fries can thaw and freeze back together into a single lump, which is much harder to use along the trail. I hedged my bets with different types of bags, plus another trick I learned at the rookie meeting in December: I lined one drop bag for each checkpoint with reflective pipe insulation from Home Depot.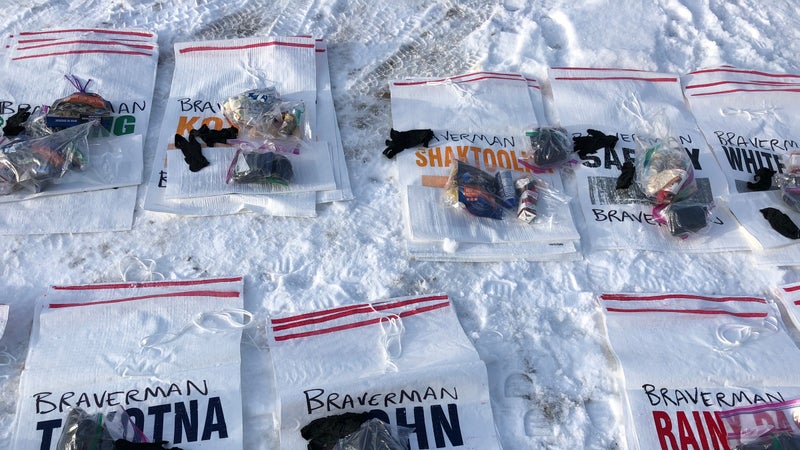 But, as I soon realized, drop bags aren't just sacks of meat. Sure, you pack the basics for every checkpoint: meat, kibble, booties, dry socks, individually wrapped cheesecakes. But more than that, the drop bags represent your race plan, and your knowledge of what's needed for different parts of the trail. "I got stuck in Shaktoolik for 36 hours one year," someone might say. "Storms there come fast. I always pack extra for Shak." Maybe you expect to cross open water near a certain creek, and pack fishing waders to pull over your down pants. Maybe you send sled repair equipment to the tiny village of Nikolai, which comes after some of the toughest terrain on the trail. Most mushers pay to ship ice to the Rohn checkpoint, which is on a stretch of trail so bare that it can be hard to find snow to melt for your dogs.
Now that the drop bags are done, I'm focused on what to pack in my sled. The Iditarod's organizers require certain items, though there's significantly less mandated gear than in some shorter races I've entered. The idea, I suppose, is that if you've managed to qualify for the Iditarod, you're not green enough to cross Alaska without basic survival gear. Each musher has to carry an axe and a "proper cold weather sleeping bag," the details of which are open to interpretation. Snowshoes. Harnesses. Booties—most teams will use about 1,000 over the course of the race. A cooker and fuel for melting snow. A veterinarian book, in which vets along the trail can make notes about the health of the dogs. And that's it. The rest—compass, first aid kit, dog coats, blankets, fire starters, a ski pole, clothing—is on me.
Most teams will use about 1,000 [booties] over the course of the race.
While I'm packing, of course, I'm also still training the dogs, who usually run between three and eight hours a day. They'll have covered about 2,000 miles of trail this season before the race start, including a 200-mile race and a 300-mile campout. Is that enough? I hope so. I trust the people who tell me it is, but of course every dog and every dog team is different. Still, I'm swimming in questions. How can I best use my time right now? How do I make these last decisions about food, my race plan, and the dogs themselves, since I can change my team's lineup until the 11th hour? The teams this year are limited to 14 dogs, two fewer than last year; is it better to bring Hunter S. Thompson, who gets along with everyone, or Katherine Boo, who could lead the team in a pinch? Which dogs would have the most fun and the greatest learning experience? And every minute I'm thinking of things I haven't done, like replacing my sled runners or making sure my dogs' vaccination records are organized.
I discussed my worries with my friend Lev Shvarts, who's entering his fourth Iditarod this year. "At this point, the dogs aren't going to get more in shape," he said. "The only thing that can change between now and then is their attitude. And yours." In other words: don't let your stress affect your team. The dogs absorb our emotions; if they sense that I'm anxious, they'll feel that anxiety themselves. It's the last thing I want.
And so that, maybe, is the final challenge that I'll undertake before the race: controlling my stress so that the dogs don't sense it, so that all that they feel is joy. I'll spend the final week taking the team on fun runs, easy 40-milers, where they can pick up their pace and their energy. I'll surprise them with their favorite foods. I'll nap on the straw beside them, laughing when they twitch in their sleep. The thing about dogsled races, my husband likes to say, is that every dog thinks they won. I want my dogs to think that they won—to know that they won—before we even begin.
Lead Photo: Blair Braverman