Quadzilla
Aksel Svindal has three Olympic medals, two World Cup titles, and the affections of fellow ski racer Julia Mancuso. But can he transcend the sport and become the next Hermann Maier? HAMPTON SIDES tracks down the Norwegian beast slopeside to talk about the 2007 crash that nearly ended his career and his chances of dominating the 2012 World Cup.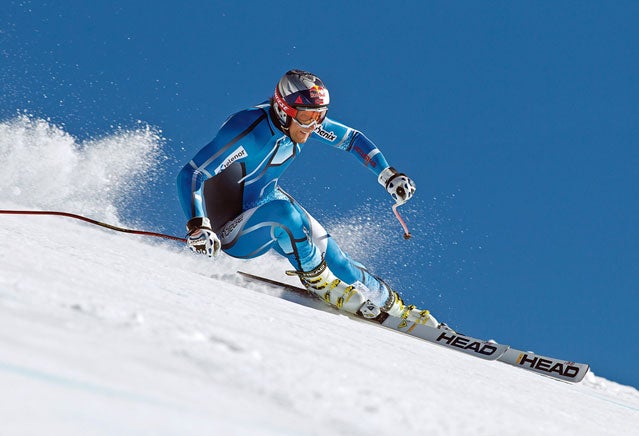 Heading out the door? Read this article on the new Outside+ app available now on iOS devices for members! Download the app.
AKSEL SVINDAL pulls to the front of the start hut and edges toward the chute. His boots creak in the packed snow. He plants his poles and leans forward as the Longines clock beeps down the count. The big Norwegian takes a final deep breath, and then, with coaches barking encouragement from behind him, he heaves himself across the start wand.
Aksel Svindal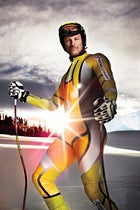 Svindal in Beaver Creek, Colorado.
Svindal Crash

After the crash in Beaver Creek, November 2007.
Svindal family

From left, Aksel, father Bjorn (with Simen), and grandma Gerni in Norway.
Svindal and Mancuso

Svindal and Julia Mancuso in Portillo last year.
Aksel Svindal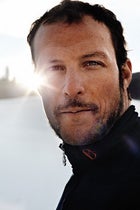 "Aksel's one of the top racers in history," says former U.S. Men's Ski Team coach Phil McNichol.
Young Aksel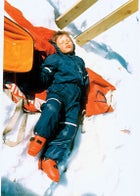 A young Aksel, exhausted post-skiing.
Aksel in Portillo

A downhill run in Portillo.
It's December 2 at the Birds of Prey downhill race in Beaver Creek, Colorado, one of the first events in a long 2011–12 World Cup season. More than 10,000 people wait at the finish, fluttering pennants and rattling cowbells in the bitter-cold air as Joe Walsh's "Rocky Mountain Way" blasts out of concert speakers. Though it's only 11 a.m., the roving beer vendors are already doing a land-office business, and a Tyrolean oompah band threads through the crowds. A live eagle, twitching on the gloved hand of its tamer, watches over the proceedings. 
The downhill is the marquee event of skiing—the fastest, longest, and most dangerous of the alpine races. Beaver Creek's Birds of Prey doesn't disappoint; it's a wicked course. In the years since it was added to the World Cup tour in 1997, it has become a renowned speed event, admired for its steep technical turns but also widely considered treacherous. As in all downhills, skiers at Birds of Prey reach jittery speeds in excess of 80 miles per hour. Downhill racers are basically test pilots, always exploring the outer limits of the aircraft—only, in their case, they are the aircraft.
A commentator breaks in over the music to announce that Svindal is on course, and when his determined form flashes across the JumboTron the crowds go wild. Screaming in the stands are plenty of recovering downhillers—guys with hounded looks who understand the rush of speed and long to return to a place they know, deep inside their stapled bones, they have no business being. They're familiar with Svindal's story and recognize how hard it is to face down a mountain that nearly ruined you. "Beaver Creek is a special place for me," Svindal told me before the race. "The very best and the very worst things in my career have happened here."
Nearly all sports champions have a defining moment that exposes something profound in their character and summons a previously unseen dimension of greatness. For Svindal that moment began on a training run here at Birds of Prey almost exactly four years ago, on this same downhill course. It was November 27, 2007, a cold, overcast Tuesday. Svindal was 24 years old then, the reigning king of the World Cup ski-racing circuit. Going into the race, he was right where he wanted to be: first place in the standings for best overall World Cup skier. "I was on fire," Svindal said. "I didn't think anything could go wrong."
But something about the piste that day wasn't quite right. A dearth of storms that fall had forced Beaver Creek officials to spray down layer after layer of artificial snow. The coverage was still a little thin in places, and the course was erratic, full of unforgiving bumps and dips. The third skier out of the chute, Austrian Andreas Buder, promptly crashed, bruising his heel so severely that he would be out of commission for weeks. Several other skiers remarked on the tricky conditions. After his run, Didier Cuche, a Swiss champion hot on Svindal's trail for the overall title, expressed his reservations. "If you make an edge mistake," he said, "you're going to fly—but not in the right way."
A few moments into his run that day, Svindal dropped over the Brink, a terrifying transition roughly akin to plummeting over a waterfall. Within seconds, he accelerated from 35 mph to 60. At six feet three inches and 220 pounds, Svindal is one of the biggest skiers on the World Cup circuit, and his considerable mass helped him gather even more speed in the midsection of the course.  
By the time he flew over the Screech Owl jump, Svindal realized he was having one of the runs of his life. "I was hitting everything perfectly," he said. He had never gone faster, never skied a tighter line or felt so in tune with the flow of the mountain. It was almost surreally quiet, only the wind gushing in his ears and the occasional fan hooting somewhere beyond the safety fences.
Today, as I watch Svindal approach the flats that lead toward the course's biggest obstacle, a notorious spot called the Golden Eagle Jump, I cringe when I think of what happened here in 2007. Just before the lip on that fateful morning, Svindal hit a slight compression that threw him off balance. With all the speed he was carrying, his skis scooted out in front of him, just a little, so that when he reached the jump, he was leaning back—exactly the wrong posture. The G-forces he'd so carefully harnessed during his extraordinary run now rearranged themselves into something hideous.
"As soon as I was airborne, I knew it was going to be bad," he said. In the updraft, his skis tipped backward, throwing him into a long, terrible arc. He attempted to correct himself, trying in vain to best the laws of physics. His arms instinctively flailed in desperation—rolling down the windows, as racers say—but it was no use. As he vaulted through the air, his body kept rotating backward.
"You hope you're going to save yourself," he said. "But once you can't see the snow anymore, you don't even know where to land." His skis were now in the intensely compromising position that some coaches call bases to the sun. Svindal had given up trying to right himself and was twisting his torso sideways, to the snow, in order to protect his neck from the coming fall. 
At this point, he was traveling 72 mph—flying, but not in the right way. When he finally collided with the ground, along a stretch of course known as the Abyss, Svindal had sailed 197 feet through the air.   
I MET SVINDAL THIS PAST SEPTEMBER in the craggy mountains of Portillo, Chile, where he was doing speed training with the Norwegian team. He came in from his runs, and we hunkered down in the hotel bar, a smoky cave with coved ceilings, a fire crackling in the corner, and the resident Saint Bernard snoring on the Spanish-tile floors. Jaime, the bartender, was serving up pisco sours, the country's signature drink, to a party of Argentinean skiers. "It's a little slushy out there today," Svindal said, staring out the window at the blazing Andean sun. "But this place is good—much better than New Zealand for speed training."
Aksel was wearing a Red Bull cap and a T-shirt that said Yes I Am A Speedaholic. He's a huge guy, not just physically but in his presence. Though he's understated, modest, even a little shy, he fills up a room. Svindal has dark brown curly hair and a warm face that turns deep tan on the slopes. As is true of most Norwegians, his manners are impeccable, and so is his English. ("He's very Americanized," says U.S. Olympic gold medalist Ted Ligety, a friend on the World Cup tour. "You wouldn't mind if he took your verbal SATs for you.") But Svindal may express himself best in facial hair. His whiskers seem to change monthly, even daily. Through the years he's gone with chops, goatees, Vandykes, Elvis burns, and various scraggly constructs impossible to name. On this day, he had an impressive case of helmet hair going and an emerging flavor saver. 
We ordered a couple of bottles of Escudo beer and talked for a while about his skiing aspirations. "In the end," he said, "I'd like to be known as one of the all-arounders, someone who could do it all." There is little question that Svindal is already one of the greats in this regard, at least in the modern era. In the 2010 Winter Olympic races in Whistler, British Columbia, he took home three medals—a gold (in super-G), a silver (downhill), and a bronze (giant slalom). All told he has won 15 World Cup races, two World Cup overall titles, and four world championship gold medals. While he's strongest in the pure-speed events—downhill and super-G—he is also a serious threat in GS and sometimes does surprisingly well in the supertechnical slalom events, unusual for someone with his body type. He skis with a steadiness and a humility rare in a sport notoriously prone to psychodrama and egocentricity.
"Aksel's without a doubt one of the top racers in history," says Phil McNichol, former head coach of the U.S. Men's Ski Team. "He fits into that small category of athletes who are capable of winning across all disciplines. He's a true champion, the real deal. He's definitely got confidence and maybe even some swagger, but not an ounce of arrogance. Everyone can get behind this guy." 
The likable Vike has something else—a quality almost as unique, and certainly as bankable, as world-class talent. People in the ski world are always looking for the next big icon, a supercelebrity who can transcend the arcane specialties of the sport and stir new waves of popularity: the new poster boy, the "It" guy, the ambassador. In the late sixties, it was Jean-Claude Killy; in the seventies, Franz Klammer. Then there was Tomba, the Hermanator, and, most recently, Bode (who remains the reigning star on the World Cup even though his results have been erratic and his cocky, sometimes cryptic comments have at times made him polarizing).
Needless to say, Svindal is a celebrity in Norway—his face plastered on billboards, a frequent guest on television shows, his exploits lauded across the nation. But his fame extends far beyond Scandinavia. It's possible that Svindal, who lives much of the year in Innsbruck, Austria, and speaks fluent German, may just have the international appeal and charisma so many ski insiders are looking for. Sponsors like him—he's represented by companies as diverse as Red Bull, Audi, and Prada, in addition to Head and Dainese. Ladies like him, gents like him, fellow competitors like him. A quick roll through the Internet yields descriptors like "dreamy," "hunky," "yummy," "beefcake," "simply handsome," and just plain "sigh.…" Hot, however, seems to be the operative word, as in "hot boy," "hot on snow," "the Hottest Dude of Skiing." During the Vancouver Olympics, one enamored fan on a gay-oriented website gushed, "OMG, I've just been watching HIM Aksel, he is so, so, so, so, so, so, so, so, so hot!" 
But, alas, Svindal is taken. For the past couple of years, he's been dating Julia Mancuso, the American ski-racing phenom from Squaw Valley, California, who has won three Olympic medals and four medals at the world championships. The 27-year-old Mancuso, widely known as Super Jules, is herself something of a pinup model. Famously unflappable, Mancuso poses for her own underwear company, Kiss My Tiara, and has been praised for the way she takes her family's complicated history in stride. (Her father, Ciro Mancuso, a Tahoe developer, was convicted of running one of the nation's largest marijuana-smuggling operations during the 1970s and '80s and served four years in federal prison while Julia was growing up.) 
Mancuso and Svindal seem to lead a charmed existence together—when their frenetic traveling schedules permit. On his website, Svindal keeps a blog that charts their occasional international intersections: Now they're in Monaco at a royal wedding. Now they're surfing near her summer home on Maui. Now they're attending a Formula One race. Now they're at a Studio 54 theme party at some mansion in the Hamptons—with Julia in a skimpy polyester getup and Svindal in a towering Afro.
Every gossip in the ski universe is dying to know when they're going to get married. When I asked him Svindal demurred. "No plans," he replied. "There's no rush." When I asked Julia, who was also in Portillo, training with the U.S. women's team, she said, with a big laugh, "I'd like to learn a little more Norwegian first. But it just sounds like a bunch of blah blah blah."
Svindal is no playboy of the Tomba la Bomba school, and he's never been partial to partying "at an Olympic level," as Bode Miller once famously characterized his own nocturnal roisterings. Still, Svindal does seem to enjoy the glam life, and he embraces his celebrity—up to a point. Underneath the nearly permanent smile and the ever morphing facial hair is a stolid Norwegian reserve, a bedrock need for private space, that's absolute. When he's training, he has little room for anything else. Before he's done with the sport, he wants to be in the pantheon with the undisputed greats of all time—Stenmark, Eriksen, Killy, Maier. The work and discipline required to get there will be staggering, and he's always conscious of the clock. 
"OK," he said after exactly one beer, rising with a matter-of-factness bordering on impatience. "I think I'll go down to the gym now and take a spin on the bike."
WHEN SVINDAL REGAINED consciousness on that awful day in Beaver Creek, he was lying on his back, his body resting against the safety netting. He heard worried voices carrying over the snow. Svindal, thinking like a racer, checked for the usual racer injuries: He felt the bones of his legs and arms. He flexed his knees, shrugged his shoulders, arched his back. Everything seemed OK. I got hit hard, he thought, but I don't think this is too bad.
As a trauma team arrived with a sled, Svindal looked back and saw smears and spatters of red on the snow. There was a gash in the backside of his Lycra racing suit, and a large crimson stain was growing around him. "It was a lot of blood on the white snow," he said. "And I thought, This is not right. That blood should not be there." Then he passed out.
At the Vail Valley Medical Center, emergency room doctors immediately set to work assessing the damage. He had a few cracked ribs, broken front teeth, cuts and contusions all over his face. His nose lay to one side, and an eye was swollen up. He'd lost a great deal of blood and would need several transfusions. X-rays also revealed that he had sustained five facial fractures. But none of this particularly worried the doctors. What concerned them was that gash in his racing suit. When they snipped away the fabric, they made an extremely troubling determination: apparently, one of his skis, releasing upon impact, had become a weapon—a flying saber, basically. Waxed for maximum speed and edged sharp as a razor, it had hurtled down the slope alongside its former occupant. Somewhere along the way it had sliced into Svindal's left glute, causing a long, deep laceration—more than four inches deep in some places—that passed just to the side of his anus and through the underside of his groin. 
The gash was so significant that the doctors, now worried about a deep-tissue infection or a perforation of his lower intestine, ordered emergency surgery to open up Svindal's abdomen and further explore the damage. "They said, 'You could die pretty quick,' " Svindal said. "'We need to cut you open and make sure you're OK.' "
To the doctors' pleasant surprise, Svindal's abdominal surgery revealed nothing out of the ordinary. After he got out of intensive care, there would be further surgeries to fix his nose and the broken bones in his face. "It's funny how things can change quickly," he told a reporter. "One day I was in the best form of my life, and the next I am lying in a hospital bed unable to move." He lost a lot of weight, and his sallow face was a mess of sutures and bandages. "He didn't look very nice," Bjorn Svindal, Aksel's father, said. When Julia visited him (they were dating off and on at that point), she just thought he seemed "kinda sad." 
For two weeks, as Svindal stewed in his bed while happy skiers carved down the slopes just outside the hospital, he began to plot his comeback to the World Cup. "I knew I wasn't going to ski for a while," he told me. "But I was like, 'I don't care how long it takes. That's irrelevant. As long as I get back, 100 percent.' "
He flew to Norway and, after another week in a hospital, went to live with his dad in Lillestrom, the town where he grew up, in the hills near Oslo's airport. Bjorn made arrangements to put a medical bed in Aksel's boyhood room, and there Svindal spent the dark Scandinavian winter healing his wounds. All he could think about was the World Cup. "As a racer," he said, "you have to have a short memory."
In the aftermath of his surgery, Svindal had lost nearly 40 pounds of muscle mass. For a long time, he was simply too weak to get out of bed. Tentatively, he started shuffling around the house, then around the neighborhood—donning a big hat so that no one would recognize him. He was often dizzy and easily exhausted, but slowly his strength returned. He began lifting weights again, riding a bike, running. "I am me," Svindal told reporters, "and nothing has changed in my attitude. I will return when I feel strong enough to win races."
WORLD CUP SKIERS, ESPECIALLY THOSE who excel at speed events, are essentially risk managers. They have to calibrate precisely where and when they need to push their skiing to the absolute edge. Continually making that calibration, in every kind of snow and weather condition over the long haul of more than 40 World Cup races every season, reveals a kind of deep cumulative judgment, an intimate knowledge of self. This is perhaps Svindal's greatest skill.
Like many Norwegians, he learned to ski when he was three. He was a big, determined kid who giggled a lot. His brother, Simen, came along a couple of years later, and during wintertime the little boys loved to strap on nordic skis and scoot around the garden. When they were a little older, the brothers would go to their grandparents' hytte in the big mountains near Geilo.
Alpine skiing ran deep in the family. Bjorn was solid enough on skis to become an instructor, but it was Aksel's mother, Ina Lund, who had the real gift. She'd skied on the Norwegian national team and even raced in Europe for a few seasons. 
In 1990, when Aksel was eight years old, Ina went to the hospital to deliver her and Bjorn's third child. But something went wrong during the delivery, and she started to hemorrhage. The doctors couldn't get Ina's blood to coagulate. She died the next day. The infant—a boy—was saved, but after 18 months languishing on respirators and other machines, he too died.
As a balm for the family's raw grief, the Svindals made for the mountains every weekend and threw themselves into skiing. "It kept us together," Bjorn says. "I think skiing saved us." 
Aksel and Simen proved to be prodigies. When he was 16, Aksel was invited to Norway's elite ski academy at Oppdal, and he began to spend more time racing in Europe. He qualified for his first World Cup race in 2001. Simen's skiing took off, too. But while training in Oppdal in 2007, he suffered a terrible fall going off a jump and broke his back in six places. Though at first the doctors thought he might have to live the rest of his life in a wheelchair, he recovered—but was forced to give up racing forever. Aksel would now shoulder the family's skiing dreams.
When it comes to ski racing, Norway has long been known for doing a lot with a little. Although the country's nordic-skiing program is formidable, its alpine counterpart is almost laughably tiny and underfunded—a pale shadow of the high-tech juggernauts that exist, say, in Austria and Switzerland. Yet Norway has produced some of the all-time greats in alpine skiing. Svindal was lucky enough to come up through the ranks at a time when two of them—Lasse Kjus and Kjetil Aamodt—were just beginning to peak. Both had been childhood idols of Svindal's, both were decorated all-arounders, and he consciously tried to emulate them.
"If you want to understand where Aksel comes from, look to those guys," says Tim Layden, who has covered alpine ski racing for Sports Illustrated for 15 years. "Kjus and Aamodt were bulletproof—tremendous competitors under pressure. But you never heard anything negative said about them. There was just a universal respect and affection. And Aksel was the junior skier watching them—like Kobe grew up watching Jordan."
Svindal's first breakthrough occurred in 2005, at Alberta's Lake Louise, with a big victory in the super-G. From then on his star steadily rose, and at exactly the same time that Kjus and Aamodt were waning. (Kjus retired in 2006, Aamodt a year later.) It was perfect kismet, both for Svindal and for Norway. "There was a big question who was going to take over the throne, or whether there was even going to be anyone else," says Kjetil Jansrud, Svindal's teammate and close friend. "But he came along at just the right moment. He lifted the pressure off of them and put it all on his shoulders. He inherited the kingdom."
As with his idols, Aksel's style has been marked by composure, consistency, and, except for his big crash in Beaver Creek, a certain absence of white-knuckle drama. A few skiers over the years have criticized him for being a bit too conservative. (Bode Miller once called Svindal "tactical"—suggesting that he takes insufficient risks and that he's more interested in accruing points than in winning races.) But others say this perception is more a function of Svindal's style than of his attitude. "His technique is so sound that he doesn't need to make the kinds of crazy, dramatic recoveries that Bode and I sometimes have to make," says Ted Ligety. "Aksel is so big, so solid, and so strong, and he has such a good touch on the snow. I think he takes huge risks, actually, but his style just doesn't show it."
When I watched Svindal training on the slopes of Portillo, I was struck by how obsessively involved he is in the process of designing and perfecting his skis—now all the more so, given controversial new International Ski Federation ratings taking effect next year that mandate a radical reshaping (supposedly for better safety) of all GS skis worn in World Cup races. At the top of the slope, laid out among waxing tables equipped with vise grips and various edging and scraping tools, there must have been 20 pairs of Head skis systematically arranged in the snow; Svindal, who calls them his "weapons," went from one pair to the other, testing them. This one was too rigid in the tail. That one had too much pop. This one needed more forgiving flex in a certain kind of snow. The R&D techs from Head listened attentively and took notes. "He always gives goot veedbeck," Head's director of ski racing, Rainer Salzgeber, told me. "One tiny millimeter change in a sidecut will make bick changes on ze hill." Salzgeber could dial in the specs to the factory in Austria that afternoon, and a brand-new, tailor-made pair of skis would arrive in Portillo six days later. 
"You pretty much build your own skis nowadays," Svindal said. "I'm always fine-tuning; there's always something to test."
Later, I asked Mancuso about Svindal's endless equipment tweaking. "I think it's a guy thing," she said. "He likes physics. He's always looking for the magic combo that's going to gain him that extra hundredth of a second of an edge."
IF RECOVERING PHYSICALLY from a bad crash is hard, recovering mentally can be much harder. For Svindal, there was no getting around the fact that his own ski had come within a few inches of literally unmanning him. If he ever wanted to ski competitively again—particularly in the downhill—he would have to reclaim his nerve and get his head around the crash. When he initially got back on skis in late February 2008, he realized, with considerable dread, that the Birds of Prey downhill at Beaver Creek would be one of the very first races in his return to the World Cup. He couldn't get the Golden Eagle Jump out of his head. He thought about it all the time. He wondered how he would approach it or if he even could approach it. It was his hobgoblin, his bête noire.
He visited a sports shrink, who gave him dubious advice—something about how he should just try to trick himself into thinking it was an ordinary race, an ordinary jump. For him that tack wouldn't work. "I'm supposed to pretend it's nothing?" he says. "That's bullshit. I can't do that. I have to deal with what's really there. I have to admit that I'm nervous. As they say in Alcoholics Anonymous, the first step is to admit that you have a problem."
Through the summer and early fall, as Birds of Prey loomed ever closer on the calendar, Svindal closely analyzed the mistakes that had led up to his crash. "It's far better to admit that you made a mistake than just to say it was bad luck. You can't control bad luck. But if you focus on the idea that it was your fault, then you can change that—it's all up to you." He studied the video and broke down the errors—precisely where he was going too fast, precisely why he was leaning back, precisely how he could have corrected his posture before it was too late.
When he got to Colorado, Svindal slipped the Birds of Prey course carefully. He lingered at the Golden Eagle Jump and assayed it like a golfer studies a green before a clutch putt. He devised a plan for how to run the race. In his mind, he would separate the jump from the rest of the course; he would conceptually isolate it and put it in a clean little box. When he reached Golden Eagle, he would dial it back just a hair—undercook it. This might lose him a few tenths of a second, so he'd have to push the envelope somewhere higher in the course and tighten his line. He would reapportion the risk, in other words, and simply accept the inescapable fact that the Golden Eagle Jump scared the living shit out of him. "I'm the sort of skier who has to have a good plan that I can direct all my nervous energy into," he says. "If I don't, then all that energy just comes right back to me and makes me even more nervous."
Finally, race day came—December 5, 2008. Bjorn was there in the crowd, surrounded by well-wishers waving Norwegian flags. Svindal started off well and floored it through the flats. He nailed everything, just the way he'd planned it, and when he came to the Golden Eagle Jump he inched it back the way he said he would. When he crossed the finish, he doubled over panting, then turned to see his time: 1 minute, 43.85 seconds. He couldn't believe it. He was .06 seconds ahead of the next best competitor, Liechtenstein's Marco Buechel.
The crowds erupted in wolf howls of joy. Svindal pumped his poles in the air and drank in the glory while Bjorn watched through tears. A year after nearly dying on this same storied slope, Aksel Lund Svindal had won it all. Svindal stood on the podium clutching his gold medal. "I could not dream of a better place to celebrate," he said. "I feel strange somehow. I think I will need some time to fully understand what is happening to me today."
Three years later—December 2, 2011—I stand in the Birds of Prey crowds as Svindal tucks across the finish and skids to a stop. This time his downhill run has been solid but not enough to make the podium: fifth place. (Bode Miller will go on to win, putting down one of the best performances of his career. "The risk you take," Miller says, still shaking off the adrenaline, "it's no joke. It's a pleasure to get to the finish—and be safe.") The following day, Svindal will claim second place in the Birds of Prey super-G, giving him enough points to put him comfortably in the lead as the World Cup's best overall skier at the time, ahead of Ligety and Cuche.  
Svindal clicks out of his skis and walks over to the media barricade. I ask him if he ever thinks of his mom on good days like this. "I think she's watching," he says. "I hope so, for sure." 
And what about Birds of Prey? I'm wondering if this place still holds anything over him, any lingering juju. Svindal waves his hand dismissively. "Not in the least," he says with a smile. "That crash? It's ancient history."