The Road to the Iditarod
Our favorite musher will be at the start line when the Last Great Race kicks off in Anchorage on March 2, 2019. In the first of a pre-race series of dispatches, she talks about the remote Alaskan lodge where she's training for the big event.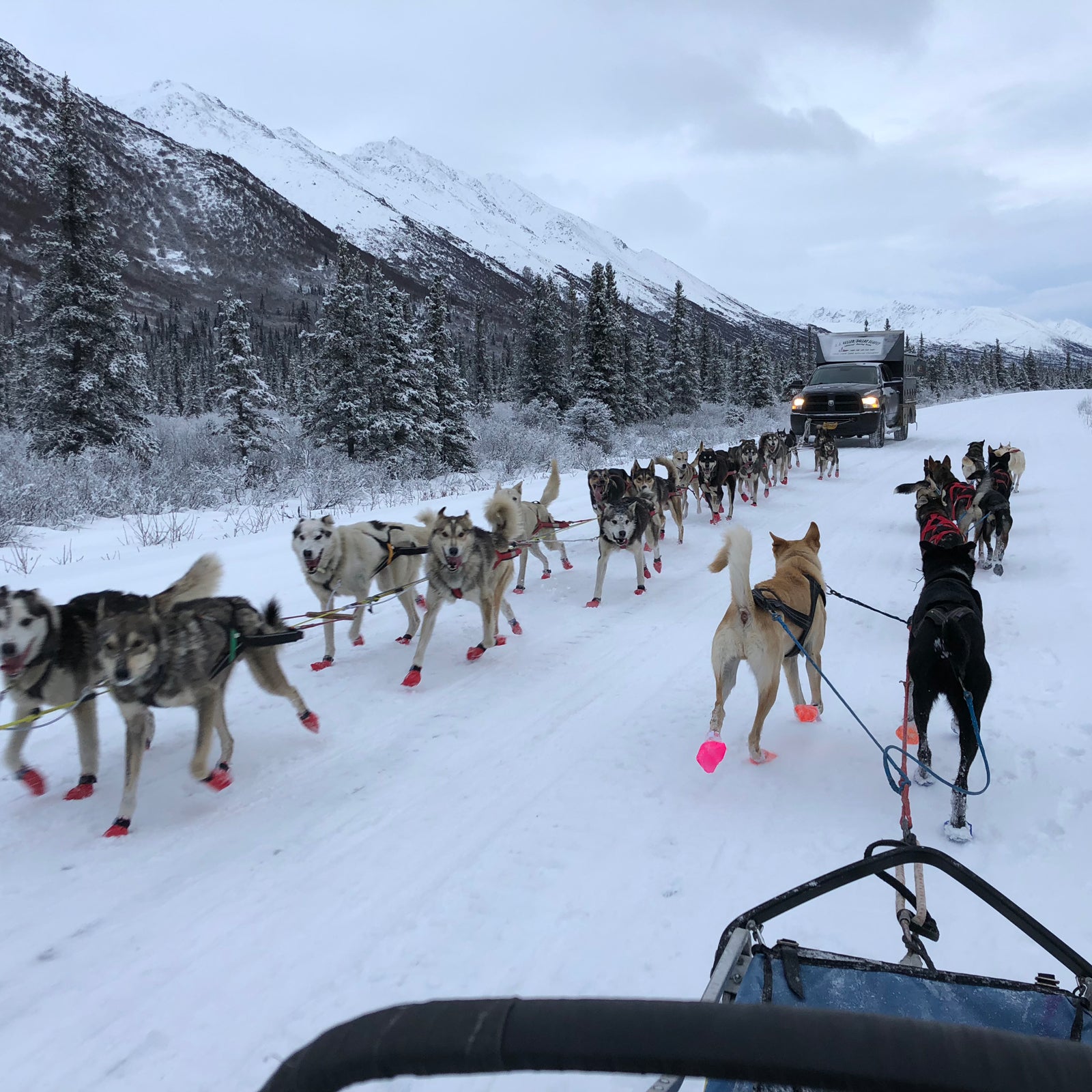 Heading out the door? Read this article on the new Outside+ app available now on iOS devices for members! Download the app.
After 12 years of dogsledding, four years of training my own dog team, and two years of qualifying races, I'll be entering my first Iditarod in less than three months. This is no time at all, especially considering the 1,500 miles of training I plan to complete between now and then. All the things I've encountered up to this point—the blizzards, the moose, the 30-below mornings—pale against the specter of the big race itself: a thousand-mile trek across the Alaskan interior, which crosses the jagged Alaska Range, goes alongside the bone-cold Yukon River, and ends with a three-day push along the frozen Bering Sea.
I live in Wisconsin, but before I even registered for the Iditarod, I knew I wanted to train for it in Alaska. "I know a place you can stay," a friend told me this summer, "but you'll be, like, all in." It sounded good. What else was I going to do before my first Iditarod: think about other things?
Which is how I, along with my husband, Quince Mountain, and our handler, Chrissie Bodznick—a wildland firefighter and longtime friend—ended up renting a tiny cabin on a steep hill, overlooking 29 wooden doghouses, which in turn overlook the white Susitna River. The cabin is part of Alpine Creek Lodge, a wilderness camp along the Denali Highway, which is impassible to cars all winter. From November on, the best way to get to the lodge from the closest plowed road, which is almost 70 miles away, is by snowmobile or dogsled.
If you can get to it at all, that is. The first time we tried, exhausted after two weeks of driving from Wisconsin (and stopping to let 29 dogs in and out of the truck four times a day), we encountered some mushers at the end of the plowed road. The snow was light, but Denali Highway was blanketed with glare ice—too slick for driving and mushing. Attempting to navigate the road was "death defying," the mushers told us solemnly, and these weren't the kind of guys who used words like death defying lightly. We and the dogs ended up living out of the truck for four frustrating days, until snowfall brought softer trails.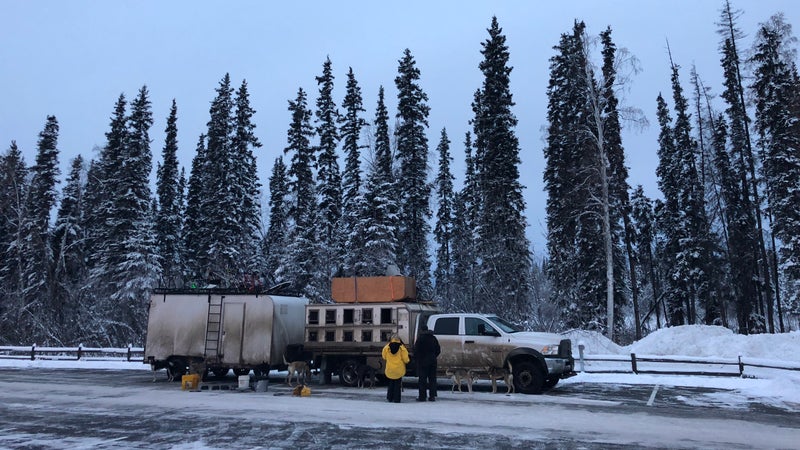 When Claude and Jennifer Bondy founded Alpine Creek Lodge in 2008, friends advised them not to cater to mushers. Mushers smell like dog poop. They fall asleep in public and stuff their pockets with snacks. They're usually broke, and their huskies howl at two in the morning.
"Sounds like my kind of people," Claude said. In the years since it opened, the lodge has become a hub for Alaska's mushers and handlers, who use the adjacent snow-covered highway to train for races. Tourists come out for northern-lights viewing or hunting trips and find themselves across the communal table from former Iditarod champs, spooning moose-aroni out of paper bowls. The Bondys' teenage son, Bob, leads gold-prospecting trips near the lodge when he's not running his trapline. He's turning 16 next year, so he's moving into his own cabin, which he'll build using beetle-killed-spruce logs from a nearby forest. His Jack Russell terrier puppy, Ruby, bounces at his heels while he works.
In our short time at the cabin, we've already established a routine. We live most of our waking hours by headlamp and run the team for as many hours as we sleep, dancing to stay warm on the thin runners of a tandem dogsled. Then we scoop poop and mash up thawed beef while the dogs rest in their wooden houses. We fetch water from a creek below the cabin and carry it up a steep hill to warm on the lodge's woodstove. We doze off in our boots. We stack food for the dogs on pallets—400 pounds of kibble and 700 pounds of ground beef (we're working on buying 1,000 pounds of chum salmon)—and then watch those stacks dwindle with alarming speed. "Some people dream about this kind of self-sufficiency," Chrissie observed the first time she hauled a cooler up the icy hill from the creek. "Personally, I think it's inefficient in the modern era."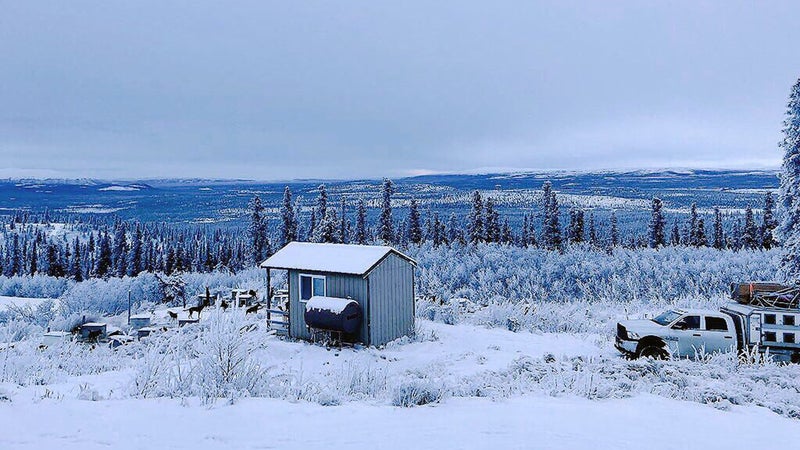 Everything here is inefficient in the modern era, but that's kind of the point. Dogsledding is itself a rejection of modernity. The sport reached its heyday a century ago, when communities across the north used sled dogs to transport mail and supplies. Old-timers still remember when every family had their own dog team. But by the 1950s, when the Iditarod was barely a gleam in the eye of legendary musher Joe Redington, the sport was already dying out. Twenty years later, in partnership with historian Dorothy Page, Joe and his friends organized the first Iditarod—then a monthlong trek from village to village, with racers stopping to bargain for beaver and caribou meat along the way. The purpose was threefold: to preserve a historic gold-mining trail, to honor a turn-of-the-century dogsled relay that brought diphtheria vaccination to Nome in time to prevent an epidemic, and to save long-distance mushing from disappearing altogether.
Today, the Iditarod is the sport's marquee event, its Wimbledon and Daytona 500 combined. Top teams finish in eight to ten days, averaging more than 100 miles per day on the trail. Sure, you can drive a snowmobile now, or even a car, and spend your winters waiting inside for spring. You could "be warm and have money," as one Iditarod veteran (optimistically) imagined the non-mushing life during a recent conversation. Or you could cross the Last Frontier at a dog's pace, step by step, your mukluks gliding inches from the ground, staring at your best friends' butts by the glow of your headlamp. I know where I'll be.
Lead Photo: Blair Braverman