Sacre Black and Bleu!
It's not just the tight pants and helmet; Philippe Gardent's new career as an NFL linebacker will have him using all the tools of his ski-racing past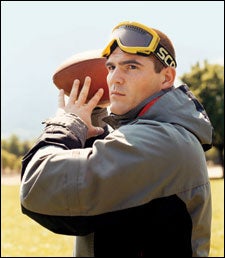 Heading out the door? Read this article on the new Outside+ app available now on iOS devices for members! Download the app.
THE FRENCH, LIKE MOST OF THE WORLD, play football with their feet. That's one hurdle that 27-year-old linebacker Philippe Gardent, who just signed a one-year contract with the Washington Redskins, had to face in his quest to join the NFL. There's also the fact that he didn't pick up a pigskin until he was 17, the age when most American prospects are being courted with "hospitality girls" at big-time college programs. Still, what impresses most about the six-foot 238-pounder is that, prior tolining up for his first snap, Gardent's entire athletic career had been spent on the snow. And to hear him tell it, his ski-racing background is the key to his success. "Your body and mind have to be the same in football as in skiing," he says. "The force in the middle of a turn is the same as when you make a tackle; the way you visualize a racecourse is the same as how you visualize a game."
Philippe Gardent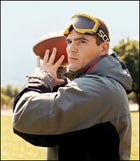 CROSSOVER EXPERT: Gardent on his boyhood rugby field, near Grenoble, France.
The journey from crashing gates to bashing running backs was an unusual one. Gardent grew up racing in the ski-mad town of Chamrousse, and by 16 he was France's fourth-best downhiller for his age group and a member of the national development team. A World Cup ski career seemed within reach, but the financial pressures of a winterlong travel-and-training schedule were too great for Gardent's parents. As his ski-racing career wound down, he joined the Grenoble Centaures. Four years later, in 2001, Gardent suited up for the Argonautes d'Aix en Provence, one of eight top-level teams in the 23-year-old (who knew?) French Federation of American Football. But it wasn't until he watched college football standout turned Olympian turned Philadelphia Eagle Jeremy Bloom that he saw a future in the NFL. "I saw Bloom skiing moguls and playing football, and I decided to take my football further."
In 2003, Gardent made the Berlin Thunder, of NFL Europe, a development league for American teams. Last year, playing for the Cologne Centurions, he recorded a league-high 70 tackles. The Redskins were impressed, but he still has to earn a starting spot. "My goal," says Gardent, "is to prove to my coaches that I belong in this league that I'm as good as anyone." As for giving up the twin planks? "If I can, I'll ski during the Redskins' bye week," he says. "I have to be able to ski."
Trending on Outside Online