The Ski King of the Southwest
James Coleman is snapping up small ski areas in Colorado, Arizona, and New Mexico. As warming temperatures shorten the winter season and the West contends with drought, we had to ask: Why?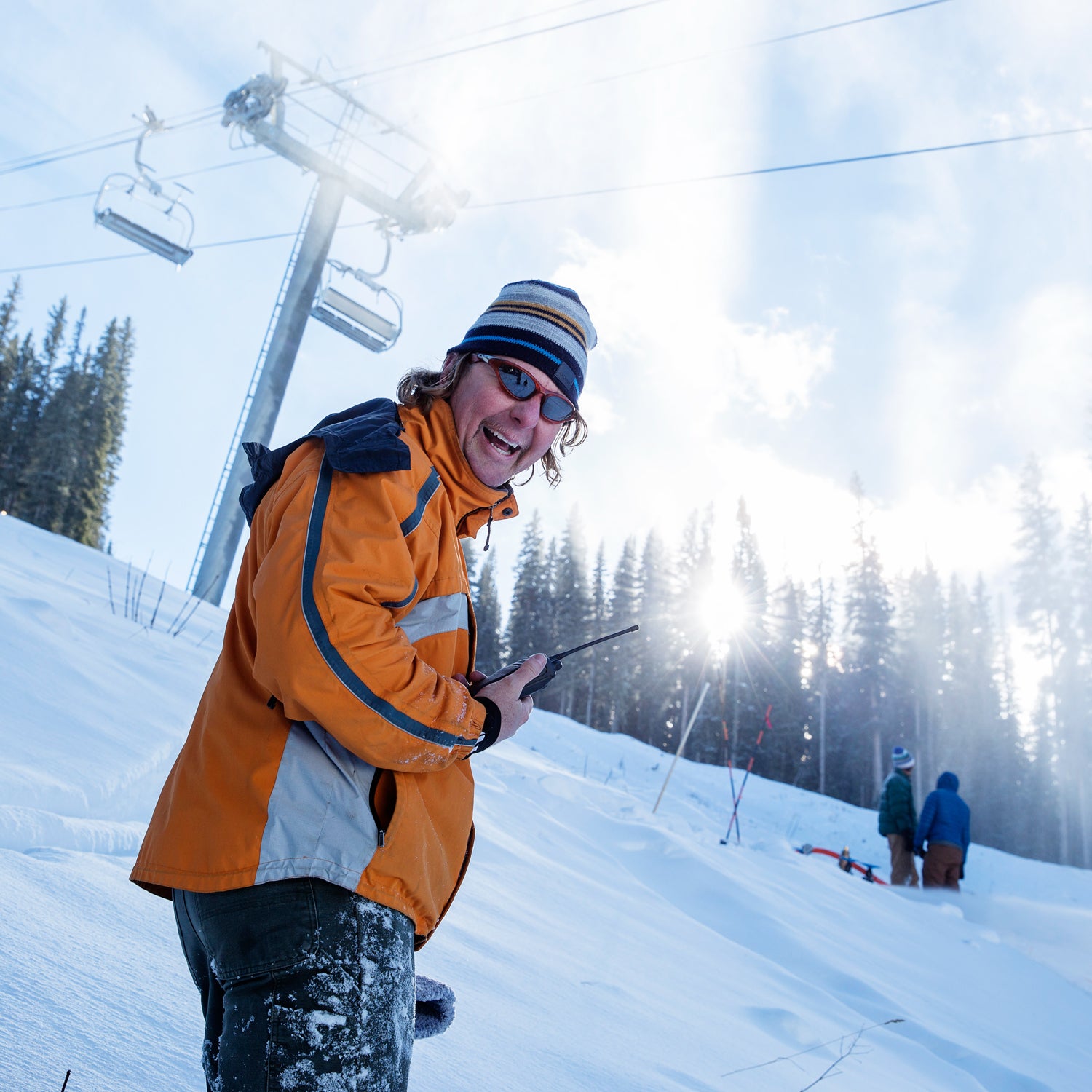 Scott DW Smith/Courtesy Purgator(Photo)
Heading out the door? Read this article on the new Outside+ app available now on iOS devices for members! Download the app.
The most aggressive man in the ski industry not named Rob Katz owns a 46-foot-long tour bus with a dance floor, which he bought from Garth Brooks' drummer and drives around the West, hunting powder. Leading up to these trips, James Coleman will text simple instructions to whomever he has decided to invite: "Show up in Durango on this day." They won't know where they're going, but they will know they're in for deep snow and steep terrain.
If you live and ski in the American Southwest, chances are you've heard of Coleman by now. The 49-year-old businessman has become something of a regional celebrity in the past two years, fronting an investor group that has purchased three ski areas—Purgatory and Hesperus in Durango and Arizona Snowbowl in Flagstaff—as well as the largest snowcat-skiing operation in Colorado, formerly known as San Juan Untracked. The spending spree brought his stable of ski resorts to five—he already owned Sipapu Ski and Summer Resort and Pajarito Mountain Ski Area, in New Mexico—and Coleman says he's not finished buying.
Which begs the question: Why is this man pinning his hopes to a fickle ski market in one of the most arid regions in America?
In early February, I arrived in his adopted hometown of Durango to find out.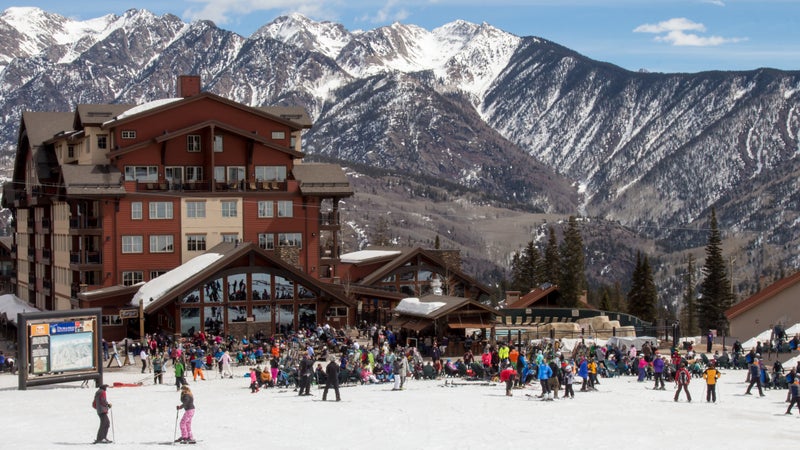 Leading up to my visit, when we planned to ski Purgatory together, Coleman told me on the phone that he likes it when people question his business model—which seems contrarian in an age of climate change, shortening winters, and drought. (Two years ago, Pajarito didn't open until January due to low snowfall and four years before that it had been scorched by a massive wildfire.) Coleman also acknowledged that I should expect a challenging profile subject. "I am a complicated person. So if you want to totally understand me, good luck," he said. "I was born that way."
Coleman, the CEO of private equity and development firm Texas Capital Partners (which is changing its name to Mountain Capital Partners, he says), grew up surfing in Southern California, then attended high school and college in Austin, Texas. He followed his father into real estate development in Austin and won some national awards for his apartment-complex site plans. Standing 6-foot-4-inches with sapling-size forearms, shoulder-length blonde hair, and a neatly trimmed Fu Manchu mustache, he looks more like a 1970s version of Paul Bunyan than a business executive. And while he complies with most questions, you get the feeling he would rather talk about riding his motorcycle or his favorite band (Rush) than his business dealings.
"He's got the adventurous spirit that it takes to be involved in this crazy business," says Benny Abruzzo, president of Ski Santa Fe in New Mexico, who has known Coleman for nearly two decades.
A half hour into our ski day at Purgatory, Coleman points toward an abyss of refrozen avalanche debris below us. It's a "sick chute" (his words) called Monkey Gully that plunges from an entry framed by limestone towers and wedged among other gnarly runs. Coleman enjoys jumping off cliffs—30-footers are his max, he says—but recent warm conditions rendered Monkey Gully unskiable due to the threat of wet slides. Still, he likes showing it off because of what it symbolizes at the family-oriented ski area.
"There hasn't been a lot of [steep terrain] here before, but I like extreme skiing and I know other people do, too," says Coleman, who has duct tape on his poles. "It's funny. You can take people who've been skiing here all their lives, show 'em some of this stuff, and they're like, 'What? Where are we?'" He laughs. "It ain't your mama's Purgatory anymore."
He has just come from a luncheon in downtown Durango, 25 miles south, where he gave a speech to introduce his company's newly renovated three-story headquarters, complete with a ski shop. In his speech he discussed his core values, which mirror his firm's: freedom, happiness, and purpose. "I really look at life holistically," he says on the chairlift. "You shouldn't be able to tell where work ends and play begins."
Coleman says he knew when he was in high school that he wanted to run his own ski area. He spent much of his twenties saving money from real estate ventures to make that happen. Hoping to buy his first resort by age 35, he learned from a friend that Sipapu might be available and bought it for an undisclosed sum, in 2000. (Coleman declined to disclose finances or metrics related to any of his properties.) Coleman was 32.
"I wasn't necessarily looking to sell my business at the time, but he fit with my goals for the business," says Bruce Bolander, whose father, Lloyd, founded Sipapu in 1952. "He wants skiing to be affordable. I think what he's doing is truly going to grow the ski industry."
Bolander views Coleman as old-school in the mold of his father and other pioneering operators. "The people who did this back then actually went out and built it," Bolander says. "They moved the rocks then cut down the tree and split it for firewood to heat the building. It's not like James is just sitting behind a desk punching numbers, he's out there making things happen."
Coleman has never been shy about declaring his love for hard labor. He has owned his favorite chainsaw—the Echo 650 EVL—since 1984. He cleared much of Monkey Gully himself, he says proudly at the top of the run. Later, over dinner, his wife, Tonia, discloses that he has scars on his thigh and kneecap from past mishaps as a sawyer. "Just, like, little taps," Coleman clarifies. "If you're off the gas, a chainsaw isn't like a knife. It's just a trencher."
As Coleman arcs and slashes turns down groomers, through aspen and pine forests, and off the periodic eight-foot rock drop, he looks at home on his fat skis. And to some degree, he is. While Vail Resorts CEO Katz has made waves by buying resorts that expand the corporate empire in the most strategic places possible (see: Whistler Blackcomb and, most recently, Stowe), Coleman buys resorts where he has a personal connection. Arizona Snowbowl was where he and his two younger brothers went sledding as kids. Purgatory was the second place he ever skied, during a family trip in high school. The Southwest may not have the deepest winters, but all five of his resorts include base areas of around 8,000 feet or higher, where cold temps allow for ample snowmaking and longer seasons, he points out. "Elevation, for the most part, matters more than latitude."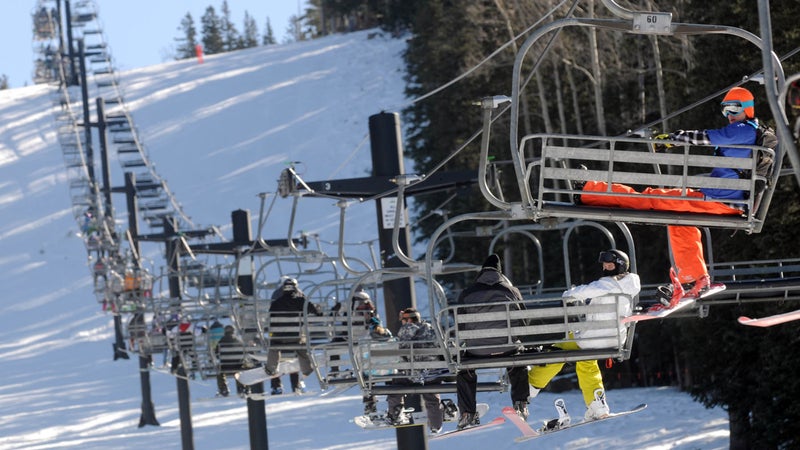 To counter the threats of drought and warmer winters, Coleman makes sure his resorts open early and stay open via manmade snow, invests in modern base-area amenities, upgrades chairlift infrastructure as quickly as he can, and focuses on providing all kinds of terrain, from steeps to the bunny hill.
His commitment to everyone's ski experience has made him a popular guy in the communities his resorts serve. People thank him on the street as well as on the hill, he says, an exchange I witnessed more than once at Purgatory.
As for whether climate change threatens his resorts, Coleman sits on the fence. "There's always been climate change. My house in this valley was under 2,000 feet of ice 10,000 years ago," he says on the lift. "How much of it is manmade or not, I certainly don't know. I've read different studies and they don't say the same thing. So I don't really worry about it a whole lot." (Though this skepticism doesn't stand up well to the science: according to a Center for Snow and Avalanche Studies 2015 study of temperature and precipitation trends in the San Juan Range near Durango winters have gotten significantly warmer and drier over the past 35 years.)
Just like Vail's spending spree and Epic Pass—which grants access to resorts around the West, as well as in Europe, for less than $900—makes it tougher for destination resorts to compete, you could argue Coleman's approach and collective Power Pass does the same to small resorts scattered around the Southwest. The pass, with price points tiered according to a buyer's age, offers unlimited access to his five resorts as well as three days at partner resorts in Colorado, Wyoming, and Utah, as well as Japan, Spain, and Italy. However, according to Abruzzo, who has run Ski Santa Fe for 33 years, Coleman has not wielded his influence to the detriment of his competitors. "There was a time when Durango Mountain Resort (Purgatory's name before Coleman restored its original moniker) came to one of our little New Mexico ski shows, and they put up this massive booth and took over our show," says Abruzzo. "We joked that evil Colorado was trying to crush us. James hasn't been playing that card."
Abruzzo, whose own ski area has seen pass sales double over the past five years, adds: "Anybody who's daring enough to run a ski area in this arid, whimsical environment is always going to be a friend."
To date, Coleman is on track to have invested $30 million in his six ski properties between 2015 and 2018. He counts about a half-dozen primary investors, most of whom he declines to identify, and says, "Those guys have to be happy. If I'm making them money, then that encourages reinvestment in these resorts, and that makes more skiing for the customer. It works in a circle."
And it has worked that way for 17 years. Coleman says Sipapu sees five times as many skier visits now (roughly 50,000) as when he bought the resort. Snowbowl, which debuted a new six-person lift this season and still gets most of its business from Phoenix, was on the cover of Ski Area Management, the industry trade magazine, earlier this winter. 
"In terms of boutique collectors of medium and small ski areas, there are a few other examples to some extent, but no one's taken it as far as James has," National Ski Areas Association President Michael Berry says. "He sees value and has relationships in the community that I think support his view. And to be honest with you, I think it's the right thing to do. Small, unique ski areas are doing quite well right now."
Back at Purgatory, just past four o'clock—closing time—Coleman and I arrive at the bottom of Chair 1, which affords a majestic view of the southern San Juan range. The lifties sense that Coleman would like to do one more run, so they wave us through with a chuckle. We linger when we reach the top, so long that a veteran ski patroller rides up on his snowmobile and asks if we are part of the lift-operations crew. Coleman skis over to the patroller and extends his hand. "No, I'm James Coleman," he says.
The patroller's eyes light up. "Oh hey, nice to meet you!" he says. "Finally, man! I've heard so much. This is my 22nd year up here. Dude, this is turning into a real mountain! I love it! Finally!"
Coleman doesn't love all the attention he gets, even if he has realized it is good for business. He jokes about moving to Montana and disappearing from public view. "I just want to be left alone," he says.
In fact, his most recent powder tour with family and friends was a three-day trip to Bozeman, featuring stops at Big Sky, Bridger Bowl, and the Yellowstone Club. He had his choice of private transportation options, but this time he left his tour bus at home and called his pilot.
"Sometimes you just need speed," he says. "And a plane."
Lead Photo: Scott DW Smith/Courtesy Purgator
Trending on Outside Online