Snowboarding, Sponsored by Tap Water
Austin Smith and Bryan Fox said no to energy drinks, and in the process said yes to clean water.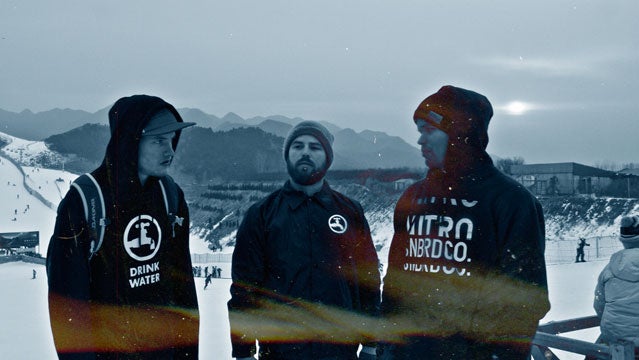 Heading out the door? Read this article on the new Outside+ app available now on iOS devices for members! Download the app.
It all started, more or less, as a joke. In 2011, professional snowboarder Austin Smith had recently been courted with a sponsorship deal by an energy drink brand. This is a right of passage in the sport—Monster alone maintains a stable of more than 25 sponsored riders. "You go to snowboarding camps and all the coolest kids want energy drinking branding," Smith says. But the idea of hawking caffeinated sugar water didn't sit well with Smith, nor did it with Bryan Fox, another pro rider and Smith's buddy.
"They pump a huge amount of money into extreme sports," says Fox, about the energy drink industry, "but they don't have anything to do with snowboarding. It's not relevant." More than that, it bothered Fox and Smith to watch young kids be consumed by action sports as well as energy drinks, as if they go hand in hand.
"I'm no doctor," says Fox, "But it's pretty apparent that if you're a 12-year-old, drinking a 26-ounce can of Monster at a skate park is 80-degree weather is extremely terrible for you."
So as a light-hearted commentary, Smith and Fox wrote "Drink Water" on their snowboards—a space that amounts to a billboard for athletes like them. The faux brand started to catch on, and the friends, realizing young riders look up to them, figured they were onto something.
"Being sponsored athletes has been our job for the last 10 or so years," says Smith. Through sponsorships, "The premise is to get kids to buy the products we represent. It's the same here, but instead of encouraging kids to just buy something, we're encouraging them to drink tap water."
Thus, Drink Water was born. The for-profit venture sells t-shirts, sweatshirts, reusable water bottles and a few other accessories. Ten percent of sales go to Water.org, an organization that develops clean water access and sanitation solutions in the developing world. (It was co-founded in 2009 by actor Matt Damon and engineer and entrepreneur Gary White.)
Drink Water isn't putting a big dent in the global water crisis—last year it sent Water.org around $12,000 through sales and fundraising efforts—but it is setting a healthy example for kids. "We're not the health cops, but I like the idea that people take the brand and use it as a way to think about what they're consuming. If you want to keep doing active shit, you have to have a functional body," says Fox.
As a sponsor of snowboarding events – including Terje Haakonsen's marquee event The Arctic Challenge this past spring – Drink Water dissuades attendees from using single-use water bottles by providing access to local water and reusable bottles. 
Drink Water is also working with pro skateboarders, including Silas Baxter-Neil and Sebo Walker, to reach a wider audience. Drink Water is sponsoring this summer's Zumiez Couch Tour, too.
Fox and Smith say Drink Water is a good way to positively channel their message. "It's about getting the logo out to promote a healthy life for kids—so they can actually do what they love." says Fox. "We're not trying to build a clothing brand."
Thanks to Frederick Reimers for introducing the Drink Water story on Mountain magazine's website.
Lead Photo: perhampus via Flickr