Super-fat Days, Coma Nights, and the Quest for Tearjerker Footy
A tight crew of out-of-bounds crazies has been working overtime to turn the snow-flick world upside down with its relentlessly spectacular reels. Is it art or is it ski porn?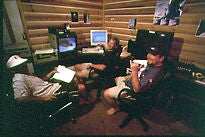 Greg von Doernsten/TGR
Heading out the door? Read this article on the new Outside+ app available now on iOS devices for members! Download the app.
The boys of Teton Gravity Research have a dream, and it sucks. The Dream, short for Tangerine Dream, is a disfigured, matte-orange 1980 Dodge Power Ram pickup. It is stalled. Again. This time in a busy intersection between the town of Wilson, Wyoming, and the Jackson Hole ski resort. It's an ugly scene, this warm evening in July: four adult males crammed into the cab of a truck—a Wyoming double date, in local parlance. The driver turns the key and gets nothing but a grinding wheeze from the engine, a sad counterpart to the Bob Marley pumping through the speakers.
The makings of a Wyoming double date: Corey Gavitt, Dirk Collins, Todd and Steve Jones, and their rig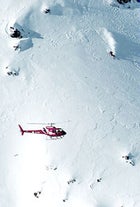 Boy's life: Yet another day of powder for the TGR gang, on location in Norway for
The Realm

Steve Jones collects footage.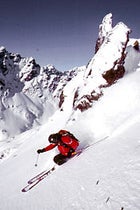 Putting the "Dude" in Dude-umentary: Micah black skis for the lens in Norway.

Steve, Dirk, and Todd grade his efforts in the TGR editing room.

Eventually, Tomo Okazaki rolls past, behind the wheel of my car. Tomo is a professional boardsailor from Japan who summers in Jackson Hole for reasons that are never adequately explained. Though she doesn't drink alcohol, she's always game for a night out. Thus, whenever the boys want to get "pindled" (Teton Gravity Research–speak for having a few beers), Tomo is usually there to do the driving. Tonight, however, the boys wanted me to ride with them, to "Live the Dream," as they said.


So I handed my keys to Tomo and piled in.


In the Dream, the boys see themselves—no matter that the rearview mirror is usually on the floor, under someone's foot. A prototypical ski bum truck, the Dream migrated to Jackson Hole after a long stint at the Alaska Department of Transportation (hence the orange paint job). Its bed holds beer bottles and crutches, and the tailgate stays shut with the help of a backcountry ski pole that's wedged into the latch. A huge sticker on the back window venerates Greg Stump, the boys' longtime hero and probably the greatest ski filmmaker ever. Since the boys allow "floor spits" in the Dream, Steve Jones freely coats the floorboards with rancid-smelling Copenhagen juice. To crowd into a 19-year-old beater that may or may not run is to tell the world, or at least a busy intersection, that your priorities lie elsewhere. In their case, with making ski films. Each furious, futile twist of the ignition testifies to the sacrifices made along the way. "The Dream won't go more than 55," explains Jones. "People vibe it all the time, give it dirty looks. It's the longhair of cars."


Three of the founders of Teton Gravity Research—Jones, his brother Todd, and their friend Dirk Collins—all used to live together in Wyoming and ski in front of the camera. But five years ago, when you couldn't belly up to a bar without some punk telling you that skiing was passé and snowboarding ruled supreme, the boys determined that their sport needed more from them. It needed a fresh image and a new vision for the future. "Skiing wasn't being properly represented," says Todd. "As athletes, we saw the way things were and decided to change them. To give people ski heroes again."


Ski heroes? Like the once-in-a-decade Olympian who actually has a personality shrink-wrapped inside that little rubberized skinsuit? No. That, according to Teton Gravity Research ("TGR" to them), is Old School. So is the typical ski film, in which some hatless and all-too-joyful schuss-maestro carves metronome turns down a not-very-challenging powder bowl in perfect, gauzy late-afternoon sunshine. A TGR flick will show a scene like that just as soon as Merchant and Ivory employ a whoopee cushion as a prop. TGR is New School. With a formula that essentially involves shooting their buddies doing what they love to do—rip big-ass mountains—TGR is helping change the very nature of the ski industry.
First, a primer for those who haven't kept up with the sport's ever-changing lexicon. Old School is the way you and I learned to ski: tight pants, lift-served slopes, après-ski cocktails spent listening to Jimmy Buffett wannabes. New School dispenses with most Old School affectations. The gist: Skiing isn't dorky, it's a primal rush. New Schoolers ski every inch of the mountain, lift-served and otherwise—cliffs, couloirs, gargantuan faces, and even terrain parks. They ski at 70 miles per hour. They slingshot off jumps and throw midair spins. They wear helmets. Fashion tends toward the snowboardish (baggy clothes, tattoos, pierced tongues). Indeed, New School skiing doesn't teach prejudice against snowboarding. Every TGR feature, for instance, includes several prominent single-plank sequences. While the New School phenomenon has existed for several years, few ski filmmakers have allowed its stars to shine. "Talent" did what it was told—not unlike Old Hollywood's studio system. In 1994, Warren Miller Entertainment asked the Jones brothers to ski in its annual film. The boys knew going in that WME—the 50-year-old, Emmy-winning juggernaut of ski filmmaking, with revenues of $13 million a year—clings to its reliable formula: beautifully shot action sequences, bits of slapstick, shameless product plugs, and narration by the avuncular Warren Miller. They accepted the offer anyway, hoping that the film would showcase Jackson Hole's New School enclave—and spotlight the dramatic mountain itself. WME had a different agenda. The Joneses say that the cameraman told them to stifle their opinions and just shred the low-angled slope where the lens was pointed. The discussion quickly degenerated into an argument. The brothers suggested that the WME shooter was too lazy to climb up to their favorite jumps and chutes to get some really energetic shots; the photographer snapped that WME wasn't in the business of making "dude-umentaries." Todd and Steve finished their part, but shortly thereafter, TGR was born.


TGR's first movie, 1996's Continuum, featured the boys' friends and the boys themselves as they explored Jackson Hole's cliff-jumping culture. Their second, 1997's Harvest, made ski-film history. The keynote segment shows former World Cup skier Jeremy Nobis slashing a 2,000-vertical-foot, 50-degree face in Alaska's Chugach Range. Where Old School powder skiers would have made 50 turns, Nobis made six. And where action picture protocol might have argued for a fill-the-frame close-up, the boys, being skiers first and filmmakers second, wanted the sequence to convey enormity, exhilaration. So they filmed the descent from a neighboring peak. Within weeks of Harvest's release, says Todd, "every magazine in the industry was calling us, quoting us, doing pieces on Nobis. It blew people's minds." Nobis, who never won a World Cup race, soon got his own poster. Suddenly the industry began pumping its New School stars. K2 introduced the Seth Morrison model, named for a green-haired Crested Butte skier who's known for his spinning jumps off cliffs. Two ski magazines debuted, giving readers Tiger Beat–like coverage of their freeskiing idols. Ski ads focused not on Austrian technology but on young North American radicals. TGR followed Harvest with Uprising, which features Alison Gannett, the first female skier to receive major billing in a ski flick. "It was no token chick thing," says Todd. "Her segment is in because it held up to all the boys'." Sponsors took note: Gannett enjoyed a marketing bonanza, including an infomercial for Dynastar. "We kind of changed the game," Todd says. "It used to be that photographers got more skis than the skiers. Now there's more athlete awareness from ski companies. Now they'll give a sponsored skier a quiver of skis and a travel budget to go film with us. I'd like to believe that a featured segment in a TGR flick is a big thing."


It is. By appearing in the first three TGR films, even the Dream has developed a cult of personality. "Skiers who see it on the street constantly wave or honk their horns in recognition," says Todd. "Sometimes you get tired from waving back." The boys thrive on this, their ability to show audiences their admittedly dude-umentary view of ski culture. It hardly matters that they've lost money on every film they've made, that they're forced to drive vehicles like the Dream, that they're now marooned in the middle of an intersection. The motorists who are whipping around the Dream may be waving with only one-tenth of their available digits, but at least they're experiencing the New School reality of TGR.
The Dream's engine finally turns over, and the four of us—the Joneses, a friend who's driving, and me—move our Wyoming double date inside the Budweiser-scented Stagecoach Inn. During a film's editing stage, the boys view footage during the day and alternate nights partying or falling into imperturbable comas. Last night was a coma night, the gang having partied so hard the night before that the Teton County sheriff eventually had to break things up. The boys—we'll use the "s" even though "boyz" seems the preferred usage for describing guys who congregate in small, ganglike clusters—constitute a uniquely Jackson Hole mix. The primaries: Corey Gavitt, 30, a well-off and gregarious New Englander whose dad used to manage the Boston Celtics; Collins, 29, a transient kayaker's son who spent his formative years as the token Caucasian in the two-room schoolhouse of a remote native village in western Alaska; and the Jones brothers, Steve, 29, and Todd, 27, who blame the mountains and bars of Jackson for their inability to graduate from college.


Tonight, like most nights, the Jones brothers represent the public face of TGR. The recently married Collins is serving time on the home front. Gavitt, a ski bum who happens to be good at marketing and thus looks after TGR's clothing line, is out of town. So it's just the brothers Jones—again. Nearly identical tan faces. Lower lips bulging with snuff. Thick hair tucked under baseball caps with the TGR insignia. Mercurial, malamute-blue eyes. In Todd's case, the face bears a goatee; in Steve's, a pair of beater eyeglasses held together by a twisted paper clip. "Steve is kind of TGR's business lawyer," says friend Micah Black, who's skied in all three TGR films. "He works out all the angles and negotiates the deals. Todd's the technician. They get along by making little bargains with each other. Maybe Steve takes Todd's trash to the top of the stairs, but he wants Todd to take it the rest of the way to the dumpster. You hear Todd say, 'Man, that's your deal.' Then Steve: 'No, man, I'm locking the door.'"


Both Steve and Todd stand five feet, seven inches tall. It's a good height for ski filmmakers. They move with agility in the tight confines of helicopters. They curl into luggage carts and then tear around airports to get wacky point-of-view "footy" (footage) on the digital video camera. Many mistake the brothers for twins, although Todd outweighs Steve by 35 pounds. Small-boned like his mom, Steve stretches ritually to relieve a bad back, which wasn't helped at all by an avalanche that buried him in '98. Steve begins many sentences with "I'm claiming…," a not-so-subtle command to listen up, even when what follows is truism: "I'm claiming your socks reek." Todd takes after his barrel-shaped dad and sometimes answers to "The Stomach Muscle."


Natives of Cape Cod, Steve, Todd, and younger brother Jeremy (now an elite big-mountain snowboarder) grew up like many boys in sisterless households: with behavior falling just this side of Lord of the Flies. The older boys forced a young Jeremy to walk back and forth like a duck as they shot him with BB guns. The baby-sitter once tried to make a citizen's arrest. Todd first dabbled in cinematography when he and a buddy made a Sixteen Candles rip-off "fueled by and starring a big bag of weed."
The elder Jones brothers attended prep school in New England—different schools, however, because Steve raised so much hell at his that the faculty barred Todd from enrolling. No matter. Both graduated and emerged with the same belief. Namely, that bonding with other guys in tight groups gives you courage to take risks that you wouldn't necessarily take if you were out on your own. Hence their decision to start a ski film company, though neither they nor Collins had ever used a 16mm camera. TGR's first cameras and film were financed by the ultimate men-in-close-quarters summer job: commercial fishing in Alaska. The $90,000 earned in one season by Collins and the Jones brothers seemed like enough to pay for Continuum. But, says Collins, "We blew through 30 rolls of 16mm film before we finally figured it out. By then we were $20,000 in debt. We kept the company solvent, but we all ruined our individual credit. We haven't been able to get credit cards since." Not until last summer was TGR approved for a company card. The bank that issued it ran the numbers and set the boys' credit limit at $500.


Continuum earned nice reviews. Rob DesLauriers, a longtime professional skier who now films backcountry expeditions, says, "Continuum was dripping with soul. Everyone—sponsors, skiers, magazines—wanted to contribute to their scene." So they did. Today, TGR boasts corporate sponsorships and a talent roster that includes gold medalists Tommy Moe and Jonny Moseley. A staff of 11 looks after the TGR clothing line and videotape sales, the latter of which have climbed from 6,000 to 20,000 units in three years. Plus, there are stock footage sales, a rainmaker of revenue. TGR's library is constantly growing: more aerialists doing skull-first landings, more freeskiers attacking rocks like suicidal lichen. The avalanche reel alone has made Fox television a loyal customer. All told, TGR's 1999 revenues should approach $1 million.


Still, the boys have yet to turn a profit. It was only a year ago that they were working out of their house, forced to use pages of the Jackson Guide for toilet paper. Says Steve, "We started TGR as a means to support a lifestyle, not necessarily to make a ton of money." Here at the Stagecoach, the boys line up to exploit my expense account. Top-shelf drinks all around. "TGR is going super-phat or it's going to crash and burn," intones Steve, locking his knees as insurance against the wobbles. He adds that while they've always paid their bills and their employees, they didn't pay themselves a cent till late 1998.


Todd leans in, a little Red Bull and Absolut—a drink the boys have dubbed an "Uprising" after their third film—splashing out of his tumbler. "Dude, people look at us when we're gigging hard," he says, waving a hand at the assembled Jacksonians, "and they think we're trust-funders. They don't know we spent four months a year in fish guts for this. It's great, though. I like jawing on the cell phone with Jonny Moseley while I'm driving around in my $400 Honda." In the quasi commune that is TGR, they share the way that fraternity brothers do, the way that ski mountaineers must. Steve puts it this way: "None of us are geniuses, but if we build a strong enough collective, we'll be unfuckable-with." As he speaks, the bent paper clip that holds his glasses together wiggles in the air, like the antenna on a persistent little bug.
The TGR boys have managed to organize tons of cameras, ski gear, and personnel and get it to Norway for a shoot that they hope will provide the money segment of this year's reel. They drove five hours from Jackson Hole to Salt Lake City, flew to Denver and then on to Copenhagen, Oslo, and Trondheim. There they slept a little and experienced just enough of the country to conclude that every Norwegian word ends in -hammen or -vargen. Then they caught a late flight to Bodø, connected to Narvik, and drove three hours through off-and-on snowstorms to Sortland, a briny, damp harbor town of 5,000 whose architecture seems inspired by Eisenhower-era American elementary schools. Sure, it's now 3:30 a.m. on a cold Tuesday in March, but the jet-lagged guests filling room 208 of the Sortland Nordic Hotel figure it's time to party.


The guests in room 209, meanwhile, must think it's time to sleep. They complain to the front desk attendant, who rings 208. Skier Micah Black fields the call and pleads with the boys to quiet down, his hands pushing the noise to the floor. "Hey, you guys," he says. "We gotta keep it mellow. The neighbors are complaining."


"Yeah?" Steve says, his right eye swimming independently of the left. "You think they're pissed-vargen?"


Both punch- and whiskey-drunk, the crew in 208 chortles. The guests in 209 aren't heard from again. However, two days later in the hotel's buffet line, a coiffed, very Old School Norwegian wearing a tight black turtleneck sneers and utters under his breath: "Snowboarder!"


We've come to Sortland to film a segment for TGR's fourth feature, The Realm. An unpopulated island on the other side of the fjord sports a punk's hairdo of sharp spikes. Towering as high as 4,000 feet, with lines ranging from vast powder aprons to tight, steep couloirs, the peaks appear ideal for making a ski film. That is, when they actually appear. For our first days in Sortland, the weather brings only sucker holes, patches of blue sky that encourage filming or flying but are quickly swallowed by infinities of gray.


Days of gloom stretch into a week. With pewter skies weighing on their skulls, the Jones brothers turn their World War II–vintage Arriflex cameras toward scenics. A fishing village one day, a Viking-boat replica the next. Still the weather remains a bleak hypothermic soup, grounding the helicopter and driving home the ugly truth of ski filmmaking: Killer snow conditions require occasional snowstorms, and that means maddening stretches of downtime.
Finally, at 4:30 a.m. on day eight, the curtains pull open to reveal clear sky. In the predawn darkness the TGR boys jolt to action. Limbs fumble into long underwear. Backpacks swallow film magazines, goggles, two-way radios, avalanche transceivers, rescue shovels, harnesses, climbing ropes, carabiners, and water bottles. We reach the helipad by six. Skullcap pulled low against his whiskered jaw, Steve shoots the first copter-load whup-whup-whupping over fjord waters painted pink by the dawn. He leaves the snow safety-check to Todd, who was once a heli-skiing guide. Todd OKs 12 inches of fresh maritime snow and then squints behind another camera as skier Gordy Peifer hucks his carcass 40 feet off a cliff.


In these remote mountains, where the slopes are untested and the helicopter is the only lift, the boys must move with urgency to get the necessary shots. Chattering over the radios in staccato bursts, they line up jumps and descents. The skiers nail them, the Joneses pack up the cameras again, and everyone skis down to the helicopter to fly to the next untracked powder. There is no lunch break. At midday they drop off Steve, the long-distance cinematographer, on a nearby peak. (They call this position "the barbie" because he spends so much time in the sun, waiting for the action to begin on the other mountain, that he fries like a piece of meat on the grill.) With Steve on barbie and Todd in the helicopter, they set up what they call "the tearjerker," their term for a shot so visually arresting that it verges on the melodramatic. In this tearjerker, Black, Peifer, and Jonas Sonderquist perch on top of—and then carve down—a mammoth cone of granite.
Immediately after filming the scene, Todd secures himself, via harness and carabiners, to the helicopter's frame. The pilot flies to a nearly vertical spire. There's no room to land on top, so he tries to punch the front of his skids into the mountainside. It takes two passes to strike the right balance between holding terra firma and hovering over the abyss.


Then Black disembarks. Pawing at the mountainside for a foothold, he extracts himself, skis, and poles from the helicopter and scrambles to the knife-edge ridge. On the other side yawns a couloir that pinches as tight as 15 feet across. Black clicks into his bindings, trying to ignore the week's worth of rust in his knees, and bounds into the chute. He feathers one turn and part of another before a slough of snow releases and starts running down alongside him. If he makes a sharp, braking turn perpendicular to the fall line—as every self-preserving cell in his body orders him to—the slough will likely flush him violently down the chute. Instead he moves with it, fighting for balance as he hops back and forth from the static snow on his left to the falling river on his right. Even in these dicey conditions, Black's turns are big, smooth, and fast. It's a New School run and, less important, it's a first descent.
Peering at $40,000 worth of editing equipment, Todd Jones kicks off his $4 rubber flip-flops and leans back against one of the ancient steel desks purchased in bulk at a Forest Service auction. This is TGR headquarters, a ramshackle, six-room suite decorated with ski and cheesecake posters and located in the shadow of the Jackson Hole tram. Todd pops a Beta tape (onto which their 16mm film is transferred) into the player and cues up one of the thousands of sequences TGR shot last winter. Like every sequence, it's been logged, viewed, and graded like a school paper. Todd: "Check out shot 24, reel ten."


Steve: "Is that legit? He kind of hip-checks the landing."


Todd: "Well, it's a tremendously huge air so you get the jaw-dropping factor."


Steve: "He lays down a butt cheek."


Todd: "The air is so big. And it's not like he's augering in. He still skis away from it."


Steve: "It's not a fully clean stick, man. That's only an A minus; you can't use that shot."


Steve wins, the shot's out, and they move on to the next one.


Another A minus, it shows a ponytailed Black porpoising through deep snow. While it may not make the final cut, the sequence puts Todd into a near trance. He withdraws completely from conversation.


"I call that 'selective placement,' " says Black to Todd's apparently deaf back. "He's here but he's not. When the Jones boys focus, they tune out everything else. If they're not ready to listen, they just don't respond."


Todd keeps staring at the monitor, reveling in the skier's divine moment: a fat powder day. Obsessive powder hounds, the TGR boys don't shoot resort hardpack. Not when a three-minute roll of film costs a hundred bucks to process, thanks. The problem is, today's equipment lets skiers and snowboarders defoliate in-bounds powder stashes with Agent Orange efficiency. To shoot the goods, you have to go out of bounds. Yet resorts rarely green-light out-of-bounds filming. TGR's solution? "We all sneak under the ropes wearing dark, bland jackets," says Black. "The shooters set up in a paranoid rush. The skiers switch dark clothes for bright, camera-friendly stuff, then rip a bunch of lines. Six months later, the kids on the couch are going full donut-hole [a round-mouthed pucker that expresses astonishment]. It's nuts."


Resorts don't pay TGR cash for such coverage. Yet they willingly pony up $25,000 for the privilege of appearing in films by Warren Miller, because WME aims its films at recreational skiers. Whereas Warren Miller packs 2,000-seat auditoriums, TGR screens its films in ski shops and bars. They show in the fall, to audiences pining for opening day. If the filmmakers "stomp it" (achieve their intentions), their viewers go wild, and maybe even plunk down $30 for a video. But does anyone other than hard-core skiers care?


Greg Stump, who now does sound-track work in Hollywood, says he "doesn't really watch ski movies anymore." Christian Schneider, a renowned action director, has edited the boys' raw footage for stock purposes, yet he's never watched a TGR film from beginning to end. Both Stump and Schneider complain that New School ski movies lack narrative, that they're more a series of loosely connected segments—big jumps, thumping music, and stand-ups with the talent. Schneider understands that it's a ski film's job to "document the raddest shit of the year." He just wants to see the medium put to better advantage. "You don't put the climax at the beginning," he says. "You gotta tease people a bit. Too often ski films reveal an adolescent passion to show the best stuff first. The nickname of 'ski porn' is more than fitting."


The TGR boys don't sweat the art question much. They seem somewhat surprised it's even asked. "What we do is realism," says Todd. "We document the progression of skiing. If we can carry a theme throughout and get people stoked for ski season, then we've succeeded. We don't want to go much deeper than that. The emotion that viewers bring to the film—and to skiing—is the story."


It helps to know this before you sit down to watch a TGR video. In lieu of any sort of dramatic structure, their roughly hourlong productions feature staple segments of their "laboratory" around Jackson, clips of Alaska's big ranges, and footage of exotic international locales intercut with stoner-monotone narration (think Spicoli) and backed by an A-list sound track that includes the likes of Bob Marley, Offspring, George Clinton, and Phish. What you see is one perfect and spectacularly courageous run after another, after another, and so on in what must appear to the unbeliever a mind-numbing loop.


Todd swaps tapes and starts scanning for a particular minute of the 2,880 minutes that TGR shot for The Realm. Editing keeps the boys in the office for 14-hour days leading up to the annual premiere in September. "It gets intense," says Steve. "We'll scrap over small differences—when to cut away from a run, what song to use. I've stormed out a couple of times this summer. The boys heckle you as you're walking out, but sticking around to argue is counterproductive. Sometimes you gotta self-ripcord."


Todd locates the A-plus sequence he's looking for—Jeremy Nobis unleashing a first descent on a rippled monolith in the Chugach. Accelerating from the moment he sets his skis parallel to the fall line, Nobis goes so fast you expect the wind to whip his arms behind his back. But somehow he keeps them forward enough to stay in control while plunging virtually straight down. He doesn't turn so much as insinuate turns with subtle right-to-left weight shifts. As his speed picks up—approaching 70, maybe 75 miles per hour—a bergschrund flings him into the air, leaving a 20-foot gap in his tracks.


"This is the kind of footy that blows your head off," says Todd. "You can only spend so much money FedExing people's heads back to them, so you gotta take preventive action." Then, from a cluster of papers and coffee cups he fishes out a TGR headband with a long elastic cord attached to it. He fits the headband over his skull and ties the loose end of elastic to his belt loop. "Watching footy like this—when the vibe is positive and there's high stoke and we're amped on it," Todd explains, "requires the Head Bungee."


He doesn't come right out and say that the segment represents the kind of New School heroism that the kids at home will replay endlessly on their VCRs. But does he really have to? It would seem that a grown man wearing a self-styled head bungee can let his apparel do the talking.
Trending on Outside Online