Teton Gravity Research's "The Tangerine Dream"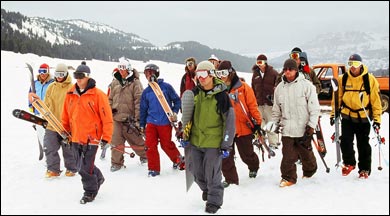 Heading out the door? Read this article on the new Outside+ app available now on iOS devices for members! Download the app.
Outside has partnered with Teton Gravity Research to bring you the latest and greatest in the world of ski films. "The Tangerine Dream," the latest from Teton Gravity Research (TGR), is a film that represents ten years of broken down trucks, wanderlust and some down and dirty skiing and snowboarding. This story is about the origins of TGR, outlaw athletes, and the ragged lifestyle that has kept this posse's dream and way of life alive. Take a ride in TGR's orange truck that started it all on a rowdy road trip through India, Turkey, Switzerland, France, Alaska, Aspen, Utah, Montana, California and Jackson Hole. The film premieres this fall. Check out a preview here and then look below for a premiere date in a city near you.
Windows Media (High)
Windows Media (Med)
Quicktime (High)
Quicktime (Med)
Quicktime (Low)
Download Windows Media Player
Download Quicktime

TETON GRAVITY RESEARCH FILM TOUR
SUPER SHOWS
SHOW/DATE
17-Sep
15-Oct
4-Nov
11-Nov
12-Nov
17-Nov
18-Nov
19-Nov
3-Nov
12-Nov
7-Oct
Oct 14 & 15
5-Nov
9-Nov
6-Oct
CITY
JACKSON, WY
BURLINGTON, VT
Chicago, IL
PORTSMOUTH, NH
PORTLAND, ME
BOSTON, MA
NYC, NY
PHILADELPHIA, PA
SEATTLE, WA
PARK CITY, UT
DENVER, CO
ANCHORAGE, AK
PORTLAND, OR
SAN FRANCISCO, CA
BOULDER, CO
VENUE
Walk Festival Hall
Higher Ground
Joe's Bar
Redhook Brewery
State Theater
Roxy
Avalon
Trocadero
Showbox
Harry O's
Gothic Theater
UAA: Wendy Williamson
Wonder Bar
Palace of Fine Arts
Boulder Theater
CORE SHOWS
SHOW/DATE
22-Oct
22-Sept
6-Nov
3-Nov
15-Oct
22-24-Sept
21-22-Oct
CITY
VAIL, CO
SANTA MONICA, CA
LOS ANGELES, CA
BOZEMAN, MT
MISSOULA, MT
SPOKANE, WA
BRECKENRIDGE, CO
STEAMBOAT SPRINGS, CO
RENO, NV
BOISE, ID
BEND, OR
EUGENE, OR
SQUAW VALLEY, CA
ASPEN, CO
LAS VEGAS, NV
FAIRBANKS, AK
SALT LAKE CITY, UT
COLORADO SPRINGS, CO
FORT COLLINS, CO
 
VENUE
Club 8150
TBA
Viper Room
Wilson Auditorium
UMT-Underground Lecture Hall
The Met Performing Arts Center
Downstairs at Eric's
Sheraton Grand Ballroom
JA Nugget
China Blue
Hitchcock Auditorium
McDonald Theater
TBA
Wheeler Opera House
Club Tequila
UAF Schaible Auditorium
Sky Box Sports Grill
TBA
Aggie Theater
EAST COAST
SHOW/DATE

18-19-Nov
12-Oct
16-Nov
15-Nov
14-Nov
10-Nov
CITY
MIDDLEBURY, VT
DARTMOUTH, NH
PLATTSBURGH, NY
ITHACA, NY
HARTFORD, CT
PROVIDENCE, RI
AMHEARST/N. HAMPTON, MA
DETROIT, MI
ROCHESTER, NY
VENUE
Middlebury College Bicentennial Hall
TBA
TBA
The Haunt
Webster Underground
Lupos @ The Strand
Pearl St Night Club
Majestic Theater
The Ski Company Mountain Sports
 
CANADA
SHOW/DATE
14-Nov
13 or 14-Oct
13-Oct
CITY
VANCOUVER, BC
WHISTLER, BC
TORONTO, OT
MONTREAL, QB
EDMONTON, AB
CALGARY, AB
HALIFAX, NOVA SCOTIA
VENUE
Richards On Richards
Millennium Theatre
Regent Theatre
TBA
The Standard
TBA
Ondaatjie Hall@ Dalhousie University