10 Tips for Ski Mountaineers
After a 13-day cruise to Antarctica to ski virgin powder with 22 of the world's best guides, Kim Havell has some advice to share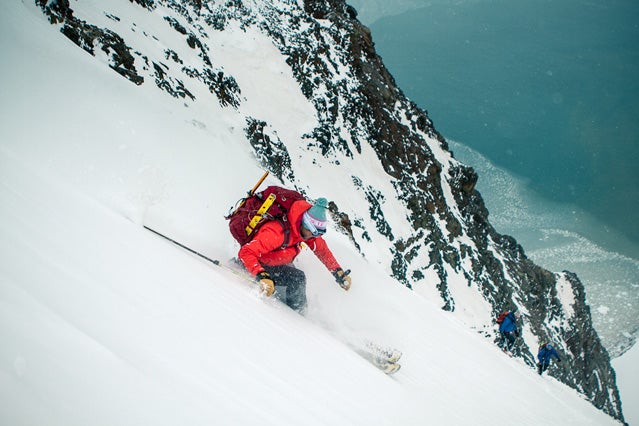 Heading out the door? Read this article on the new Outside+ app available now on iOS devices for members! Download the app.
The Top 10 Tips for Beginning Ski Mountaineers
On November 8th of 2011, I departed from Argentina's southernmost town, Ushuaia, on the 320-foot-long Clipper Adventurer.  Spring had arrived in the southern hemisphere, and I was joining 21 other ski guides for an expedition that would include 100 clients. We sailed across the infamous Drake Passage on the way to a two-week-long journey to explore and ski Antarctica.
Seth Wescott

Olympic snowboard gold medalist Seth Wescott looks back
As guides to the globe's toughest terrain, the like-minded crew had an unspoken understanding: skiing in Antarctica is serious business. Leader Doug Stoup held twice-daily meetings about conditions, potential routes, and established safety protocols for each location. The prep and a 1-to-4 guide to client ratio allowed us to access remote couloirs, summit big peaks, and drop onto steep faces with many clients. The constant prep and instruction helped reinforce a number of ski mountaineering rules. I thought it would be nice to share. Here are ten tips for beginners, as told to me by ten of the planet's best guides, with some inspiring photos from Jim Harris to boot.
Take a Ski Mountaineering Class
Tip from Doug Stoup
Take a course. There are great ski mountaineering classes offered throughout the West. In Colorado, take a class with Crested Butte Mountain guides. In Tahoe, California, sign up with Alpine Skills International. In Wyoming, head into the Tetons with Exum Mountain Guides. When looking for courses, accreditation is important; I would look for instructors who are UIAGM or AMGA certified.
Here are four of my favorite schools:
Alpine Skills International, Truckee, California
Crested Butte Guides, Crested Butte, Colorado
Exum Guides, Jackson, Wyoming
Smart Mountain Guide, Seattle, Washington
Doug Stoup has guided in the Arctic and Antarctic for more than a decade. He completed the first snowboard descent of Antarctica's highest peak, The Vinson Massif, as well as numerous first descents in the Arctic region of Svalbard, Norway. His company, Ice Axe Expeditions, specializes in North Pole and South Pole ski adventures.
Website:  Ice Axe Expeditions
Find the Right Gear
Tip from Walter Laserer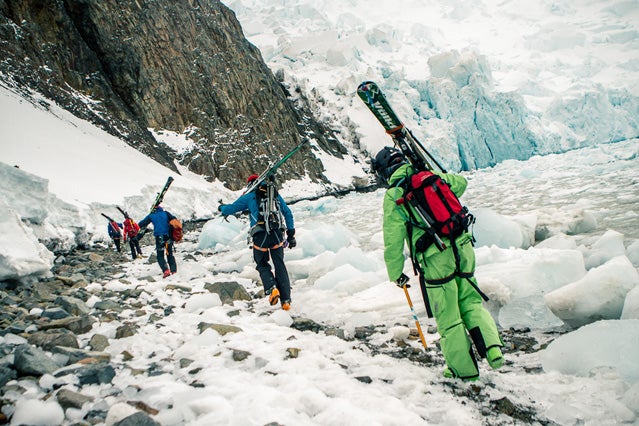 You need to have the best equipment you can find on the market and you also have to know how to use it. Good mountaineering schools have the newest and best equipment for rental. It makes sense to visit your first lessons with rental equipment. Your guide can tell you what to buy. Essential gear includes the appropriate skis, touring capable boots as well as touring bindings for the type of backcountry skiing you will be doing (i.e. Dynafits or Fritschis or Guardians), adjustable ski poles, a shovel, a probe, a transceiver, a headlamp, and a small repair and medical kit. Once you've bought your ski mountaineering equipment, you'll use the gear for years.
Editor's Note: Check out Outside's round-up of backcountry ski gear
Alpine Touring Gear from The Gear Junkie
Backcountry Ski Gear from The Gear Guy
Avalanche Safety Gear from The Gear Guy
View all ski gear from The Buyer's Guide
Walter Laserer is co-founder and owner of laserer-alpin.at. After more than 20 years of operation, it is one of the most respected mountaineering schools in central Europe with 10,000 clients. Beside alpine education, laserer-alpin.at is also focused on guiding the "Seven Summits." Laserer is one of the world's most experienced guides and has led more than 60 expeditions from Alaska to Tierra del Fuego. As an Austrian, Walter has also done a lot of famous steep skiing including the west face of the Eigher and the northwest face of the Aiguille du Midi.
Website: Laserer alpin
Beef Up Your Avalanche Skills
Tip from Kristoffer Erickson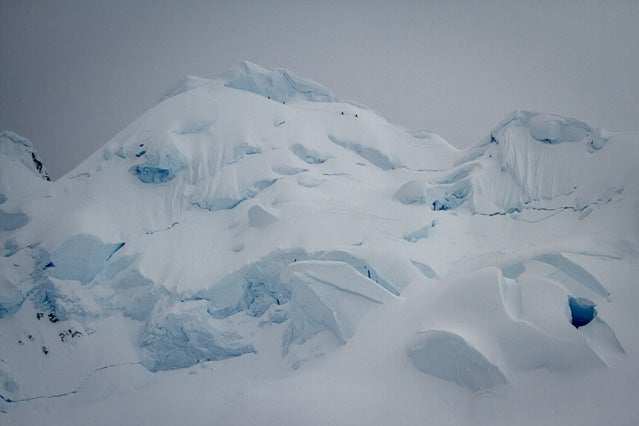 Those that decide to pursue objectives in ski mountaineering, or Glisse Alpinism, are sure to find great rewards. Before getting involved in the sport, be sure to dial in your backcountry avalanche skills. You are more than likely entering a realm where avalanche forecasting doesn't exist and you will be playing in terrain where avalanches occur. Make sure to carefully assess the difficulties and hazards. Determine what technical skills will be needed to safely execute your chosen goal. Lastly, if you don't have much of a climbing or mountaineering background, and are unfamiliar with crevasse rescue techniques, you should hire an experienced guide that can teach you the proper movement, decision-making, and rope skills necessary to enjoy a lifetime of ski mountaineering.
Find an avalanche class that caters to your skill level on one of these sites:
The American Institute for Avalanche Research and Education
The American Avalanche Institute
The American Avalanche Association
Avalanche.org
Forest Service National Avalanche Service
A true pioneer within the sport of ski mountaineering, Kris Erickson has made expeditions around the globe for the last 15 years in search of glisse alpinism. He has made first descents on every continent except Australia. He was the first American male to ski off the summit of an 8000m peak with his descent of Cho Oyu (8201m) in 2002, and has made over a dozen ski descents off of summits higher than 6000m.
Website:  Kristoffer Erickson
Build Up Your Endurance
Tip from Kent McBride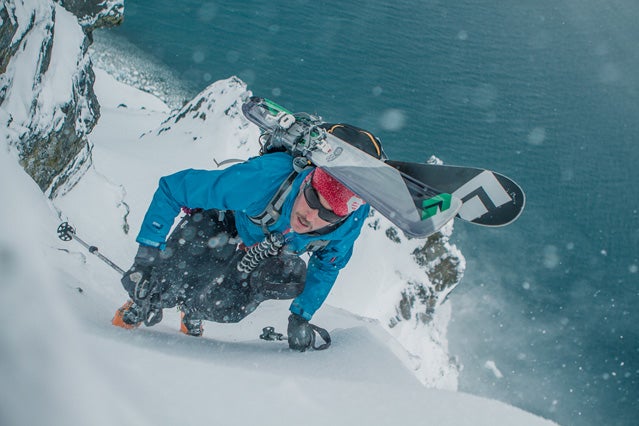 Focus on your endurance. Since you're trying something new—skinning or climbing with crampons and an ice axe—you'll need to be in great shape to handle exercise at high altitude. Here's a simple training plan to execute in the offseason that will prepare you for ski adventures in the backcountry. Find a hill that offers 1,000 to 3,000 vertical feet of climb at an angle of at least 35 degrees. Run up and shuffle down for 45 minutes to an hour at a time, taking breaks as needed. You may only be able to do one run in the beginning. You will be able to do more laps as you gain fitness. Going uphill, move at a fast, steady pace to get your heart rate up. Coming downhill, practice the "sherpa shuffle" with quick, small efficient steps to glide down the terrain as smoothly as possible. If you're doing it right, you'll hurt after the first ten minutes going up. As you get in shape, find steeper and higher hills. Integrate this into your endurance training two to three times per week.
Kent McBride is a UIAGM/IFMGA certified mountain guide who has extensive guiding and instructing experience in all the realms of skiing and climbing. In 2005, he climbed to the Central Summit of Shishapangma (8000 meters) in Tibet without bottled oxygen and then completed the first ski descent of the Untsch couloir.
Website: Eddie Bauer First Ascent Team
Practice in the Spring
Tip from Chris Davenport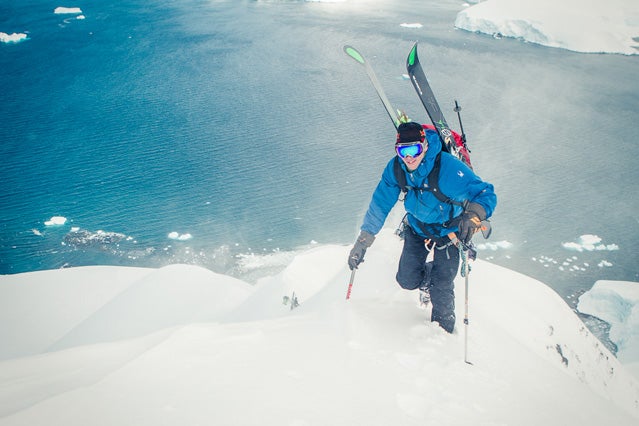 Skiing is a sport of experiences; the more you have the smarter you will be when it comes to making good decisions. And ski mountaineering is all about decision-making. Whether it's assessing the snowpack, understanding the impacts of the weather, group dynamics, or route selections, there are always choices to be made, and many of them may save your life. So if you are looking to get more into the mountaineering side of the sport, you'll need experience. Get out there when the snowpack is safe, during the spring corn cycle, and choose straightforward objectives. If you can hook up with more experienced partners, attempt to learn all you can from them by asking questions and observing. Be a sponge and soak up information every day you are on the hill. Experience develops intuition, and intuition leads you to good, safe skiing.
Chris Davenport, of Aspen, Colorado, is widely regarded as one of the most successful and progressive big-mountain skiers of his generation. A two-time World Champion skier, Chris is the author of two books, a ski-film star and producer, a guide, a ski camp owner, a sports announcer, and an acclaimed speaker.  In the spring of 2011, Chris successfully guided a climb of Mt. Everest and made a rare ski descent of the Lhotse Face of Everest along the way.
Website:  Steep Skiing
Learn to Climb Technical Terrain
Tip from Jorge Kozjuli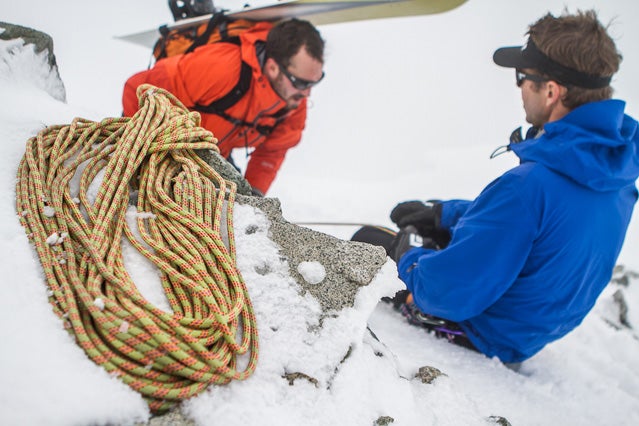 If you are getting into ski mountaineering, I recommend getting some alpine, rock and ice climbing experience in order to get used to exposed ridges and steep terrain. Some knowledge and comfort with ice climbing will make a big difference, building a feeling and love for your tools like crampons and an ice axe.
Check out:
Climbing areas like the Ouray Ice Park
Climbing festivals like the Bozeman Ice Festival
Or try a local guide company like Jorge's
Jorge Kozulj is one of the few UIAGM-IFMGA guides settled in Patagonia, Argentina who has dedicated his career to ski mountaineering. He has been leading trips since 1999, exploring remote locations along the Andes looking for steeps, all the way from Northern Patagonia to Fitz Roy and Cerro Torre. 
Website: www.andescross.com
Make the Uphills Easy
Tip from Bela Vadasz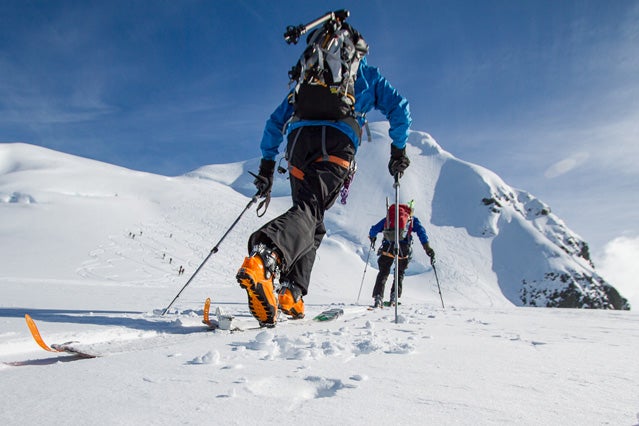 Touring with skins can feel a bit awkward at first. But with a few hundred strides and focus on some technique tips, you can make the uphill feel easy.  Practice this skill set often to be efficient and to save energy in your excursions.
Start with good posture:
Practice a nice upright body position, with your back plumb to the slope. Stay tall and relaxed, and keep your hips centered over your feet. Avoid excess bending at the waist and cantilevering with each step.
Make short, diagonal strides:
Move your opposite arm and leg forward. Stay centered and balanced over the middle of your skis. Use your foot, knee, whole leg and hip to move your ski forward. Try to stride without rotating your upper body. Keep your poles and arms in two imaginary slots that remain parallel to your skis.
Pole Grip:
Across a slope, you can choke up on your uphill pole grip. Some touring poles even have an extra traction to give you a better grip. It's ok to grip over the top of the handle of your downhill pole. It gives a little extra power in your skiing grip and stride.
Keep track angles low:
Many put their heel lifters high and attack the slope straight up. Poor form! Lower track angles (about 12°-18° max) tacking up the slope allows for a biomechanically efficient stride that can be well paced, with a cadence you can keep up all day long without tiring.
Know when to roll your knees and ankles out to flatten your skis for maximum grip with your skins and know when to edge your skis to get the bite and hold across certain slopes that you need.
Bela Vadasz has been skiing the Sierra Backcountry for over 50 years. He was one of the first American Guides to receive his IFMGA international license. He began coordinating the AMGA Ski Mountaineering Guide Training program and still helps as co-coordinator of their ski program. Bela remains passionate about his love for Ski Mountaineering and inflicting the spirit to others as well.
Website:  Alpine Skills International
Stash Your Axe
Tip From Doug Workman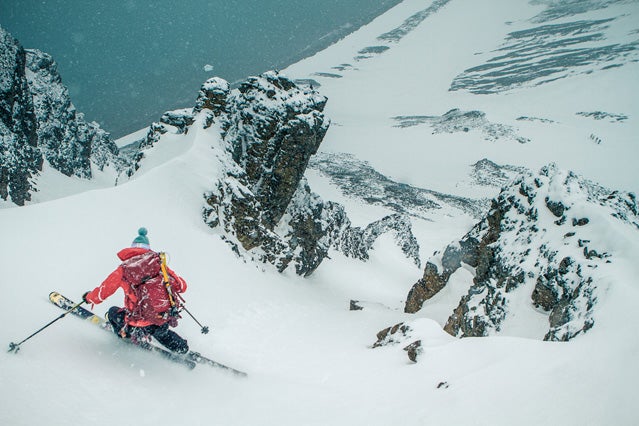 You want to go further. You want to become a ski mountaineer. Making the leap from powder slopes to peaks can feel like a big jump. But a few simple skills can go a long way.
Here is one example: You will need to learn to use a mountaineering axe from a qualified instructor, but you can learn how to stash it for quick access. The Axe Stash is a slick guide trick to put your axe away where it can quickly be retrieved if you feel insecure while climbing or descending.
Put your hood on to get it out of the way. Lean your head forward slightly.
Gently stab the shaft of your axe between your back and your pack. The pick of the axe should rest on the top of one shoulder strap. The shaft should be at a 45-degree angle across your pack. If the axe is longer, the end of the shaft will protrude a bit out the opposite side of the pack that your pick is facing. Voila! Your axe can quickly be drawn from its' pseudo-scabbard during your next transition from a rocky scramble to a steep couloir. Just don't forget that it is there when you take your pack off, as the axe may tumble down the slope making you look more like a gaper than a guide.
Doug Workman is a heli-ski and ski mountaineering guide based in Jackson Hole, Wyoming and Valdez, Alaska.
Website: Jackson Hole Mountain Guides
Take Your Time
Tip from Andrew McLean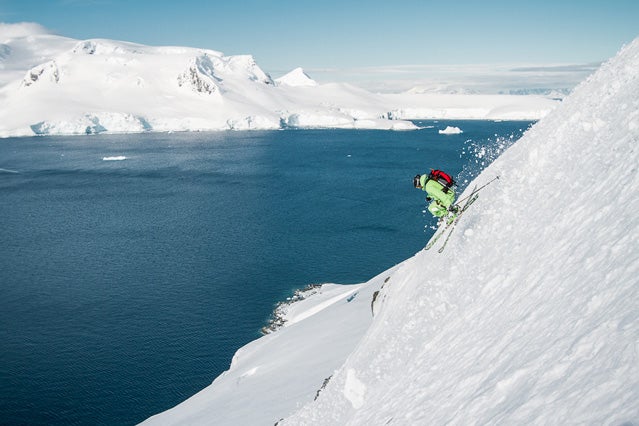 Approach the backcountry with respect and humility, or it will provide it for you. Skiing skills are just the basic requirements for ski mountaineering. Learning the nuances of avalanche avoidance, terrain assessment, safety, rope work, and all of the other factors involved with the sport is a lifelong endeavor.  Don't expect to become an expert in one season.
Avoid skiing all out in the backcountry and keep a bit in reserve.  You never know when you are going to hit an icy patch or trigger an avalanche and need some extra oomph to get out of it.
Andrew McLean has completed first descents on all seven continents and has skied all three of the Alaskan Family of peaks—Denali, Hunter, and Foraker.  He lives in Park City with his trophy wife and two jacked-up daughters.
Website:  Straight Chuter
Tell Someone When You're Out
Tip from Kevin Quinn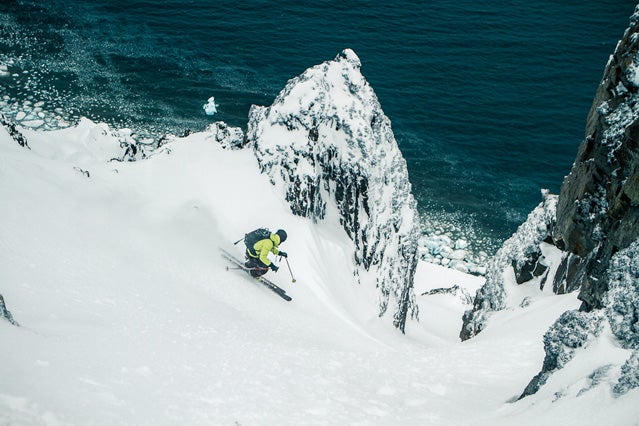 I encourage everyone to get fired up and venture into the mountains. Make certain to go with someone who is a good partner, meaning they have experience and the know how to react in event you need to count on them. And, always be sure to let someone know where you're going.
Referred to as "Quinner" by those who know him best, Kevin is the owner and founder of Points North Heli-Adventures in Cordova, Alaska. The company has been featured in the last ten Warren Miller films. When Kevin is not running his heli-ski operation, he can be found in Squaw Valley, California where he is an ambassador and member of the free-ride team, or somewhere floating a remote river chasing huge fish, flying his airplane, jumping out of airplanes, pedaling his mountain bike, or even exploring Antarctica.
Website:  Points North Heli-Adventures Inc.
Trending on Outside Online