Resort Guide 2022 Is Here: These Are the Top 20 Resorts in the East
The masses have spoken and these are the 20 top-scoring resorts in the region, according to the 2022 'Ski' Reader Resort Survey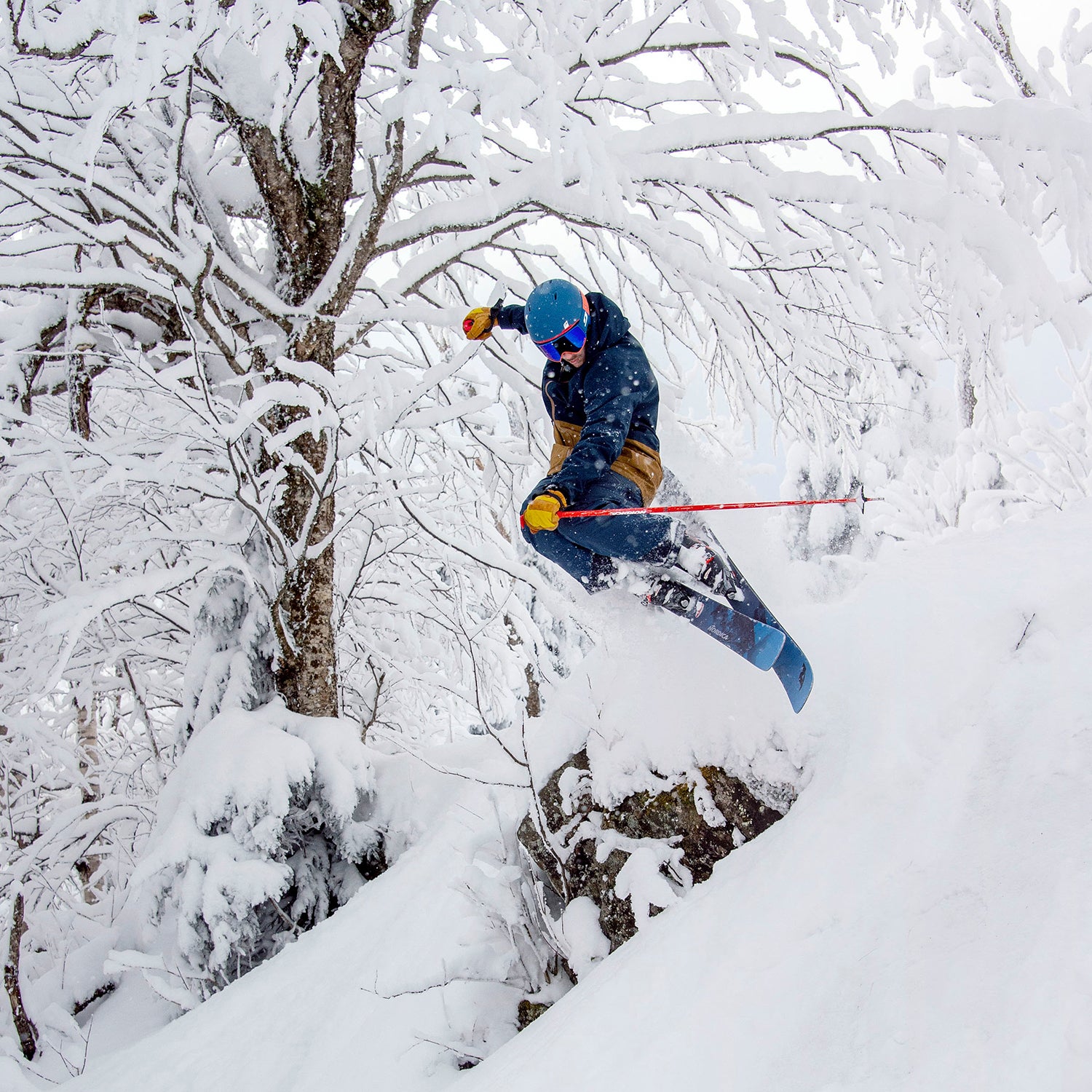 Courtesy Jay Peak/Jeb Wallace-Brodeur
Heading out the door? Read this article on the new Outside+ app available now on iOS devices for members! Download the app.
Back in March 2021, when Ski magazine sent out its annual Reader Resort Survey, following a pandemic ski season where things where far from normal, editors had no idea what to expect. With all the travel restrictions in the East, staff knew that skier travel habits were altered, more people stayed closer to home, and some skiers couldn't get out at all.
So, how did it impact the Eastern rankings? Across the board, Ski saw a higher response rate for smaller ski areas, even welcoming a new ski area into the rankings for the first time this year (hey, Hidden Valley!) Not surprisingly, it also observed that those visiting the larger ski areas hemmed and hawed even more than usual about lift lines, parking, crowds, and limited amenities. The good news? All signs point to a return to a ski season more closely resembling normal this winter.
There will invariably be angry missives ranting about how tiny Wachusett can best big-bad Stowe in any reputable ski-resort survey. Well, that's on you guys. It's a reader survey—you vote. That said, maybe placing value in good, kind service, clean and welcoming lodges, and a truly communal vibe isn't all that crazy after all. Because at the end of the day, skiing is more than just the act of sliding down a hill.
You're free to disagree. You're also free to share your thoughts in the next Reader Resort Survey. Ski editors will make sure it finds its way into your inbox as this season winds down in the spring. Until then, enjoy arguing about the rankings!
Top 20 Resorts in the East
20. Gore Mountain, New York
Overall Score: 7.56
Strengths: Value, Lifts
Weaknesses: Dining, Service
Read the resort review and get trip-planning tips: No. 20, Gore Mountain
What Readers Say
"I skied at Gore all of this season—40-plus days. I love Gore's variety of terrain and great layout for easy access between peaks and great lift service. Gore has terrain to offer for everyone, on busy days the layout of the mountain allows skiers and riders to nicely spread out with minimal lift lines in great areas. I would say the Gore is the best big mountain in New York."
19. Hidden Valley Resort, Pennsylvania
Overall Score: 7.59
Strengths: Grooming, Access
Weaknesses: Challenge, Variety
Read the resort review and get trip-planning tips: No. 19, Hidden Valley Resort
What Readers Say
"Hidden Valley is what it says is: A family friendly resort with a plus. The staff throughout are awesome and treat you like family. The ski school is top-shelf. If you want to go bigger, its sister resort Seven Springs is around the corner. The local town and residents are happy to see you. There is tons to do around the resort area. A great vacation spot to relax. The staff there creates that easygoing feel."
18. Mount Snow, Vermont
Overall Score: 7.62
Strengths: Grooming, Nightlife
Weaknesses: Service, Lifts
Read the resort review and get trip-planning tips: N0. 18, Mount Snow
What Readers Say
"Mount Snow is still a solid choice for skiing in the East. A bit of everything you need for an interesting weekend of skiing and a reasonable travel time from New York area."
17. Stowe Mountain Resort, Vermont
Overall Score: 7.69
Strengths: Après, Dining
Weaknesses: Overall Satisfaction, Value
Read the resort review and get trip-planning tips: No. 17, Stowe Mountain Resort
What Readers Say
"Stowe is as good as you'll get in the Northeast. The mountain is large and varied in terms of terrain. There are enough classic Vermont trails to make the experience challenging and skiing in the trees can be a joy. The cruisers are variable enough to hold your attention and can be easily distinguished from one another. Like the rest of Vermont, the weather and the conditions are probably the most challenging aspects of skiing at Stowe. You just never know what is coming and it can change fast. The off-mountain scene at Stowe has enough variety to keep all sorts happy; from down and dirty dive bars to fine French dining; dormitory lodging to presidential suites. Stowe has tradition; something that every serious skier ought to experience at least once, if not regularly."
16. Seven Springs Resort, Pennsylvania
Overall Score: 7.70
Strengths: Access, Nightlife
Weaknesses: Snow, Challenge
Read the resort review and get trip-planning tips: No. 16, Seven Springs
What Readers Say
"Consistently good with an excellent snowmaking system. They cover their terrain well and refresh it with snowmaking on nights when temps are right. Mountain is easy to get around, and has some nice local secrets if you can figure them out."
15. Wachusett Mountain, Massachusetts
Overall Score: 7.82
Strengths: Access, Family
Weaknesses: Challenge, Variety
Read the resort review and get trip-planning tips: No. 15, Wachusett Mountain
What Readers Say
"For what it is, a modest-sized ski area proximate to the urban agglomeration of Eastern Massachusetts, WaWa is a gem: from the beautiful setting, to the on-hill product (lifts and snowmaking) to their ski school, junior race program, and guest services. Among the New England ski areas that our family has skied at, it belongs to a very small handful that actually serve food that goes beyond the usual chili/hot dog/burger/limp salad fare. I know, because our kids were in their race program for several years, and we did not have to stop by Dunkin's on the way there! Yes, it does get very busy at times, but this year's reservation system helped even out the crowds."
14. Sunday River, Maine
Overall Score: 7.83
Strengths: Grooming, Snow
Weaknesses: Family, Local Flavor
Read the resort review and get trip-planning tips: No. 14, Sunday River
What Readers Say
"I've been a season pass holder for many years, and I'd recommend it to skiers of all abilities. End to end there is terrain for everyone. Snowmaking is great and grooming (ability to recover after foul weather) is also great. Once you know the mountain, it's fairly easy to avoid the crowds."
13. Loon Mountain, New Hampshire
Overall Score: 7.84
Strengths: Access, Grooming
Weaknesses: Overall Satisfaction, Value
Read the resort review and get trip-planning tips: No. 13, Loon Mountain
What Readers Say
"When I relocated from my hometown of Salt Lake to Boston, I was… pretty sad about the upcoming ski season. But Loon's accessibility made it possible for me to get a full 40-plus day season in. A straight shot on the freeway from Boston, Loon is totally doable as a day-trip. The terrain is fun, especially if you love ripping groomers, and there are some nice pitches off of the north and south peaks. It's relatively cheap, is on the Ikon Pass, and is rarely crowded, especially if you avoid the gondola. Overall a great value for East Coast skiing."
12. Stratton Mountain, Vermont
Overall Score: 7.84
Strengths: Dining, Grooming
Weaknesses: Variety, Value
Read the resort review and get trip-planning tips: No. 12, Stratton Mountain
What Readers Say
"Customer service is great, grooming is excellent, amenities are great—always a pleasure to ski at Stratton Mountain!"
11. Okemo Mountain Resort, Vermont
Overall Score: 7.91
Strengths: Grooming, Snow
Weaknesses: Challenge, Local Flavor
Read the resort review and get trip-planning tips: No. 11, Okemo Mountain Resort
What Readers Say
"For the Northeast, Okemo is a large enough mountain without being too big. They do a great job with grooming, and it's large enough that you can usually find some good stashes away from the crowds. Absolutely love it on bluebird weekdays when you can cruise blue cruisers all day long and jump right back on the chairlift without a wait. I feel like the crowds are mostly just nice people there to ski, as the throngs of posers, park rats, gear junkies, and extreme skiers have gone to other resorts… which is perfectly fine with me, as I reach the summit on a bluebird Tuesday 15 minutes after parking the car."
10. Sugarbush Resort, Vermont
Overall Score: 7.98
Strengths: Variety, Challenge
Weaknesses: Value, Family
Read the resort review and get trip-planning tips: No. 10, Sugarbush
What Readers Say
"Great terrain and far enough away from NYC that you get primarily serious skiers. The terrain is HUGE when you count both Lincoln and Ellen, and you get Castle Rock (no grooming) for those awesome powder days. Grooming is fabulous and they keep everyone skiing late into the season even in low-snow years like this one. Fun après, too!"
9. Sugarloaf Resort, Maine
Overall Score: 8.01
Strengths: Snow, Variety
Weaknesses: Access, Dining
Read the resort review and get trip-planning tips: No. 9, Sugarloaf Resort
What Readers Say
"I have been a LOAFER since 1972. While the ride from MASS is about 3:45, it is a nice, quiet, comfortable ride. The mountain is secluded and can be cold and windy quite often but the terrain is unmatched, along with the mountain's commitment to their clientele. The LOAF is a huge mountain and it all centers around one large base area, without a lot of cross-cuts, poling, connecting lifts, etc. The loyalty of its skiers is unmatched. I am 71 years old and next winter will be my 50th at the LOAF. My children grew up skiing here and now I am skiing with my five grandchildren. Every time I turn the infamous "ohmygosh corner" a couple miles from the access road on Rt 27, I know that I AM HOME!"
8. Cannon Mountain, New Hampshire
Overall Score: 8.11
Strengths: Variety, Lifts
Weaknesses: Après, Nightlife
Read the resort review and get trip-planning tips: No. 8, Cannon Mountain
What Readers Say
"The best ski resort in New Hampshire, Cannon has it all—a long season, a great variety of terrain, from first-timer stuff to some of the hardest lines at an Eastern resort, to its own wonderfully contained family area of Tuckerbrook, to the awesome old-school vibes of Mittersill."
7. Whiteface Mountain, New York
Overall Score: 8.12
Strengths: Après, Lodging
Weaknesses: Grooming, Service
Read the resort review and get trip-planning tips: No. 7, Whiteface Mountain
What Readers Say
"Whiteface, the Olympic Mountain, dammit! Ski it if you can—groomed, powder, ice, crud, more ice, more crud—get your shit together, sonny. This ain't no Disneyland, Jim. Lake Placid is a real ski town! No made up Austrian village made of plastic with plastic women in furs. Everyone is welcome, everyone. And that's the best part, no airs. Been everywhere and this is the real shiz."
6. Jay Peak Resort, Vermont
Overall Score: 8.13
Strengths: Snow, Challenge
Weaknesses: Access, Grooming
Read the resort review and get trip-planning tips: No. 6, Jay Peak Resort
What Readers Say
"Ja-POW is a real saying and when you can get to Jay Peak on a powder day you won't be able to walk the following day. I have never skied so hard as I have done at Jay Peak. Miles of terrain, amazing glades, and the tram is truly unique."
5. Mad River Glen, Vermont
Overall Score: 8.25
Strengths: Challenge, Value
Weaknesses: Grooming, Lodging
Read the resort review and get trip-planning tips: No. 5, Mad River Glen
What Readers Say
"Mad River is the best in the East. It is considered to be among the hardest. But it has easy and intermediate terrain that is beautiful. I love the Vermont vibe, the single chair and the simple but great lodge. Do you you want to go to the real Vermont or to a slick resort? Vermont's where it's at."
4. Mont Tremblant, Quebec
Overall Score: 8.29
Strengths: Lodging, Nightlife
Weaknesses: Snow, Lifts
Read the resort review and get trip-planning tips: No. 4, Mont Tremblant
What Readers Say
"Over the years Tremblant has grown in many amenities and has gotten so diverse for everyone in the family. The terrain is kept very well, whether you're an expert or a beginner. The nightlife is fantastic with the French après-ski."
3. Killington Mountain Resort, Vermont
Overall Score: 8.34
Strengths: Après, Snow
Weaknesses: Family, Local Flavor
Read the resort review and get trip-planning tips: No. 3, Killington Mountain Resort
What Readers Say
"4,000 feet of vertical that I can drive to on a day's drive. So many mountains and angles, you can always find a place out of the wind. So many trails—I have been going there for years and still find new areas. Even new skiers can ski from the top."
2. Holiday Valley, New York
Overall Score: 8.56
Strengths: Lifts, Dining
Weaknesses: Challenge, Variety
Read the resort review and get trip-planning tips: No. 2, Holiday Valley
What Readers Say
"This is my favorite resort in my area. Grew up skiing here. It grew with me. It is like family with the people who work there and the friends I ski with. Awesome lake-effect snow, meticulous grooming, and a good variety of terrain. Not the most vertical, but the most for the vertical it has! It is the gold standard that I use for comparison and recommendations to others."
1. Smugglers' Notch Resort, Vermont
Overall Score: 8.74
Strengths: Family, Service
Weaknesses: Lifts, Dining
Read the resort review and get trip-planning tips: No. 1, Smugglers' Notch
What Readers Say
"I have been going to Smuggs since I was 4 and now I take my own kids there. They have learned to ski from the wonderful instructors and are masters of the mountain. Each time we go they gain more confidence, and Smuggs is literally their favorite place to go!"
Lead Photo: Courtesy Jay Peak/Jeb Wallace-Brodeur