Ultimate Downer
Maegan Carney wants to be the first woman to ski Everest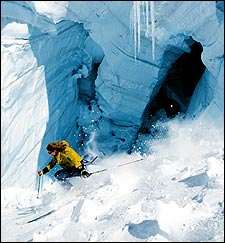 Heading out the door? Read this article on the new Outside+ app available now on iOS devices for members! Download the app.
ALL MOUNT EVEREST HOPEFULS dream of topping out. But for 38-year-old Maegan Carney, a Seattle native now living in Chamonix, France, the trip back down should also provide excellent material for nightmares. This October, Carney—winner of the 2002 Women's World Extreme Skiing Championships, in Valdez, Alaska—is hoping to become the first woman (and only the second skier) to cut turns from the very top of the world all the way to Base Camp, some 11,000 feet below.
"UPDATE
In late October 2003, Maegan Carney abandoned her bid to ski Everest, turning back from Everest Base Camp after deciding the winds swirling around the summit were too dangerous. A first summit push was abandoned earlier in the month for the same reason.
Read the news update HERE
.
Meagan Carney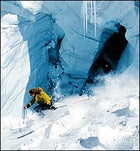 MADAME SANS FEAR: Carney, making turns at 12,500 feet, near her home in Chamonix, France

Carney will face perhaps her greatest challenge shortly after her climb to the summit, when she pushes off on her fat sticks and reaches the Hillary Step. With luck, post-monsoon snow accumulation will partly fill in this 60-degree slope, allowing her to jump-turn her way down. If not, Plan B is to skirt around the Step on a small, precarious section of the impossibly steep, two-mile-high Kangshung Face, where there is almost no survivable margin for error. Either location, says four-time Everest summiter and filmmaker David Breashears, 47, "is a terrifying place to fall."


The Khumbu Icefall is the next deadly obstacle. Carney will sneak around the crevasse-riddled glacier on a line that traverses the Khumbu's north side and leads into Base Camp. Here she'll need to ski like hell, because the route is regularly hammered by falling seracs. Given such hazards, it's hardly surprising that only one skier has successfully completed a full descent: 40-year-old Slovenian Davo Karnicar, in 2000. (Some skeptics would asterisk that, believing that Karnicar rappelled down the Hillary Step. The matter remains in dispute.) Carney has never even climbed an 8,000-meter peak, much less skied one, but she's not lacking in confidence. A national ski champion in college and the daughter of a ski instructor, Carney studied Buddhism in Nepal in the early 1990s. In 1999, while taking a ski vacation from her Boulder, Colorado, psychotherapy practice, she got swept up in an avalanche in Portes du Soleil, Switzerland. The near miss actually prompted her to amp up her commitment: The following year, she moved to Chamonix and took up extreme skiing, quickly knocking off a stunning list of 60-degree couloirs and faces in Europe and Asia. On Everest, Carney believes, her skills and mental toughness should allow her to safely descend through the death zone. "The most critical part for me," she says, "is my control and discipline."