The Wasatch is For Rippers
Heading out the door? Read this article on the new Outside+ app available now on iOS devices for members! Download the app.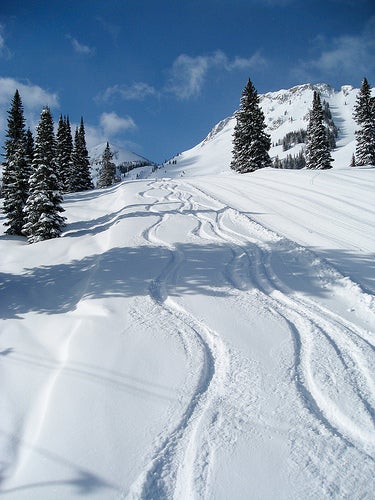 To be fair, Alta isn't the most family-oriented of Utah ski resorts. It's steep and the base area is 1970s-minimal, with a couple ski shops, three or four lodges with basic double-bed motel rooms, and a few rental properties. You won't find a jumbo trampoline, tubing hill, ice rink, indoor swimming pools or kids clubs for après-ski playtime, and the dining room at the all-inclusive Goldminer's Daughter (world's friendliest ski hotel, by the way) was filled with dads who'd left their wives and kids at home to ski with the guys. But—and this is a big but—if you get there early enough, you can practically park right next to the lift. Which, when you're schlepping major amounts of gear and kids, is huge. Huge! Who cares about kiddy terrain parks? Please let me drive our crap directly to the lift line!
[photo align="center" size="full"]2218826" class="pom-image-wrap ">Ski-in, ski-out/drive-in, drive out @ the GMD
Another bonus: Kids who learn to ski at Alta are pretty much destined to become rippers. On one ride up Collins, we saw three or four kids launch off a small cliff at full speed on a black-diamond run and stick their landings. I was with Kristin and another former ski racer and they both almost fell off the chair they were craning their necks so hard to watch. "Those kids are, like, 6!" the other competitive skier shouted with amazement. Another time we spotted a father in the lift line with his four-year-old on skis and a toddler in a pack on his back. Badass.
Over the course of the weekend, especially over at the more mellow Sugarloaf lift, we saw flocks of little skiers in group lessons or with their parents. All seemed ridiculously capable for their tiny size. I don't think I've ever seen kids so small ski with poles. Even when we watched in horror as a six year old girl ran over her dad's skis and crumpled in heap of hysteria at the base of the lift, there was something so Alta about the way she got up, pouting, and flicked her blonde braids under her helmet before she skied off. Daughter envy!
I'm not the only one who's caught the Utah bug—permanently. Two other skiers in our camp loved the area so much they recently chucked their lives, uprooted their families, and relocated to the Wasatch. Granted, one was coming from upstate New York, but the other ditched the Bay Area without a backwards glance. They'd picked the family-centric dream town of Park City for its great public schools, strong sense of community, and yes, proximity to the slopes and an international airport. Alta may have the rad, retro charm of a ski hill stuck in a 1970s time warp, but Park City is an actual year round town where you can raise kids. Rippers, I mean. 
The night our camp finished, the Sundance Film Festival was wrapping up in Park City, and we had two hours to catch our plane (though we made it to back to Salt Lake in 35 minutes flat). So we didn't have time to detour into Park City to check out the scene for ourselves. Even so, from what I've seen of its neighbor, Alta, it just knocked Telluride off the top of my fantasy list of adventure dream towns for families. Guess I'll just have to go back—with the kids. 
www.alta.com; www.parkcitymountain.com
—Katie Arnold  
@RaisingRippers