Which snow shovel would you take into the backcountry?
I'm in the market for a new snow shovel and debating between a collapsible and a removable handle. Any suggestions? And what is the best/easiest way to pack it in the Black Diond Covert 22 Bag w/Avalung? Seth New York, New York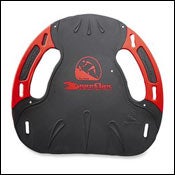 Heading out the door? Read this article on the new Outside+ app available now on iOS devices for members! Download the app.
Interesting question. Life-Link's updated 3DXS ($40; life-link.com) is sort of the gold standard in winter shovels. It has a polycarbonate blade and aluminum handle that detaches or collapses, and weighs a mere 22 ounces. I've used a Life-Link for years; it's tough, light, and perfectly suitable for winter use.
Snow Claw Guide

Snow Claw Guide
The folks at Black Diamond decided to have a go from a blank slate. The Deploy 3 ($60; bdel.com) has both a blade and handle made from aluminum. And it weighs about the same as the Life-Link (20 ounces). What's interesting is that the handle has a curve to match that of the blade, and it can slide into a slot at the bottom of the blade and out of the way. Then, give the handle a twist and pull; it deploys fully. This does seem to be a little more quick-to-deploy design than the Life-Link, where spring-loaded buttons on the handle have to fit into matching holes.
Personally, though, I'm partial to the Snow Claw, a plastic mono-shovel that doesn't have a handle at all. Instead, you grip cut-outs on each side of the large blade and dig like a badger. You can really move the snow with this thing. Not quite as good as a metal blade in hard snow or ice, but very effective overall. And, it's very light (six ounces), inexpensive ($15; snowclaw.com), and multi-purpose (doubles as an emergency splint). For avalanche-related duty only, I think it the best choice.
One last word: Overall, I'm not sure that I approve of where you are going with this. The Black Diamond Avalung II ($129) is a tip-off to me that you fully intend to put yourself at fairly high risk of being caught in an avalanche. Let me make one thing clear: You do NOT want to get caught in an avalanche, because when you do it doesn't matter how many beacons or Avalungs or shovels you're carrying. Gear like that is the equivalent of strapping on a foam pad then leaping off a five-story building. If all goes well, the pad will help. But chances are it won't. Avalanches are violent affairs, with the power of a freight train. Your odds of surviving long enough to use an Avalung or get dug out are not good.
Look at it this way. Despite all the gear we have, avalanche deaths are higher now than they were a decade ago. My explanation: People are feeling too cocky about avalanche country, and new skis and other gear make it too easy to get far back. So be very, very careful.
Check out the new 2007-2008 Winter Outside Buyer's Guide, packed with reviews of more than 300 new gear must-haves. It's available on newsstands now.