Winter? These Guys Made Winter.
Seven Olympic venues, one charming Main Street, and a host of High Peaks—it all adds up to Lake Placid, America's original snowbound resort.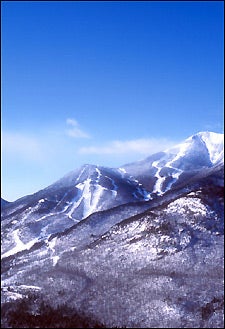 Heading out the door? Read this article on the new Outside+ app available now on iOS devices for members! Download the app.
As you drive into the snowy settlement of Lake Placid—past the looming twin ski jumps; past the futuristic "Miracle on Ice" hockey arena; past, even, the fivesome of holiday wreaths linked in that telltale pattern—you'll soon understand what the locals have long known: that the business of those closing ceremonies was merely a formality. In this otherwise quiet corner of the northern Adirondacks, Olympic fever shows no sign of abating 18 years after Eric Heiden skated off with his fistful of golds.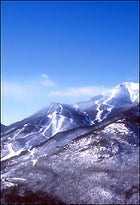 Host to the Winter Games in both 1932 and 1980, Lake Placid is perhaps more closely associated with the Olympics than any place save Athens. And because the Games' venues are open to the public, a winter visit represents not only the ultimate nostalgia trip, but also a chance to try out every winter sport ever devised. The adrenaline junkie inside you is guaranteed to emerge, driving you from the speed-skating oval to the luge run to the cross-country ski center.
But that's not to suggest that playing Olympian is Lake Placid's only allure. In fact, you can still find other, more tranquil faces of this small town with relative ease. Just head a few miles in any direction and you'll enter seemingly endless, snow-muffled wilderness. Places like Avalanche Lake, hidden at the end of an inviting cross-country trail. Or the 70-year-old Adirondak Loj, built by Melvil Dewey, the unlikely progenitor of what would become America's first winter resort.
Starting in the 1880s, Lake Placid was a posh summer spot for industrialists aspiring to the Great Adirondack Camp style of the Rockefellers and Vanderbilts. But it wasn't until 1904 that Dewey, a rabid anti-Semite, inventor of the card catalog system, and spelling-simplification enthusiast, decided to keep his Lake Placid Club open once the snow flew. He imported ten pairs of skis, and soon the village was as crowded in winter as it was in summer.
Right from the start the emphasis was on competition. In the two decades following the 1932 Games, Lake Placid held more international events and turned out more Olympians than any other town in the nation. After a period of decline, it ramped up again for 1980, an affair that attracted more visitors in just two days—100,000—than had attended all the 1932 events combined. Since 1982, regional authorities have poured more than $40 million into venue improvements and are actively courting the next U.S. bid—perhaps in 2014.
In the meantime, those of us without national team affiliations can take our pick from between the Placids: interactive Olympic theme park or venerable backcountry retreat. Or better yet, indulge your schizophrenic recreational tendencies and enthusiastically embrace both.
The Olympic Theme Park

Lake Placid's Main Street, which stretches about a mile along the shore of Mirror Lake (and not the larger namesake body of water that lies to the north), is an apparition of constant freneticism stranded in the frozen heart of the Adirondacks. From whichever direction you approach, the town's emphatic contrast with the surrounding pastoral lull comes as a bit of a shock. But equally surprising is that the village still seems tiny—too tiny, in fact, to have hosted a recent Olympics.
Just at the village's entrance, though, as New York 73 curves west into Main Street, you'll spot the Games' first grand-scale Kilroys: the open-air speed-skating oval and the vast Olympic Center, where the underdog American hockey team so memorably whipped the Ruskis. Out on the oval, it's hard to resist imitating the speedsuit-clad racers, hands tucked behind their backs as they blaze past. But this act usually lasts no more than about 10 laps, after which you'll have to take a seat to ease the burning in your quads. Inside the echoing, bunkerlike Olympic Center are a museum and four rinks, a couple of which are usually hosting a hockey tournament or curling practice. Watch a while, and then huff through a few training laps of your own.


Farther up the main drag, the road narrows. On your right is Mirror Lake, encircled by a brick sidewalk that's a popular two-and-a-half-mile stroll on sunnier winter days and typically frozen solid and skidded across by dogsledders and skaters. Main Street's 100 or so shops are half kitschy, half charming: the inevitable Gap and U.S. Olympic Spirit Store indiscriminately sifted together with village institutions like High Peaks Cyclery, an 8,500-square-foot temple to snazzy athletic gear, and With Pipe and Book, where locals escape the cold for used tomes and tobacco blends.
To find the rest of the Olympic venues, you'll have to head out of town. A 15-minute drive through dramatically beautiful High Falls Gorge leads to Whiteface, New York's largest ski area, where you can hurtle down Parkway, the super-G course dominated by Sweden's Ingemar Stenmark in 1980. Home to the East's largest vertical drop (3,216 feet), it's also home to decidedly eastern skiing: brutal winds and icy conditions. (The resort's owners recently tried to combat its stubborn nickname, Iceface, with a $2 million snowmaking investment.) Still, the serious steeps up top attract plenty of expert skiers and big events, including last year's U.S. Ski Team Gold Cup. On the way up, keep an eye out for snowshoers doggedly scrambling the snow-clogged trails along the road; these are would-be "46ers," racking up winter ascents of all 46 of the region's 4,000-plus-foot peaks—Whiteface included.
For a steeper incline, head five miles south on New York 73 to the ski-jumping complex and its 90-meter and 120-meter ramps. Having rejected advice to build into a mountainside, the 1980 organizers instead bestowed these rusting high-rise souvenirs. But it's still a kick to ride the elevator to the top, take in the view of the surrounding mountains, and peer down the long run, wondering to yourself, Why on earth would anyone…? (To watch the pros answer this question, call the Olympic Training Center at 518-523-2600 for the current week's schedule of practice sessions.)
The remaining venues—bobsled, luge, and nordic skiing—can be found at Mount Van Hoevenberg Cross Country Center, farther out on 73. Here you can rent skis, take a lesson from the ski school, and scope out the serious racers, recognizable by their ripped Lycra. Lake Placid's trail network is the best in North America, and Van Ho's 31 impeccably groomed miles are the showpiece. All the 1980 trails are still used, including the infamous Russian Complaint, a grunt so steep and so long that the Soviets protested. The Porter Mountain loops, where the men competed, are twisting and tough; the women's 5k course, meanwhile, is better suited to intermediates.
Skiing through the woods, you'll occasionally hear PA-amplified announcements crackling through the air: "One minute, four seconds!" That would be the bobsled. Dubbed the "Champagne of Thrills" to justify its $125 price (no doubt town fathers nixed the more economically accurate "White Colombian Powder of Thrills") the ride sandwiches you between driver and brakeman as you hit 75 miles per hour, bolting around steep S-turns pinned down by 4.5 g's. Meanwhile, at the twisting Luge Rocket next door, you'll go solo on a sled retrofitted with a roll bar. Lie on your back and stick your feet out in front, but don't try to steer—Isaac Newton does the driving.
To regain your equilibrium afterward, stop by the new Lake Placid Pub & Brewery (518-523-3813), home to great live music and a particularly soothing Lake Placid IPA. Or head seven miles west on New York 86 to Casa del Sol, a noisy and fun local Mexican joint offering up great jalapeno-tequila mussels, Cadillac margaritas, and 400 kinds of courage-restoring hot sauce.
The Backcountry Retreat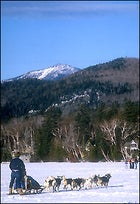 After a day or two in this five-ring circus, you'll need an antidote. Good thing Lake Placid is situated among all those 4,000-footers, known locally as the High Peaks. To the north and west lie hundreds of remote lakes; spreading to the east are the largest of the mountains, which rise precipitously from the foothills near Lake Champlain. The Adirondacks' entire alpine area is only 85 acres—the combined square footage of all 46 summits—but when you break out of the stunted spruces onto open rock, watch out: The cones of these mountains can be coated in ice and blasted by wind and snow even when the valley floors are relatively tranquil. On clear days, thankfully, the sweeping views are commensurately bracing.
The trailheads for Lake Placid's most popular climbs are a 20-minute drive south at the rustic Adirondak Loj (518-523-3441), where the Adirondack Mountain Club now offers dorm-style and cabin accommodations, ski rentals, lessons, and guided tours. With its perpetually roaring fire, the communal living room is also a friendly place to dry off and recount the day's exertions.
For snowshoers, the prime day-trip is Algonquin, climbing above the Loj to 5,114 feet but entailing only an 8.3-mile round-trip. Take an ice ax for the top, and be prepared for a few rock scrambles. Cross-country enthusiasts, on the other hand, should head for the network of narrow trails that winds around the Loj and then connects with four nearby touring areas via the 31-mile Jackrabbit Trail. Or, better yet, there's the path to Avalanche Lake: When the snow is fresh and deep, intrepid intermediates can manage this six-mile, 635-foot climb, especially if they're not too proud to sideslip a few steep spots on the return. And what a trip it is, ending at a narrow lake flanked by towering granite cliffs.

Those who crave a real test, though, will eventually try 5,344-foot Mount Marcy, New York's highest peak. The 16-mile route begins at the Loj and climbs more than 3,000 feet, necessitating skins on the upper section. From the summit the view spreads east for miles, all the way to iced-over Lake Champlain and the Green Mountains of Vermont. The descent offers the chance for some dancing turns—or for grabbing randomly at trees in a frantic effort to check your speed.
To experience Lake Placid's single finest moment, though, you need no fancy equipment, not much stamina, and only a modicum of nerve. The town operates a venerable toboggan chute, a creaking, 1920s-built wooden structure that rises 30 feet from the edge of Mirror Lake. Pay $5 any evening and they'll loan you a battered old sled and let you walk up the ramp. Climb aboard, tuck in your feet, clatter down the hard-packed run with a whoop, and then go skittering off across the ice, a thousand feet or more into the frigid dark, with the lights of town in the distance and the stars overhead. It is what I like to think of as the Hot Cocoa of Thrills, and worth the trip itself.
Lake Not-so-Placid: All the Go-Go Info for a Stay of Perpetual Motion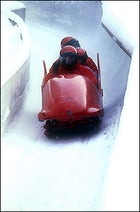 Getting There: Upstate New York is no place to be without a car, so if you're in the Northeast, you'll probably want to drive. (Lake Placid is five hours from Manhattan, five from Boston, and two-and-a-half from Albany—three during snow storms.) But if you hate long car rides, there are alternatives. US Airways flies to Saranac Lake Airport from Newark and Boston. Continental also as an express flight to Saranac Lake. Contact specific airlines for current rates. Once there, rent a midsize from Hertz (518-523-3158) for $56 per day.
Lodging: Yes, it's possible to sleep downtown without suffering a kitschy, Olympic-themed motel. Case in point: the Interlaken Inn (doubles, $80-140; 800-428-4369), an 11-room country inn between Lakes Mirror and Placid. Right on Main Street, meanwhile, is the view-endowed Hilton Lake Placid Resort. For the most luxe lodging around, try the Lake Placid Lodge (518-523-2700). Stay in the 1940s-vintage main building, where doubles start at $300, or nestle into a lakeside cabin. Both offer great Whiteface Mountain views and cross-country skiing right out the front door.

Venue Information:
Bobsled: A new combination bobsled/luge run opened in January of 2000. The run starts at the half-mile point and runs $30 during both the summer and winter. The full track is also open to elite athletes for training purposes and is open to the general public on some occasions. The full-mile run costs $125. Open 11 a.m. to 4 p.m. Wednesday through Sunday, 1 p.m. to 4 p.m. on Monday. 518-523-4436.

Skating: The Olympic Center's four rinks are open Monday, Wednesday, and Thursday from 1 p.m. to 3 p.m. The speed-skating oval is open 7 p.m. to 9 p.m. on weekdays, 1 p.m. to 3 p.m. on weekends. Admission is $5; rental skates, $3. 518-523-1655.
Downhill Skiing: Lift tickets at Whiteface cost $49 midweek, $54 weekends and holidays. 518-946-2223.
Nordic Skiing: Mount Van Hoevenberg (518-523-2811) is open from dawn to dusk. The $12 day pass is also good at nearby Lake Placid Resort, Cascade, and the Whiteface Club.
Ski Jumping: $8 buys a ride on the 120-meter platform's elevator or chairlift, launching from the bottom of the jump (9 a.m. to 4 p.m., Wednesday through Sunday), but no hang time. To learn to jump, sign up for a weekend clinic with New York Ski Education Foundation ($50 for adults; 518-523-1900). Bring skis and a helmet.
For additional information and a virtual glimpse of the current conditions across Lake Placid, visit www.orda.org (they have five live webcams on line, updated hourly).