Yes You Can: Become a Better Skier in Just 5 Days
Can't skin up a mountain or drop off a massive cornice like a Warren Miller star? Five days of carefully planned resort skiing can get you closer to shredding expert terrain. Here's how.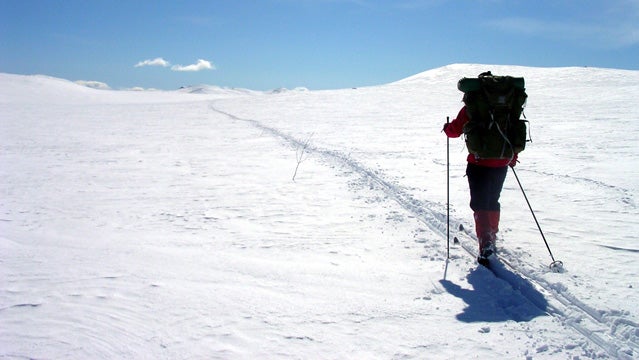 Heading out the door? Read this article on the new Outside+ app available now on iOS devices for members! Download the app.
Yes You Can: Become a Better Skier in Just 5 Days
It's the ultimate fantasy. Living in a picturesque ski town, trading beer for a tune-up, and counting 120 days a year on the slopes. But while many skiers dream about bumming it and logging massive vertical in a single season, it's not always possible, particularly if home is miles away from snowy peaks. Fortunately, experts say five days are all it takes to enhance technique and feel confident tackling more difficult terrain.
"With four or five days of a ski vacation, you can do a lot to turn things around and improve your skiing," says Reid Phillips, master's coach at the Vail Ski and Snowboard Club. It just takes planning, dedication, and a little expert help. So bust out a note pad, get amped, and read on for nutrition, training, and vacation tips from the pros, including Phillips and three-time World Cup champ and Olympian Rob Boyd. (Who really does ski 120 days a year. Don't hate.)
Booked the lodge and pre-ordered your lift tickets?
The Top 10 Tips for Becoming a Better Skier in Just 5 Days
Even Bode Miller had to start somewhere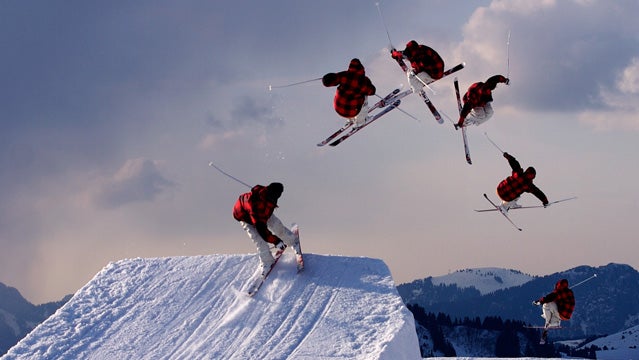 The hard part was getting the week off. Now make the most of your time on the slopes by following the expert advice below.
YOUR ADVISORS
Rob Boyd: Three-time World Cup champion, three-time Olympian, current sports development manager for the Whistler Mountain Ski Club
Jordan Williams: Coach and dryland coordinator for the WMSC
Reid Phillips: Vail Ski and Snowboard Club masters coach and ski patroller 
10. UPDATE EQUIPMENT
"Don't take your 10-year-old gear and think it'll be fine," Boyd says. "A newer, fresher ski is going to have a little more bounce in it, more liveliness than an older ski." Don't want to buy? Try demoing some new equipment. And make sure your boots fit well. "Wear them a few hours before your holiday to make sure they're comfortable," Boyd says. If your boots are more than five years old or have more than 100 to 150 ski days on them, Phillips recommends updating them. "The newer, lighter weight equipment will make skiing infinitely more enjoyable," Phillips says.
09. GET FIT
"If you're able to do a ski fitness program beforehand, it'll help you take full advantage of the $80 lift tickets," Boyd says. Forget building to the big stuff if your fitness isn't up to snuff; you'll be holed up in the warming hut cursing the groomer that demolished your quads. Follow our one-month crash course in ski fitness, designed to strengthen the areas you'll work most: your core and legs. That way when the time comes, you'll be physically ready to tackle some epic runs.
08. MAKE A PLAN
"Most people put more time into figuring out where to get dinner each night than planning their ski days," Phillips says. Big mistake. He recommends outlining what you hope to accomplish by the end of the week so you can build up to it safely. The next bunch of tips will help you design a plan of attack.
07. TAKE IT EASY
"Ease into your ski vacation," Phillips says. "A lot of people come so amped up to get out there that they crush themselves on the first day." That means no matter how much those double diamonds or powdery bowls are calling your name, start with the groomers to re-familiarize yourself with your skis, boots, and the feel of the snow. "Challenging yourself with the expert stuff on the first day could make your week trip into a day," Boyd says. So save the hotdogging for later.
06. BACK AWAY FROM THE POWDER
Yes the fluff is the stuff of skiers' dreams, but it "can spell trouble if you haven't been skiing in quite a while," Boyd says. "There's a number of things that could go wrong" in the deeper snow, including knee and shoulder injuries. However, Boyd says, newer equipment will make skiing in powder much easier. If you feel it's entirely blasphemous to avoid freshies your first day out, just be extra cautious.
05. TAKE A LESSON
Sure, it can be expensive, but shelling out for a day or half-day of instruction early on can jumpstart your improvement. Consider the benefits of getting schooled:
Tips: An instructor will tell you what to work on, and explain how to make the most of your new equipment.
Guidance: New mountain? The instructor will know where to go. "Glean as much information from him as possible," Boyd says. Like where the best mogul, tree, and GoPro-worthy runs are.
Lift line priority: Suckas.
04. DRILL
Just like a swimmer practices high-elbows and bilateral breathing, a skier must drill to improve technique. Boyd recommends finding a mellow pitch and doing edging drills, upper/lower body separation drills, making short and long radius turns, and identifying your center of balance by making a few turns leaning too far forward, and a few more turns leaning too far back. Once you've got the hang of it, move on to steeper terrain.
03. DRINK WATER
"Back off the alcohol because you're at altitude," Phillips says. "It's easy to overdo it the first night when you're 10,000 feet higher than normal." Drinking alcohol can exacerbate symptoms of high-altitude sickness, including headaches and nausea. If you really want to improve, bust out the bubbly to celebrate a week well skied rather than a successful arrival at the mountain. (We know there's no way you'll waste your trip getting busted for a Ski-UI.)
02. CONSERVE YOURSELF
"When you run out of gas, back off temporarily," Phillips says. "If you don't have it in the tank, don't push yourself past that point." Fatigued skiers who keep bombing down the big runs are usually the guys who wind up in Phillips' toboggan. He recommends "bookending the days you decide to charge with easy days, so when you jump into a double black and you hit the bottom, you say 'Yeah, that felt good!' instead of 'God, I feel like a bag of crap.'"
01. HUCK IT
"Of course you want to challenge yourself and have some good stories of survival to tell," Boyd says. Nobody wants to hear how beautifully you carved the groomers. (They don't want to see it on video either. Trust us.) So warm up, get your snow legs under you, then take the helmet cam down the run you've always dreamed of trying. Your survival will be proof of a ski vacation well spent.
The Essential Ski Vacation Nutrition Plan
Eat right. Ski hard.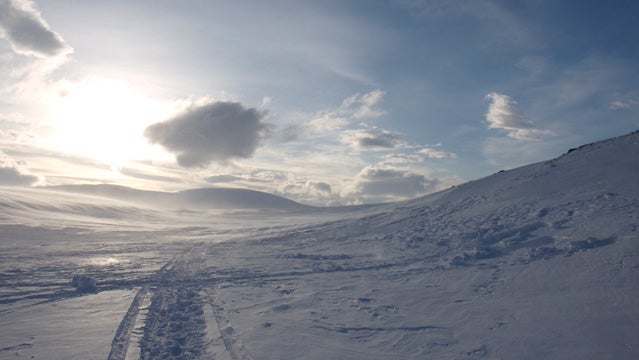 "People are usually more concerned with après ski than they are with getting the most out of their lift ticket," says Adam Korzun, high performance dietitian for the U.S. Ski Team. "Make the most of it and try to get in as many runs as you can." Here's how:
BEFORE ARRIVAL
"You're going to get dehydrated faster at altitude than you would at sea level," Korzun says. So make sure you're well hydrated before arriving at the resort, then make an effort to stay hydrated while skiing. A simple rule of thumb: Drink when you're thirsty.
BREAKFAST
"Skiing can be very strenuous so it's important to start the day well fueled," Korzun says. Don't reach for a donut and head out the door. Instead, "get a good balance of carbs and protein," Korzun says. Try an egg-white omelette with toast, or oatmeal with fruit and eggs.  
LUNCH
What you eat for lunch "depends on how hard you're going. If you're looking to get a lot of heavy runs in, you'll burn carbs up fast," Korzun says. Also, when you come to altitude from sea level, you'll burn more carbs faster than normal. So replace them. If you're heading to the lodge for lunch, Korzun recommends staying away from the nachos and burgers and chiliburgers. Opt instead for lighter fare that will replenish carb stores and provide some protein without making you feel sluggish. A peanut butter and jelly sandwich should do it, or just about any type of sandwich, or a bowl of chili.
As for the saucer-sized cookies and brownies and Rice Krispie treats most lodges have, Korzun says he's not opposed to those, "but think about refueling and setting yourself up not just for afternoon runs, but for the next day, too." That quick rush of sugar may make you feel awesome for a few runs, but you'll likely crash hard afterward. Some better snack options: trail mix, Clif bars, or granola bars.
DINNER
"The mindset is often flipped where we go right to the après ski, forget about refueling, and that compromises you on the next day," Korzun says. Aim to eat a meal with a 2:1 ratio of carbs and protein before settling down in the hot tub with a glass of wine. A few options: chicken with vegetables and pasta, or stir fry with brown rice.
Our 1-Month Crash Course Ski Vacation Training Plan