Surfers Win Battle for California Beach Access
Judge says private landowner must let them access waves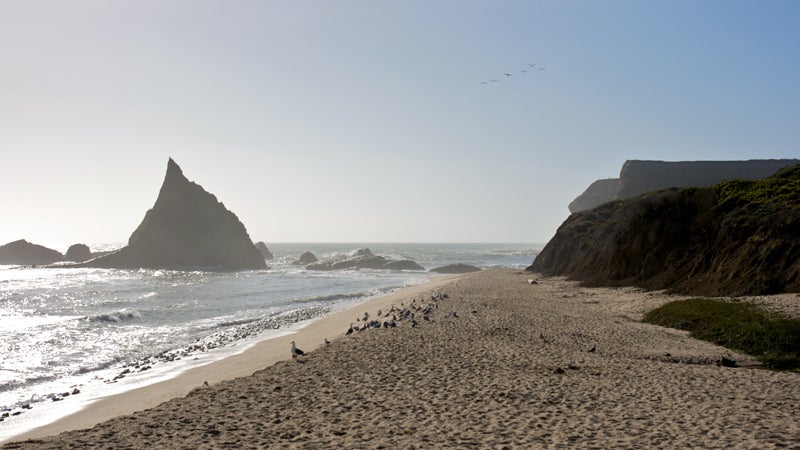 Heading out the door? Read this article on the new Outside+ app available now on iOS devices for members! Download the app.
A judge has ruled that a private landowner near California's Half Moon Bay must allow the public to cross his property to access a beach and surfing waves.
Martin's Beach, about five miles south of Half Moon Bay, has been at the center of a legal battle between surfers and billionaire venture capitalist Vinod Khosla, who purchased the property in 2008. In 2010, Khosla closed a public access gate to the beach, citing the expense of maintenance and liability insurance. In 2012, five surfers were arrested for trespassing when they crossed Khosla's property to get to the waves.
The nonprofit organization Surfrider Foundation filed suit against Khosla in March 2013, claiming his actions violated state laws guaranteeing public access to the coast. Khosla argued that while the beach may be public, the road—which provides the only land access to the beach—is private land.
According to Surfrider, surfers have been crossing the property to ride waves off Martin's Beach for decades.
"The beach has been the fabric of the community for generations, and previous landowners allowed beachgoers to access the coast," said Angela Howe, Surfrider's legal director. "All of a sudden, the access was gone."
On Wednesday, San Mateo County Superior Court judge Barbara Mallach ruled that Khosla had failed to get the necessary development permit required to deny public access to the beach.
Howe said the gates of Khosla's property have not been opened yet, but people are now free to walk across the property to get to the beach without being accused of trespassing.
"This very strong ruling is setting the tone for future cases to let property owners know that they can't lock the public out," said Howe.