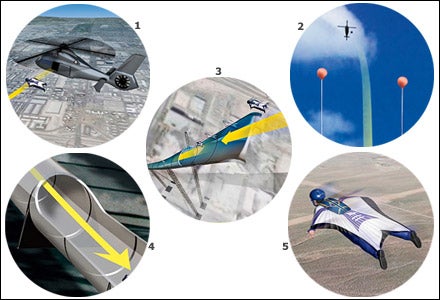 Heading out the door? Read this article on the new Outside+ app available now on iOS devices for members! Download the app.
Splat! That's the sound BASE jumper Jeb Corliss promises you won't hear when he attempts to land a several-thousand-foot free fall without a parachute. The 31-year-old Californian and former host of the Discovery Channel's Stunt Junkies has been developing an intricate touchdown procedure. He now claims he's less than six months (and a $2 million TV deal) away from making the drop in—where else?—Las Vegas. "It's the equivalent of summiting Everest for the first time," says Corliss. "Imagine doing that in front of a crowd of 500,000." Key to his strategy are a wing suit (increasingly popular among BASE jumpers as they evolve toward gliding down mountainsides) and a customized runway. Though Corliss wouldn't share specifics, Outside reached several members of his team and other wing-suit experts to piece together his likely plan:
1. Corliss will jump from a helicopter at 2,000 feet and spread his arms and legs to engage the wing suit. Then he'll take a 45-degree descent angle—15 times steeper than that of an aircraft—toward the runway.
2. Within ten seconds, Corliss will reach 100 miles per hour—terminal velocity. He'll align his approach with aid from a series of weather balloons extending from the runway.
3. If he's on course, Corliss will touch down inside the tube—enclosed to keep him from launching into the cityscape—then slide to a stop. His top priority: Skid, don't roll. Then he'll do it all again. "The engineers have figured it out," he says. "I'm going to do this two or three times in one day."
4. According to Corliss, the runway's composition is essential. So what is it made of? "Dude, I can't talk about that," he says. "We're working with a group that develops deceleration systems for NASA."
5. If Corliss doesn't think he's on target= for the runway, he'll make a sharp mid-air turn and pull an emergency chute while he's still at least 200 feet off the ground.