There Is No Chair
Paraplegic Jeremy McGhee prepares to climb and ski a major backcountry route in California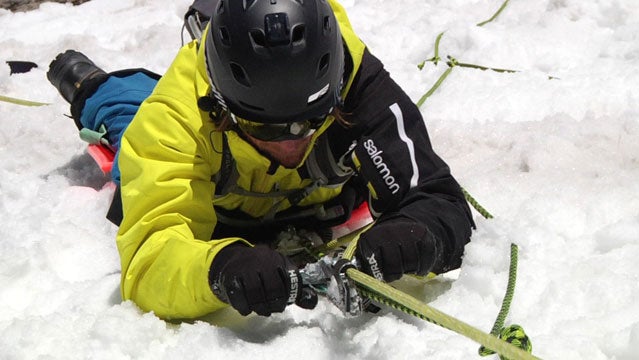 Heading out the door? Read this article on the new Outside+ app available now on iOS devices for members! Download the app.
On Sunday, paraplegic Jeremy McGhee will wake up at the base of Bloody Couloir, near Mammoth Mountain, and make his way to the top of the 11,800-foot peak without the use of his legs. Then he'll ski down in a sit-ski chair. He feels totally prepared and completely terrified.
You do a lot of awesome things without the use of your legs like surfing, triathlons and skiing. How are you approaching a super challenge like this?
My friends climb and ski this thing every spring and summer. I wanted to do it too. It just so happens that this is a very inaccessible peak. You can't land a helicopter on it or get up there with a snowmobile. The only way to get there is to hike it. What that means for me is jumarring up the throat. The ridge line is just gnarly shale fields and there's no way I could get through all that, so I'm just going to have to climb right up the shoot.
What's your rig like?
We've fashioned a pull-up bar handle to an ascender with teeth on a rope. I'll be lying face down with my chest on a little plastic sled and basically just doing pull-ups all the way up the couloir. It will probably take me about 2,000 pull-ups to get to the top.
How long should this take?
I think it will be about six hours or so until I'm skiing. The couloir is in the shade most of the day, which is why it can hold snow all year. I want to get up by noon or 1 p.m. to catch that nice spring corn snow, so we'll start at about 6 a.m. right before sunrise. That said, I don't want to rush up there. I'm going to enjoy my time and take note of what I'm going through. It's gonna be special.
Morning on a mountain at 8,500+ feet sounds cold.
Yea, considering I'll be lying in the snow most of the time. Since I can't feel my lower body, I need to be aware of my lower extremities getting cold, so I have heated boots. I'll have a three-layer system, mountain bike arm pads to separate my skin from the snow, and I'm bringing four pairs of gloves.
Your friends and crew hiking the ridge line will drag your sit-ski up to the top for you. What's the plan once you meet them there?
The point of the expedition is not about being the first person to do this, even though I will be. It's about being with friends on an adventure and eating a peanut butter and jelly sandwich at the top of a sick line. That said, this is definitely the gnarliest face I've ever skied, almost 50 degrees at some points, so I may take a shot of whiskey to calm some nerves.
There's some serious no-fall zones over big rock fields on that face. How will you navigate them sitting down?
I'll be on belay for the steep part. The climbers in the group will rig a combination of snow pickets and rock anchors for support in the dicey areas. Then hopefully i'll be carving big turns through corn down the 2,000-foot vertical. I'm definitely an emotional guy and I'm sure i'll be balling my brains out when I get to the bottom.
How nervous are you?
Sometimes when I look at this peak, I get nauseous. I am totally out of my comfort zone and this is a serious expedition. But it's going to happen so I'm not going to waste my time being nervous, which is a major energy leak. Also, I need to ski with confidence in order to have good body position projected into the fall line. It helps to know I'll be surrounded by professionals and I'm in really good hands. I trust these guys.
You're filming this event as a pilot episode for a series. What's the theme or message you're putting out there?
That there is no chair. Seriously. Everyone in the world has what I call "holdbacks"—mine are just more visible. This goes beyond disabilities—we all face the same propensity for laziness or self-preservation and this is just another way to show people how to live without letting things hold them back. To just let go, drop in, and do what you love.
Lead Photo: Picasa