Walk Tall and Act Natural
Jack Johnson's no-pretensions approach to green living has turned the mellow rocker into one of the music world's leading environmentalists. But the best part of his eco-ethos? It won't make your eyes roll.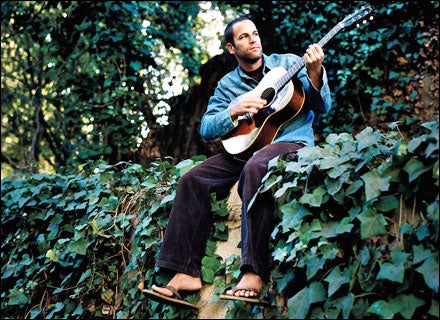 Heading out the door? Read this article on the new Outside+ app available now on iOS devices for members! Download the app.
IN THE RECORDING STUDIO at the back of the 1920s Craftsman-style bungalow that serves as Brushfire Records' Los
Jack Johnson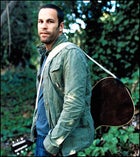 Jack Johnson takes it easy in Santa Barbara, California
Jack Johnson

Johnson and his Trademark Flip-Flops
Angeles headquarters, Jack Johnson taps out a groove on the snare and high hat while he whomp-whomps a bass drum with his foot. Johnson, 32, has put aside his guitar this November afternoon because this evening he'll be playing percussion for his piano player, Zach Gill, who's recording the first few tracks for an upcoming solo album. At the moment, Gill and a half dozen others are standing in the backyard, near an open entrance to the studio. In a scene that merges Home Improvement with Entourage, a woman from the healing center next door pops her head over the fence. "Is there any way you guys can shut that door?" she asks. "We're doing massages and stuff."
Someone in the Brushfire crowd quickly obliges. Maybe it's not what the guys in Pete Doherty's posse would have done. But Jack Johnson is a low-impact, less-is-more kind of guy. You hear it in his music—catchy little pop songs backed by spare guitar strumming that even at top volume are pretty inoffensive. You also see it in his Hawaiian country lifestyle. Johnson lives close to Pipeline, near his childhood home on Oahu's North Shore, and his free time is focused on family and friends, surfing, and using his celebrity status to help slow the despoliation of the islands. Not exactly the setup you might expect from an international rock star—and while Johnson doesn't seem entirely comfortable with that role, he's stuck with it.
Johnson has sold nearly six million copies of his 2005 release, In Between Dreams. Add in the rest of his discography, which includes a kid-friendly soundtrack for the 2006 movie Curious George, and his total sales top 13 million. He's something of an accidental icon, a surf filmmaker who became a multiplatinum recording phenom without really trying, and his noncommercial image is part of his appeal. "People see Jack as the anti-bling," says Mark Cunningham, a champion bodysurfer and former lifeguard at Pipeline. "He's a backlash to all that crap."
While he's not so radical that he gives away his CDs or sells concert tickets for $5, Johnson does have his rage—OK, exasperation—against the machine. At one point during the afternoon, he sticks out his puffy bottom lip, closes his eyes, and earnestly sings a line he loves from Fugazi's 1990 tune "Merchandise": "You are not what you own." Back in the day, he wore a T-shirt that said the same. "It was music that had a real message," he told me.
Johnson's music has a message, too, but it's not so much in the songs as in how he brings them to the public. He's toured on a biodiesel bus since 2005, and he requires that performance venues buy carbon offsets for every show and compost the organic waste from his concerts. He's staged the Kokua Festival in Oahu each spring since 2004—playing with friends like Eddie Vedder, Ben Harper, and Willie Nelson—and donates proceeds to the Kokua Hawaii Foundation, which he started to support environmental education in schools.
With the recent remodeling of the Brushfire offices, he and his business partner, Emmett Malloy—cousin of the pro-surfer Malloy brothers, Chris, Keith, and Dan—now operate one of the most eco-minded record companies in the industry. The Brushfire studios run on electricity provided by 32 rooftop solar panels; the building is insulated with blue-jeans scraps and outfitted with compact fluorescent lighting and low-flush toilets. Johnson even recorded Sleep Through the Static, his new album, which hits stores in February, in analog, on a hand-me-down 24-track Studer deck that reportedly once taped a David Bowie album.
Still, the reason millions of people buy Jack Johnson albums isn't because of his toilets or the fact that he donates 1 percent of his profits to environmental causes. It's because of his rootsy, campfire vibe and a distinctive sixties sensibility, which he's reclaimed for the new millennium. "I'm a hippie," he says. "I just have short hair."
LET ME BE BLUNT: I'm no Jack Johnson groupie—his music just doesn't make much of an impression on me. But he's a skilled craftsman of infectious pop songs, and I've caught myself more than once singing along to one of his tunes on the radio.
Music critics have been less generous. Rolling Stone, after ignoring Johnson's 2001 debut album, Brushfire Fairytales, gave On and On (2003) just two stars out of five, complaining that Johnson's "Hawaiian surfer's croon evokes the mellow-yellow moan of Donovan but without the weirdness that made that psychedelic folkie compelling." Blender accused him of writing "lazy dorm-room poetry." A New York Times reviewer said of one of his 2005 concerts, "About half the show exuded a sleepy charm; the other half was much the same, only without the charm."
But one thing critics often miss with Johnson is something that doesn't necessarily come through the speakers: There's no act. "He's just Jack," as Rob Machado, one of his many pro-surfer friends, told me. "No matter what, he's going to be onstage in flip-flops and a T-shirt. He's just going to tell stories—and they're real."
Johnson has a knack for making even the most overt celebrity moments feel authentic, as I saw for myself when I met him earlier today in the rustic one-room house Malloy rents in Malibu. Johnson was using it for a photo shoot with Vogue, but the atmosphere was more Fourth of July barbecue than high-fashion showcase. As Johnson worked with the photographer, Malloy was out on the deck, grilling a fish for tacos. I sat on a step with Johnson's wife, Kim, and the two Johnson kids, along with a family friend visiting from New York, a guy who runs biodiesel stations in Los Angeles, and Johnson's publicist. All the while, Johnson was warm and attentive to his wife and kids, and seemed like part of the crew. There were no nannies, no deferential ass-kissing from the FOJs.
After we downed the tacos—served on brown recycled paper towels—we headed for the Brushfire building across town. "I can drive if you want to take notes," Johnson said as we walked up the driveway to my truck. I declined, and he folded his six-foot frame into the passenger seat. While we headed south on the Pacific Coast Highway, the ocean as calm as a lake and the charred hills still redolent of ash from the recent wildfires, Johnson recounted the now well-known details of his past: He grew up riding waves on the North Shore but chose studying film at UC Santa Barbara over a pro-surfing career. In 1999, he wrote a couple of songs for a surf film he produced with Emmett and Chris Malloy, then stumbled into fame after being noticed by Ben Harper's manager.
He also tried to explain the roots of his eco-sensibilities. Some of his best childhood memories, he said, were formed when the ocean flattened out and his dad took him to the outer islands off Oahu in a traditional Hawaiian canoe. "Those canoes are only as wide as your hips, as long as six people, and with just a little leg space between you and the person in front of you," he said. "Everything you'd bring would have to fit into that space. It couldn't spill over. You couldn't pay more to bring extra baggage." The material, in essence, was immaterial. "That's as happy as I'd ever been," he added. "It wasn't about being overloaded with Christmas presents."
It's that scale-it-back philosophy that Johnson's trying to bring to his music career—following a path, he's quick to point out, paved by musicians like Neil Young, Pearl Jam, and Willie Nelson.
"I'm not trying to act like I've got all the answers and that I'm greener than everyone else," he said as we turned onto a tree-lined boulevard. "I want to do what I can to help, but sometimes it starts to overwhelm me. It's hard, because as soon as you put your voice in there, all of a sudden you're the guy the newspaper wants to talk to. I accept the fact that I'm a somewhat known personality now and I like that I can use it for good things, but I ultimately don't want to run for president."
JOHNSON MAY NOT BE hitting the campaign trail, but with a new album in the wings and a worldwide tour to follow, he's getting plenty of attention. Moments after we arrived at Brushfire Records, Johnson's PR team grabbed him for a photo shoot with Entertainment Weekly.
As he posed in the foyer, guitar over his shoulder, I noticed a surfboard—a fat, short fish design that harks back to the loose and smooth soul surfing of the 1970s—leaning against the wall in a corner. The board and the revamped 1920s house both speak to the humbler, back-to-basics environmentalism that appeals to Johnson: It's all about embracing the past, returning to the simpler life—but with better technology.
As Johnson explains it, Kelly Slater started riding new high-performance boards in the 1990s that were ridiculously thin and narrow. Slater, who's known as"the Freak" for his extraordinary surfing abilities, could ride these boards with flair, but lots of other surfers couldn't. Then the fish and other retro styles made a comeback. "You jump on there and suddenly you can glide again," Johnson says. "I think about this in terms of music or anything: Sometimes things progress to the point that it's not really progressing anymore. You get to this dead end, where you need to look back."
As much respect as Johnson has for the past, at the moment he's also looking toward the future. Brushfire is a growing enterprise, with a roster of musicians that now includes G. Love, Zach Gill's longtime band ALO, Matt Costa, Rogue Wave, Money Mark, and Mason Jennings. All share Johnson's just-kicking-it sensibility. "We do things that feel very handmade," says Malloy.
Sleep Through the Static continues the tradition, although Johnson ventures further away from acoustic than he's ever strayed, playing electric guitar on several tracks. This new sound won't remind anyone of Hendrix, or even a plugged-in Dylan, and Johnson is certainly not remaking himself to win over the critics. "People like Jack, and his records mean a lot to them," says Malloy. "All people need is another one. It doesn't have to be different. It just has to be 14 new songs."
Later, as the sun's about to set, Johnson moves to the roof with the EW photo team. I head down to the studio with Gill, who sits on a giant exercise ball in front of a piano and plays a few of his songs for me—at one point the room momentarily goes dark because the lights are on a timer—starting with "All Still Family" and then moving on to a lovely dirge he wrote for the 2007 documentary Arctic Tale. He composed the tune for a scene showing a starving polar bear cub that dies as its mother stands by helplessly while the snow slowly covers its body, but the song didn't make the final cut. Now it, like everything else here, is being recycled—and it may well appear on Gill's solo album.
A few minutes later, Johnson returns and sits at the drums. "Let's do 'Family,'" he says. "1-2-3-4 . . ." As they jam, they look for all the world like a couple of friends in a garage, transported somewhere far away, lost in the sound. They aren't playing for me or anyone else, nothing is being recorded, and the door is shut, so the neighbors have no reason to complain. They're just making a few footprints in the sand that the tide will soon erase. And no fluorescent lightbulb, biodiesel vehicle, or low-flush toilet is greener than that.