WATCH: SeaWorld Pilot Whale Gets Stuck on Side of Tank
Rep claims animal was playing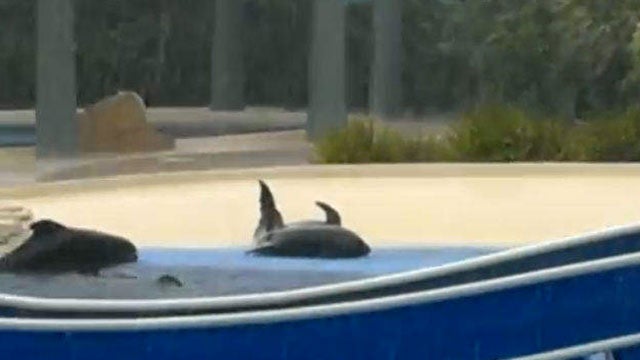 Heading out the door? Read this article on the new Outside+ app available now on iOS devices for members! Download the app.
SeaWorld is performing damage control after a visitor to its park in Orlando captured video of a pilot whale seemingly stuck on the side of its pool for 20 minutes.
Carlo De Leonibus had taken his 11-year old daughter to the park for her birthday when the dolphin-like whale beached itself on a ledge on the side of the tank and began to flap its tail back and forth.
"The crowd was in a rage, in an uproar," De Leonibus said in an interview with WTSP. "Some of them were stomping their feet. The gentleman behind me threatened to go protest." After about 20 minutes, two trainers arrived and pushed the struggling mammal back into the water.
In a statement, SeaWorld spokesperson Nick Gollattscheck said that the pilot whale's behavior was totally normal, and was a kind of play. "The younger and more inexperienced animals—like the one in the video—sometimes take a little longer to find their way back to the water because they haven't completely mastered the technique yet. When that happens the animal is constantly monitored by our animal trainers," he said. "The whale was never in danger."
In response, PETA told the Huffington Post that the video was just another example of SeaWorld's mistreatment of marine mammals. "Whether they show a pilot whale stranded on a concrete ledge in front of a shocked crowd, an orca killing his trainer, or intelligent, sensitive whales forced to swim day in and day out in tiny circles for a reward of dead fish, these videos are a potent reminder that SeaWorld keeps marine mammals trapped in concrete tanks that bear no resemblance to their habitat in the wild, with no room in which to swim, no family groups, and no stimulation," the group said in an email.
See the video for yourself below.
The video emerged in the wake of the release of Blackfish, a documentary that takes a critical look at the treatment of captive orcas at SeaWorld.